The global voice biometric market was valued at USD 1,261.4 million in 2021 and is expected to grow at a CAGR of 21.7% during the forecast period.
Voice biometrics systems analyze a person's pitch, speech, voice, and intonation to do voice recognition. The system analyses a user's speech and compares it to a model of their recorded voiceprint. It delivers a high degree of accuracy and only requires a minimal amount of hardware installation. It does not necessitate any additional hardware, including eye or fingerprint scanners. It offers several advantages over PINs and passwords in terms of security because a voice is just as distinctive and individual as a fingerprint and cannot be readily monitored or cracked. These characteristics are causing biometric voice verification to be used more often in e-commerce, banking, medical, and government sectors, among other places.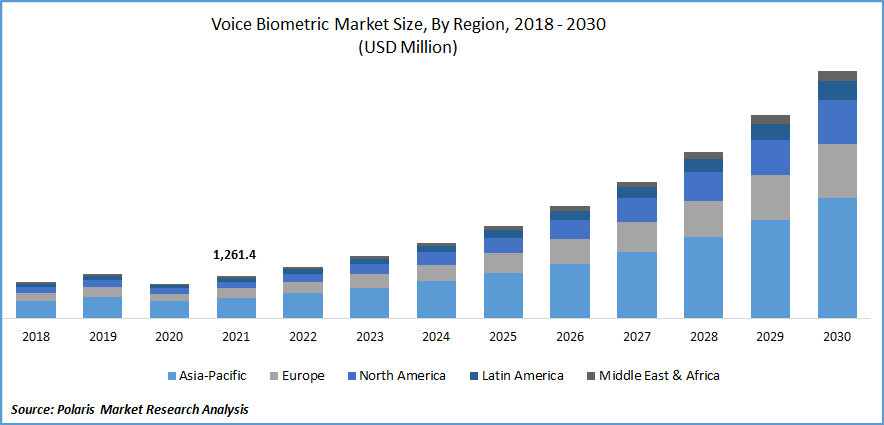 Know more about this report: Request for sample pages
The need for a reliable, robust, and secure authentication solution with minimal failure rates is developing as digital platforms are used more frequently to provide public and commercial services, and financial institutions compete to make banking easier to access. Password-based authentication methods are already taking over traditional password authentication procedures in the industry. These biometric are becoming more popular as one of the effective verification methods due to their special ability to identify each individual with a unique set of qualities.
Knowledge-based authentication is becoming increasingly ineffective at telling legitimate users from fraudsters as a result of the professional fraudsters' widespread usage of stolen data. As a result, biometric technologies are now widely used. The development of mobile applications, call center authentication, hands-free interface, and bank account security are just a few of the applications of the market. Thus, the benefits of these systems are boosting the adoption of it which is driving market growth.
With the help of omnipresent assistants like Siri, Alexa, Viv, and Google, voice is becoming a common part of everyday computer interactions and communications with people. Uses of these biometrics will increase when speech interfaces become more common in wearables, cars, the internet of things, and tools. As a person's ability to influence and manage their real-world behavior and access to their personal information grow. The widespread use would result in new application prospects, challenges declaring social privacy concerns, securing constraints on the issue, receiving the system against complex issues, and a steady rise in improving voice biometrics and dependability in the greatly varied acoustic environment.
Due to the COVID-19 pandemic, a slight slowdown in the market was observed in 2020. The demand for improved customer experiences and the development of individualized relationships with prospects are projected to raise the demand for voice biometrics solutions and services. To support digital transformation projects that focus on mission-critical processes, enhance operations, and validate user identification, several sectors are already preparing to implement a wide variety of voice biometrics products and services.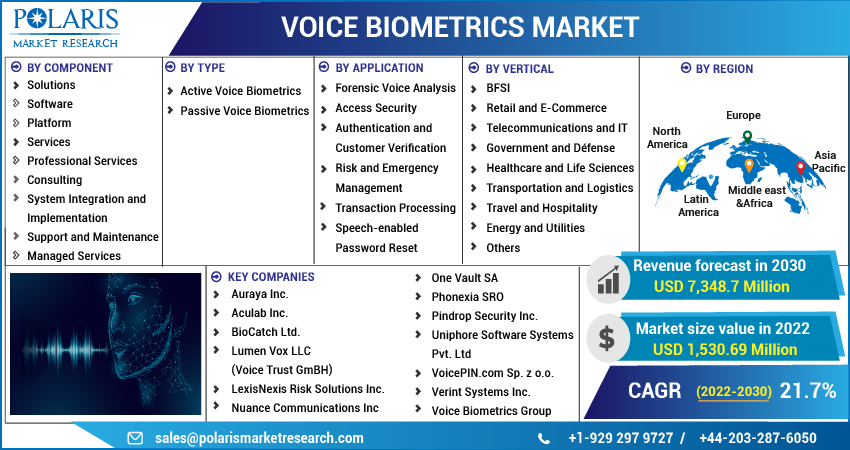 For Specific Research Requirements, Request for a Customized Report
Industry Dynamics
Growth Drivers
Global adoption of these biometric solutions is being fueled by factors including the rising need for reliable fraud detection and prevention solutions throughout the Banking, Financial Services, and Insurance (BFSI) industry and the need to reduce authentication and identity costs. Fraudsters with access to funds credentials can access clients' financial balances through high information thefts. It identifies an area specifically on an individual's voiceprint to meet the needs of banks & financial institutions.
Furthermore, the rising development of advanced voice biometric solutions for the BFSI sector is another factor driving the market growth. In July 2022, AI voice biometric devices have been introduced by Turant Inc. Voice authentication without a password is available from Turant. The business collects real-time speech samples during a phone call or mobile app and employs advanced artificial intelligence (AI) algorithms to remotely authenticate a user. With the use of applications across business/industry areas, including e-commerce deliveries, the organization seeks to eliminate OTP-related frauds in transactions (financial and non-financial). Thus, these above factors are driving the market growth.
Report Segmentation
The market is primarily segmented based on component, type, application, vertical, and region.
By Component

By Type

By Application

By Vertical

By Region

Solutions
Services

Professional Services

Consulting
System Integration and Implementation
Support and Maintenance

Managed Services

Active Voice Biometrics
Passive Voice Biometrics

Forensic Voice Analysis
Access Security
Authentication and Customer Verification
Risk and Emergency Management
Transaction Processing
Speech-enabled Password Reset
Others

BFSI
Retail and E-Commerce
Telecommunications and IT
Government and Défense
Healthcare and Life Sciences
Transportation and Logistics
Travel and Hospitality
Energy and Utilities
Others

North America (U.S., Canada)
Europe (France, Germany, UK, Italy, Netherlands, Spain, Russia)
Asia Pacific (Japan, China, India, Malaysia, Indonesia. South Korea)
Latin America (Brazil, Mexico, Argentina)
Middle East & Africa (Saudi Arabia, UAE, Israel, South Africa)
Know more about this report: Request for sample pages
The BFSI segment is expected to witness the fastest growth
Voice biometrics support the KYC procedures by improving them as well. People from various educational backgrounds can be found in remote regions of multilingual nations like South Asia. Due to the solutions' language independence, voice biometrics can assist in integrating such individuals into financial safety. To expand comfortable financial services and enhance customer experience, voice biometrics in banking are essential. For instance, when payments are released, banks offer social security programs like pensions and insurance that demand proof-of-life identification. Voice biometrics make discrete person authentication easier. Additionally, human voices can be identified by a variety of biometric traits to create trustworthy and unchangeable identification.
Further, to prevent online fraud, banks must constantly stay updated on the finest authentication techniques. Banks have historically utilized knowledge-based authentication techniques like PINs and one-time passwords. Even financial security has been affected by the demand for contactless and seamless technologies, particularly in light of the COVID-19 pandemic's effects. A promising online banking option that goes beyond retinal and fingerprint scanners, which demand human presence, is voice biometrics in banking.
Furthermore, cyberattacks in the financial sector have greatly increased as attackers/hackers have gotten more skilled and the variety of possible targets or entry points has increased. Along with the spread and integration of new banking and financial technology, the overall number of users has also dramatically expanded. Thus, the continuous improvement in the adoption of technologies for security from theft is driving the demand for voice biometrics in the sector.
Healthcare and Life Sciences segment industry accounted for the highest market share in 2021
When protecting private patient information, medical records, and personal data, security is a top priority in the healthcare industry. By taking pictures of distinctive human physical characteristics and utilizing them as a future reference point for the user's identification, biometric devices assist in the analysis of a user's biological data. Healthcare institutions are refocusing their attention on implementing biometric security solutions for patient identification and their connection to electronic health records systems for the relevant patients.
A scanning device or scanner, software for turning the scanned data into digital form, and databases for preserving the biometric information for comparison with inputted biometric information make up the core elements of biometric recognition devices. The adoption of voice biometrics in the healthcare sector is beneficial for the security of patients' private information which is boosting the growth.
The demand in North America is expected to witness significant growth
North America is anticipated to dominate the market globally. The adoption of cutting-edge technologies in biometric voice devices has increased, which is the cause of this expansion in North America. Many banking and financial institutions in the United States now need voice biometrics for customers to access records and other digital platforms. In February 2022, $400 million has been raised in Series E by Uniphore. This funding was done to enhance the development of advanced voice biometric solutions.
Further, voice technologies are used in many applications as a result of the quick growth and advancement in the recognition of mobile and cloud technology, as well as the inconsequential technological advancements in the authority of computing. The region anticipated that the healthcare industry would have a substantial impact on the development and expansion of the worldwide market.
As HSBC in the United Kingdom implements voice biometric technology in the banking system, Europe is anticipated to witness the fastest growth over the coming years. Security improvement is the sector's primary goal. Despite not being the first or the first bank to implement such technology, the firm already has fingerprint scanners in its smartphone applications. The bank employs voice biometrics in two main ways. The physical makeup of the vocal cords and a fingerprint are two additional authentication methods utilized with mobile phones and the iPhone, respectively.
Competitive Insight
Key players in the market include Auraya Inc., Aculab Inc., BioCatch, Lumen Vox, LexisNexis Risk Solutions, Nuance Communications, NICE Ltd, One Vault, Phonexia SRO, Pindrop Security, Uniphore Software Systems,VoicePIN.com, Verint Systems, and Voice Biometrics.
Recent Developments
In January 2022, the strategic alliance between Nuance Communications, Inc. and Genesys has been expanded. Customers of Genesys Cloud CX may take advantage of Nuance's best-in-class technology, which includes voice-enabled virtual assistants for voice and digital channels as well as fraud protection and authentication services based on biometrics, which will further enhance the user experience.
In October 2021, the Amazon Connect Voice ID solution for contact centers has been made available by Amazon Web Services. The Voice ID function was created as an authentication mechanism to confirm callers' identities.
Voice Biometric Market Report Scope
| | |
| --- | --- |
| Report Attributes | Details |
| Market size value in 2022 | USD 1,530.69 million |
| Revenue forecast in 2030 | USD 7,348.7 million |
| CAGR | 21.7% from 2022 - 2030 |
| Base year | 2021 |
| Historical data | 2018 - 2020 |
| Forecast period | 2022 - 2030 |
| Quantitative units | Revenue in USD million and CAGR from 2022 to 2030 |
| Segments Covered | By Component, By Type, By Deployment Mode, By Vertical, By Application, By Region |
| Regional scope | North America, Europe, Asia Pacific, Latin America; Middle East & Africa |
| Key Companies | Auraya Inc., Aculab Inc., BioCatch Ltd., Lumen Vox LLC (Voice Trust GmBH), LexisNexis Risk Solutions Inc., Nuance Communications Inc., NICE Ltd, One Vault SA, Phonexia SRO, Pindrop Security Inc., Uniphore Software Systems Pvt. Ltd,VoicePIN.com Sp. z o.o., Verint Systems Inc., and Voice Biometrics Group |