The global waste management market was valued at USD 889.58 billion in 2021 and is expected to grow at a CAGR of 5.4% during the forecast period. Garbage management is treating solid waste and involves different solutions to recycle items. Debris management is collecting, transporting, and disposing of garbage, sewage, and other products. It consists of treating solid debris and disposing of unwanted products and substances safely and efficiently.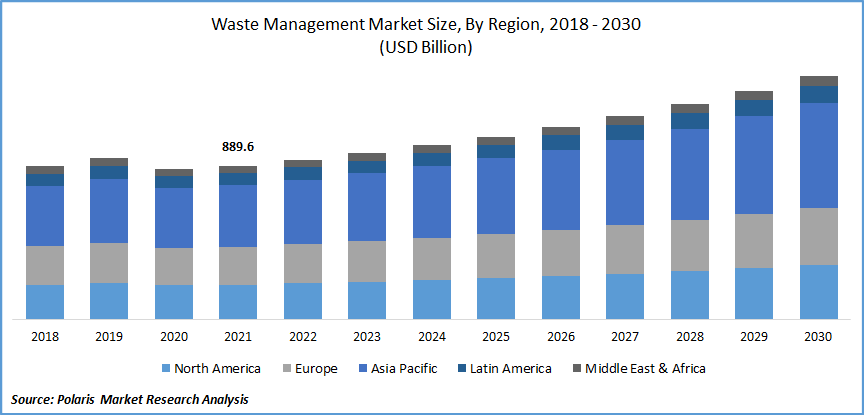 Know more about this report: Request for sample pages
Governments across the global market are taking proactive measures to reduce illegal dumping. In addition, the surge in population and increased globalization have led to an increase in the overall garbage volume worldwide. For instance, in 2012, according to the data on municipal solid waste (MSW), the urban population generated around 1.3 billion tons of debris, which is expected to increase to 2.2 billion tonnes by 2025.
Moreover, the increase in industrialization in the emerging economies, such as China, Taiwan, and India, has led to the advancement of chemical, oil & gas, automobile, and medical industries, which generate an enormous amount of debris and cause pollution.
Moreover, significant activities accomplished on garbage are its collection and disposal. Collection facilities relate to storage and handling, collection and transportation, and sorting. However, disposable services refer to garbage segregation into landfills, recycling, composting, and anaerobic digestion.
The outbreak of the COVID-19 pandemic has significantly impacted the growth of the waste management market. The garbage production significantly dropped in commercial and industries sectors due to the complete or partial shutdown of offices and industries offices during the lockdown in the coronavirus tenure. However, the was a significant increase in the municipal garbage from residential areas.
Moreover, the market demand for recycled materials such as plastic and rubber was majorly hampered due to the reduction in manufacturing operations of new goods. However, reviving production services and introducing vaccination facilities for coronavirus disease are expected to re-initiate waste management companies and the recycling market at full-scale capabilities.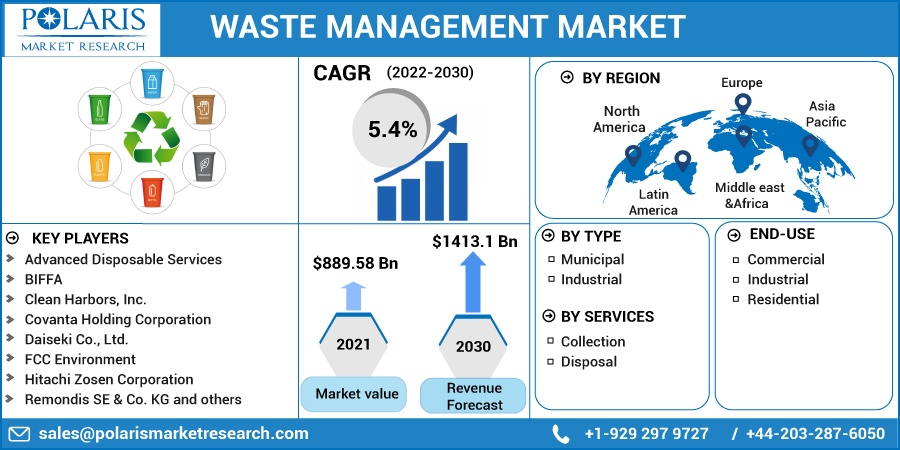 Know more about this report: Request for sample pages
Industry Dynamics
Growth Drivers
The global urban population was reported to be 34% in 1960, revealing potential growth in the urban population. As per the estimates and forecasts of the WHO, the global urban population is expected to grow by approximately 1.84% annually until 2020, at the rate of about 1.63% per annum from 2020 to 2025 and around 1.44% per annum from 2025 to 2030. As per the data released by the World Bank, MSW, a crucial by-product of urban lifestyle, is growing at an even higher rate than urbanization.
As per the data released by the World Bank, in 2018, the global municipal solid debris generated in 2016 was 2.1 billion tons and is expected to reach approximately 3.40 billion tons by 2050. The countries with the highest per capita disposal rates are islands, most likely due to garbage generated by the tourism market.
As per the data recorded in 2013, the annual garbage generation in East Asia and the Pacific region is approximately 270 million tons per year. This quantity is majorly influenced by waste generation in China, which makes up 70% of the regional figures.
Further, increased environmental awareness regarding renewable waste management systems among people and a rise in CO2 emissions globally are expected to generate growth opportunities for the waste management systems market.
Market players in the management market have been taking proactive measures to recycle MSW and non-hazardous industrial debris to reduce pollution and mitigate environmental hazards. Moreover, untreated waste and dumping affect health directly and indirectly by spreading vectors, which cause infectious diseases, thereby boosting the market demand for management services.
Report Segmentation
The market is primarily segmented based on type, services, end-user, and region.
By Type

By Services

By End-User

By Region

Commercial
Industrial
Residential

North America (U.S., Canada)
Europe (France, Germany, UK, Italy, Netherlands, Spain, Russia)
Asia Pacific (Japan, China, India, Malaysia, Indonesia. South Korea)
Latin America (Brazil, Mexico, Argentina)
Middle East & Africa (Saudi Arabia, UAE, Israel, South Africa)
Know more about this report: Request for sample pages
Industrial market segment is expected to witness fastest growth
The U.S. Environmental Protection Agency defines industrial solid waste as the garbage generated by manufacturing or industrial processes. This industrial waste is not hazardous and regulated under Subtitle C of RCRA. The industrial garbage includes the effluents generated due to industrial activity, including any material rendered useless during manufacturing. Some examples of industrial debris include dirt & gravel, scrap metals, solvents, oil, trash, masonry & concrete, chemicals, wood & scrap lumber, coal ash, boiler slags, and similar left-overs.
Rapid industrialization and shift of industrial production from developed to developing geographical regions have resulted in enormous volumes of industrial waste. In emerging economies, such as China, India, and other African countries, the management market growth is driven by massive industrialization and urbanization activities.
Government and regulatory bodies in these regions have focused on implementing stringent regulations to process and manage industrial wastes effectively. For instance, the Government of the U.K. implemented a new resource and strategy in 2018. Under this strategy, businesses and manufacturers will pay the cost required for the management of their packaging waste.
Furthermore, the rise in the global population has led to escalated consumption of goods, which in turn is increasing industrialization and garbage generated from industrial operations. However, the matured markets of Europe and the Americas are focusing on becoming completely eco-friendly regions to recover waste material, manage, and promote recycling or reuse, thereby reducing the consumption of fresh, natural resources.
Disposal accounted for the largest market share in 2021
Disposal service is a part of the debris management process, wherein the solid wastes are treated while the rest of the waste is recycled. Several waste disposal methods are available, including landfills, incineration/combustion, recovery & recycling, plasma gasification, composting, and others.
For the development of management solutions, countries have implemented laws and regulations to standardize management recycling and management solutions. For instance, the U.S. federal government implemented a tax relief policy to reward companies for using more than 50% of renewable raw materials.
Similarly, in 2015, San Francisco's local Government established its mandatory recycling and composting ordinance to support its goal of zero garbage by 2020. Similarly, the British Government subsidizes power distribution companies to buy electricity generated by waste incineration plants.
Residential sector is expected to hold the largest revenue share
The rising disposable income and preference of consumers toward e-shopping have substantially increased the amount of plastic debris generated by the residential sector. Residents from larger housing units are more diligent about separating wastes before disposal than residents in areas of individual houses.
The garbage in the form of paper, cans, waste metals, and bottles is discarded separately for recycling purposes. They are carefully treated by the concerned organization from the private sector as per sources of the Government of Korea. These organizations generally recycle 25–50% of the overall quantities of these goods, wherein around 13% of plastics are collected due to the lack of plastic recycling & management facilities.
Asia Pacific is expected to hold the largest market share
Asia Pacific waste management market has been studied across China, India, Japan, South Korea, and other countries in the Pacific Rim. This region is expected to register the highest growth during the forecast period, owing to the fact that it is densely populated, with India and China being the most populated countries.
The development of the construction market supplements its growth, increased environmental concerns from increased drilling activities, rapid urbanization, and increased focus of key players for developing technologically advanced, cost-effective, and sustainable management solutions in this region. For instance, in December 2017, Keppel Corporation, China, won a contract to design, build, and run the first integrated garbage management facility in Hong Kong.
Infrastructure improvement, an increase in garbage management reforms, and a surge in the urban population in emerging markets (such as India and China) are projected to boost the market demand for waste management services.
For instance, the CityFix Labs, a Financing Sustainable Cities Initiative, launched operations in Hyderabad to improve building efficiency and garbage & water management in 2018. Moreover, the high requirement for advanced management services in emerging economies, such as India and China, is a significant driver of the Asia Pacific market.
Competitive Insight
Some of the major market players operating in the global market include Advanced Disposable Services, BIFFA, Clean Harbors, Inc., Covanta Holding Corporation, Daiseki Co., Ltd., FCC Environment, Hitachi Zosen Corporation, Remondis SE & Co. K.G., Republic Services, Stericycle, SUEZ, Urbaser, Veolia Environment S.A., Waste Connections, and Waste Management Inc. Group.
Recent Developments
In May 2021, Eramet signed a partnership with SUEZ to expand joint efforts in recycling end-of-life electric vehicle batteries in the market. This agreement is anticipated to propose a high-implementation, economical and viable battery recycling solution for the European market. Furthermore, Veolia entered into a partnership with Groupe Renault in March 2021 to empower the European economy with EV battery metals through closed-loop recycling.
Waste Management Market Report Scope
| | |
| --- | --- |
| Report Attributes | Details |
| Market size value in 2021 | USD 889.58 billion |
| Revenue forecast in 2030 | USD 1,413.1 billion |
| CAGR | 5.4% from 2022 - 2030 |
| Base year | 2021 |
| Historical data | 2018 - 2020 |
| Forecast period | 2022 - 2030 |
| Quantitative units | Revenue in USD billion and CAGR from 2022 to 2030 |
| Segments covered | By Type, By Services, By End-User, By Region |
| Regional scope | North America, Europe, Asia Pacific, Latin America; Middle East & Africa |
| Key companies | Advanced Disposable Services, BIFFA, Clean Harbors, Inc., Covanta Holding Corporation, Daiseki Co., Ltd., FCC Environment, Hitachi Zosen Corporation, Remondis SE & Co. KG, Republic Services, Stericycle, SUEZ, Urbaser, Veolia Environment S.A., Waste Connections, Waste Management Inc. Group. |