The global water testing equipment market was valued at USD 4.40 billion in 2022 and is expected to grow at a CAGR of 6.2% during the forecast period. As populations increase and urbanization expands, the need for safe and reliable water sources becomes crucial. Water testing equipment plays a vital role in ensuring that water supplies meet regulatory standards and are free from contaminants. Additionally, the demand for water to produce food and beverages, as well as pharmaceutical products, is driving the market growth. Industries such as agriculture, food processing, and pharmaceuticals rely on high-quality water for their operations. Water testing equipment enables these industries to monitor the quality of water used in their processes and ensure compliance with health and safety standards.

To Understand More About this Research: Request a Free Sample Report
The COVID-19 pandemic has also highlighted the importance of water resource management and sustainability. The spread of infectious diseases has led to an increased focus on water hygiene and sanitation. Water testing equipment is instrumental in assessing the presence of pathogens and contaminants in water sources, thereby contributing to the prevention and control of diseases. Furthermore, governments and organizations are initiating infrastructural development programs to enhance drinking water facilities. Economic stimulus packages often include provisions for improving water infrastructure, which drives the demand for water testing equipment. These programs aim to ensure access to clean and safe drinking water for communities.
The water testing equipment industry is expected to benefit from the new Public-Private Partnership (PPP) law passed in the U.S., which aims to promote investments in desalination facilities and water purification plants. This initiative creates a favorable environment for upgrading existing infrastructure and establishing new water treatment facilities domestically. The PPP law encourages collaborations between the public and private sectors, facilitating investment in water treatment projects. By incentivizing partnerships, the law promotes innovation, efficiency, and expertise from both government agencies and private companies in addressing water challenges.
The UN World Water Development Report predicts that by 2050, around 6 million individuals will experience a shortage of clean water. This forecast is a result of global population growth, economic expansion, and the subsequent rise in demand for clean water. Additionally, factors such as diminishing water resources and escalating water pollution levels are exacerbating the need for water testing equipment.
Furthermore, the degradation of water resources through pollution poses a significant challenge to meeting the growing demand for clean water. Industrial activities, agricultural runoff, and inadequate wastewater treatment contribute to water pollution, jeopardizing the availability of safe and potable water. The need for comprehensive water testing equipment becomes paramount in assessing and monitoring water quality to address pollution concerns and safeguard public health.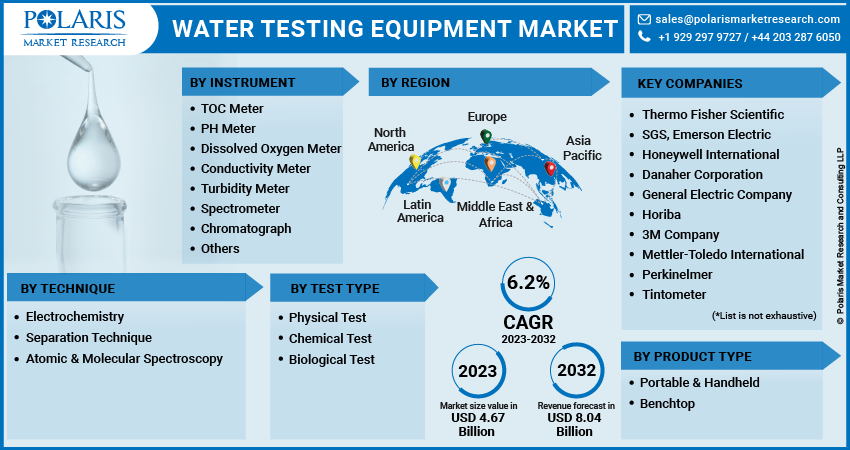 For Specific Research Requirements, Request for a Customized Report
Industry Dynamics
Growth Drivers
The growing importance of water quality assessment and the need for reliable testing solutions have attracted a diverse range of companies to enter the water testing equipment market. These new players aim to capitalize on the expanding customer base and address the rising demand for accurate and efficient water testing technologies. By introducing their unique products and services, these entrants contribute to the competitive landscape, fostering innovation and driving market growth.
Simultaneously, existing players in the water testing equipment industry continue to explore new avenues for business development. They invest in research and development efforts to enhance the functionality, reliability, and usability of their equipment. Innovation serves as a key differentiating factor for established players, allowing them to maintain and expand their market share. Through continuous improvement and the introduction of novel features, these companies aim to stay ahead of the competition and meet the evolving needs of customers.
Report Segmentation
The market is primarily segmented based on instrument, product type, test type, technique, and region.
By Instrument

By Product Type

By Test Type

By Technique

By Region

TOC Meter

PH Meter

Dissolved Oxygen Meter

Conductivity Meter

Turbidity Meter

Spectrometer

Chromatograph

Others

Portable & Handheld

Benchtop

Physical Test

Chemical Test

Biological Test

Electrochemistry

Separation Technique

Atomic & Molecular Spectroscopy

North America (U.S., Canada)

Europe (France, Germany, UK, Italy, Netherlands, Spain, Russia)

Asia Pacific (Japan, China, India, Malaysia, Indonesia. South Korea)

Latin America (Brazil, Mexico, Argentina)

Middle East & Africa (Saudi Arabia, UAE, Israel, South Africa)
To Understand the Scope of this Report: Speak to Analyst
Spectrometer segment accounted for the largest market share in 2022
Spectrometer segment dominated the market. These desktop laboratory tools play a crucial role in assessing the purity and quality of water across various settings, including drinking water, processed water, & wastewater. One key application of spectrometers in water testing is the analysis of Total Organic Carbon (TOC). TOC analysis is a widely used method to quantify the total carbon content present in organic compounds within pure water and aqueous systems. This analytical technique allows organizations, laboratories, and water treatment facilities to evaluate the suitability of a solution for their specific processes.
Spectrometers equipped with advanced technologies and capabilities enable precise and reliable TOC analysis, facilitating comprehensive water quality monitoring and compliance with regulatory standards. The versatility and accuracy of spectrometers make them indispensable tools in water testing laboratories, research institutions, and industrial facilities seeking to maintain and optimize water quality across different applications.
Benchtop segment expected to hold significant market share
Benchtop segment is projected to hold significant market share in terms of revenue. The dominance of the benchtop product type in the market reflects its practicality, ease of use, and suitability for field applications. Its portability and self-contained nature enable efficient water testing and monitoring in remote locations, contributing to improved access to reliable water quality data and facilitating proactive measures to address any identified issues.
Portable segment expected to witness the steady growth. Rise in demand for portable and handheld water testing devices is driven by their ability to facilitate on-site analysis, offer a wide range of testing capabilities, and provide flexibility for professionals operating in diverse environments. As the market continues to evolve, the segment is expected to experience significant growth, catering to the increasing need for portable solutions that enable efficient water quality assessment and monitoring.
North America region dominated the global market in 2022
North America region dominated the global market with considerable market share in 2022. This region's dominance can be attributed to various factors, including stringent regulations and policies pertaining to water quality and safety. In the United States, regulations such as the Clean Water Act play a crucial role in maintaining the quality of surface waters used for drinking purposes. This act requires states to designate drinking water sources and establish water quality standards to ensure the protection of these water bodies. The implementation of programs aimed at preventing pollution and contaminants from entering these water sources has further emphasized the need for effective water testing equipment.
Moreover, the Safe Drinking Water Act (SDWA) in the United States sets standards for public drinking water supplies to ensure the safety and quality of the water consumed by the population. This legislation mandates regular monitoring, testing, and treatment of drinking water to safeguard public health. The strict compliance requirements outlined by the SDWA have led to an increased demand for water testing equipment to meet the regulatory standards and ensure the provision of safe drinking water to the population.
The European Commission has undertaken a mission to modernize and improve water utilities in less developed regions of Europe. This initiative aims to enhance water management practices and infrastructure, ensuring access to clean and safe water for all European citizens. As a result, the demand for water testing equipment is expected to increase within the domestic market. The European Union (EU) has established a comprehensive water policy framework governed by three key directives: the drinking water directive, the water framework directive, and the urban wastewater treatment directive. These directives set guidelines and regulations for water quality, conservation, and wastewater treatment across EU member states.
The drinking water directive ensures the quality and safety of drinking water supplied to the public. It sets specific standards and requirements for water quality monitoring, ensuring that drinking water meets the necessary health and safety standards. The water framework directive promotes the sustainable management of water resources in Europe. It focuses on the protection, improvement, and sustainable use of aquatic ecosystems, and requires member states to monitor and assess the ecological and chemical status of their water bodies.
Competitive Insight
Some of the major players operating in the global market include Thermo Fisher Scientific, SGS, Emerson Electric, Honeywell International, Danaher Corporation, General Electric Company, Horiba, 3M Company, Mettler-Toledo International, Perkinelmer, Tintometer, Eurofins Scientific, Idexx Laboratories, Agilent Technologies, and Shimadzu Corporation.
Recent Developments
In March 2023, Emerson introduced new product filter series ASCOTM Series 641, 642, and 643 Aluminum Filter Regulators to improve its product's process efficiency, and subsequent downtime in the several applications.
Water Testing Equipment Market Report Scope
| | |
| --- | --- |
| Report Attributes | Details |
| Market size value in 2023 | USD 4.67 billion |
| Revenue forecast in 2032 | USD 8.04 billion |
| CAGR | 6.2% from 2023 – 2032 |
| Base year | 2022 |
| Historical data | 2019 – 2021 |
| Forecast period | 2023 – 2032 |
| Quantitative units | Revenue in USD billion and CAGR from 2023 to 2032 |
| Segments covered | By Instrument, Product Type, Test Type, By Technique, By Region |
| Regional scope | North America, Europe, Asia Pacific, Latin America; Middle East & Africa |
| Key companies | Thermo Fisher Scientific, SGS, Emerson Electric, Honeywell International, Danaher Corporation, General Electric Company, Horiba, 3M Company, Mettler-Toledo International, Perkinelmer, Tintometer, Eurofins Scientific, Idexx Laboratories, Agilent Technologies, and Shimadzu Corporation. |