The global waterborne coatings market size was 29.2 kilo tons in 2017 and is anticipated to grow at a CAGR of 6.2% between 2018 and 2026. Waterborne coating demand has witnessed a steady growth in different parts of the world as it is an environment-friendly solution. It makes use of water for a dispersion medium of resins unlike its solvent counterpart. The market has also flourished on account of numerous technological & product developments.
Waterborne is a new coating technology that has taken place in the coating industry in past 40 years, where other innovations include water-soluble coatings, radiation-curable coatings, high-solid coatings, and two-component systems. These products, are environmentally-friendly coating and is driven by the growth of non-solventborne technologies in both the industrial and architectural coatings.
Europe Waterborne Coatings Market Share By End-Use Type, 2017-2026 (Volume%)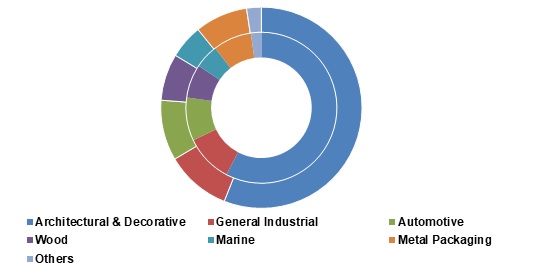 Know more about this report: request for sample pages
Rising construction spending in the emerging nations of the Asia Pacific and Middle East and the application of these products in new constructions is a significant growth parameter for the global market. Growing production of automotive OEMs/products is also a driving factor for the waterborne market. These coatings have ability to protect vehicles against harsh weather, UV radiations, and acid rain, the rising demand is also attributed to the top-notch physical and chemical properties that are highly appealing to consumers.
Technological developments in the formulation of these products have also taken place on a continuous time span. Some of the crucial technologies in this aspect include emulsion & suspension polymerization, polyurethane dispersions, insoluble aqueous polymer dispersions, alkyd emulsions, soluble & partially soluble polymers.
Changing consumer buying pattern in tandem with the shift in their preference for eco-friendly paints & coatings has positively impacted the industry growth. However, the trend to continue the replacement of solvent borne coating differs with regions and the regulations. These products have very less volatile organic compound (VOC) content in their formulation as compare to the solvent borne options and thus are known to have very less environmental impact.
The demand for such eco-friendly products vary with the parts of the world. For instance, the overall quality of these products depends largely on the economic conditions in a specific market. These products have recently witnessed faster growth rates in the emerging markets after mature markets such as North America and Europe. In the current scenario, the best growth prospect countries include India, China, Poland, Iran, and Saudi Arabia.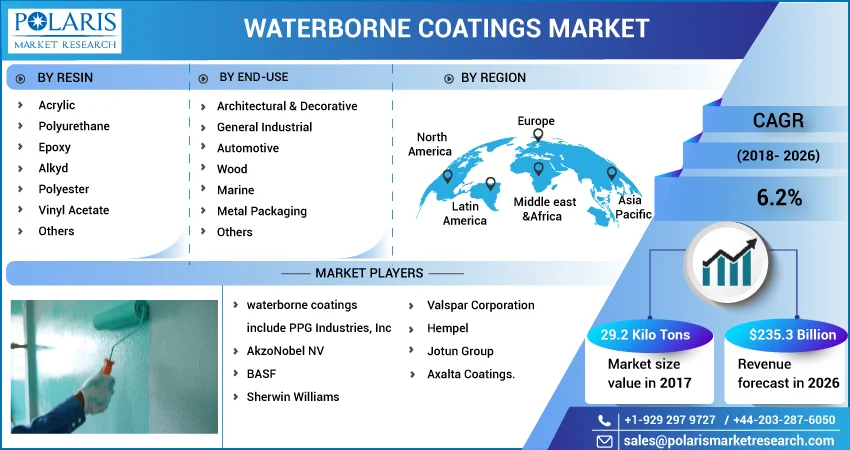 Know more about this report: request for sample pages
Segment Analysis:
Waterborne coatings are used in large number of end-use applications such as in architecture, automotive, general industrial applications, wood, protective marine coatings, and others. Architectural segment is the largest application for these products on account of the high growth in the construction industry. Automotive waterborne coatings are among the fastest growing segments.
The global market is also segmented on the basis of resin materials used in its formulation such as acrylic, polyurethane, vinyl acetate, polyester, alkyds, and others. Polyurethane based waterborne coatings are anticipated to witness fastest growth due to excellent characteristics of polyurethane.
Regional Analysis:
The waterborne coating industry in Western Europe, Japan, and the United States is mostly mature and mainly correlates with the health of the economy, especially transportation, housing, and construction. The demand growth in Europe and North America is forecasted to increase at an annual average rates 2-3% with slow growth rate in Japan on account of lack of growth in its major markets such as automotive OEM, appliances, and machinery.
The growth in demand is expected to be fastest in the Asia Pacific region. This region is expected to witness higher growth on the value basis due to more production of comparatively higher-valued coatings such as waterborne and powder coating. Moreover, China is a manufacturing base to many significant market players, which is also a growth factor. Increasing construction activities in the emerging countries of Asia has also contributed towards the growth of this regional market.
Competitive Analysis:
The global industry constitutes of large number of multinational and domestic companies and is highly competitive. Some of the major industry players for waterborne coatings include PPG Industries, Inc., AkzoNobel NV, BASF, Sherwin Williams, Valspar Corporation, Hempel, Jotun Group, and Axalta Coatings.