The global Web Real-Time Communication (WebRTC) market size was valued at USD 2,179.2 million in 2019 and is anticipated to grow at a CAGR of 32% during the forecast period. The demand for WebRTC has increased significantly over the years, and has been implemented by technology giants such as Google, Amazon, and Facebook among others to improve the reliability and security of their web applications. WebRTC enables fast and secure API-based communication for transmission of data, audio, and video between web browsers. WebRTC. WebRTC solutions are also capable of integration with other software for additional features.
WebRTC has gained momentum in the healthcare industry over the past few years. The telehealth and telemedicine sector benefits greatly from WebRTC by improving the security of patient health data through encryption of communication. Healthcare organizations are adopting WebRTC to deliver improved services to patients than their competitors and gain an edge in the market. It assists healthcare organizations to offer remote therapy, doctor appointments through teleconferencing, remote observation of patients, and clinical meetings among others. It facilitates revenue management, better consumer engagement, and management of health applications. Increasing adoption of mobile telehealth applications further supports market growth. IoT is increasingly being integrated in healthcare devices such as smart bedside devices for continuous monitoring of patients, driving the market growth.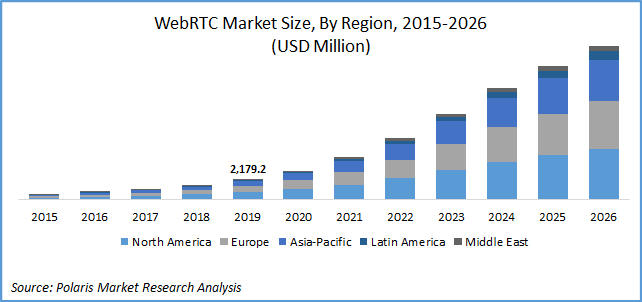 Know more about this report: request for sample pages
The increasing need for secure communication by various large and small businesses is driving this market. There has been an increase in the number of organizations adopting WebRTC solutions due to the profitability it provides to an organization. The rising adoption of Internet of Things (IoT) and Bring Your Own Devices (BYOD) is further driving the growth of this market. The increasing penetration of smart devices, growing digitization, and improved customer experiences further supplements the growth of this market. Superior voice and video quality offered by WebRTC solutions, reduced technology costs, and ability to enhance existing business flow has further increased its adoption worldwide.
The adoption of WebRTC has increased in the transportation sector, especially for fleet management. The need to incorporate telematics devices and provide direct communication facilities between driver and fleet company has fueled the growth of this segment. Implementation of WebRTC provides functionalities such as external calls between drivers and warehouses, incorporation of CCTV cameras in vehicles triggered by alarms, and driver-to-driver communication among others. WebRTC enables effective supply chain and logistics management, asset utilization, channel optimization, labor optimization, integration with third party systems such as parking management and traffic cameras while minimizing operational costs.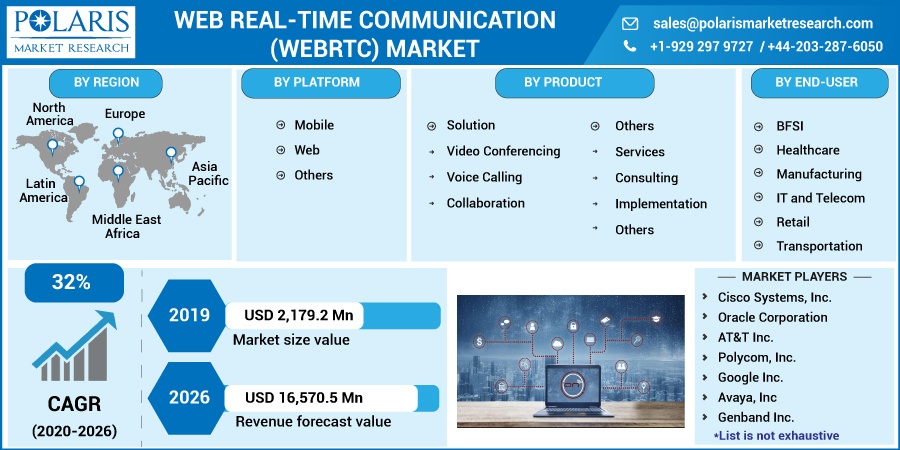 Know more about this report: request for sample pages
WebRT Market Report Scope
The market is primarily segmented on the basis of Platform, Product, End-User, and Geographic region.
By Platform

By Product

By End-User

By Region

Solution

Video Conferencing
Voice Calling
Collaboration

Others

Services
Consulting
Implementation
Others

BFSI
Healthcare
Manufacturing
IT and Telecom
Retail
Transportation
Others

North America (U.S., Canada)
Europe (Germany, UK, France, Italy, Spain, RoE)
Asia Pacific (China, India, Japan, South Korea, RoAPAC)
Latin America (Brazil, Mexico, Colombia, RoLATAM)
MEA (Saudi Arabia, South Africa, Israel, UAE, RoMEA)
Know more about this report: request for sample pages
Platform Outlook
On the basis of platform, the market is segmented into mobile applications, web browser, and others. The demand from the mobile applications is expected to increase during the forecast period owing to simplified implementation, reduced technology licensing costs, and rising use of mobile devices and social media.
Product Outlook
The product segment has been divided into is segmented into solutions and services. In 2019, the solution segment accounted for the highest market share owing to increasing demand for video conferencing, voice calling, and collaboration solutions by enterprises. Small and medium sized businesses are increasingly investment in WebRTC for efficient and secure communication, improved customer experience, higher productivity, and employee collaboration.
End-User Outlook
On the basis of end-user, the market is segmented into BFSI, healthcare, manufacturing, IT and telecom, retail, transportation, and others. In 2019, the IT and Telecom segment accounted for the highest market share. A massive increase in the use of smartphones, mobile devices, multimedia content, and clickstream data has resulted in increased demand for WebRTC from this sector. The telecom industry benefits from WebRTC by maximizing customer acquisition, enhancing customer service, maximizing operational costs, managing customer segmentation and campaigns, and improving customer lifetime value.
Regional Outlook
North America dominated the global Web Real-Time Communication market in 2019. Due to significant increase in need for secure communication solutions, businesses are increasingly turning towards WebRTC solutions. Established internet infrastructure in the region combined with high adoption of advanced technologies fuels the growth of the market in the region. North America accounts for a major share of the global market owing to various mergers and acquisitions taking place between leading vendors. The industry leaders are expanding and strengthening their presence in the region, leading to market growth.
Competitive Landscape
The leading players in the Web Real-Time Communication market include Cisco Systems, Inc., Oracle Corporation, AT&T Inc., Polycom, Inc., Google Inc., Avaya, Inc, Genband Inc., Cafex Communications, Inc., Plivo, Inc., Tokbox Inc., Mitel Networks, Alcatel-Lucent, International Business Machines Corporation, and Dialogic Corporation among others. These companies are taking initiatives to strengthen their market presence by introducing advanced solutions for its customers. These players are also collaborating with other market leaders to expand their offerings and acquire new customers.