The global weigh-in-motion system market was valued at USD 925.0 million in 2021 and is expected to grow at a CAGR of 10.5% during the forecast period. The advantages of a weigh-in-motion system involve improved road safety, traffic control, detection of overloaded vehicles, cost savings, traffic control, and assessment. The weigh-in-motion systems allow local governments and transportation government agencies to plan systematic ways to ensure that roadways are kept safe through constant monitoring, capturing, and enforcement methods, thereby driving weigh-in-motion structure sales.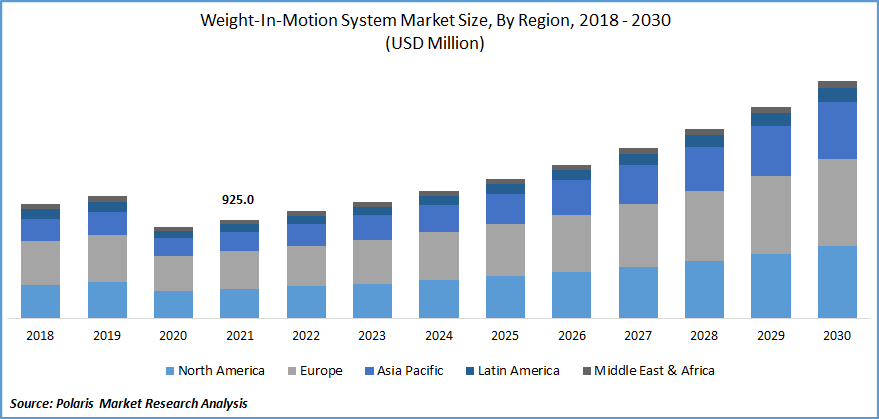 Know more about this report: Request for sample pages
Weigh-in-motion equipment can detect and track axle and gross weight training as vehicles drive along a measuring location. WIM systems can recognize trucks driving at low or average traffic speeds and prevent them from stopping. They have the potential to enhance roadway safety, prevent highway surface defects, and lower the probability of an accident. They are also employed to collect weight-based tolls.
The weigh-in-motion system properly measures the wheel load. It ensures that a heavy vehicle is removed from the highway or directed to a weighbridge or enforcement station to protect the road's pavement or foundation.
The WIM system creates records of traffic data for each vehicle; these records contain information about the vehicle's type, speed, axle load, and axle spacing. Numerous applications, including pavement research and design, overweight enforcement, traffic data analysis and reporting, freight estimation, and traffic monitoring, make use of this precise traffic information.
Emerging situations of traffic congestion, as well as increasing public-private partnerships to attain sustainable, secure, and productive transport networks, will drive demand for weigh-in-motion processes. In September 2021, Idaho Transportation Department granted International Road Dynamics a USD 2.2 contract to implement a weigh-in-motion platform. This change will enhance heavy truck screening safety and effectiveness while lowering greenhouse gas emissions and weight station parking problems.
As technology advances, manufacturers are extensively investing in R&D to strengthen their position in the global market. Utilizing strain gauge sensors and fiber Bragg grating sensors, they are attempting to improve the weight-in-motion technology's performance. As a consequence, weigh-in-motion devices are in greater demand all over the world.
Market growth for weigh-in-motion systems is expected to be constrained by some issues, such as high upfront costs and onerous installation specifications for nonintrusive weigh-in-motion sensors. The movement of heavy corporate vehicles is expanding astoundingly due to technological developments in the business world. A weigh-in-motion system must be installed to regulate traffic and monitor compliance requirements.
The unpredictable course of the pandemic makes it challenging for governments to restore the global economy, including trade and tourism, while averting a fresh wave of illnesses. Numerous corporations made layoff announcements and relocated their operations to different nations.
Due to production line closures, store network interruptions, and declining interest, significant harm has been done. As a result, some auto dealers will permanently close, reducing the need for floor plan loans. The most affected sector was the transportation sector.
The ability of organizations to send travelers from better regions around the world and the chance for progress were wrecked by the movement restrictions that were put in place to stop the sickness from spreading. Therefore, transportation revenues fundamentally decreased due to the outbreak, some vehicle workers were laid off, and some vehicle organizations closed. The global transportation sector's enormous decline has severely impacted the market.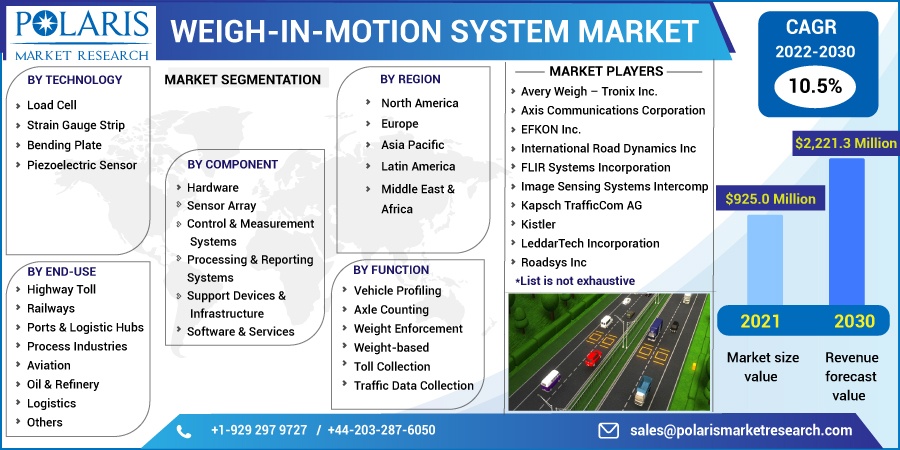 Know more about this report: Request for sample pages
Industry Dynamics
Growth Drivers
WIM systems are predicted to be used for predicting congestion causes and surveillance and enforcement. WIM offers traveler information systems, predictive analysis, management systems, professional services, traffic forecast solutions, ticket booking, and toll collection systems. Modern instruments such as streetside sensors, radio wave tags, and GPS systems are also helpful for properly monitoring and managing traffic.
As a result, the frequency of WIM system implementation will increase to deal with growing traffic congestion and transportation management. Australia's road transport sector has enhanced production, effectiveness, and outcomes as the first country to use onboard WIM systems to monitor road compliance. As a result, the increasing popularity of inbuilt WIM systems will almost certainly open up new opportunities for companies that manufacture these systems.
Moreover, overloaded vehicles risk infrastructure and road safety since they accelerate pavement wear, cracking, and rutting, leading to early pavement failure. Additionally, the damage to bridges is caused by heavy trucks. Trucks' aggressiveness may considerably rise when they are overloaded.
Extreme overpass loading situations are also controlled by huge trucks that overload or carry unusual loads, such as cranes. These methods, which include weigh-in-motion, measuring vehicle speeds, categorizing cars, counting axles, etc., are already used to gather traffic data.
Report Segmentation
The market is primarily segmented based on technology, component, end-use industry, function, and region.
By Technology

By Component

By End-Use

By Function

By Region

Load Cell
Strain Gauge Strip
Bending Plate
Piezoelectric Sensor

Hardware

Sensor Array
Control & Measurement Systems
Processing & Reporting Systems
Support Devices & Infrastructure

Software & Services

Highway Toll
Railways
Ports & Logistic Hubs
Process Industries
Aviation
Oil & Refinery
Logistics
Others

Vehicle Profiling
Axle Counting
Weight Enforcement
Weight-based Toll Collection
·Traffic Data Collection

North America (U.S., Canada)
Europe (France, Germany, UK, Italy, Netherlands, Spain, Russia)
Asia Pacific (Japan, China, India, Malaysia, Indonesia, South Korea)
Latin America (Brazil, Mexico, Argentina)
Middle East & Africa (Saudi Arabia, UAE, Israel, South Africa)
Know more about this report: Request for sample pages
Piezoelectric Sensor segment is expected to witness the fastest growth
The layout of piezoelectric sensors is simpler and more portable than that of other systems. Other benefits include a shallower road implementation depth and a broad measurement system range. These benefits over other sensors drive the requirement for piezoelectric sensors in weigh-in-motion applications worldwide.
Typically, the piezoelectric polymer sensors take the shape of a long cable or tape enclosed within a sizable block of elastomeric material. These blocks are put into grooves carved into the pavement perpendicular to the direction of traffic. The piezoelectric output of the current sensor technology is not constant with temperature and time, which causes significant ambiguity in the information recorded. Thus, this segment is growing with the fastest CAGR over the forecast period.
Highway Toll segment is expected to hold the significant revenue share
Many highway tolls utilize fast weigh-in-motion systems to recognize heavy vehicles while not obstructing traffic flow. Low-speed Weigh-In-Motion systems exist in the Asia Pacific and North America because of low costs and regulatory requirements. Highway toll roads in Europe, in contrast, hand, are fully equipped with high-speed weigh-in-motion systems due to increased transportation traffic and free service motion within ECU countries. Highway tolls commonly use weigh-in-motion marketplaces to reduce traffic congestion and recognize heavy vehicles.
Due to significant technological problems, direct enforcement of super fast weighs machines is currently prohibited in some nations. The accuracy of the gadgets must be 5% for immediate enforcement of the great velocity weigh-in movement. Although accuracy rates may differ from nation to nation, there is an increasing need to provide high-precision, fast weigh-in machines. There are now very few high-precision devices available, but industry growth potential will be made possible by the work proposed.
The hardware segment industry accounted for the highest market share in 2021
Several detectors and actuators are included in the hardware area. These sensors frequently gather data on the properties of the vehicle. On the contrary hand, bottom-up processing of the traffic and other relevant data that the sensors have acquired and stored in the database system. The hardware segment is anticipated to rule the weigh-in-motion market in the forthcoming years.
The demand in North America is expected to witness significant growth
As weighing technology continues to progress and the number of heavy-duty vehicles in the area rises, the market share for systems in the North American region is predicted to grow significantly during the projection period. Additionally, the government's rigorous restrictions and increasing worries about managing traffic, detecting overloaded cars, cutting costs, etc., will spur industry growth.
Even though the European market is quite developed and has high levels of implementation across several nations, there is still significant room for expansion. The region's demand for weigh-in-motion devices is increasing steadily and is unaffected by the worldwide slump.
The market is expanding as a result of rapid infrastructural development and the existence of free trade agreements among European countries. With increasing investments by regional authorities for traffic infrastructure construction projects on national and global highways, the region is anticipated to be a key income source for the market.
To reduce traffic congestion, automated toll, license plate recognition, traffic control, and transport planning, Asia Pacific has begun recognizing traffic solutions by utilizing weigh-in-motion devices and traffic sensors. Strong economic growth, increasing population, and rapid urbanization are major factors driving the need for weigh-in-motion systems in the Asia Pacific region.
China and India, two of the most populous nations on earth, have a significant car population. The region's market is anticipated to increase due to the growing need for deploying smart transport networks caused by problems with the traffic congestion on the highways caused by heavy-duty vehicles.
Competitive Insight
Some of the major players operating in the global market include Avery Weigh – Tronix Inc., Axis Communications Corporation, EFKON Inc., International Road Dynamics Inc, FLIR Systems Incorporation, Image Sensing Systems Intercomp, Kapsch TrafficCom AG, Kistler, LeddarTech Incorporation, Roadsys Inc., Reno A&E, Raytheon Corp., SICK PLC, Siemens AG, Sensys Networks SWARCO, and TE Connectivity
Recent Developments
In April 2021, MyCity 1.0, a revolutionary urban transportation management solution for smarter, cleaner cities, was released by SWARCO AG.
In April 2021, For enhancements to Kinetic Signals, Q-Free expanded Georgia DOT licenses for nationwide traffic signal control software.
In May 2021, With its steel housing piezoelectric motion sensors used for orbit research, Kistler started to offer minimal outgassing cables.
Weigh-In-Motion System Market Report Scope
| | |
| --- | --- |
| Report Attributes | Details |
| Market size value in 2022 | USD 1,001.9 million |
| Revenue forecast in 2030 | USD 2221.3 million |
| CAGR | 10.5% from 2022 - 2030 |
| Base year | 2021 |
| Historical data | 2018 - 2020 |
| Forecast period | 2022 - 2030 |
| Quantitative units | Revenue in USD million and CAGR from 2022 to 2030 |
| Segments Covered | By Technology, By Component, By End-Use Industry, By Function, By Region |
| Regional scope | North America, Europe, Asia Pacific, Latin America; Middle East & Africa |
| Key Companies | Avery Weigh – Tronix Inc., Axis Communications Corporation, EFKON Inc., International Road Dynamics Inc, FLIR Systems Incorporation, Image Sensing Systems Intercomp, Kapsch TrafficCom AG, Kistler, LeddarTech Incorporation, Roadsys Inc., Reno A&E, Raytheon Corp., SICK PLC, Siemens AG, Sensys Networks SWARCO, and TE Connectivity |