The global zero-touch provisioning market was valued at USD 2,772.13 million in 2022 and is expected to grow at a CAGR of 10.6% during the forecast period. Zero-Touch Provisioning (ZTP) market is growing rapidly, driven by the increasing demand for connected devices and the need for simplified and efficient device deployment and management. ZTP is a technique for configuring devices that automatically deploy devices and configures necessary configurations on them. By automating most manual repetitious procedures, ZTP enables IT professionals to deploy and configure network devices in a large-scale environment swiftly. Increased adoption of Software-Defined Networking (SDN) and Network Functions Virtualization (NFV) to drive network agility and flexibility are responsible for the rising demand for ZTP.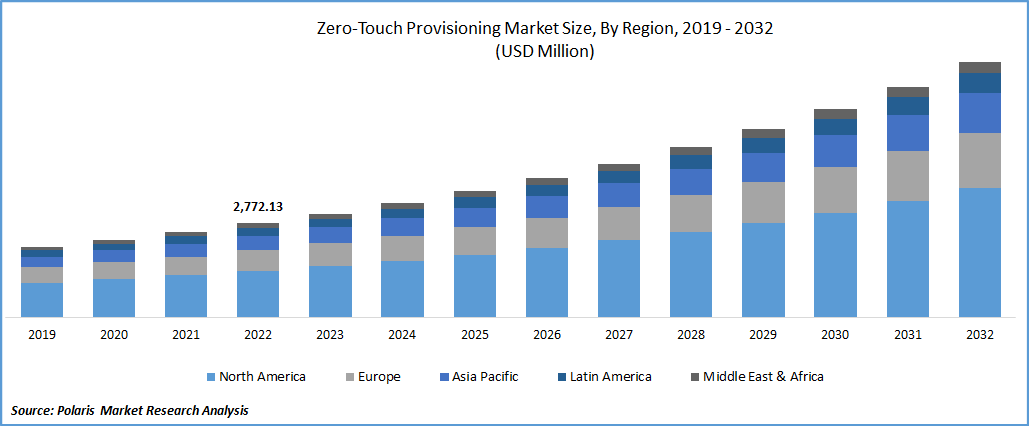 Know more about this report: Request for sample pages
Furthermore, the roll-out of 5G networks and the growth of Internet of Things (IoT) devices drive the need for ZTP solutions to manage and provision large numbers of devices. ZTP can be configured on routers, switches, firewalls, and wireless access points that are part of a software-defined wide area network (SD-WAN). Switch deployment in contexts with customized configuration changes is made possible by zero-touch provisioning, which combines basic configuration. It is extremely helpful for automating procedures like bug fixes, patch deployment, adding new features to an existing connection, and operating system updates.
COVID-19 hampered the global economy and, subsequently, plans for the roll-out and deployment of 5G infrastructure. According to IoT analytics, several providers have noticed a decline in new order intake of about 50% due to Covid-19 forcing their clients to freeze budgets or postpone IT/IoT investment.
However, the quick transition to a work-from-home paradigm prompted the introduction of online platforms to, among other things, guarantee company continuity and facilitate distance learning. The development of effective network services and solutions was required as a result. The rise in smart device use, the deployment of 5G technology, increasing internet connectivity, and other technical improvements have all had a favorable influence on the need for zero-touch provisioning.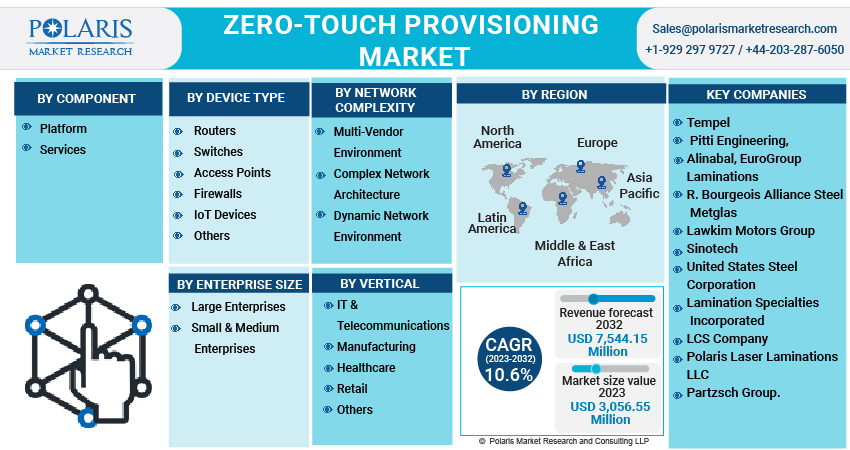 Know more about this report: Request for sample pages
Industry Dynamics
Growth Drivers
ZTP reduces operating expenses, time spent on manual labor, and human mistakes, which helps the zero-touch provisioning market expand. Automation and removing errors are essential as data centers transition from static legacy networks to dynamic cloud computing. Networking equipment with ZTP capability facilitates deployment simplicity and minimizes provisioning mistakes. Additionally, zero-touch provisioning market acceptance is growing rapidly due to the increased number of connected consumer products, Internet of Things (IoT), and industrial machines deployed across the industrial, commercial, consumer, & infrastructural domains.
Report Segmentation
The market is primarily segmented based on component, device type, network complexity, enterprise size, vertical and region.
By Component

By Device Type

By Network Complexity

By Enterprise Size

By Vertical

By Region

Routers

Switches

Access Points

Firewalls

IoT Devices

Others

Multi-Vendor Environment

Complex Network Architecture

Dynamic Network Environment

Large Enterprises

Small & Medium Enterprises

IT & Telecommunications

Manufacturing

Healthcare

Retail

Others

North America (U.S., Canada)

Europe (France, Germany, UK, Italy, Netherlands, Spain, Russia)

Asia Pacific (Japan, China, India, Malaysia, Indonesia. South Korea)

Latin America (Brazil, Mexico, Argentina)

Middle East & Africa (Saudi Arabia, UAE, Israel, South Africa)
Know more about this report: Request for sample pages
Services segment is expected to grow at a highest CAGR during the forecast period
The services segment is estimated to grow at a high CAGR during the projected period. The increasing need for time and resource savings, high levels of customization and flexibility, and continuous support and maintenance are all likely to fuel the expansion of the services market. To assist enterprises in managing and maintaining their ZTP deployments, ZTP services frequently include continuous support and maintenance. This might involve providing firms with technical assistance, software upgrades, and other resources to keep their ZTP implementations operating efficiently.
The platform segment had the largest market share in the global market in 2022. The surge in popularity is ascribed to ZTP systems, which provide businesses with several benefits, including easier deployment and setup, higher dependability, lower deployment costs, and improved network visibility and control. In May 2022, Red Hat introduced "Red Hat OpenShift 4.1", the most current version of its application platform based on containers and Kubernetes, which now supports zero-touch provisioning. Zero-touch provisioning, which enables its OEM partners to install the "OpenShift Container Platform" at their factories & create re-locatable OpenShift clusters using its hardware platforms, was designed to make automated deployments feasible.
IoT device segment is expected to exhibit a substantial growth during the forecast period.
The IoT devices segment is expected to grow substantially during the forecast period. The surge in demand for IoT devices during the forecast period. IoT device adoption has increased due to several industries, including healthcare, agriculture, retail, transportation, manufacturing, and aerospace & military, relying increasingly on IoT and linked devices. ZTP makes it simpler for businesses to adopt and grow IoT solutions by streamlining the deployment and management of IoT devices. Organizations can save money since it eliminates mistakes and the need for manual intervention.
The switches segment held the dominant position in the market and accounted for market share in 2022. The increase in major organizations' use of the internet and the cloud to quickly build and implement network components is related to the rising usage of edge devices, which in turn, is increasing the demand for switches. Switches that support ZTP reduce the time and effort needed for manual intervention by enabling automated network configuration and deployment. Organizations may scale their networks as needed using ZTP's simple addition and management of new switches.
Complex Network Architecture segment dominated the market during 2022
The complex network architecture segment dominated the global market in 2022. Large businesses and organizations use complex network environments, which include two domains, subnetworks, many layers, and interdependencies between networking systems and devices while sharing a common network control protocol between two host systems. For instance, in November 2022, the most recent "GigaOm NetDevOps Radar Report" named network automation solutions vendor Anuta Networks as an outperformer and leader. Networks with many vendors and domains can benefit from extensive network lifecycle automation provided by Anuta ATOM. Different use cases Anuta ATOM supports include configuration management, compliance, ZTP, and OS updates.
Asia Pacific region is expected to lead the market share in 2022
Asia Pacific region dominated the global market with market share in 2022. The increase of connected devices in the region, the quick adoption of zero-touch provisioning by major corporations and SMEs, and the rising penetration of network automation solutions are all cited as reasons for the expansion. The demand is driven by the enormous and dispersed client bases of China and India, also opening up new regional prospects. The area's unrealized potential also creates fresh investment prospects for advanced ZTP.
In December 2022, Indonet implemented Juniper Apstra to assist in automating, modernizing, and facilitating network infrastructure growth. Reduced deployment timeframes and dependable data center operations using verified templates and zero-touch provisioning have allowed Indonet to streamline the ongoing maintenance of its data center networks and integrate them into a virtual environment.
North America is expected to show high growth during the forecast period. Modern technologies, like ZTP, have been able to be implemented more quickly because of a well-established infrastructure. Innovators in technology are also abundant in North America. This area is home to most of the top industry firms, including Cisco, IBM, Juniper Networks, & NetBrain. With a substantial client base, these firms provide efficient zero-touch provisioning solutions globally.
Competitive Insight
Some of the major players in the global zero-touch provisioning market include Cisco Systems, Nokia Corporation, Ericsson, Huawei Technologies, ZTE Corporation, Anuta Networks, Apstra, BlueCat, Entuity, Riverbed, Itential, Hewlett Packard Enterprise & Extreme Networks.
Recent Developments
In December 2022, the largest oil company in the country, Indian Oil Corporation (IOC), chose to link a quarter of its network of gas stations using managed network services from Reliance Jio. Jio will provide managed SD-WAN services for 7,200 IOC sites, zero-touch provisioning, and around-the-clock real-time monitoring.

In November 2022, Nokia announced that it was installing Software Defined Access Networks (SDAN) for du from Emirates Integrated Telecommunications Company (EITC) to provide zero-touch network operations. The three-year initiative is based on the long-standing partnership between the two businesses, which offers top-notch technology to the UAE.
Zero-touch Provisioning Market Report Scope
| | |
| --- | --- |
| Report Attributes | Details |
| Market size value in 2023 | USD 3,056.55 million |
| Revenue forecast in 2032 | USD 7,544.15 million |
| CAGR | 10.6% from 2023 – 2032 |
| Base year | 2022 |
| Historical data | 2019 – 2021 |
| Forecast period | 2023 - 2032 |
| Quantitative units | Revenue in USD million and CAGR from 2023 to 2032 |
| Segments covered | By Component, By Device type, By Network complexity, By Enterprise size, By Vertical, By Region |
| Regional scope | North America, Europe, Asia Pacific, Latin America; Middle East & Africa |
| Key companies | Cisco Systems, Inc., Nokia Corporation, Telefonaktiebolaget LM Ericsson, Huawei Technologies Co., Ltd., ZTE Corporation, Anuta Networks, Apstra, BlueCat, Entuity, Riverbed, Itential, Hewlett Packard Enterprise Development LP and Extreme Networks. |