The global chemical distribution market was valued at USD 247.02 billion in 2022 and is expected to grow at a CAGR of 6.0% during the forecast period.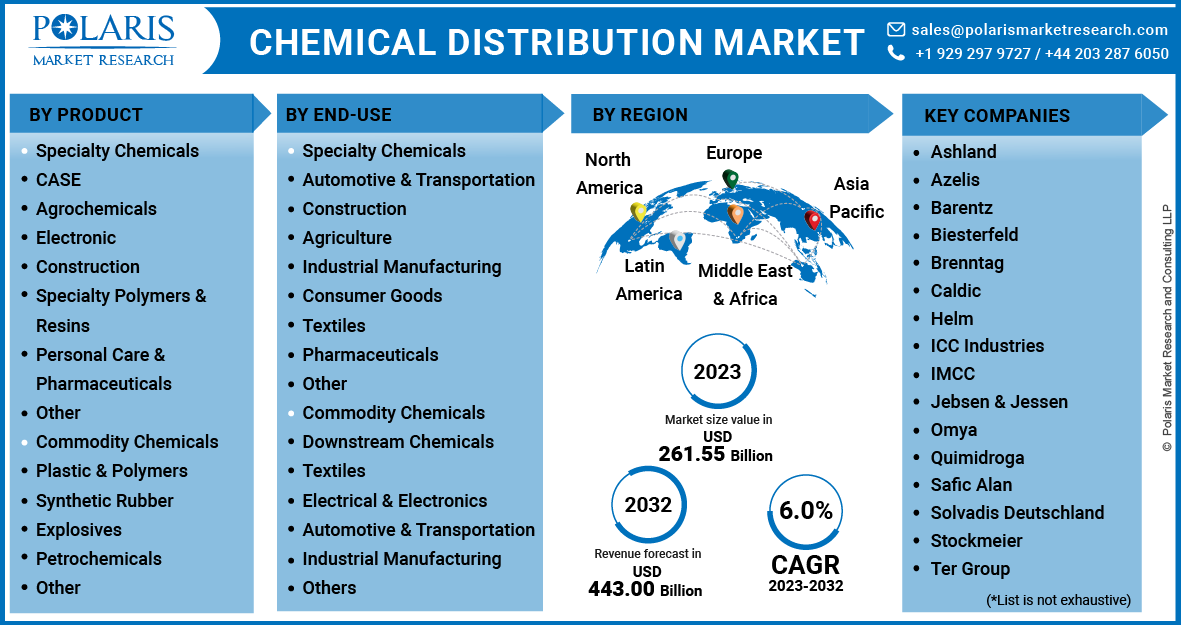 To Understand More About this Research: Request a Free Sample Report
Chemical producers play a pivotal role in furnishing vital raw materials to entities operating in the manufacturing and industrial domains. These raw materials can be procured through two primary avenues: direct sales from producers or the intermediation of third-party entities before reaching the end users. The trajectory of third-party distribution of specialty and commodity chemicals is poised for substantial expansion.
The strategic delegation of value-added services such as packaging, logistics management, waste disposal, blending, inventory oversight, and technical education to external parties largely drives this shift. As businesses increasingly opt for these outsourced services, the role of third-party intermediaries gains prominence. The burgeoning prominence of third-party distribution is attributed to its ability to deliver comprehensive solutions that align with the evolving demands of modern industries, fueling its projected growth trajectory.
Chemical distribution pertains to the process of conveying and preserving chemicals, both in bulk quantities and packaged configurations. This practice encompasses diverse methods of dissemination, often employing mediums such as sacks, barrels, containers, and pipelines. The chemical industry is a prolific supplier of various chemical substances, which are fundamental constituents for sectors including oil and petroleum, cosmetics, food, textiles, paints, construction, and agriculture.
Chemical distribution services are pivotal in bridging the gap between producers and smaller clients in less developed regions. These services hold a key position in propelling the expansion of the global chemical industry, enabling chemical producers to tap into novel markets seamlessly. In this context, the emergence of burgeoning markets. These regions possess significant growth potential, capable of catalyzing substantial advancements within the chemical industry.
The escalating concerns pertaining to employee safety stand as a potential impediment. Furthermore, the global drive among organizations to prioritize the mitigation of the environmental repercussions stemming from chemical activities is anticipated to exert a partial constraint on industrial growth. Nonetheless, the trajectory of market dynamics is expected to undergo transformation over the forecast period. This transformation will be instigated by the incorporation of advanced and intricate technologies within the chemical sector, effectively reshaping prevailing trends and catalyzing change within the industry landscape.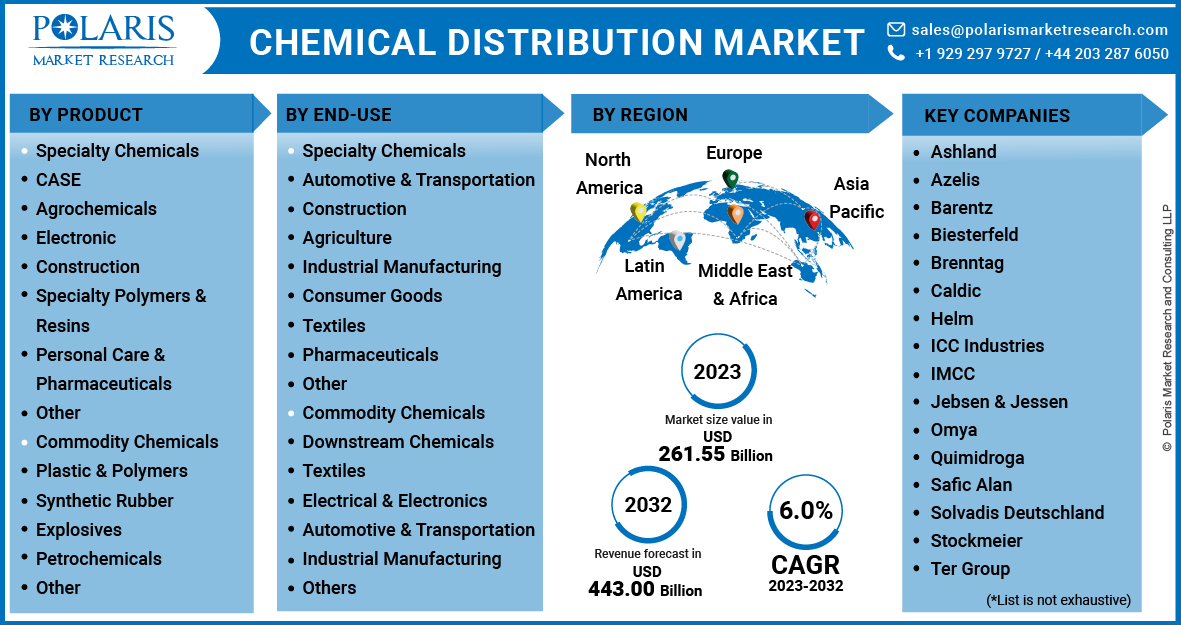 For Specific Research Requirements, Request for a Customized Report
Industry Dynamics
Growth Drivers
Consumer Preferences and Global Alliances Shape Chemical Distribution
The influence of the chemical sector extends across both advanced and emerging markets, exerting a profound impact on their respective trajectories. One of the driving forces underpinning the chemical distribution market's growth, particularly in the realm, is the perceptible shift in consumer preferences. This transformation has engendered a heightened emphasis on premium-quality products, necessitating industry players to align their offerings accordingly.
Furthermore, the phenomenon of globalization is poised to orchestrate a scenario where both small and large manufacturing entities forge strategic alliances with international counterparts. This strategic collaboration is anticipated to yield benefits encompassing efficient cost structures, market share expansion, competitive advantage attainment, and the enhancement of service capabilities for global clientele. As such, these dynamics collectively contribute to the evolution and prosperity of the chemical distribution landscape.
Report Segmentation
The market is primarily segmented based on product, end-use, and region.
By Product

By End-Use

By Region

Specialty Chemicals

CASE

Agrochemicals

Electronic

Construction

Specialty Polymers & Resins

Personal Care & Pharmaceuticals

Other

Commodity Chemicals

Plastic & Polymers

Synthetic Rubber

Explosives

Petrochemicals

Other

Specialty Chemicals

Automotive & Transportation

Construction

Agriculture

Industrial Manufacturing

Consumer Goods

Textiles

Pharmaceuticals

Other

Commodity Chemicals

Downstream Chemicals

Textiles

Electrical & Electronics

Automotive & Transportation

Industrial Manufacturing

Others

North America (U.S., Canada)

Europe (France, Germany, UK, Italy, Netherlands, Spain, Russia)

Asia Pacific (Japan, China, India, Malaysia, Indonesia. South Korea)

Latin America (Brazil, Mexico, Argentina)

Middle East & Africa (Saudi Arabia, UAE, Israel, South Africa)
To Understand the Scope of this Report: Speak to Analyst
By Process Analysis
Commodity chemicals segment accounted for the largest share in 2022.
Commodity chemicals segment held the largest share in 2022. This dominance can be attributed to the escalated adoption of these chemicals across a diverse spectrum of end-use sectors, encompassing domains such as transportation, automotive, and personal care, among others. Within the realm of commodity chemicals, a unique class referred to as "fungible" substances merits attention. A fungible chemical attains a state of complete interchangeability, signifying an absence of differentiation among products stemming from diverse manufacturers.
Specialty chemicals segment will grow at rapid pace. Specialty chemicals exhibit a distinct characteristic wherein their production is confined to a narrower pool of manufacturers. Unlike their counterparts, these compounds are purposefully formulated to cater to specific applications and tailored consumer requisites. The accessibility of specialty chemicals is often constrained by patent limitations, resulting in their availability from a limited number of producers. Nevertheless, as market demand escalates and patent restrictions expire, there exists the potential for the evolution of specialty compounds into the realm of commodity chemicals.
By End-Use Analysis
Industrial manufacturing segment accounted for the largest share in 2022
Industrial manufacturing segment held the largest share in 2022. This considerable share is underpinned by the extensive utilization of specialty chemicals in the fabric of industrial manufacturing operations. These chemicals play a pivotal role in crafting a myriad of products, including adhesives, sealants, high-performance thermoplastics, and institutional & industrial cleaners. The purview of specialty chemicals extends further to encompass critical functions such as water treatment, process enhancement, and the formulation of finished fuel additives. These chemicals function as indispensable agents facilitating refineries, petrochemical facilities, and heavyweight industrial enterprises in achieving their performance and cost targets.
Moreover, the intricate chemistry finds its application in a plethora of aspects of modern vehicles, spanning from the paint, bumpers, and headlights to the interior components like seats, dashboard elements, and vital safety features encompassing seatbelts and airbags. The very construction of components such as lithium polymer car barriers in certain hybrid and electric vehicles hinges on the utilization of specialized plastics. Anticipated growth in demand for these specific end-use sectors is poised to serve as a catalyst propelling the distribution market in the imminent future.
By Regional Analysis
Asia Pacific region dominated the global market in 2022
The Asia Pacific region has emerged as a dominant force in the global chemical distribution market, securing a revenue share surpassing expectations in 2022. This growth is primarily attributed to the escalating demand for diverse chemicals across sectors like automotive, pharmaceuticals, mining, cosmetics, and plastic additives. The momentum is particularly pronounced in the dynamic economies of India and China, where burgeoning industries are driving chemical requirements.
Asia-Pacific's pivotal economies – China, Japan, India, South Korea, and Australia – have experienced rapid industrial expansion, significantly influencing the chemical distribution landscape. This region's economic vitality is underscored by the substantial contribution of the chemical sector to its gross domestic product. The ongoing industrialization trend in Asia Pacific is creating attractive opportunities for market participants, while globalization has historically played a crucial role in propelling the chemical distribution sector's expansion.
In recent times, the inclination towards utilizing third-party distributors as a means of growth to tap into underdeveloped regional markets has gained momentum. This trend has been spurred by the expansion of manufacturing capabilities by major chemical companies in North America. However, the petrochemical sector in the region has faced challenges due to fluctuations in crude oil prices, a subdued GDP in Latin America, and economic recessions in certain nations. Despite these setbacks, there is an anticipated rise in petrochemical production capacity on the horizon, driven by upcoming facilities such as Natgasoline and South Louisiana Methanol along the U.S. Gulf Coast.
Competitive Insight
The chemical distribution market is fragmented and is anticipated to witness competition due to several players' presence. Major service providers in the market are constantly upgrading their technologies to stay ahead of the competition and to ensure efficiency, integrity, and safety. These players focus on partnership, product upgrades, and collaboration to gain a competitive edge over their peers and capture a significant market share.
Some of the major players operating in the global market include:
Ashland

Azelis

Barentz

Biesterfeld

Brenntag

Caldic

Helm

ICC Industries

IMCC

Jebsen & Jessen

Omya

Quimidroga

Safic Alan

Solvadis Deutschland

Stockmeier

Ter Group

Univar Solutions

Wilbur Ellis Holdings
Recent Developments
In June 2023, BrennTag completed the acquisition of the Shanghai Saifu Chemical, increasing its presence in APAC region for the specialty chemicals.
In June 2023, Brenntag has acquired Aik Moh Group with the goal of bolstering its capabilities in the production and distribution of industrial chemicals. This acquisition will enable Brenntag to provide value-added services encompassing logistics, repacking, warehousing, as well as mixing and blending, with a distinct emphasis on the South-East Asian region.
Chemical Distribution Market Report Scope
| | |
| --- | --- |
| Report Attributes | Details |
| Market size value in 2023 | USD 261.55 billion |
| Revenue forecast in 2032 | USD 443.00 billion |
| CAGR | 6.0% from 2023 – 2032 |
| Base year | 2022 |
| Historical data | 2019 – 2021 |
| Forecast period | 2023 – 2032 |
| Quantitative units | Revenue in USD billion and CAGR from 2023 to 2032 |
| Segments covered | By Product, By End Use, By Region |
| Regional scope | North America, Europe, Asia Pacific, Latin America, Middle East & Africa |
| Customization | Report customization as per your requirements with respect to countries, region and segmentation. |