The global specialty chemicals market was valued at USD 799.40 billion in 2021 and is expected to grow at a CAGR of 4.2% during the forecast period. Rising demand for green or bio-based specialty chemicals from pharmaceuticals, personal care products, and construction & building industries drives the overall targeted market. Increasing advancement in research & development of these products also favors the growth of the market.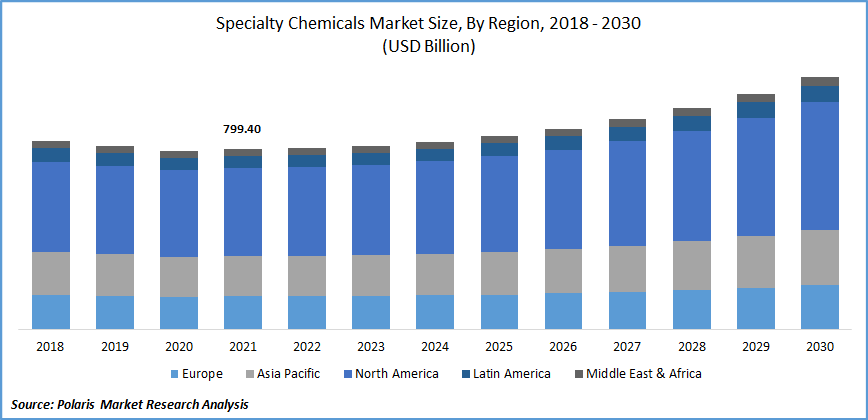 Know more about this report: Request for sample pages
These are performance chemicals utilized on the basis of their performance and functions in various industries such as textiles, oil and gas, ink additives, and others. These have typically low-volume, high-value, and ultra-high purity in the wide area of end-users.
Rising concerns about health & safety among the global population also initiated the growth in sales of institutional & industrial cleaners (I&I), disinfectants, and sanitizers. For instance, In January 2020, sales of sanitizers and disinfectants increased by 1,400% compared to December 2019, according to a report published by The Gulf Petrochemicals and Chemicals Association (GPCA).
The global population is growing at a rapid rate, adding to the increase in food demand. For instance, according to the Food and Agriculture Organization (FAO), the food demand is expected to rise by 50-90% in the U.S. by 2050. Moreover, growing concerns about the nutrient efficiency uptake by plants and rising regulatory health and environmental concerns are gaining popularity. Hence, all such factors are expected to drive the demand for the targeted market during the forecast period.
The increasing adoption of miniaturized, sustainable, rechargeable electronic components has generated significant demand from the electrical and electronics end-use driving the market.
Region-based subsegments of the worldwide market include North America, Europe, Pacific Region, Latin America, and the Middle East & Africa. In terms of revenue among these regions, Asia-Pacific is expected to dominate the market during the forecast period due to the large chemical production base concentrated in China and India, owing to the easy availability of raw materials and cheap labor.
Due to the onset of widespread COVID-19, the pandemic of 2020 had a significant impact on the worldwide market due to restrictions on domestic transit and closed border crossings for transport services. These numerous lockdown measures that were implemented to stop the coronavirus spread interrupted supply networks. However, the effect varied among different segments.
In addition to the above, during the COVID-19 pandemic, leading manufacturers observed a considerable rise in the demand for hygiene products such as liquid soaps and disinfectant sprays. Market participants have noticed an expansion in the consumption of specialty items and are speedily scaling up their production capacities. Hence, the rising adoption of hygienic products further bolsters market growth.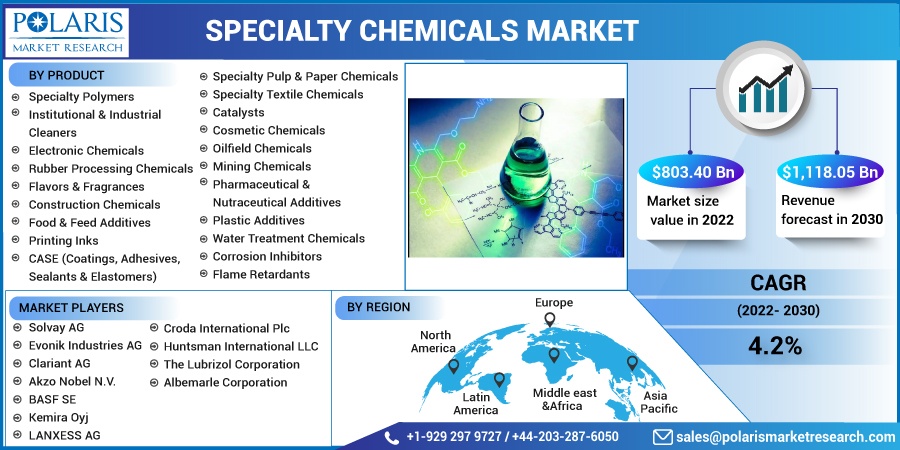 Know more about this report: Request for sample pages
Industry Dynamics
Growth Drivers
With a high need for adhesives, lubricants, paints, and coatings for weight reduction and money-saving end-uses, the automotive industry is anticipated to continue to be a lucratively increasing sector boosting market growth.
Consumer demand for pharmaceuticals and nutraceuticals has been fueled by increased consumer awareness and the adoption of a healthy lifestyle. Consumer focus on personal care is significantly increasing due to rising disposable income, which is projected to boost product demand in the personal care and cosmetics end-use markets. Hence, driving the targeted market during the forecast period.
Rising urbanization and industrialization, along with increasing disposable income and standard of living, have raised the demand for the market in residential housing projects. For instance, according to the Global Construction Review Survey, the global construction industry will be valued at USD 8.0 trillion by 2030, mainly driven by China, India, and the U.S. Moreover, Specialty chemicals help to improve the structural and decorative properties of a building by extending its life. With an increase in construction chemicals, such as surface treatment chemicals, foaming agents, and coatings, the market also shows significant growth during the forecast period.
Report Segmentation
The market is primarily segmented based on product, and region.
By Product

By Region

Specialty Polymers
Institutional & Industrial Cleaners
Electronic Chemicals
Rubber Processing Chemicals
Flavors & Fragrances
Construction Chemicals
Food & Feed Additives
Printing Inks
CASE (Coatings, Adhesives, Sealants & Elastomers)
Specialty Pulp & Paper Chemicals
Specialty Textile Chemicals
Catalysts
Cosmetic Chemicals
Oilfield Chemicals
Mining Chemicals
Pharmaceutical & Nutraceutical Additives
Plastic Additives
Water Treatment Chemicals
Corrosion Inhibitors
Flame Retardants
Others

North America (U.S, Canada, Mexico)
Asia-pacific (China, Japan, India, Australia, Rest of Asia- pacific)
Europe (Germany, UK, France, Spain, Italy, Rest of Europe)
LAMEA (Latin America, Middle East & Africa)
Know more about this report: Request for sample pages
Industrial and institutional cleaners segment accounted for the largest market share in 2021
Institutional & Industrial Cleaner held the prominent market revenue among others in 2021 and is expected to continue throughout the forecast period, which is primarily due to the increasing need for hygienic products such as hand sanitizers, liquid soaps, and germ safeguard wipes. Pharmaceutical & Nutraceutical additives led the significant growth over the forecast period due to a large number of applications in the pharmaceutical industry such as drug manufacturing for skin disorders, cardiovascular diseases, etc.
Construction chemicals are expected to emerge as one of the prominent segments due to increasing demand for products such as specialized water-proofing compounds, joint fillers, tile-fixing adhesives, etc. For instance, according to Gulf Petrochemicals and Chemicals Association (GPCA), the value of construction chemicals accounted for 0.8 MMT in 2020 to 0.9-1.0 MMT by 2025.
The CASE segment (coatings, adhesives, sealants, and elastomers) emerged as a lucrative segment due to numerous technological advancements and product innovations in the past few years. The rapid expansion of refining capacity and oil and gas drilling activities has also boosted the product in the oil and gas end-use industry. For instance, in the GCC region, giant companies are using their knowledge in the production process to establish new and better ways to broaden their downstream existence.
The demand in Asia-Pacific is expected to witness significant growth
Asia-Pacific is anticipated to grow the market during the forecast period due to the presence of prominent key players in China for most of the industries such as personal care and cosmetics, pharmaceuticals, and nutraceuticals. Moreover, China has a hub for the production of chemicals due to the easy availability of raw materials and cheap labor.
North America has major consumers for biocides, cosmetic chemicals, and lubrication oil additives which favors the market growth. In addition, rising demands from U.S. and Canada for construction chemicals also boost the market growth. For instance, in January 2020, according to the U.S. Department of Commerce, the value of construction put in place was more than USD 1,369 billion in the U.S. which signifies the demand for specialty construction chemicals in North America.
Europe is expected to have moderate growth for the product due to an increase in specialty chemicals in water treatment chemicals. Western Europe is the largest consumer of nutraceuticals, fragrances, flavors, and most important exporting divisions of electronic chemicals, which favors the market growth. The Middle East and Africa are expected to grow significantly due to the high demand for oilfield chemicals and have enormous potential for multi-fold economic expansion.
Latin America is increasing production activities in emerging economies such as Brazil and rapid growth in construction activities will also benefit the market.
Competitive Insight
Some of the prominent key players operating in the Marketspace include Solvay AG, Evonik Industries AG, Clariant AG, Akzo Nobel N.V., BASF SE; Kemira Oyj, LANXESS AG, Croda International Plc, Huntsman International LLC, The Lubrizol Corporation, Albemarle Corporation among others.
Recent Developments
January 2021: Huntsman agreed to acquire Gabriel performance products with the goal of expanding its product portfolio in specialty additives and epoxy curing agents.
July 2021: Solenis a specialty chemicals manufacturer was acquired by Platinum, for a value of US $5.25 Bn and merged with Sigura Water.
Specialty Chemicals Market Report Scope
| | |
| --- | --- |
| Report Attributes | Details |
| Market size value in 2022 | USD 803.40 billion |
| Revenue forecast in 2030 | USD 1,118.05 billion |
| CAGR | 4.2% from 2022 - 2030 |
| Base year | 2021 |
| Historical data | 2018 - 2021 |
| Forecast period | 2022 - 2030 |
| Quantitative units | Revenue in USD billion and CAGR from 2022 to 2030 |
| Segments covered | By Component Analysis, By Product, By Region |
| Regional scope | North America, Europe, Asia Pacific, Latin America, Middle East & Africa |
| Key companies | Solvay AG, Evonik Industries AG, Clariant AG, Akzo Nobel N.V., BASF SE; Kemira Oyj, LANXESS AG, Croda International Plc, Huntsman International LLC, The Lubrizol Corporation, Albemarle Corporation |