The global coffee bean grinding machine market was valued at USD 396.85 million in 2022 and is expected to grow at a CAGR of 6.3% during the forecast period.
Coffee grinding offers the convenience of having quality coffee at home. It is not only permitted at home but also has professional utility. Growing restaurants, cafés, and hotels are creating huge demand for grinding machines as there is a rising trend in consumer expenditure on beverages.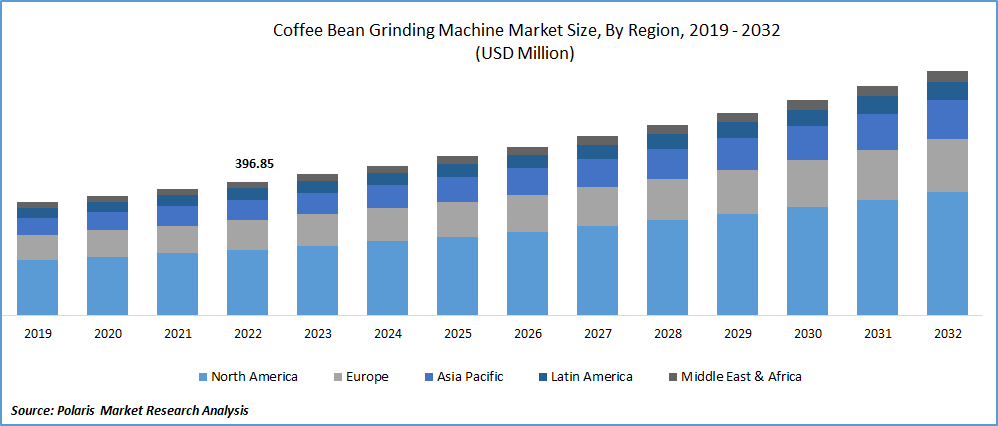 To Understand More About this Research: Request a Free Sample Report
Based on the Food Statistics Pocket Book of the government of the UK, the consumer expenditure on food, drink, and catering in 2021 will be EUR 240 billion. This implies that people are developing healthy food and beverage habits. It will further place significant emphasis on brewing coffee at home. This coffee grinding machine offers a wide range of opportunities in coffee making, according to consumer needs.
According to the International Coffee Association, in 2022, world coffee consumption is expected to witness 1% to 2% growth year over year in this decade. This will enhance the growth of the market in the coming years.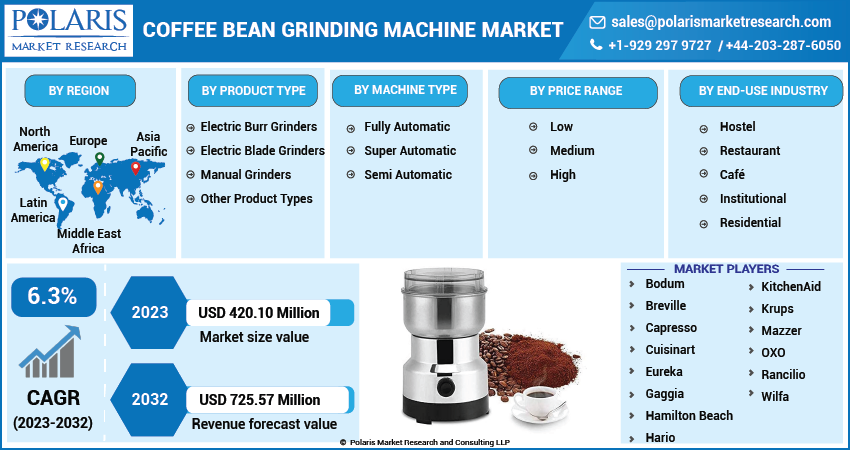 For Specific Research Requirements, Request for a Customized Research Report
Industry Dynamics
Growth Drivers
Surging home brewing trend fuels demand for coffee bean grinding machines
Rising coffee consumption and consumer preferences for home brewing are two of the key factors driving the coffee bean grinding machine. Basically, this machine is used for crushing coffee beans for brewing coffee. They are vital tools in coffee-making, mostly used by baristas and cafes. These machines are used to make tasty and aromatic coffee instantly. This device helps grind whole coffee beans into a suitable size for brewing.
In 2021–2022, global coffee consumption witnessed 4.2% growth, reaching 175.6 million bags. Most people who prefer home brewing are showing interest in investing in coffee bean grinding machines due to the ease of making coffee without disrupting their schedule.
Report Segmentation
The market is primarily segmented based on product type, machine type, price range, end-use industry and region.
By Product Type

By Machine Type

By Price Range

By End-Use Industry

By Region

Electric Burr Grinders

Electric Blade Grinders

Manual Grinders

Other Product Types

Fully Automatic

Super Automatic

Semi Automatic

Hostel

Restaurant

Café

Institutional

Residential

North America (U.S., Canada)

Europe (France, Germany, UK, Italy, Netherlands, Spain, Russia)

Asia Pacific (Japan, China, India, Malaysia, Indonesia. South Korea)

Latin America (Brazil, Mexico, Argentina)

Middle East & Africa (Saudi Arabia, UAE, Israel, South Africa)
To Understand the Scope of this Report: Speak to Analyst
By Product Type
Electric Burr Grinders segment is expected to witness fastest growth during forecast period
Electric Burr Grinders segment is expected to have faster growth for the market. These electric burr grinders can restore the aroma and taste of coffee. This is the main factor driving the demand for coffee bean grinding machines. Using an electric burr filters the coffee and increases its quality. This burr helps to have better coffee by maintaining its consistency as it provides uniform size by grinding beans efficiently. Having the ability to grind quickly is attracting working professionals to adopt a grinding machine. This helps them have a cup quicker than manual ones without losing the aroma of coffee beans.
By Machine Type
Super Automatic segment accounted for the largest market share in 2022
Super Automatic segment held the largest market share for the market in 2022. This segment offers more convenience in coffee making than a fully automatic machine as it requires manual input, for example, the adjustment of grind size and dosage. This feature makes it easier for customers who want to make coffee. These machines can process everything instantly with a press of a button, from starting off by grinding coffee beans to brewing espresso and frothing milk. This is mostly used in restaurants, as it does not require the manual attention of the people. It is a cost-effective option for the owners as it takes less time to brew coffee, along with a concern for the taste and texture of the coffee for the customers.
By Price Range
Medium segment is expected to hold the larger revenue share over forecast period
Medium price range is projected to witness a larger revenue share in the coming years. This price range is more affordable to the average person, so they are likely to try new brewing coffee methods with the use of a coffee bean grinding machine. This price range attracts middle-class people to grinding machines. Manufacturers are adding this price range to their products to attract all types of people by providing access to the grinding machine. This will deliver the benefits and usage of coffee grinding machines directly to customers. In this way, the medium segment is making people adopt this machine with its availability and affordability in the marketplace.
By End-Use Industry
Restaurant segment is projected to have higher growth in the study period
Restaurant segment is expected to witness higher growth in the market. Restaurants are experiencing rapid demand for coffee in the marketplace. This is driving the restaurant management to install a coffee bean grinding machine. It is easier to make and preserves the taste, aroma, and quality of coffee. To provide higher-quality coffee to customers, there will be demand for coffee bean grinding machines in the coming years.
Demand for coffee is witnessing rapid growth owing to the rising coffee culture in the workplace. These places are known for having a higher rate of customer presence. Serving one-to-one requires owners to employ more individuals, which in turn is a huge cost burden for the restaurant. To avoid costs, restaurant owners are adopting coffee grinding machines for efficient coffee making. In this way, this sector will witness higher growth in the years to come.
Regional Insights
Europe experienced the highest growth in the forecast timeframe
Europe is projected to witness a higher growth rate for the market. This region is experiencing higher consumer demand for coffee, mainly in Finland, Norway, Iceland, and Denmark. Finland registered the largest consumer of coffee per person. The average coffee consumption per day by Finns is four cups, and by year it is 24 kg. In Iceland, Coffee is the primary social drink, as wine is costly there. For meetings, get-togethers, and social gatherings, people prefer coffee, as it is both professional and friendly.
Technology has changed the way coffee is brewed. Most places, like restaurants and cafes, are adopting super automatic coffee bean grinding machines due to less manpower and a superior coffee offering that is attracting a wide range of coffee enthusiasts. Europe is the place where most people prefer socializing, which contributes to the higher coffee consumption. As people show interest in the taste and quality of coffee, there is rising demand for coffee bean grinding machines in the region.
North America registered the larger revenue share in the study period
North America is projected to witness a larger revenue share for the market. People in the region are showing interest in premium household appliances due to rising disposable income. According to the World Trade Organization, the United States is the largest importer of coffee, with a 41% rise in 2022 compared to 2021. This increase in coffee bean imports indicates that manufacturers will invest in coffee bean grinding machines in this region. One of the key factors driving the growth of coffee bean grinding machines is accessibility.
Manufacturers are stepping forward with innovations to explore their consumer potential according to modern needs. Business professionals are preferring home beverages due to rising health consciousness in the region and easier-to-make and less time-consuming appliances. A grinding machine can do all tasks in coffee brewing with a single press of a button. This is signaling households, working professionals, restaurants, and cafes to install coffee bean grinding machines in the region.
Key Market Players & Competitive Insights
The coffee bean grinding machine market is characterized by diverse competitive players, including well-established brands such as Breville, Baratza, and KitchenAid, known for their innovative designs and advanced technology integration. These industry leaders are consistently focused on catering to the growing consumer preferences for home brewing and café-quality coffee experiences. Additionally, niche players like Hario, Capresso, and Wilfa cater to specific segments with specialized features and designs. The market's competitive landscape is driven by product quality, technological advancements, pricing strategies, and the ability to adapt to evolving coffee consumption trends. This ensures a dynamic and vibrant industry that strives to meet the varied demands of coffee enthusiasts worldwide.
Some of the major players operating in the global market include:
Bodum

Breville

Capresso

Cuisinart

Eureka

Gaggia

Hamilton Beach

Hario

KitchenAid

Krups

Mazzer

OXO

Rancilio

Wilfa
Recent Developments
In June 2023, Gaggia, a manufacturer of high-quality coffee machines, introduced a stainless-steel machine that can produce 11 drinks. This new Accademia espresso machine has a 5-inch touchscreen display.

In May 2022, Baratza introduced Encore ESP, an entry-level, expresso-focused consumer grinder, at the Specialty Coffee Expo 2022. It is designed to update espresso preparation by including various types of burr sets.
Coffee Bean Grinding Machine Market Report Scope
| | |
| --- | --- |
| Report Attributes | Details |
| Market size value in 2023 | USD 420.10 million |
| Revenue forecast in 2032 | USD 725.57 million |
| CAGR | 6.3% from 2023 - 2032 |
| Base year | 2022 |
| Historical data | 2019 - 2021 |
| Forecast period | 2023 - 2032 |
| Quantitative units | Revenue in USD million and CAGR from 2023 to 2032 |
| Segments covered | By Product Type, By Machine Type, By Price Range, By End-Use Industry, By Region |
| Regional scope | North America, Europe, Asia Pacific, Latin America, Middle East & Africa |
| Customization | Report customization as per your requirements with respect to countries, region and segmentation. |