The global Stainless Steel market was valued at USD 112.51 billion in 2022 and is expected to grow at a CAGR of 8.5% during the forecast period.
Increase in demand for stainless steel in both household and business catering purposes owing to its corrosion resistance and ease of maintenance is driving market revenue growth. Various stainless steel grades are used for various applications depending on the demand for corrosion resistance. For instance, stainless steel grades 410 and 420 are typically used to make kitchen knives, while stainless steel grades 304 are used to make forks and spoons. Less ductile steels, which are used for items that require a lot of mounding, are used to make cookware such as pans, grills, sinks, and cookware.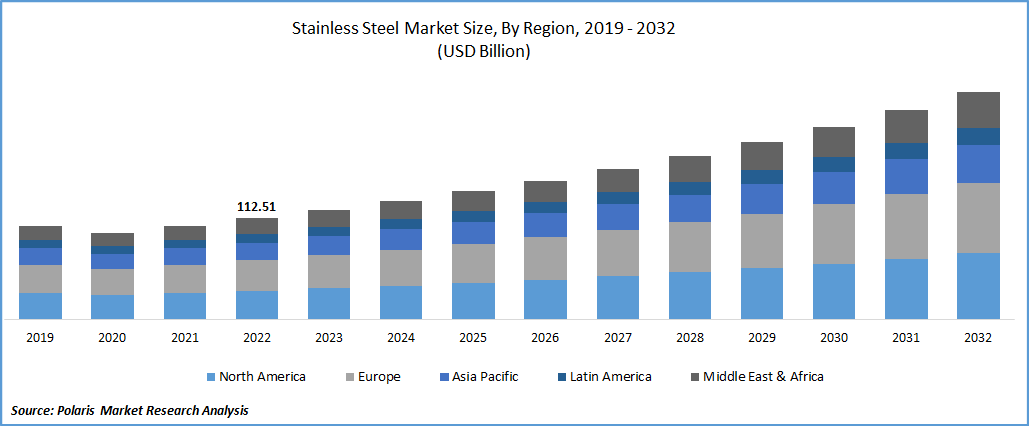 Know more about this report: Request for sample pages
Additionally, stainless steel is used in the construction of countertops, dishwashers, freezers, and refrigerators. This metal is excellent for kitchenware since it does not retain the flavors of food, making it appropriate for long-term food storage. Kitchen appliances including stoves, cutlery, and canopies are also made of stainless steel.
The stainless steel market is anticipated to be significantly impacted by the rise in the usage of carbon fibers, notably in the automotive industry due to properties like high strength, load-bearing capacity, and lightweight. The manufacturing of lightweight cars is rising along with the need for lightweight materials, which has the potential to reduce fuel consumption.
Moreover, stainless steel is used in the exhaust systems of cars as well as other vehicle parts like hose clamps and seatbelt springs, with the average passenger car utilizing between 15 and 22 kilograms of the material. It became a leader in vehicle design by meeting all requirements and providing long-lasting, cost-effective solutions for various applications. Corrosion, decaying exhaust systems, and catalytic converter issues are all resolved by using stainless steel.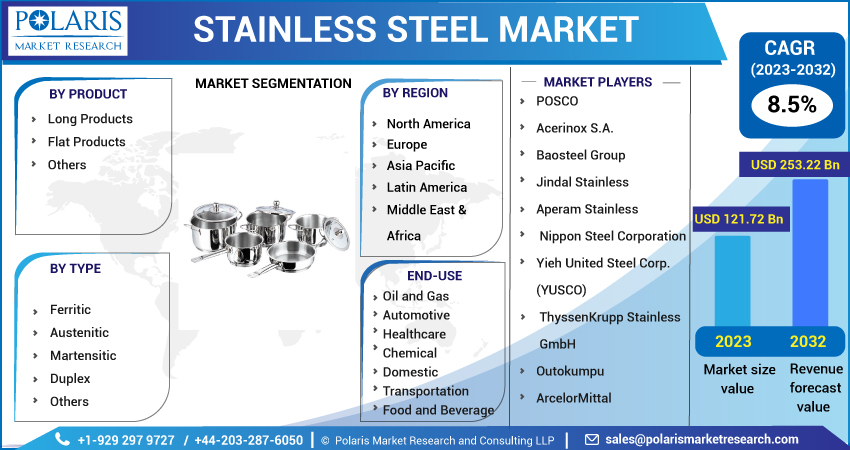 Know more about this report: Request for sample pages
Industry Dynamics
Growth Drivers
The demand for the product is increasing due to the automobile industry's explosive growth. Corrosion resistance, great strength, and heat resistance are the best qualities provided by these types of metals. For instance, according to the World Steel Organization, stainless steel will soon be used in catalytic converters, fuel tanks, chassis, bodywork, and suspension systems. The acceptance of new products will also be aided by the growing technological development in the automotive sector and the expanding innovation in electric vehicles. As a result, growing product demand from automakers will fuel the expansion of the stainless steel market.
The market will have profitable potential to expand significantly as product consumption in the construction industry rises. This kind of steel was initially not frequently used for structural purposes in buildings due to its expensive price. However, during the past ten years, technological developments have reduced the cost and increased the availability of this steel, as well as its durability and resistance to corrosion.
The demand for the product is rising, according to BS Stainless, to meet construction needs and provide improvements and aesthetic appeal for buildings. Additionally, the construction industry will experience growth due to the rising number of commercial and residential structures as well as the rising commissioning of infrastructure projects. Therefore, during the predicted period, these variables will enhance the product demand.
Due to governmental and private expenditures being made in infrastructure along with residential housing, the demand for stainless steel is rising. It is recognized as a significant material in industrial applications including the automobile, railroad, infrastructure, building & construction, transportation, and process industries.
Due to its excellent pliability, corrosion resistance, strength, aesthetic qualities, minimal maintenance costs, and average product life cycle, this product is gaining popularity. As a result, it is predicted that the market for stainless steel will rise significantly during the next years.
Report Segmentation
The market is primarily segmented based on product, type, end-use, and region.
By Product

By Type

By End-Use

By Geography

Long Products
Flat Products
Others

Ferritic
Austenitic
Martensitic
Duplex
Others

Oil and Gas
Automotive
Healthcare
Chemical
Domestic
Transportation
Food and Beverage
Others

North America (U.S., Canada)
Europe (France, Germany, UK, Italy, Netherlands, Spain, Russia)
Asia Pacific (Japan, China, India, Malaysia, Indonesia. South Korea)
Latin America (Brazil, Mexico, Argentina)
Middle East & Africa (Saudi Arabia, UAE, Israel, South Africa)
Know more about this report: Request for sample pages
The automotive segment is expected to witness the largest growth in 2022.
The automotive segment is expected to dominate the market due to its use in the manufacturing of various automotive parts & components which includes basic vehicle frames for mufflers, fuel tanks, hoods, and doors. Iron together with stainless steel contributes nearly 70% of the total vehicle weight which is expected to propel the market growth in the forecast period. Moreover, the expansion of the automotive industry rapidly also drives the market. For instance, in 2021, according to the world steel association, the automotive sector accounts for a 12% major share of global steel consumption.
Furthermore, the demand for stainless steel, particularly in the transportation and domestic sector of industries, is expected to increase due to the ongoing industrial revolution and the growing number of manufacturing facilities in the Asia Pacific region as a result of numerous untapped opportunities in the region.
The demand in North America is expected to witness significant growth
The industry is supported in North America by a poor export market and a developing building sector. One of the key application segments for stainless steel in North America is the American automotive industry. The manufacture of vehicle exhaust systems and decorative trim is a key industry driver in the area. The demand from the gas and oil sectors and the aerospace sector also contributes to the expansion of the stainless steel industry.
Due to the rapidly growing defense, machinery, automotive, and shipbuilding sectors in nations like India, China, South Korea, and Japan, the Asia Pacific region dominated the regional segment in 2022.
The need for stainless steel is projected to increase in India and the ASEAN nations, which would likely help the Asia Pacific stainless steel market grow during the forecast period. The progressive rise in per capita consumption in countries like India, Vietnam, Thailand, and Indonesia is projected to continue to be a major driver of market expansion. Additionally, it is anticipated that the expansion of cold-rolled facilities will continue to play a crucial role in the market's evolution.
Competitive Insight
Some of the prominent players in the stainless-steel market include Nippon Steel Corporation, Acerinox S.A., Jindal Stainless, ArcelorMittal, POSCO, Aperam Stainless, Baosteel Group, ThyssenKrupp Stainless GmbH, Yieh United Steel Corp. (YUSCO), Outokumpu.
Recent Developments
In May 2022, Jindal Stainless started working with Alstom as a dealer to create cutting-edge trainsets for the Regional Transit System.
In December 2021, Aperam completed the acquisition of ELG. ELG is a global recycler of superalloys and stainless steel. The acquisition has improved the industry's leadership position in environmental, social, and government issues. Aperam's industry-leading environmental footprint is further enhanced by investing in sustainable recycling, which also helps the company's CO2 reduction goals.
In February 2021, VINCO introduced a new line of steel wires and slings. These goods are typically employed in the fishing, industrial, and height-raise sectors.
In March 2020, Acerinox acquired VDM Metals. VDM Metals is a leader in R+D+I in the industry and specializes in creating and manufacturing unique alloys and high-performance steel.
Pipeline Monitoring System Market Report Scope
| | |
| --- | --- |
| Report Attributes | Details |
| Market size value in 2023 | USD 121.72 billion |
| Revenue forecast in 2032 | USD 253.22 billion |
| CAGR | 8.5% from 2023 - 2032 |
| Base year | 2022 |
| Historical data | 2019 - 2022 |
| Forecast period | 2023 - 2032 |
| Quantitative units | Revenue in USD billion and CAGR from 2022 to 2030 |
| Segments covered | By Product, By Type, By End-Use, By Geography |
| Regional scope | North America, Europe, Asia Pacific, Latin America; Middle East & Africa |
| Key companies | POSCO, Acerinox S.A., Baosteel Group, Jindal Stainless, Aperam Stainless, Nippon Steel Corporation, Yieh United Steel Corp. (YUSCO), ThyssenKrupp Stainless GmbH, Outokumpu, ArcelorMittal |