The global bedroom linen market was valued at USD 28.04 billion in 2022 and is expected to grow at a CAGR of 7.1% during the forecast period. This business is partly expanding because of recent booms in the housing and hotel sectors. Another factor boosting the industry's expansion is consumers' rising propensity to spend money on home furnishings. According to a Hotel Tech Report article, 665 hotels had opened in the United States as of October 2021, with 85,306 rooms. Hotels constantly need high-quality bedsheets since a high standard in the bedroom fabric improves the quality of the rooms.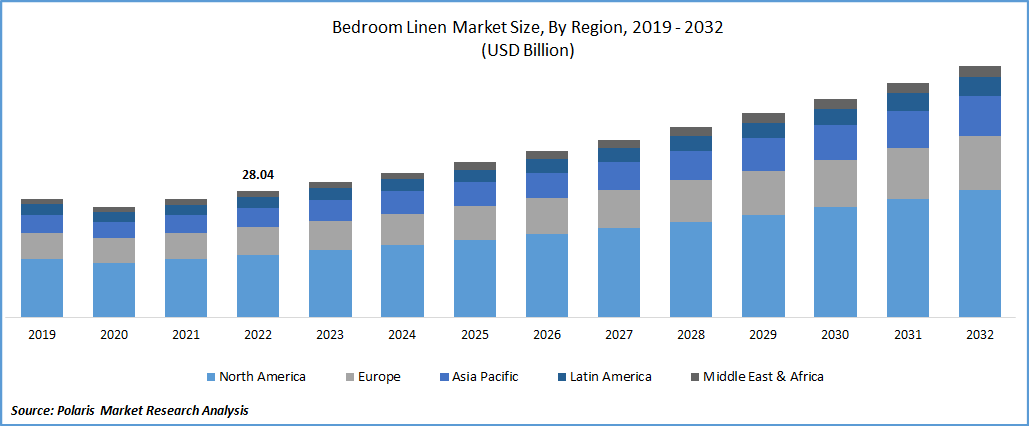 Know more about this report: Request for sample pages
Bed linen is a cloth that can be cleaned and positioned above the bed for relaxation, comfort, hygienic purposes, and aesthetics. Examples are quilts, duvet covers, bed sheets, mattresses, and pillowcases. Additionally, they help you sleep better, relax your body, and support and soothe your neck and back. As a result of increased per capita earnings and the simplicity with which products can be found in a range of designs, colors, and sizes to suit consumer needs, bed linen demand is now rising significantly.
Nearly every business in the globe has suffered as a result of the COVID outbreak. This is because each company's supply chain and manufacturing operations have been severely hampered by the multiple precautionary lockdowns and other restrictions that governments have imposed worldwide. The epidemic also had a negative effect on this market, but as people began spending more time at home, they started to invest in various types of bed linens to increase their comfort. This reflected people seeking at-home self-care options to lessen their anxiety and get decent sleep. As a result, there was an increase in bedding linen spending, which benefited the sector. When it comes to the hotel industry, premium bed linens are essential. The bed plays a significant role in a customer's hotel experience. As a result, hotels make investments in soft, breathable linens.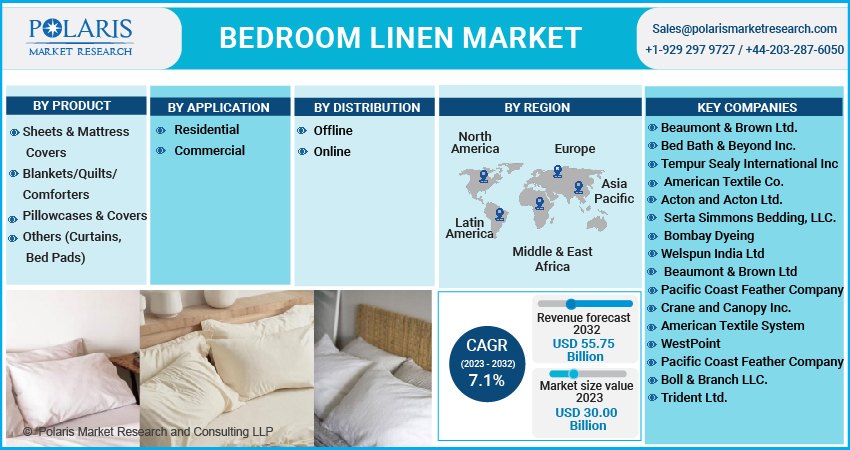 Know more about this report: Request for sample pages
Industry Dynamics
Growth Drivers
The rise of the real estate sector and rising consumer expenditure on home furnishings are two key factors affecting the demand for bed linen globally. Furthermore, many producers are working on developing breathable bed linen, & anti-microbial to encourage deep sleeping habits. The sector will also profit from the consumer trend for organic and environmentally friendly bed linens. In addition, several variables influence the bed linen market, such as the housing sector such as technical improvements, & the consequent availability of goods in various fiber contents, textures, fabrics, patterns, and color combinations.
Moreover, bedroom linen market growth is also fueled by rising consumer demand for luxurious bed linen. Whether a hotel room or a residence, a room with luxurious bedding may look more elegant. There are many different styles, patterns, and colors available. Luxury bedding offers advantages like calmness and aids in restful sleep, which is anticipated to be a significant component in rising consumer demand and propelling bedroom linen market expansion. Furthermore, premium linens such as hygiene, anti-bacterial, & dust mite resistance are moving the market ahead. Additionally, the e-commerce sector's explosive development and customers' increased understanding of how critical sleep is to their overall health will compel market players to use cutting-edge textile technology in their bed linens.
Report Segmentation
The market is primarily segmented based on product, application, distribution channel and region.
By Product

By Application

By Distribution Channel

By Region

Sheets & Mattress Covers

Blankets/Quilts/Comforters

Pillowcases & Covers

Others (Curtains, Bed Pads)

North America (U.S., Canada)

Europe (France, Germany, UK, Italy, Netherlands, Spain, Russia)

Asia Pacific (Japan, China, India, Malaysia, Indonesia. South Korea)

Latin America (Brazil, Mexico, Argentina)

Middle East & Africa (Saudi Arabia, UAE, Israel, South Africa)
Know more about this report: Request for sample pages
Sheets & Mattress Covers segment is expected to witness the largest market share in 2022
In 2022, the sheet and mattress cover segment accounted for the largest market share. Along with the population growth, the need for sheets in the residential and commercial sectors is expanding steadily. The sheet market has seen significant development owing to the increasing expansion of the worldwide hospitality sector. One of the main elements influencing the demand for the product is the rising level of hygiene awareness. Additionally, as people desire to preserve their homes' attractiveness, home decorations are also expected to assist the industry's profitability. Demand for sheets made of different materials will rise as consumers become more conscious of the need to get enough sleep for good health. However, because of the pandemic and consumer awareness about cleanliness and safety, many service providers routinely replace the sheets to ensure the consumers' hygiene and safety, ultimately boosting this segment's growth in the forecast period.
The product category for blankets, quilts, and comforters will experience the fastest CAGR during the forecast period. Regarding materials and their thickness, there are several possibilities in this market. Innovations in this area will fuel the segment's growth, such as using polyester micro-fiber fabric to shield mattresses from spills and stains.
Residential segment accounted for the fastest market share during forecast period
During the projection period, the residential category is expected to grow at the fastest pace. Product demand raised due to the new construction of additional residential areas. Approximately 1,595,100 housing units were started in the building in 2021, a 15.6% increase from 2020, according to a study from the Department of Housing & Urban Development and the U.S. Census Bureau. In addition to influencing the look of the bedroom, good bedding offers insulation, warmth, and comfort. As a result, purchasing such things requires considerable deliberation. The expansion of industries would also be aided by rising disposable incomes globally.
In 2022, the commercial application market was the largest globally. The segment's significant share is mostly attributable to the fast-growing hotel and healthcare industries. Following the epidemic, people worldwide showed a tremendous desire to travel. In 2022, around 700 million visitors went abroad between January and September, up 133% over the amount seen during the same period in 2021, according to a World Tourism Organization report. As this number rises, the product need from hotels will increase.
Offline sector is expected to hold the significant revenue share in 2022
The offline distribution channel segment will hold a significant share in 2022. An important aspect influencing the sales of bedding linens is their quality. Customers prefer to purchase these goods through stores or brand outlets rather than risk their quality. In-person customer service is another element of offline channels, where salespeople are there to assist with any immediate consumer questions. As a result, buyers favor this market niche that speeds up the purchasing process.
Over the projection period, the online distribution channel segment is anticipated to be the fastest. This channel is a promising element supporting the industry's growth due to the high internet penetration and customers' busy schedules. Following the epidemic, internet goods retailing established itself more firmly. According to a ComScore study, 1 in 3 customers bought an online product on sale, something they wouldn't have done otherwise. In addition, 75% of consumers researched online before making a significant buy. Over the anticipated time frame, these developments will accelerate the industry's growth.
The demand in Asia Pacific is expected to dominate the market in 2022
In 2022, the Asia Pacific region is expected to dominate the market. This region's rapidly expanding hospitality and housing industry is the primary driver of market expansion. According to the most recent CBRE survey, USD 10 billion was invested in hotels in Asia and the Pacific. This sector will continue expanding due to the anticipation around the performance of this area and operational profits that are virtually back to pre-pandemic levels, which will favorably impact the market for bed linen.
Middle East & Africa is anticipated to increase rapidly during the forecast period. Throughout the year, countries in this area, such as the UAE, Egypt, Oman, Saudi Arabia, and Morocco, draw large numbers of visitors. According to a forecast published by the UAE Ministry of Economy, there will be 1,089 hotels nationwide by 2020, with a total room capacity of 180,000. The hospitality sector is anticipated to expand with further investments in the tourism sectors of places like Qatar, Dubai, Abu Dhabi, and Cairo. As a result, the Middle East and Africa represent themselves as a promising market for bedding linen.
Competitive Insight
Some of the major players operating in the global market include Beaumont & Brown, Bed Bath & Beyond, Tempur Sealy International, American Textile, Acton & Acton, Serta Simmons Bedding, Welspun India, Pacific Coast Feather, Crane and Canopy, American Textile System, Bombay Dyeing, WestPoint, Pacific Coast Feather, Boll & Branch, Trident Ltd.
Recent Developments
In June 2022, Nate Berkus' limited-edition sleep collection was introduced by Serta Simmons Bedding LLC. This line includes a waterproof mattress protector in addition to unique pattern prints. The material utilized is recovered recycled plastic from the ocean.
Bedroom Linen Market Report Scope
| | |
| --- | --- |
| Report Attributes | Details |
| Market size value in 2023 | USD 30.00 billion |
| Revenue forecast in 2032 | USD 55.75 billion |
| CAGR | 7.1% from 2023 – 2032 |
| Base year | 2022 |
| Historical data | 2019- 2021 |
| Forecast period | 2023 - 2032 |
| Quantitative units | Revenue in USD billion and CAGR from 2023 to 2032 |
| Segments covered | By Product; By Application; By Distribution Channel; By Region |
| Regional scope | North America, Europe, Asia Pacific, Latin America; Middle East & Africa |
| Key companies | Beaumont & Brown Ltd., Bed Bath & Beyond Inc., Tempur Sealy International Inc., American Textile Co., Acton and Acton Ltd., Serta Simmons Bedding, LLC., Bombay Dyeing, Welspun India Ltd, Beaumont & Brown Ltd, Pacific Coast Feather Company, Crane and Canopy Inc., American Textile System, WestPoint, Pacific Coast Feather Company, Boll & Branch LLC., Trident Ltd. |