The global concrete repair mortars market size was valued at USD 2.64 billion in 2020 and is anticipated to grow at a CAGR of 4.6% during the forecast period. Concrete is used for applications such as structural restoration, surface renovation, crack repair, and joint restoration. Economic growth in developing countries, restoration of infrastructure, and growth in the construction sector boost the adoption of concrete repair mortars.
Increasing urbanization, development of transportation and road networks, and the growing need to maintain & improve the life span of existing infrastructure supplements the market growth for concrete repair mortars. Governments across the globe are investing significantly in infrastructure development, and development & maintenance of roadways, driving the market growth. Governments are partnering with private organizations for infrastructure development, thereby increasing the demand for concrete repair mortars.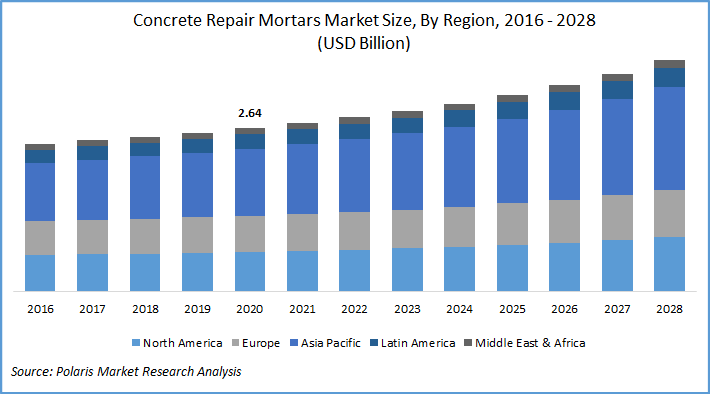 Know more about this report: request for sample pages
The leading players in the market are introducing new innovative products to cater to the growing consumer demands. In September 2019, Sika AG introduced its new cost-effective all-in-one repair mixture for the embedding of galvanic anodes. The new product, Sika MonoTop-412 N is developed to cover a wide range of concrete-based repairs. The product is aimed at strengthening the bearing capacity of infrastructures such as buildings, and bridges.
Industry Dynamics
Growth Drivers
In May 2019, Sika AG also completed the acquisition of King Packaged Materials Company. The company is based in Canada and manufactures dry shotcrete and mortars for concrete repair. The acquisition is aimed at expanding Sika's portfolio of repair and masonry mortars, shotcrete solutions, and grouts. It would also strengthen the company's presence in Canada while catering to the growing demand of the home improvement, construction, mining, and tunneling markets.
The global market for concrete repair mortars is fueled by the growth in countries such as China, Japan, and India, rising industrialization, and the growing need to repair bridges and dams. Global players are expanding into these countries to tap market potential provided by transportation and construction sectors, further boosting the market growth.
Technological advancements and increasing environmental concerns further support the market growth. New product launches and acquisitions by leading players in the market coupled with increasing investments in infrastructure development have increased the demand for concrete repair mortars across the globe. Growing disposable income, changing lifestyles, increasing investment in the renovation of aging infrastructure, and improvement of social infrastructure would provide growth opportunities during the forecast period.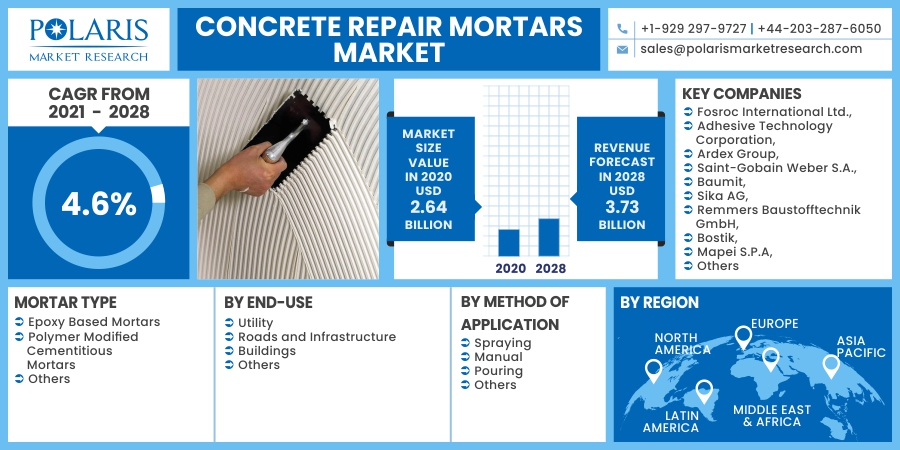 Know more about this report: request for sample pages
Concrete Repair Mortars Market Report Scope
The market is primarily segmented on the basis of mortar type, end-use, method of application, and region.
Mortar Type

By End-Use

By Method of Application

By Region

Epoxy Based Mortars
Polymer Modified Cementitious Mortars
Others

Utility
Roads and Infrastructure
Buildings
Others

Spraying
Manual
Pouring
Others

North America (U.S., Canada)
Europe (Germany, UK, France, Italy, Spain, Netherlands, Austria)
Asia Pacific (China, India, Japan, South Korea, Malaysia, Indonesia)
Latin America (Brazil, Mexico, Argentina)
Middle East & Africa (Saudi Arabia, South Africa, Israel, UAE)
Know more about this report: request for sample pages
Mortar Type Outlook
On the basis of mortar type, the market is segmented into epoxy-based, polymer-modified cementitious, and others. Polymer-modified cementitious segment dominated the global market for concrete repair mortars in 2020 owing to their affordability, ease of use, and wide availability. The use of epoxy concrete repair material has increased as a permanent repair solution for improved strength. Epoxy concrete repair material is increasingly being used owing to its fast curing, improved layering, and versatility.
Polymer-modified cementitious material offers high tensile strength, faster drying, and increased durability & longer service life. This material offers enhanced workability, higher durability of adhesion, lower water permeability, and enhanced resistance to carbonation, thereby increasing its demand across the globe.
Cementitious concrete mortars are cement-based and finds application in walkways, fences, and walls. The product is readily available and is used for touch repairs or full restorations. It is sometimes modified with additives to impart enhanced properties such as anti-corrosion, durability, stability, longer life, and reduced moisture absorption.
End-Use Outlook
On the basis of end-user, the market is segmented into utility, roads and infrastructure, buildings, and others. The demand from the roads and infrastructure segment is expected to increase during the forecast period. Growth in public infrastructure development, especially in emerging economies, drives the growth of this segment. Development of roads, highways, bridges & tunnels, rapid urbanization, development of the transportation sector, and increasing government investments are some factors attributing to the growth of the market.
Method of Application Outlook
On the basis of the method of application, the market is segmented into spraying, manual, pouring, and others. Concrete repair using spraying is increasingly being used for deteriorated structures owing to its ease of application in a large amount of continuous work. Spraying is usually used for highly congested and confined areas. This method of application is used in bridges, beams, parapets, cooling tower shells, industrial chimneys, tunnels, marine structures, and water-retaining structures among others.
Geographic Overview
Asia Pacific dominated the global concrete repair mortars market in 2020 owing to the increasing population, rising urbanization, and growing infrastructure development. The increasing adoption of concrete repair mortars in the region is attributed to the high rate of construction, technological advancement in the construction industry, and rising disposable income of consumers. Governments in the region are investing significantly in the development and maintenance of infrastructure, supplementing the growth in this region.
Competitive Landscape
The leading players in the concrete repair mortars market include Fosroc International Ltd., Adhesive Technology Corporation, Ardex Group, Saint-Gobain Weber S.A., Baumit, Sika AG, Remmers Baustofftechnik GmbH, Bostik, Mapei S.P.A, Pidilite Industries Ltd, Flexcrete Technologies Ltd., BASF SE, and The Euclid Chemical Co. These players are expanding their presence across various geographies and entering new markets in developing regions to expand their customer base and strengthen presence in the market for concrete repair mortars.