The global led lighting market was valued at $76.00 billion in 2022, and is projected to reach $191.80 billion by 2032, growing at a CAGR of 9.96% from 2023 to 2032.

The government has encouraged investments in energy-efficient lighting technology, which has expanded the use of LED lights in a variety of industrial, commercial, and residential sectors. Furthermore, lighting uses between 18 to 40 percent of the electricity used in business buildings, compared to just 10% in houses. The market is expanding due to the rising demand for energy conservation. The switch to energy-efficient lighting is anticipated to decrease the world's need for electricity for lighting by 30 to 40% by 2032.

Know more about this report: Request for sample pages
Moreover, LED lighting is being adopted widely in nations all around the world. For instance, New York intended to switch to LEDs for 250,000 of its streetlights, which was to be followed by the switchover of metropolitan areas' decorative lighting. Additionally, Barcelona (Spain) installed approximately 3,000 LED-based smart streetlights that collect data on noise, humidity, pollution, and other environmental factors.
A light-emitting diode (LED) is a semiconductor light source that converts electrical energy directly into light energy. These devices are often used in lamps as replacement of incandescent light sources. LED lighting is expected to be one of the most energy-efficient and rapidly developing lighting technology in the global market. LED lights operate for a longer duration, are durable in nature, and offer better lighting quality compared to the traditional lighting technologies.
LED lights consume 75% less energy and last 25 times longer than incandescent bulbs. They have the highest potential for saving energy and cost. Hence, replacing old lighting systems with LED lightings has been beneficial. The demand for new installations in the outdoor LED lighting market is significantly increasing.
LED is expected to take over the conventional Compact Fluorescent Lamp (CFL) and Cold Cathode Fluorescent Lamp (CCFL) lighting market due to advanced features. Moreover, it is a cost-effective solution for all lighting as well as other applications, including backlighting in large screen displays and non-backlight displays (OLED). Apart from the aforementioned cost benefit, the initial cost of LED lighting is very high and this restricts its initial acceptance. However, due to longer lifespan of LEDs, the overall cost of the same is found to be very low in comparison to CFLs
Factors that drive the growth of the LED lighting market are less energy requirement which leads to financial savings, environment-friendly, owing to minimum use of mercury, and less flickering. Furthermore, lower production cost of LED light is anticipated to provide lucrative LED Market Opportunity. There are various factors that significantly affect the LED market. Factors such as increase in demand for cost effective and energy-saving LED lighting, government initiatives toward LED adoption, and surge in need to replace traditional lighting system drive the growth of the market. However, high initial cost of LED lighting technology and presence of voltage sensitivity & temperature dependence hamper the market growth. Furthermore, increase in adoption of smart lighting system and LED display backlighting is expected to offer lucrative growth opportunities toward the LED market outlook.
The American National Standards Institute, China Compulsory Certification, and International Electrotechnical Commission are a few significant regulatory bodies that manage product certification. Manufacturing after obtaining the required licenses permits to do business, offer services, and import and export products. Governments in both developed and developing economies are attempting to lower high energy usage.
They are doing this by upholding a number of quality laws that assist them in preserving consumer safety, managing energy use, and monitoring environmental issues. LED lighting is an energy-saving solution with a 50,000-hour lifespan and lower electricity use. As a result, it is anticipated that stringent government rules limiting the use of lighting that uses a lot of energy will promote the expansion of the market.
The COVID-19 pandemic significantly impacted global economies, resulting in workforce & travel restrictions, supply chain & production disruptions, and reduced demand & spending across many sectors. Sudden decline in infrastructure development and installation projects is expected to hamper the LED industry growth for residential, commercial, and industrial verticals.
The LED market revenue experienced decline in its growth rate, owing to delayed construction projects. However, the demand for UV LED from the medical industry accelerated during the pandemic. Furthermore, market players invested in R&D of smart lighting system, owing to new government initiatives across the globe. Therefore, the LED market size was anticipated to gain momentum by the end of 2021.
The notable factors positively affecting the global LED market include increase in demand for cost-effective & energy-saving LED lighting, government initiatives toward LED adoption, and surge in need to replace traditional lighting system are expected to fuel the market growth. However, high initial cost of LED lighting system and voltage sensitivity & temperature dependence are expected to hinder the market growth
Globally, APAC is the largest market for LEDs, accounting for around 50% revenue share in 2022. This is mainly attributed to the increasing demand for LEDs from the residential sector, primarily in countries such as China, India, and South Korea, on account of the increasing disposable income, growth in the construction of housing establishments., and the presence of a large number of companies operating in these countries.
Moreover, due to the increasing population, budding infrastructure development activities in developing countries, and rising government initiatives with a focus on energy efficiency, the demand for commercial and industrial applications is increasing, thus driving the production of LEDs in the region.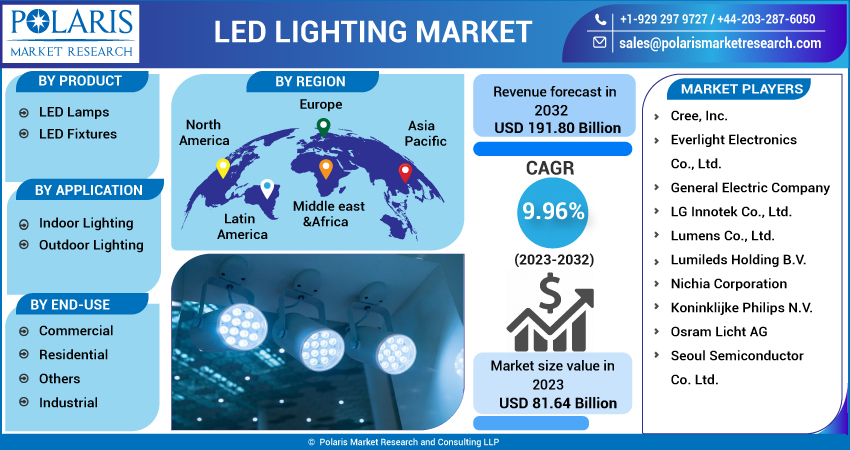 For Specific Research Requirements, Request For Customized Report
Industry Dynamics
Growth Drivers
In the current market strategy, LED light bulbs are witnessing the early adoption phase of the product life cycle. However, continued technological advancement in LED lighting poised these product offerings to enter and advance through the growth phase. Lumileds Holding introduced its new LUXEON 2835 commercial LEDs. These LEDs are engineered and designed to support the increasing demand for high-volume, high-efficacy mid-power LEDs to serve commercial indoor lighting applications. Typical commercial indoor applications include troffers, panels, and high-bay, among other formats.
Advancements in light-emitting diode technology have authorized LED lighting products to penetrate the commercial lighting demand with enormous growth potential. Commercial buildings, including offices, stores, restaurants, hospitals, and schools, account for almost 20% of US energy consumption, and 38% is attributed to lighting.
According to the long-term energy forecast for Annual Energy Outlook, the US Energy Information Administration expects LED lighting to continue to grow, meeting up to 95% of the commercial lighting demand by 2050.
Overall, rapid urbanization and the increasing construction activities in the commercial sectors of different countries are expected to fuel the market demand during the forecast period. For instance, in June 2022, Wipro Lighting announced the creation of a new business unit combining commercial lighting and seating solutions. It aims to offer more comprehensive solutions to its customers in the B2B (business-to-business) space and deliver more value. Such developments will further drive market growth.
Report Segmentation
The market is primarily segmented based on product, application, end-user, and region.
By Product

By Application

By End-User

By Region

Indoor Lighting

Outdoor Lighting

Commercial

Residential

Others

Industrial

North America

(U.S., Canada, Mexico)

Europe

(Germany, France, U.K., Russia, Rest of Europe)

Asia-Pacific

(China, Japan, India, Australia, Rest of Asia-Pacific)

LAMEA

(Latin America, Middle East, Africa)
Know more about this report: Request for sample pages
LED Lamps is projected to be the faster-growing segment during the forecast period, 2023-2032
LED lighting market segmentation, based on product type, includes lamps and luminaries. The luminaries segment dominated the market in 2022 and lamps is projected to be the faster-growing segment during the forecast period, 2023-2032. This is due to the LED lights are utilized only in track lighting, high bays, troffers, and street lighting fixtures. The installation of additional track lights and light poles as a result of the growing commercial building space and evolving smart city initiatives is the main factor driving the segment's growth. Hence, rising utilization of LED lights for the development of the cities are anticipated to positively impacts the market growth.
Indoor lighting segment is expected to secure leading position during forecast period.
The LED lighting market data has been bifurcated by end-use application into indoor lighting and outdoor lighting. The indoor lighting segment dominated the market in 2022 and outdoor lighting segment is projected to be the faster-growing segment during the forecast period, 2023-2032. The growth in demand for high-intensity discharge and fluorescent bulb replacements from supermarkets, shopping centers, and retail establishments is the cause of this.
Commercial Lighting is the fastest growing segment & expected to grow at a higher rate during forecast period
LED lighting produces less heat and is more affordable. Additionally, it is anticipated that growing demand from public institutions like hospitals and schools will support the segment's growth.
June 2022: A new business unit combining commercial lighting and seating solutions has been established, according to Wipro Lighting. It seeks to provide more comprehensive solutions and greater value to its B2B (business-to-business) clients.
Asia-Pacific would exhibit the highest CAGR during 2023-2032
Asia-Pacific LED Lighting market accounted for highest CAGR in 2022 and is expected to exhibit a significant CAGR growth during the study period. This is attributed to the growing construction activities and investment on the smart city projects across the region. Further, the major countries studied in the market report are: The U.S, Canada, Germany, France, UK, Italy, Spain, China, Japan, India, Australia, South Korea, and Brazil.
Competitive Insight
Some of the major players operating in the global market include Cree, Inc., Everlight Electronics Co., Ltd., General Electric Company, LG Innotek Co., Ltd., Lumens Co., Ltd., Lumileds Holding B.V., Nichia Corporation, Koninklijke Philips N.V., Osram Licht AG, and Seoul Semiconductor Co. Ltd.
Recent Developments
June 2022:

The

acquisition of Fluence by Signify from ams OSRAM was disclosed. The transaction would strengthen Signify's agriculture lighting growth platform and strengthen its position in the wealthy North American horticulture lighting market.

May 2022:

The

Syska LED Recessed SMD Downlight was unveiled by SYSKA LED (Glowslick-SSK-SLP). Because it may be utilised in homes, offices, showrooms, retail establishments, and shopping malls, this lighting solution is perfect for indoor applications
LED Lighting Market Report Scope
| | |
| --- | --- |
| Report Attributes | Details |
| Market size value in 2023 | USD 81.64 billion |
| Revenue forecast in 2032 | USD 191.80 billion |
| CAGR | 9.96% from 2023-2032 |
| Base year | 2022 |
| Historical data | 2019- 2021 |
| Forecast period | 2023 - 2032 |
| Quantitative units | Revenue in USD billion and CAGR from 2023 to 2032 |
| Segments covered | By Product , By Application, By End-user, By Region |
| Regional scope | North America, Europe, Asia Pacific, Latin America; Middle East & Africa |
| Key companies | Cree, Inc., Everlight Electronics Co., Ltd., General Electric Company, LG Innotek Co., Ltd., Lumens Co., Ltd., Lumileds Holding B.V., Nichia Corporation, Koninklijke Philips N.V., Osram Licht AG, and Seoul Semiconductor Co. Ltd. |