The global Mobile Mapping Market was valued at USD 13.5 billion in 2017 and is anticipated to grow at a CAGR of 17.2% during the forecast period. Mobile Mapping is a method used for spatial data collection. Mobile mapping sensors are mounted on a mobile platform such as SUVs, boats, golf cart, and driven along a pre-planned route to acquire a spatial model consisting of 3D points. The spatial model collected from the sensors is used for extraction of accurate feature information such as topography, utilities, structure locations, cross sections, bridge clearances, signage from the point cloud. The applications of mobile mapping include imaging services, GIS data collection, and asset management among others.
The growing applications of mobile mapping in telecommunication and transportation sectors, rising demand for location-based services, and increasing penetration of mobile devices drive the growth of this market. Availability of improved network connectivity, and technological advancements in components and mapping software are expected to further support the market growth. Use of geospatial information in applications such as infrastructure management, risk and emergency management, urban planning, resource management, and logistics has increased the demand for mobile mapping solutions.
Increasing applications in city planning and development of smart cities further boosting the growth. Other factors driving the market include increasing demand from diverse industries such as defense, energy and utilities, and government and public sector, and integration of mobile mapping with wearable smart devices. Growing demand from emerging economies, and advancements in mapping analytics are factors expected to provide numerous growth opportunities to the global mobile mapping industry in the coming years.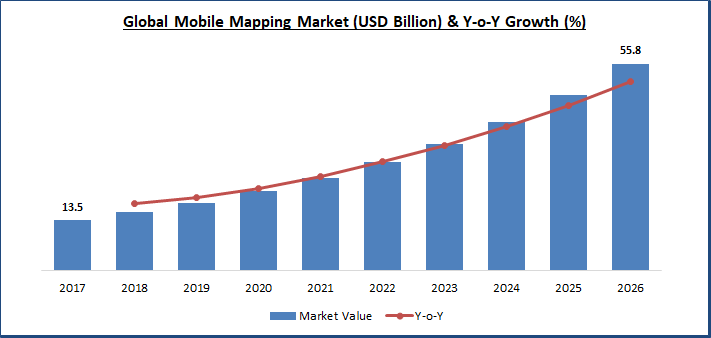 Know more about this report: request for sample pages
Segment Analysis
The overall market is segmented on the basis of type, component, application, end-user, and region. Based on type, the market is segmented into location-based services, 3D mapping, location based search, indoor mapping, licensing, and others. The location-based services segment dominated the global industry in 2017 owing to increasing adoption of mobile devices, and use of mapping apps and GPS for accessing LBS.
This report also categorizes the component segment into hardware, software, and services. The hardware segment dominated the global mobile mapping industry in 2017 owing to increasing use and high costs associated with imaging devices, laser ranging and scanning devices, and positioning devices among others. The application segment is further bifurcated into GIS data collection, asset management, land survey, imaging services, emergency response planning, and others. The GIS data collection segment dominated the industry in 2017.
Based on end-user, the market is further segmented into banking, financial services and insurance, transportation and logistics, telecommunication, agriculture, mining, defense, public sector, and others. The transportation and logistics segment dominated the mobile mapping industry in 2017 owing to increasing demand for modernized vehicles, growing need for real-time information of vehicles, and rising development of autonomous vehicles.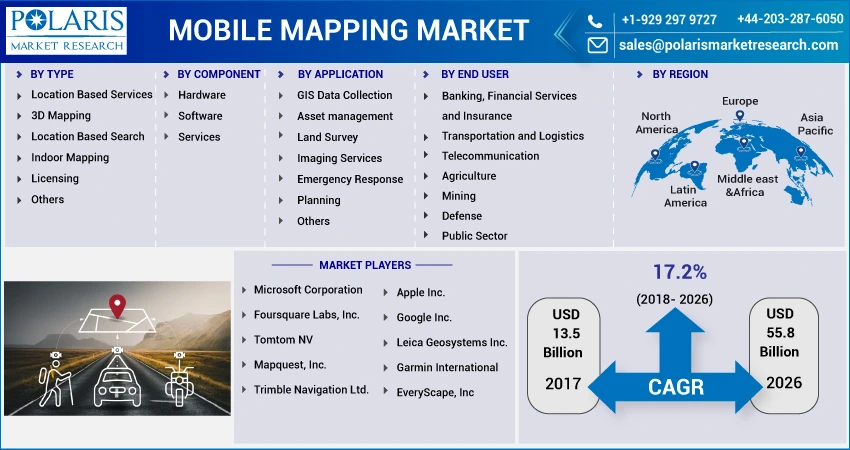 Know more about this report: request for sample pages
Mobile Mapping Market Scope
By Type

By Component

By Application

By End-user

By Region

Location Based Services

3D Mapping

Location Based Search

Indoor Mapping

Licensing

Others

Hardware

Software

Services

Banking, Financial Services and Insurance

Transportation and Logistics

Telecommunication

Agriculture

Mining

Defense

Public Sector

Others

North America (U.S., Canada)

Europe (Germany, UK, France, Italy,)

Asia-Pacific (China, Japan, India, Singapore, Australia)

Latin America (Brazil, Mexico)

Middle East and Africa
Know more about this report: request for sample pages
Regional Analysis
The report comprises a detailed geographic distribution of the market across North America, Europe, Asia-Pacific, Latin America, and MEA. North America is further segmented into U.S. and Canada. Europe is divided into Germany, UK, Italy, France, Spain, Russia and Rest of Europe. Asia-Pacific is bifurcated into China, India, Japan, Korea, Australia, Singapore and Rest of Asia-Pacific. North America accounted for the largest share in 2017. The increasing demand from defense, and government sectors, increasing demand for location-based services, and rising penetration of mobile devices drives the market growth in the region.
Competitive Landscape
The leading players in the mobile mapping market include Microsoft Corporation, Foursquare Labs, Inc., Tomtom NV, Mapquest, Inc., Trimble Navigation Ltd., Apple Inc., Google Inc., Leica Geosystems Inc., Garmin International, and EveryScape, Inc. among others. These leading players are introducing innovative products to cater to the consumer needs and demands. Global players are entering new markets in developing regions to expand their customer base and strengthen their market presence.