The global 3D bioprinting market was valued at USD 1.74 billion in 2021 and is expected to grow at a CAGR of 15.9% during the forecast period. The 3D bioprinting process can be an alternative to the current international organ donor shortage problem. As of July 2019, more than 113,000 people were on the national organ transplant waiting list, according to the U.S. Government Information on Organ Transplantation and Donation.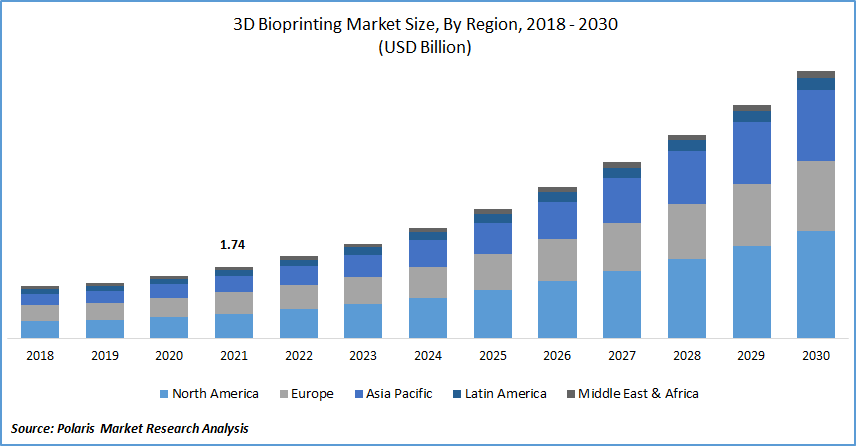 Know more about this report: Request for sample pages
The inability to get organs for transplantation results in the death of 20 individuals daily. Hence, several research & development activities are underway to develop different human organs like the liver, kidney, and heart with the help of three dimensional bio-printing technology. This factor is anticipated to augment the revenue growth of 3D bioprinting market.
The COVID-19 outbreak brought attention to the need for new diagnostic and treatment approaches to tackle infectious diseases. Tissue engineers can use the three dimensional bioprinting approach for epidemiological and virology testing.
In vitro modeling systems, vaccine technology, and small-molecule medication delivery are all examples of significant tissue engineering developments pertinent to the current pandemic. CLECELL's developed bioprinting process, for example, has the potential to be used as a vaccine development testbed. In response to the COVID-19 situation, the three dimensional printing community supports the creation of critical medical equipment for hospitals.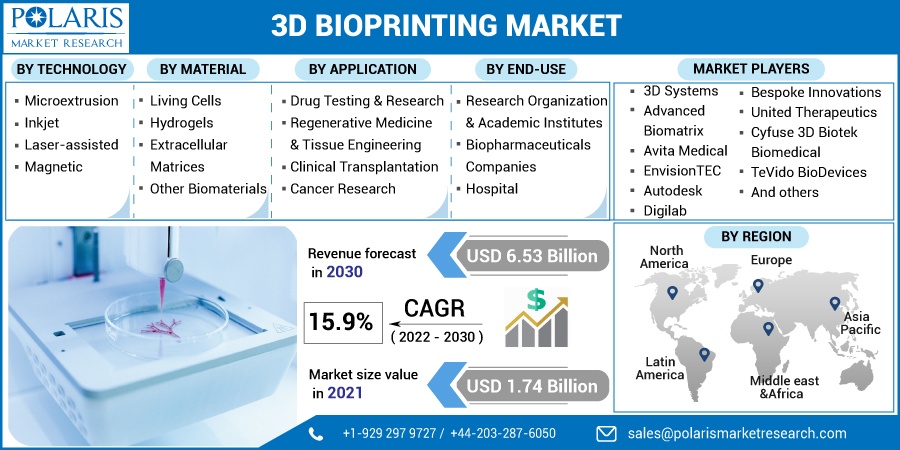 Know more about this report: Request for sample pages
Industry Dynamics
Growth Drivers
The governments of several countries are providing funding and collaborating on 3D bioprinting research & development activities. For example, the US Food and Drug Administration (FDA) awarded a grant of USD 2.5 billion to the first five research universities for biomanufacturing research and development, including three dimensional bioprinting.
Harvard University, Carnegie Mellon University, Rutgers University, Massachusetts Institute of Technology, and Georgia Institute of Technology were among the institutions that were awarded the grant. This is a significant factor that is anticipated to augment the revenue growth of the three dimensional bioprinting market during the forecast period.
Scars and burns, especially on exposed parts of the body, can have a negative impact on an individual's looks as well as their self-confidence. Growing consumer awareness of personal appearance and increased personal disposable wealth is driving an increase in dermal surgeries and treatments worldwide.
As per the National Institute of Aging and the AAPS (American Academy of Plastic Surgeons) in the United States, a significant portion of the population, primarily between the ages of 16 and 33, is embracing modern dermatology and dental services. In most dermatology & dental benefits, three dimensional printing can play an essential role. Hence, this factor is expected to impact the target market's growth positively.
The Research & development activities in the field of three dimensional bioprinting are rising at a rapid rate. Scientists from Swansea University in the United Kingdom have devised a three dimensional bioprinting technology that generates an artificial bone matrix using regenerative and durable biomaterials.
The Christchurch Regenerative Medicine and Tissue Engineering Group, a multidisciplinary research group in New Zealand, is working on creating revolutionary bioprinting processes and biomaterials that use three dimensional bioprinting technology to heal damaged tissue after trauma or disease. Increased research and development activities are anticipated to create lucrative opportunities for market growth.
Report Segmentation
The market is primarily segmented based on technology, material, application, end-use, and region.
By Technology

By Material

By Application

By End-Use

By Region

Microextrusion
Inkjet
Laser-assisted
Magnetic
Other Technologies

Living Cells
Hydrogels
Extracellular Matrices
Other Biomaterials

Drug Testing & Research
Regenerative Medicine & Tissue Engineering
Clinical Transplantation
Cancer Research
Other Applications

Research Organization & Academic Institutes
Biopharmaceuticals Companies
Hospital

North America (U.S., Canada)
Europe (France, Germany, UK, Italy, Spain, Netherlands, Russia)
Asia Pacific (Japan, China, India, Malaysia, Indonesia, South Korea)
Latin America (Brazil, Mexico, Argentina)
Middle East & Africa (Saudi Arabia, UAE, Israel, South Africa)
Know more about this report: Request for sample pages
The inkjet segment is estimated to garner the largest revenue share.
This method allows complex tissues and organs to be printed on culture substrate/surface using biomaterials as bio-inks, and this can solve the worldwide organ donation crisis. The injecting principle is primarily used in tissue engineering and drug delivery systems. Rapid print speeds, low cost, & widespread availability are all advantages of inkjet-based bioprinting.
The magnetic 3D bioprinting market segment is anticipated to grow at a high CAGR during the forecast period. According to several research studies, it has been found that magnetic levitation three dimensional cell culture is the most precise and effective way of ensuring smooth 3D bioprinting. Also, cardiovascular toxicity, which accounts for 30 percent of drug withdrawals, can be detected via magnetic three dimensional bioprinting.
Furthermore, human cells can be used in magnetic three dimensional bioprinting to simulate a human in vivo reaction than an animal model. In the three dimensional rings, vascular smooth muscle cells are mostly printed magnetically to replicate blood vessels, which can dilate and contract. All these factors are anticipated to have a positive impact on the growth of this particular segment.
The drug testing and research segment estimated to account largest market share over the forecast period.
Pre-clinical studies for drug development have traditionally been conducted on lab animals with damaged tissues. The U.S. FDA confirmed the alternatives for drug safety and their efficacy. In line with this, many pharmaceutical companies would be able to connect clinical trials with the help of three dimensional bioprinting.
In 2019, the University of Minnesota developed a new, bio-printed three dimensional tumor model in a lab with NIBIB funding to screen anti-cancer medications and analyze cancer dissemination and primary site malignancies. All these factors are expected to augment the revenue growth of this market segment.
The regenerative medicine and tissue engineering segment are anticipated to grow at a high CAGR in the years to come. With the help of three dimensional printed equipment such as surgical instruments and prostheses, 3D bio-printing technology has been applied in regenerative medicine. Bio-ink is currently being tested as a method of printing cartilage, bones, and essential organs.
With the help of three dimensional bio-printing, ongoing regenerative medicine research and tissue engineering developments aim to regenerate injured organs and tissues. For example, a team of scientists from Tel Aviv University used 3D bio-printing to create a fully vascularized heart using adipose tissue cells from a donor. Owing to the organ donation crisis and several R&D activities, this market segment is anticipated to increase in the upcoming years.
Among all regions, Asia Pacific is estimated to capture the highest revenue share
Asia Pacific is estimated to capture the highest market share, owing to a senior population and favorable government initiatives and policies to strengthen the healthcare sector. The Japanese government expects the regenerative medicine sector to reach JPY 1 trillion by 2030.
The New Energy and Industrial Technology Development Organization (NEDO) believes that innovative technologies, such as 3D bioprinting will be at the forefront of the market in the near future. Moreover, South Korea's government has invested around USD 37 million in the country's 3D printing development.
Over the forecast period, the North America market is expected to grow at a high CAGR due to key market players and heavy funding by private and government organizations for 3D printing research and development activities.
Aprecia Pharmaceutical, a U.S.-based pharmaceutical business, became the first in the world to receive FDA approval for Spritam, a bioprinted 3D medicine, in March 2016. Also, government agencies such as the US Food and Drug Administration (FDA) are providing funding for 3D printing research and development activities. All these factors are anticipated to drive the revenue growth of this particular market segment.
Competitive Insight
Some of the major market players operating in the global market include 3D Systems, Advanced Biomatrix, Avita Medical, EnvisionTEC, Autodesk, Digilab, Bespoke Innovations, United Therapeutics, Cyfuse 3D Biotek Biomedical, TeVido BioDevices, CMC Microsystems, DTM, Bio3D Technologies, CMC Microsystems, Helisys Inc. BD Biosciences and others.
Recent Developments
In May 2022, MIT researchers developed a customizable process for creating wood-like plant material in the lab using 3D bioprinting.
3D Bioprinting Market Report Scope
| | |
| --- | --- |
| Report Attributes | Details |
| Market size value in 2021 | USD 1.74 billion |
| Revenue forecast in 2030 | USD 6.53 billion |
| CAGR | 15.9% from 2022 - 2030 |
| Base year | 2021 |
| Historical data | 2018 - 2020 |
| Forecast period | 2022 - 2030 |
| Quantitative units | Revenue in USD billion and CAGR from 2022 to 2030 |
| Segments covered | By Technology, By Material, By Application, By End-Use, and By Region |
| Regional scope | North America, Europe, Asia Pacific, Latin America; Middle East & Africa |
| Key companies | 3D Systems, Advanced Biomatrix, Avita Medical, EnvisionTEC, Autodesk, Digilab, Bespoke Innovations, United Therapeutics, Cyfuse 3D Biotek Biomedical, TeVido BioDevices, CMC Microsystems, DTM, Bio3D Technologies, CMC Microsystems, Helisys Inc. BD Biosciences and other market players |