The global A2 milk market was valued at USD 1.87 billion in 2021 and is expected to grow at a CAGR of 11.30% during the forecast period.
The consumption of nutritious foods is becoming increasingly popular among consumers worldwide. Dairy products, which include milk and yogurt, are among the most consumed foods in the world. A2 milk's strong nutritional value is essential for a baby's growth. A2 milk has no hormones or antibiotics and is a rich source of calcium as well as other necessary vitamins and minerals. It has been demonstrated that A1 beta-casein milk causes babies to emit more BCM-7, which has been linked to a number of stomach-related issues. BCM-7 release is nonetheless lowered as a result of A2 milk digesting. As a result, baby food manufacturers typically select A2 milk for use in newborn formulas. Due to the rise in demand for A2 milk, the market will continue to grow in the years to come.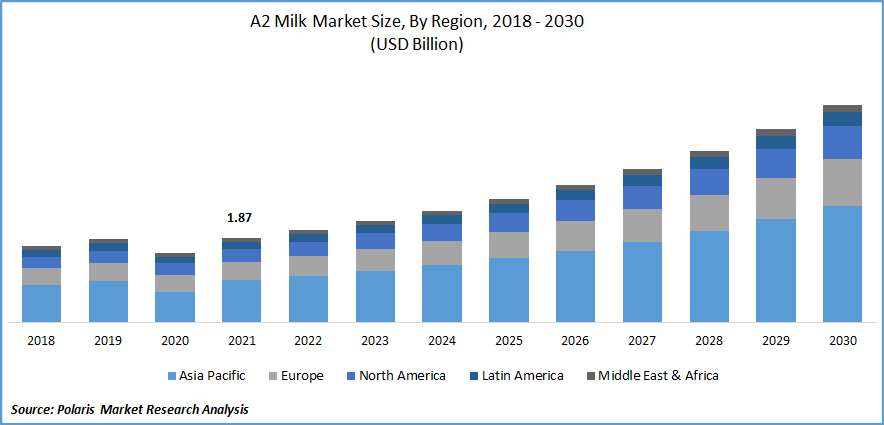 Know more about this report: Request for sample pages
For instance, the a2 Milk Company (a2MC) and KidsCan, New Zealand's top organization for assisting children affected by poverty, are collaborating in August 2022. a2MC donated USD 130,000 annually initially in the first three years to help pay KidsCan to carry out its critically important work, which is what is causing the market for A2 milk to increase.
The global A2 milk market supply chain, as well as the entire dairy input value chain, from raw material acquisition to processing, packaging, and distribution, have been impacted by the onset of the COVID-19 global pandemic. The impact of COVID-19 on the dairy industry has been felt in various ways, including decreased demand for dairy products as a whole and spillage of extra A2 milk that was obtained in excess. In order to guarantee that the farmers have a means of support, dairy cooperatives are instructed to purchase milk from farmers, especially A2 milk.
The majority of dairy companies have accepted a direct distribution channel for A2 milk in order to lower the cost of middlemen and increase profit margins. Retail sales of A2 milk rose during the initial stages of the pandemic as a result of the customers' pandemic-related purchase patterns. The A2 Milk Company, a significant player in the global market, saw an increase in revenues due to pantry-stocking its products through reseller channels and online sales, especially in China and Australia. However, as the effects of the epidemic fade and nations return to their pre-pandemic levels, the worldwide market has developed and out-of-home sales of A2 milk have risen.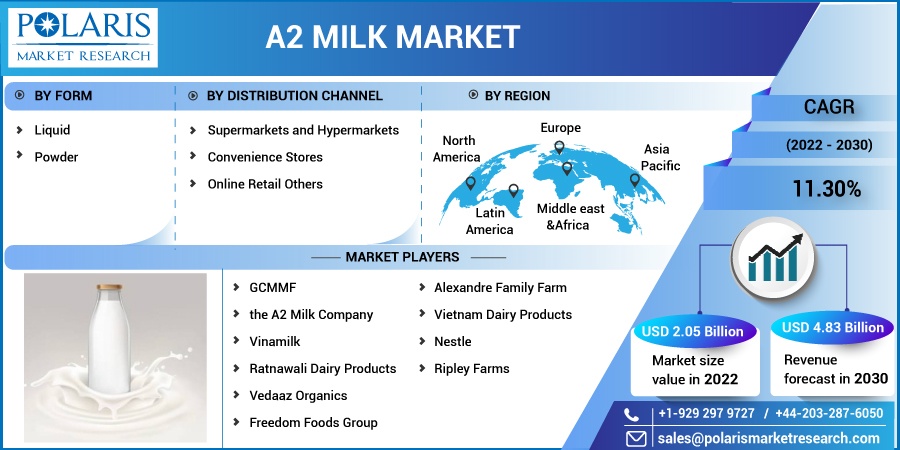 Know more about this report: Request for sample pages
Industry Dynamics
Growth Drivers
The health benefits of milk are well-known around the world. The availability of numerous options has caused a change in the way milk is consumed. The two main proteins, A1 and A2 are present in cow milk, one of the healthier options. From cows of Western ancestry that produce a lot of milk, A1-based milk or A1 milk is obtained. A1 milk is produced in enormous quantities, which further increases availability and consumption. When A1 milk is consumed in large quantities, it causes obesity, heart disease, and diabetes in several age groups of the population as well as cognitive impairments and histamine in youngsters.
For instance, the a2 Milk Company (a2MC) added a lactose-free product to its line of a2 Milk products in Australia in May 2022 to cater to the needs of one in four Australians. They have milk intolerance that has been either self- or clinically diagnosed. According to a2MC, many consumers experience stomach pain after consuming conventional milk, which may be brought on by an intolerance to the A1 protein or a problem digesting lactose. The rise of the A2 milk market is therefore fueled by the health benefits of A2 milk over the drawbacks of excessive intake of A1 milk.
Report Segmentation
The market is primarily segmented based on form, distribution channel, and region.
By Form

By Distribution Channel

By Region

Supermarkets and Hypermarkets
Convenience Stores
Online Retail Others

North America (U.S., Canada)
Europe (France, Germany, UK, Italy, Netherlands, Spain, Russia)
Asia Pacific (Japan, China, India, Malaysia, Indonesia. South Korea)
Latin America (Brazil, Mexico, Argentina)
Middle East & Africa (Saudi Arabia, UAE, Israel, South Africa)
Know more about this report: Request for sample pages
Liquid segment was the industry's largest market segment in 2021
The liquid form of A2 milk dominated the global market in 2021. Fresh milk is preferred by consumers because it provides nutrients such as calcium, vitamins, and proteins. As a result of their convenience and widespread consumption, liquid products contributed more to market income. These vitamins support maintaining the health of the neurological system. Additionally, fresh A2 milk has more phosphorus and selenium than powdered milk. In many dairy products, milk is a common ingredient.
Milk has a lot of nutrients, including fat, which is a healthy type of fat. Compared to conventional milk, a2 milk has a higher fat content. Compared to a2 milk, which has a fat percentage of about 4.8%, ordinary milk has a fat content of about 3.6%. The expansion of the market is being driven by increased consumption of liquid A2 beta-casein milk due to its natural flavor and a mild taste.
Supermarkets and hypermarkets segment will account for a higher share of the market.
The segment with the largest revenue share in 2021 was supermarkets and hypermarkets. The proliferation of supermarkets and hypermarkets, as well as the availability of a wide variety of products in stores, are the main drivers fueling the segment's expansion. To prevent spoiling, dairy-based items are stored on shelves at controlled temperatures in supermarkets and hypermarkets.
The use of blockchain technology by supermarkets and hypermarkets to track product information, including source, manufacturing location, and mode of transit, is on the rise. Regarding security, transparency, and decentralization, blockchain technology can be characterized as a data structure that stores transactional records.
A growing number of consumers are actively searching for the place of origin and the techniques used in food production in order to comprehend the full food supply chain. With the help of blockchain technology, customers can obtain labeling data on their cellphones, providing them with detailed data tracking that ensures food quality. These shops allow customers to buy necessities at lower prices, which is anticipated to fuel the segment's expansion in the upcoming years greatly.
The demand in Asia Pacific is expected to witness significant growth
Asia Pacific had the largest market share in 2021 and is predicted to increase significantly throughout the A2 milk industry projection period. Due to the growing awareness of the benefits of A2 beta-casein milk in developing countries like China and India, the region is viewed as a significant market. Additionally, the product is primarily manufactured in the Asia Pacific region because A2 breed cows are readily available there, and there is a growing demand for dairy products.
As a result, it is projected that throughout the forecast period, there will be a rise in the demand for A12 milk. For instance, Hershey's and a2 Milk jointly introduced Hershey's a2 Milk's chocolate flavored milk in October 2021. These businesses release extremely few new items in the market because they do not make significant investments in research and innovation capabilities, which is necessary to remove a new or upgraded product from the market.
Competitive Insight
Some of the major players operating in the global market include GCMMF, the A2 Milk Company, Vinamilk, Ratnawali Dairy Products, Vedaaz Organics, Freedom Foods Group, Alexandre Family Farm, Vietnam Dairy Products, Nestle, and Ripley Farms.
Recent Developments
The a2 Milk Company reports on August 2022 that it has made substantial progress in putting its updated growth strategy into practice and improving performance during FY22.
In August, 2021, the a2 Milk Company (a2MC) completed its acquisition of a 75% stake in dairy nutrition company Mataura Valley Milk (MVM). The acquisition is crucial from a strategic perspective since it offers a2MC the chance to engage in the production of nutritional products, supplier and geographic diversity, connection building with important partners in China, and supplier diversification.
A2 Milk Market Report Scope
| | |
| --- | --- |
| Report Attributes | Details |
| Market size value in 2022 | USD 2.05 billion |
| Revenue forecast in 2030 | USD 4.83 billion |
| CAGR | 11.30% from 2022 - 2030 |
| Base year | 2021 |
| Historical data | 2018 - 2020 |
| Forecast period | 2022 - 2030 |
| Quantitative units | Revenue in USD billion and CAGR from 2022 to 2030 |
| Segments Covered | By Form, By Distribution Channel, By Region |
| Regional scope | North America, Europe, Asia Pacific, Latin America; Middle East & Africa |
| Key Companies | GCMMF, the A2 Milk Company, Vinamilk, Ratnawali Dairy Products, Vedaaz Organics, Freedom Foods Group, Alexandre Family Farm, Vietnam Dairy Products, Nestle, and Ripley Farms. |