The global accounting software market was valued at USD 14.24 billion in 2022 and is expected to grow at a CAGR of 10.4% during the forecast period.
The market is witnessing significant growth due to its numerous advantages. These include efficient accounts receivable and payable management, cash flow analysis, balance sheet preparation, tax compliance, trial balance generation, invoicing, income and expense statements, and payroll processing. By automating these processes, accounting software saves time and money while reducing the likelihood of errors. This automation-driven efficiency presents lucrative growth opportunities for the market.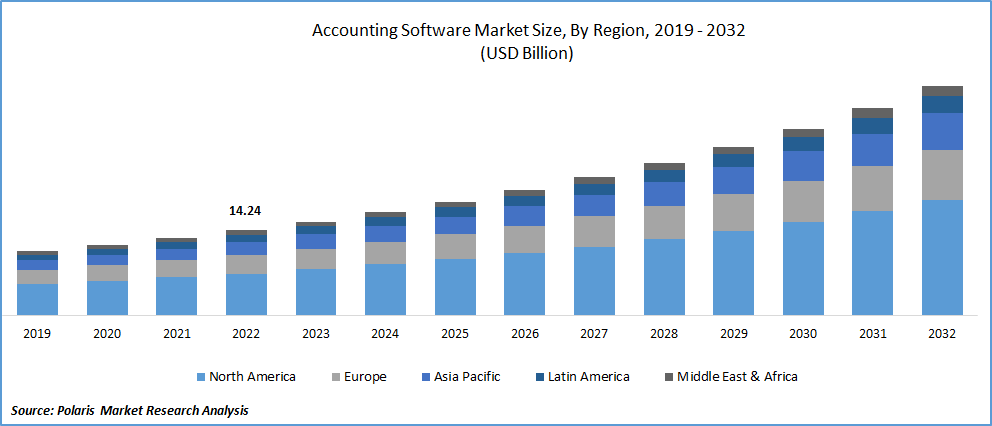 To Understand More About this Research: Request a Free Sample Report
Several factors are driving the growth of the accounting software market. Investments in industries such as BFSI, healthcare, retail, and e-commerce are increasing, leading to greater deployment of cloud-based accounting applications. Moreover, there is a rising trend of adopting innovative technologies to enhance business productivity. The emergence of virtual CFOs is also impacting the market, as they provide specialized financial expertise to small and medium-sized enterprises. Additionally, there is a growing focus on automating accounting processes to improve efficiency and eliminate manual tasks.
Furthermore, the market benefits from the availability of advanced IT infrastructure, enabling robust accounting software solutions to be developed and implemented. Mobile and app-based accounting software is gaining traction among enterprises and individuals, further driving market growth. Additionally, investments in artificial intelligence (AI)-oriented accounting software are expected to create numerous opportunities for the market in the coming years. However, challenges such as data security and privacy concerns and the additional costs associated with implementing accounting software hinder the market's growth.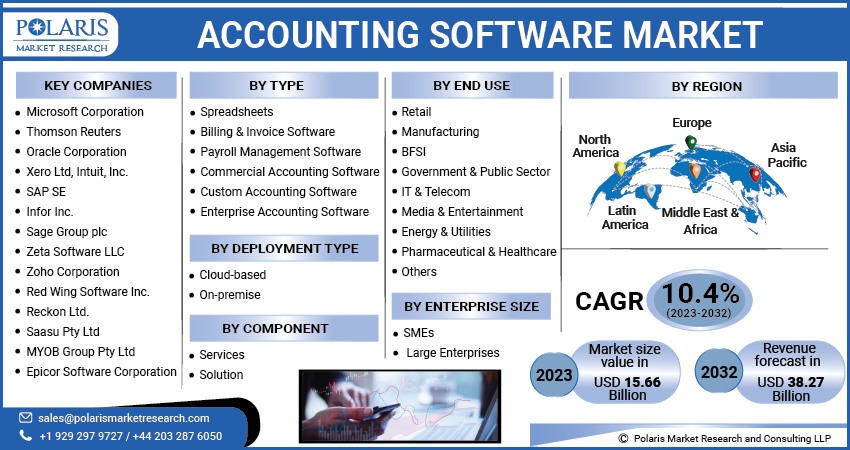 For Specific Research Requirements, Speak With a Resaerch Analyst
Industry Dynamics
Growth Drivers
The market is experiencing a growing adoption of cloud-based solutions. Cloud-based accounting software offers numerous benefits, including enhanced accessibility, scalability, cost-effectiveness, and data security. It allows users to access their accounting data and perform financial tasks from anywhere, anytime, using any device with an internet connection. This flexibility is particularly advantageous for remote teams and businesses with multiple locations.
Furthermore, cloud-based solutions eliminate the need for on-premises infrastructure and software maintenance, reducing IT costs and complexity. The scalability of cloud platforms enables businesses to easily adjust their accounting software resources based on their evolving needs.
Moreover, cloud-based accounting software providers prioritize data security, implementing robust encryption protocols, regular backups, and strict access controls to protect sensitive financial information. These security measures instill confidence in businesses, further driving the adoption of cloud-based solutions in the market. Overall, the convenience, scalability, and security offered by cloud-based accounting software make it a preferred choice for businesses of all sizes.
Report Segmentation
The market is primarily segmented based on component, type, deployment type, enterprise size, end-use, and region.
By Component

By Type

By Deployment Type

By Enterprise Size

By End Use

By Region

Spreadsheets

Billing & Invoice Software

Payroll Management Software

Commercial Accounting Software

Custom Accounting Software

Enterprise Accounting Software

Retail

Manufacturing

BFSI

Government & Public Sector

IT & Telecom

Media & Entertainment

Energy & Utilities

Pharmaceutical & Healthcare

Others

North America (U.S., Canada)

Europe (France, Germany, UK, Italy, Netherlands, Spain, Russia)

Asia Pacific (Japan, China, India, Malaysia, Indonesia, South Korea)

Latin America (Brazil, Mexico, Argentina)

Middle East & Africa (Saudi Arabia, UAE, Israel, South Africa)
To Understand the Scope of this Report: Speak to Analyst
The solution segment dominated the market in 2022
In 2022, the solution segment emerged as the dominant force in the market, and this trend is expected to persist throughout the forecast period. The widespread adoption of accounting software brings numerous benefits to industries. It streamlines business processes, eliminating manual tasks and reducing the time and cost associated with traditional accounting methods.
Businesses can achieve greater efficiency and accuracy in their financial operations by automating various accounting processes, such as accounts receivable and payable management, tax compliance, and payroll processing. These advantages fuel the market's growth as more organizations recognize the value of implementing accounting software solutions. The solution segment's dominance reflects the market's recognition of the transformative impact that accounting software can have on streamlining business operations and driving cost savings.
The on-premise segment dominated the market in 2022.
The on-premise segment dominated the market in 2022 and is projected to maintain its leading position during the forecast period. This can be attributed to the advantages offered by on-premise deployment, including high data security and safety. Companies prefer the on-premise model due to its robust data security measures and reduced risk of data breaches compared to cloud-based deployment models. This preference drives the demand for on-premise deployment, particularly within the public and private sectors.
However, the cloud segment is expected to witness the highest growth in the coming years. This growth is fueled by the increasing adoption of cloud-based accounting software, which offers lower costs and easier maintenance than on-premise solutions. Cloud-based deployment provides flexibility and scalability, enabling businesses to enhance their processes and easily adjust their software resources based on changing needs. These advantages propel the market's growth, making the cloud segment a key driver for market expansion.
North America dominated the global market in 2022
The North American region emerged as the dominant force in the accounting software industry in 2022 and is poised to maintain its leadership during the forecast period. Businesses in North America are actively investing in emerging technologies to streamline their work processes and gain a competitive edge. The region's developed IT infrastructure has fostered widespread acceptance of cloud-based accounting software, which offers enhanced flexibility and accessibility.
Furthermore, North America's banking and finance sector has witnessed a notable increase in the adoption of accounting software. These industries recognize the potential of such software to improve their operations and enhance the overall customer experience. This trend presents lucrative growth opportunities for the market in the North American region, solidifying its position as a key market player.
Competitive Insight
Some of the major players operating in the global market include Microsoft Corporation, Thomson Reuters, Oracle Corporation, Xero Ltd, Intuit, Inc., SAP SE, Infor Inc., Sage Group plc, Zeta Software LLC, Zoho Corporation, Red Wing Software Inc., Reckon Ltd., Saasu Pty Ltd, MYOB Group Pty Ltd, and Epicor Software Corporation.
Recent Developments
In July 2022, Xero Ltd launched the Xero Go, a new app by Xero for sole traders, helping them prepare for UK's MTD for the ITSA system. It offers Quickscan with machine learning for expense recording and auto-suggestions for tax categories, enhancing accuracy and submission efficiency.

In August 2022, Intuit Accountants launched Intuit Tax Advisor, a tool for tax professionals integrating tax preparation and advisory services. It provides insights, strategies, and estimated tax savings, seamlessly integrating with Intuit Accountant software. Personalized reports can be customized, fostering collaboration and informed decision-making for optimized tax planning.
Accounting Software Market Report Scope
| | |
| --- | --- |
| Report Attributes | Details |
| Market size value in 2023 | USD 15.66 billion |
| Revenue forecast in 2032 | USD 38.27 billion |
| CAGR | 10.4% from 2023 – 2032 |
| Base year | 2022 |
| Historical data | 2019 – 2021 |
| Forecast period | 2023 – 2032 |
| Quantitative units | Revenue in USD billion and CAGR from 2023 to 2032 |
| Segments Covered | By Component, By Type, By Deployment Type, By Enterprise Size, By End Use, By Region |
| Regional scope | North America, Europe, Asia Pacific, Latin America; Middle East & Africa |
| Key Companies | Microsoft Corporation, Thomson Reuters, Oracle Corporation, Xero Ltd, Intuit, Inc., SAP SE, Infor Inc., Sage Group plc, Zeta Software LLC, Zoho Corporation, Red Wing Software Inc., Reckon Ltd., Saasu Pty Ltd, MYOB Group Pty Ltd, and Epicor Software Corporation |