The global acoustic breathing sensor market was valued at USD 231.05 million in 2021 and is expected to grow at a CAGR of 6.7% during the forecast period. Real-time monitoring of breathing patterns in children and certain respiratory conditions, coupled with innovations in the devices, have led to the demand for the acoustic breathing sensor market. The industry is expected to expand rapidly over the next years as a result of technology advancements and an increase in hospital and clinic usage rates.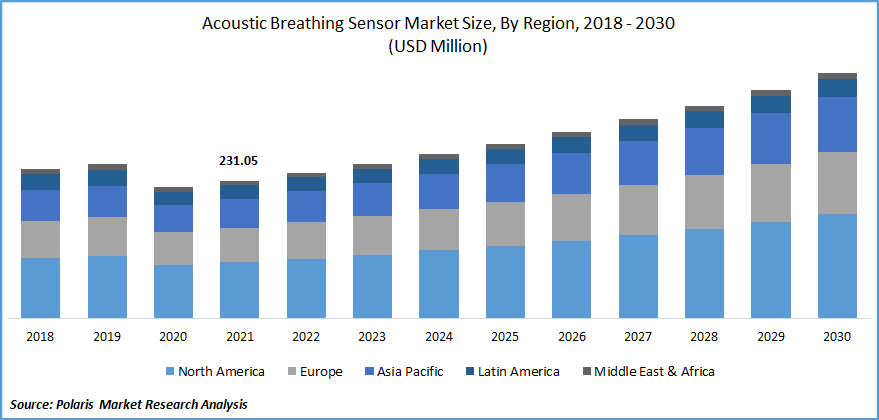 Know more about this report: Request for sample pages
For instance, the recent advancement of the Pneumo. Vest at the Fraunhofer Institute has influenced future improvements in the way lung function is monitored. They have created a vest with built-in sensors that makes it possible to monitor lung health continuously without the use of costly equipment, skilled personnel, or an institutional setting.
The potential of this technology to alert medical workers as soon as a patient exhibits signs of respiratory distress improves patient safety and well-being. The acoustic breathing sensor market is being driven by many regulatory agencies' acceptance of novel goods on a global basis. It is projected that during the forecast period, such rapid market developments would present a large opportunity for industry growth.
Breathing devices allow medical professionals and physicians to view a patient's breathing in real-time. It aids in the early detection of people who are experiencing respiratory distress. This technology continuously monitors breathing patterns using brand-new adhesive sensors in conjunction with an audio transducer.
The medication aids in the early detection of respiratory infections that are just beginning to manifest, as well as in providing patients with prompt therapeutic responses to reduce the risk of potentially dangerous respiratory episodes. Due to the increasing need for non-invasive technology solutions, there will probably be more prospects for industry expansion in the near future.
Moreover, with rising healthcare costs in emerging nations, the acoustic breathing sensor market is expanding significantly. The industry is being driven by the usage of breathing sensors to treat changing respiratory conditions. Additionally, growing consumer awareness brought on by a number of associations is driving the industry. These elements are predicted to accelerate market expansion over the evaluation period.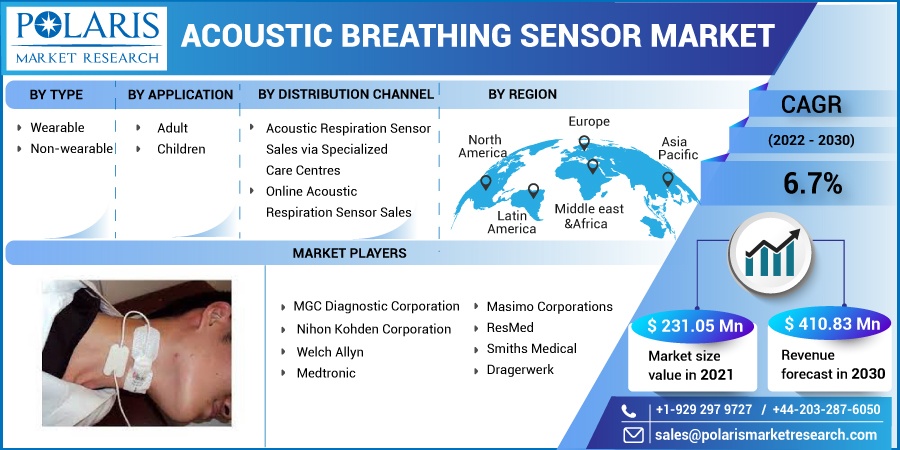 Know more about this report: Request for sample pages
Industry Dynamics
Growth Drivers
A few significant aspects, including the usage of breathing devices to provide patients with non-invasive and consistent monitoring, are what essentially drives the acoustic breathing sensor market. The market will be driven over the forecast period by an aging population, rising life expectancy, and the rising prevalence of respiratory illnesses.
Pulse oximetry and respiration rate are two examples of many characteristics that can be used to identify respiratory abnormalities before they develop into respiratory breakdowns, according to the Anesthesia Patient Safety Foundation.
For instance, Advanced Tele Sensors has created patented contactless heart and respiration sensing technology to enable the development of devices that can collect critical information via obstructions during normal movements without the need for tethered sensor pads. Costs are reduced as a result of this technology. Advanced home care is made possible by ATS technology, which can automatically detect a person's pulse, respiration, and movement inside their home. This information may then be transmitted to a centralized health care system.
Report Segmentation
The market is primarily segmented based on type, application, distribution channel, and region.
By Type

By Application

By Distribution Channel

By Region

Acoustic Respiration Sensor Sales via Specialized Care Centres
Online Acoustic Respiration Sensor Sales

North America (U.S., Canada)
Europe (France, Germany, UK, Italy, Netherlands, Spain, Russia)
Asia Pacific (Japan, China, India, Malaysia, Indonesia. South Korea)
Latin America (Brazil, Mexico, Argentina)
Middle East & Africa (Saudi Arabia, UAE, Israel, South Africa)
Know more about this report: Request for sample pages
Wearable Acoustic Respiration Sensor segment is expected to witness the fastest growth
The market for wearable acoustic respiration sensors will expand at the highest rate throughout the forecast period. Numerous wearable technologies have been developed that can be used to test and monitor a patient's respiratory performance or provide environmental data that may be interesting to the respiratory system. Examples of these technologies include arterial oxygen saturation, minute ventilation, respiratory rate, and activity tracking of breathing patterns.
According to NCBI research, innovation in wearable respiratory devices has increased over previous years. It is based on the detection of small skin vibrations caused by internal body noises near the ears. The suggested device design enables direct monitoring of respiratory activity that is less sensitive to motion noise. It can also be utilized to detect other internal body noises like heartbeat and artery sounds.
Pediatrics accounted for the largest market share in 2021
The pediatrics segment is projected to register the highest growth rate over the study period. Respiratory illnesses are more common among children. The market for pediatric breathing devices is predicted to rise as respiratory disorders, including the common cold, influenza, and others, become more prevalent.
As a result, it is predicted that the need for Acoustic breathing Sensors will increase significantly in the years to come. According to the WHO, respiratory illnesses caused the murder of more than 740,180 children under the age of five in 2019. These fatalities represented 14% of infant-to-five-year-old mortality but 22% of pediatric fatalities.
Online Acoustic Respiration Sensor Sales is anticipated to expand
The online acoustic respiration devices sales channel is expected to grow at a significant CAGR and lead the market throughout the forecast period. The primary reason projected to fuel sector expansion is consumers' rising preference for online shopping. Making content distribution tools and solutions that can live up to client expectations is a key area of attention for suppliers in the digital distribution sector.
They compete based on the caliber of their services and how well they fulfill and surpass clients' expectations. Given the expanding e-commerce market and the fact that nearly all retail sales now occur online, internet sales are crucial.
The demand in North America is expected to witness significant growth
A strong healthcare infrastructure, the availability of suitable and attractive reimbursement regulations, the quick uptake of cutting-edge medical technologies, and important companies in the area are all elements that have contributed to the industry's expansion. For instance, a survey from the Centers for Medicare & Medicaid Services found that over the previous ten years, personal healthcare spending in the U.S. has climbed considerably. The United States spent the most on personal healthcare ($410.9 billion) in 2020.
Furthermore, North America controls the majority of the global market for acoustic breathing sensors as a result of regulations set by the U.S. Food and Drug Administration. These approvals and regulations are expected to cause the market for acoustic breathing sensors in North America to expand throughout the course of the forecast period.
Additionally, it is predicted that the breathing devices industry will expand quickly in European nations. In the future years, the market for breathing sensors will experience rapid expansion due to the rising development and introduction of various regional enterprises in Europe.
Acoustic breathing devices will become increasingly popular on a global scale. Due to its rapid growth and the entry of numerous regional companies, the market for acoustic breathing sensors in the Asia-Pacific region will also significantly expand over the next few years. The market for acoustic breathing devices in Asia-Pacific will expand as a result of the region's expanding healthcare infrastructure and its quick spread across Asian countries.
Competitive Insight
Some of the major players operating in the global market include Medtronic, Masimo Corporation, ResMed, Smiths Medical, Dragerwerk, MGC Diagnostic Corporation, Nihon Kohden Corporation, and Welch Allyn.
Recent Developments
The FDA has approved medical technology company Masimo's Rainbow Acoustic Monitoring "RAS-45 acoustic respiration sensor" for the use on new-borns and the infants. For the monitoring of adult and paediatric patients weighing above 10 kg, these devices have received clearance.
Acurable is a provider of connected wearable technology for online health monitoring. It has created a patch that can be worn to record acoustic impulses from the heart and lungs. The device is attached to the user's neck with an adhesive bandage, and when it is turned on, a micro devices reads the body's acoustic impulses.
In March 2022, a research team from Friedrich-Alexander-Universität Erlangen-Nürnberg (FAU) created a fingernail-sized devices that uses artificial intelligence to monitor respiratory function and receives funding from the Free State of Bavaria worth 225,000 euros. The device is affixed to the patient's neck and looks for tell-tale signs such coughing, sneezing, panting, shortness of breath, or a change in vocal tone.
Acoustic Breathing Sensor Market Report Scope
| | |
| --- | --- |
| Report Attributes | Details |
| Market size value in 2021 | USD 231.05 million |
| Revenue forecast in 2030 | USD 410.83 million |
| CAGR | 6.7% from 2022 - 2030 |
| Base year | 2021 |
| Historical data | 2018 - 2020 |
| Forecast period | 2022 - 2030 |
| Quantitative units | Revenue in USD million and CAGR from 2022 to 2030 |
| Segments covered | By Type, By Application, By Distribution Channels, By Region |
| Regional scope | North America, Europe, Asia Pacific, Latin America; Middle East & Africa |
| Key companies | Medtronic, Masimo Corporations, ResMed, Smiths Medical, Dragerwerk, MGC Diagnostic Corporation, Nihon Kohden Corporation, and Welch Allyn. |