The global adhesion promoter market was valued at USD 3,800.0 million in 2022 and is expected to grow at a CAGR of 5.9% during the forecast period. The plastics and composites industry has seen a rise in demand for adhesion promoters due to technological advancements and innovations in advanced composites and multilayer packaging. These promoters play a crucial role in enhancing the adhesive strength between coatings and substrates, making them valuable in various applications such as electrical systems, inorganic material adhesion, and flat panel displays. The automotive industry also utilizes adhesion promoters for sensors, windows, and windscreens and for producing night-vision filters to improve visibility.

Know more about this report: Request for sample pages
Construction, automotive, and plastic industries are predicted to create profitable opportunities for the adhesion promoters' market over the estimated period. These materials serve as additives in manufacturing coatings, paints, inks, polymers, and rubbers, playing a significant role in producing high-performance rubbers and improving the quality of semiconductors and flat panel displays.
Furthermore, adhesion promoters, like silanes, are being utilized by automakers to develop "green tires" as part of their efforts to enhance road safety and fuel efficiency. By incorporating these promoters into tread compounds, silica-reinforced compounds are created to replace carbon black derived from petroleum. This shift towards more sustainable materials is expected to impact the environment positively.
During the COVID-19 pandemic, the market experienced positive and negative impacts. The increased demand for personal protective equipment and medical devices increased the demand for adhesion promoters. At the same time, the construction industry also saw growth, contributing to an increase in demand. However, disruptions in global supply chains significantly impacted the automotive industry, a major consumer of adhesion promoters, causing a decline in order.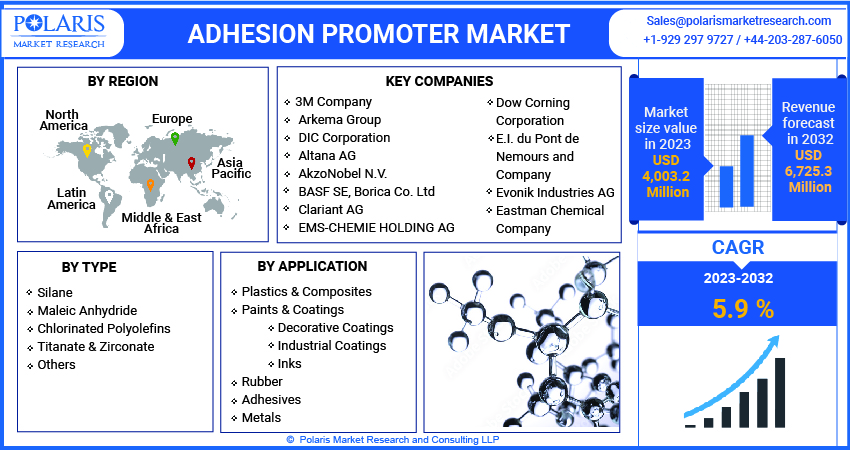 To Understand More About this Research:Request a Free Sample Report
Industry Dynamics
Growth Drivers
The increasing demand from end-use industries such as automotive, construction, and packaging. The growth of these industries is expected to continue to drive demand for adhesion promoters. Additionally, technological advancements have led to the development of more effective adhesion promoter products that provide better bonding properties and increased durability.
Another driver of the adhesion promoter market is the growth of the construction industry, which is a major consumer of adhesion promoters for bonding materials such as concrete, wood, and metals. As construction activities continue to increase worldwide, demand for adhesion promoters is also expected to grow.
Furthermore. the increasing demand for eco-friendly and non-toxic adhesion promoters is a key driver of market growth. Consumers are becoming more environmentally conscious, and regulations are becoming more stringent, leading to a greater demand for eco-friendly products. This trend is expected to continue, driving the development and adoption of new eco-friendly adhesion promoter products.
Report Segmentation
The market is primarily segmented based on type, application, and region.
By Type

By Application

By Region

Silane

Maleic Anhydride

Chlorinated Polyolefins

Titanate & Zirconate

Others

Plastics & Composites

Paints & Coatings

Decorative Coatings

Industrial Coatings

Inks

Rubber

Adhesives

Metals

Others

North America (U.S., Canada)

Europe (France, Germany, UK, Italy, Netherlands, Spain, Russia)

Asia Pacific (Japan, China, India, Malaysia, Indonesia, South Korea)

Latin America (Brazil, Mexico, Argentina)

Middle East & Africa (Saudi Arabia, UAE, Israel, South Africa)
Know more about this report: Request for sample pages
Silane segment accounted for the highest market revenue share in 2022
The silane product segment accounted for the highest market revenue share. This growth can be attributed to the increasing demand for silane in various applications such as paints & coatings and rubber.
Silane was used as a coating on filler particles in composite materials, which helped to bind them to a resin matrix. Additionally, it is widely used as a coupling agent to stabilize composite materials by adhering fibers to certain polymers. With the rising demand for high-performance materials exhibiting moisture, temperature, and chemical resistance, the silane segment is expected to grow significantly.
Paints and coatings segment expected to grow at fastest rate during forecast period
Paint and coatings segment anticipated to grow at fastest rate over the forecast period. An adhesion promoter is critical in ensuring strong adhesion between a substrate and a liquid coating. The effectiveness of a paint or coating largely depends on the adhesion quality, which is influenced by several factors, such as the type of adhesion promoter used, substrate wetting, application conditions, curing process, and environmental conditions during aging.
High-quality coatings require strong adhesion to achieve the desired performance standards. The DIN 55945 standard is widely used in coatings to measure adhesive strength. Adhesion also impacts other critical properties of layers, including durability, aesthetics, and corrosion resistance. However, coatings are exposed to various factors leading to mechanical, thermal, and chemical deterioration over time.
To enhance the resistance and longevity of coatings, adhesion promoters such as silanes and polyolefins are commonly used. These promoters are tailored to meet specific requirements in various applications, such as automotive, packaging, and paper industries. As a result, the demand for adhesion promoters is expected to rise significantly in the coming years.
Asia Pacific anticipated to dominate the market over forecast period.
The Asia Pacific region is anticipated to dominate the global market in the forecast period, primarily due to the increasing demand for these materials in the paints and coatings industry. Additionally, the region's advantage of abundant raw materials and low labor costs has attracted several global players to establish manufacturing bases there.
Despite being the slowest market expansion in the last thirty years, China's "Made in China 2025" campaign seeks to boost industry efficiency, product quality, and brand recognition, potentially fostering the growth of indigenous manufacturing and greater completeness in the market.
Competitive Insight
Some of the major players operating in the global adhesion promoter market include 3M Company, Arkema Group, DIC Corporation, Altana AG, AkzoNobel N.V., BASF SE, Borica Co. Ltd, Clariant AG, EMS-CHEMIE HOLDING AG, Dow Corning Corporation, E.I. du Pont de Nemours and Company, Evonik Industries AG, Eastman Chemical Company, MHM Holding GmbH, Solvay S.A., and Toyobo Co. Ltd.
Recent Developments
In August 2021, PPG announced that it provided various aerospace paints to Rex Airlines for six Boeing aircraft that would enhance the airline's domestic labor. Rex Airlines chose PPG EAP-9, free from chromium converting adhesion promoter, for such aircraft's fuselage, wings, and engine cowlings.
In July 2021, Luxexcel, a 3D printed prescription lens expert, developed VisionPlatform 7, a platform that allows smart glasses makers to incorporate 3D printed prescription lenses into their production.
Adhesion Promoter Market Report Scope
| | |
| --- | --- |
| Report Attributes | Details |
| Market size value in 2023 | USD 4,003.2 million |
| Revenue forecast in 2032 | USD 6,725.3 million |
| CAGR | 5.9 % from 2023 – 2032 |
| Base year | 2022 |
| Historical data | 2019 – 2021 |
| Forecast period | 2023 – 2032 |
| Quantitative units | Revenue in USD million and CAGR from 2023 to 2032 |
| Segments Covered | By Type, By Application, By Region |
| Regional scope | North America, Europe, Asia Pacific, Latin America; Middle East & Africa |
| Key Companies | 3M Company, Arkema Group, DIC Corporation, Altana AG, AkzoNobel N.V., BASF SE, Borica Co. Ltd, Clariant AG, EMS-CHEMIE HOLDING AG, Dow Corning Corporation, E.I. du Pont de Nemours and Company, Evonik Industries AG, Eastman Chemical Company, MHM Holding GmbH, Solvay S.A., and Toyobo Co. Ltd. |