The global High-performance Liquid Chromatography Market was valued at USD 4.28 billion in 2021 and is expected to grow at a CAGR of 5.7% during the forecast period. The market is primarily driven by high accuracy of HPLC technique, the growing importance of HPLC in drug approvals, and rising pharmaceutical R&D spending. Also, the increasing demand for preclinical and clinical trials in the drug development process, and the high frequency of chronic disorders, are driving market revenue growth.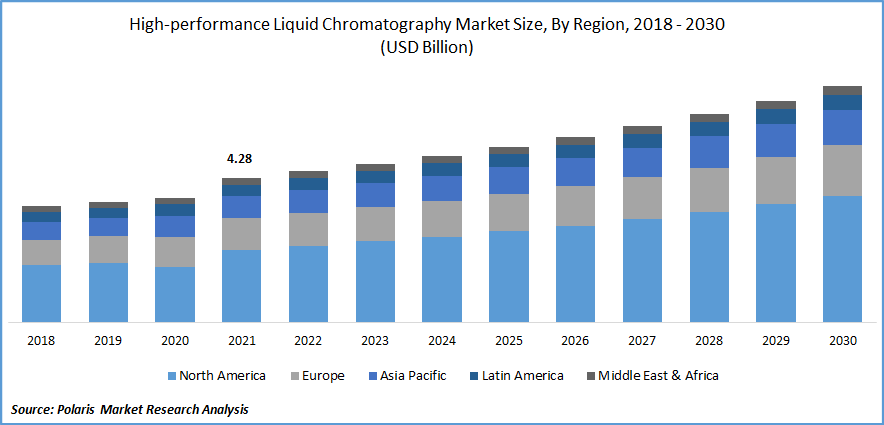 Know more about this report: Request for sample pages
Numerous end-use sectors, including the food industry, biotechnology, pharmaceutical, and others, uses the HPLC method. HPLC is used in the pharmaceutical sector at all stages of drug research and development.
Consequently, HPLC can assist pharmaceutical companies in developing the purest products. By evaluating and isolating vitamins, additives, preservatives, amino acids, and proteins, HPLC is also utilized in the food business to maintain and check quality. Along with preservatives, artificial flavors and colors, and pesticides, HPLC can be used to identify and measure these substances.
Furthermore, market growth is expected to be driven by government intervention in the areas of food safety and environmental regulation, increasing focus on precise diagnostics, and rising approval of chromatographic techniques as a standard procedure for testing the expiry and specificity of drug components. The government move to grow small-scale industries, as well as the entry of existing key players in emerging economies, are anticipated to influence the pharmaceutical biotechnology industry's growth.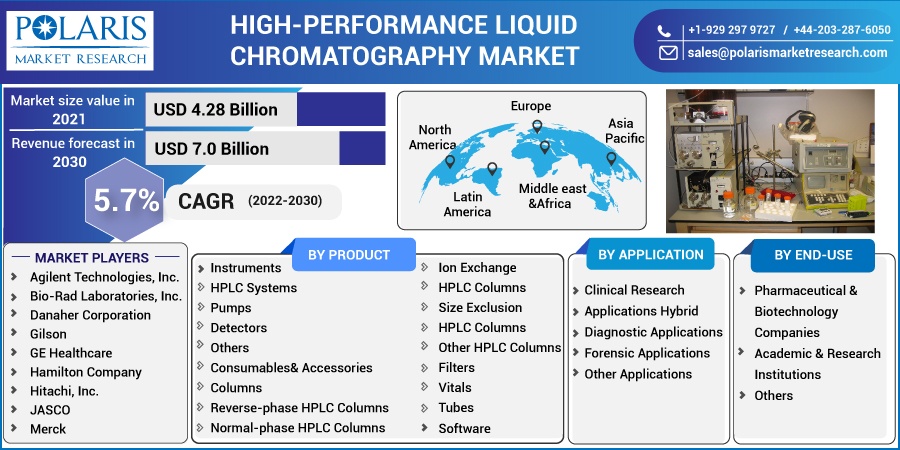 Know more about this report: Request for sample pages
Industry Dynamics
Growth Drivers
The market is expected to grow owing to the advance technology in high performance; the most recent HPLC systems have dual injection systems, multidimensional capabilities, and intermediate pressure, which increase the technique's usefulness for a number of research applications. Additionally, HPLC manufacturers who are extending their product lines for niche markets such as amino acid analysis, preparative purification, two-dimensional liquid chromatography, and clinical diagnostics are also propelling the market.
However, throughout the epidemic, there has been an increase in research and development focusing on the SARS-CoV-2 virus and the identification of possible drug treatment candidates. For the purpose of identifying and analyzing particular components in a drug mixture, HPLC is a significant technology used in drug formulation labs.
Report Segmentation
The market is primarily segmented based on basis of product, application, end-use, and region.
By Product

By Application

By End-Use

By Region

Instruments

HPLC Systems
Pumps
Detectors
Others

Consumables& Accessories

Columns

Reverse-phase HPLC Columns
Normal-phase HPLC Columns
Ion Exchange HPLC Columns
Size Exclusion HPLC Columns
Other HPLC Columns

Filters
Vitals
Tubes
Others

Software

Clinical Research Applications Hybrid
Diagnostic Applications
Forensic Applications
Other Applications

Pharmaceutical & Biotechnology Companies
Academic & Research Institutions
Others

North America (U.S., Canada)
Europe (France, Germany, UK, Italy, Netherlands, Spain, Russia)
Asia Pacific (Japan, China, India, Malaysia, Indonesia, South Korea)
Latin America (Brazil, Mexico, Argentina)
Middle East & Africa (Saudi Arabia, UAE, Israel, South Africa)
Know more about this report: Request for sample pages
The instruments segment accounted for the biggest share.
The instrument market segment accounted for the highest revenue share in 2021, owing to the availability of advanced detectors and the rising dominance of integrated HPLC systems. In addition, the market will be growing as research & development in the pharmaceutical, biotech, food, and agricultural sectors increases.
The consumables market is also anticipated to rise during the forthcoming period. The technological advancement and growing acceptance of HPLC in drug approval are major factors driving revenue growth in this segment. The consumables and accessories like columns and filters are anticipated to gain traction due to developments in column chemistries and packing materials and also rising the significance of filtration methods for the protection of HPLC columns from any particulate contamination.
Clinical research applications accounted for the highest portion of revenue.
Clinical research application segment held the largest revenue share owing to growing clinical trial activities, an increase in biopharmaceutical research and development, and a growth in demand for high throughput analytical techniques. In addition, preclinical and clinical studies are becoming more and more necessary, which can be linked to increased pharmaceutical and biotechnological research activities.
Furthermore, advantages offered by HPLC such as high analytical specificity and short runtimes, capability to run multi- and mega-parametric tests, and applicability to thermolabile, and high molecular weight compounds make it a notable alternative over other analytical methods. The presence of inorganic impurities such as plant or animal proteins in pharmaceutical bulk materials, or catalysts must be determined. Additionally, it is utilized while evaluating organic compounds. These factors are altogether boost the clinical research applications of HPLC.
Additionally, diagnostic applications are expected to grow. The use of the method for identifying and quantifying biomarkers crucial in the earlier detection of chronic diseases drives the development of diagnostic applications.
Pharmaceutical and biotechnology companies are dominating the market.
The segment of pharmaceutical and biopharmaceutical companies is anticipated to experience significant revenue growth over the forthcoming period due to the rising incidence of chronic diseases, the growing demand for novel therapeutics, the rise in preclinical drug development activities, and rising private and public investments in the accessibility of advanced technologies in biopharmaceutical firms. These companies use HPLC technologies for a variety of purposes, such as assessing the stability of pharmaceutically active components, quality control, determining the purity of drugs, characterizing drug candidates, and others.
In addition, due to the growing use of analytical instruments in academic teaching, rising government funding for academic research, and the significant role played by academic research and development activities, academic and research institutions are predicted to experience the fastest growth over the upcoming period.
North America held the largest market share.
North America region is anticipated to increase due to the rising adoption of highly advanced techniques and systems in the manufacturing of High-Performance Liquid Chromatography (HPLC). Additionally, various government research institutions in the US use HPLC procedures to examine particular components of drug mixtures or other related components.
The more spending for R&D, a rising number of preclinical activities by CROs and pharmaceutical companies, and the increasing food and agricultural industry in Canada are collectively resulted into market growth in this region.
Due to a huge patient population and significant potential for clinical research, Asia Pacific is anticipated to develop at a high rate during the forthcoming period. Additionally, the widespread production of generic drugs and biosimilar in nations such as China and India are responsible for the expansion of the technique for quality assurance and testing.
Competitive Insight
Some of the major players operating in the global market include Agilent Technologies, Inc., Bio-Rad Laboratories, Inc., Danaher Corporation, Gilson, GE Healthcare, Hamilton Company, Hitachi, Inc., JASCO, Merck KGaA, Merck Millipore, Orochem, PerkinElmer, Inc, Phenomenex, Prolab Instruments GmbH Restek, Sartorius AG, Shimadzu Corporation, Showa Denko, Thermo Fisher Scientific, Inc., Thermo Fisher Scientific, Inc., Tosoh Bioscience GmbH, Trajan Scientific, Waters Corporation.
Recent Developments
In February 2022: Shimadzu Corporation released the Nexera XS inert high-performance liquid chromatograph globally. By launching this product, Shimadzu expand its business performance in biopharmaceuticals market such as antibody drugs and medium molecule pharmaceuticals such as nucleic acid drugs.
In January 2022, Bruker Corporation acquired Prolab Instruments GmbH, which specialized in low-flow, high precision liquid chromatography technology and systems to expand their business.
High-performance Liquid Chromatography Market Report Scope
| | |
| --- | --- |
| Report Attributes | Details |
| Market size value in 2022 | USD 4.48 billion |
| Revenue forecast in 2030 | USD 7.0 billion |
| CAGR | 5.7% from 2022 – 2030 |
| Base year | 2021 |
| Historical data | 2018 – 2020 |
| Forecast period | 2022 – 2030 |
| Quantitative units | Revenue in USD billion and CAGR from 2022 to 2030 |
| Segments covered | By Product, By Application, By End-Use, and By Region |
| Regional scope | North America, Europe, Asia Pacific, Latin America; Middle East & Africa |
| Key companies | Agilent Technologies, Inc., Bio-Rad Laboratories, Inc., Danaher Corporation, Gilson, GE Healthcare, Hamilton Company, Hitachi, Inc., JASCO, Merck, KgaA, Merck Millipore, Orochem, PerkinElmer, Inc, Phenomenex, Restek, Sartorius AG, Shimadzu Corporation, Showa Denko, Thermo Fisher Scientific, Inc., Thermo Fisher Scientific, Inc., Tosoh Bioscience GmbH, Trajan Scientific, Waters Corporation |