The global aerosol propellants market was valued at USD 23.24 billion in 2021 and is expected to grow at a CAGR of 6.3% during the forecast period. The factor driving development is likely to be the rising market demand for aerosol-based products such as air fresheners, perfumes, paints, and deodorants. The expansion is expected to be fueled by the increasing use of cosmetics, pharmaceuticals, and personal care goods.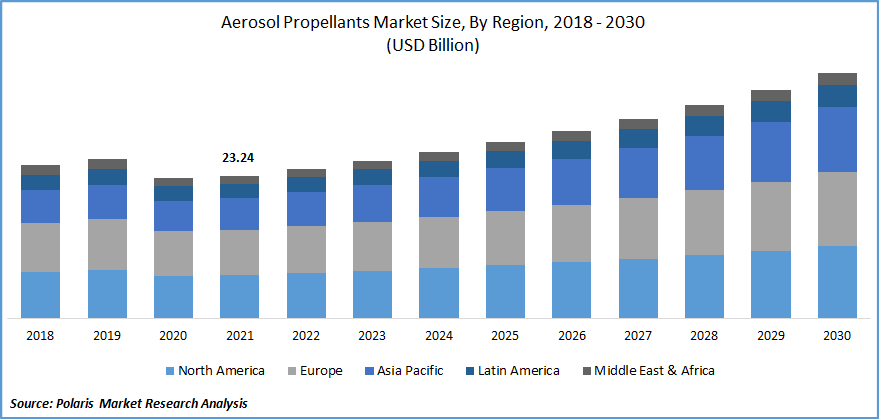 Know more about this report: Request for sample pages
These propellants are compressed gases held in cans for high-pressure dispensing of liquid paste. Hydrocarbons, nitrous oxide, dimethyl ether, methyl ethyl ether, carbon dioxide, CFCs, and hydro-fluorocarbons are some of the most often utilized propellants. Antiperspirants, shaving creams, hair mousses, and air fresheners all contain them, and they're employed in a variety of industries, including cosmetics, medicinal, food and beverage, automotive, and household items.
The market is being driven by rising demand for aerosol goods, as well as the burgeoning skincare, construction, and automobile industries, as well as rising demand for medical devices such as inhalers. The boom in the skincare market, particularly in emerging economies, has fueled market demand for propellants.
One of the key factors driving product's market demand is the increasing usage of these propellants in a few snacks and food items such as chocolate, cream, ketchup, olive oil, and vinegar. Additionally, the substance aids in the preservation of food compositions by forming a barrier between the external environment and the food product, extending its shelf life by preventing contamination. However, these propellants are known to contribute to the ozone layer's depletion. This aspect may stifle the global aerosol propellants market's steady growth pace.
The COVID-19 pandemic, which forced the closure of numerous major manufacturing companies, has had a significant impact on the global aerosol propellants market. Due to the COVID-19 pandemic, several countries have temporarily ceased production. As a result of the pandemic, the chemical and materials business is one of the key industries experiencing substantial disruptions, including supply chain breakdowns, technological event cancellations, and office closures. Market demand for these propellants increased slightly as several large producers began producing. The main producers of such propellants have planned to invest in expanding their manufacturing capacity in response to increased market demand.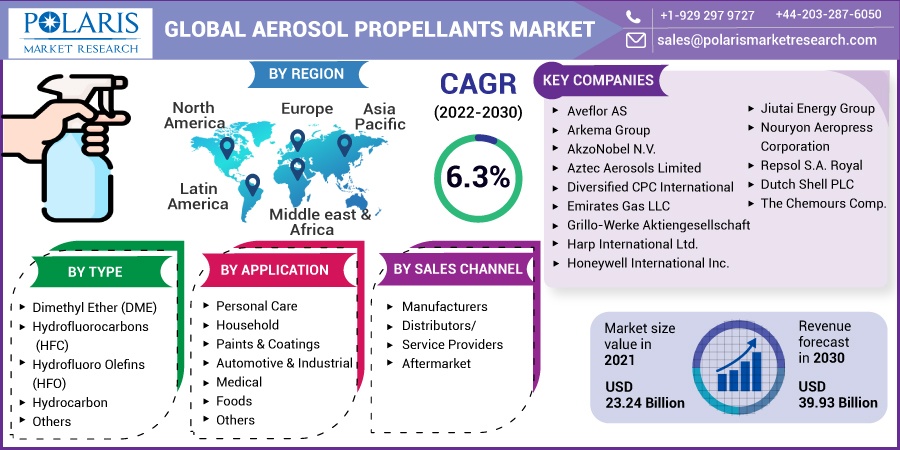 Know more about this report: Request for sample pages
Industry Dynamics
Growth Drivers
Aerosol drugs are easy to use and can be sprayed directly to the affected areas or introduced into the cavities and channels of the body through abraded skin. Due to quick propellant expansion, some propellants, such as ethyl chloride chill tissue when sprayed on the skin. Pharmaceutical aerosol spray or gas dusters have a wide range of uses in the treatment of patients owing to their advantages over other dosage forms.
It is particularly successful in treating asthma and chronic obstructive pulmonary disease (COPD). As per World Health Organization (WHO), COPD disease is the third biggest cause of death globally, accounting for 3.23 million deaths in 2019. Low- and middle-income countries (LMIC) account for about 90% of COPD fatalities among people under the age of 70.
COPD is characterized by persistent and progressive respiratory symptoms such as breathing difficulties, coughing, and phlegm formation. This patient-centered road map addresses one of the most pressing health issues confronting Americans. As a result of the rising prevalence of chronic obstructive pulmonary disease (COPD), market demand for propellants such as chlorofluorocarbons (CFCs), compressed gas, hydrochlorofluorocarbons (HCFCs), and hydrocarbons is expected to increase significantly, acting as a market driver.
Report Segmentation
The market is primarily segmented based on type, application, sales channel, and region.
By Type

By Application

By Sales Channel

By Region

Dimethyl Ether (DME)
Hydrofluorocarbons (HFC)
Hydrofluoro Olefins (HFO)
Hydrocarbon
Others

Personal Care
Household
Paints & Coatings
Automotive & Industrial
Medical
Foods
Others

Manufacturers
Distributors/Service Providers
Aftermarket

North America (U.S., Canada)
Europe (France, Germany, UK, Italy, Netherlands, Spain, Russia)
Asia Pacific (Japan, China, India, Malaysia, Indonesia, South Korea)
Latin America (Brazil, Mexico, Argentina)
Middle East & Africa (Saudi Arabia, UAE, Israel, South Africa)
Know more about this report: Request for sample pages
Personal Care is expected to witness the fastest growth
The attributable factor for the growth of the segment is the increased use of propellants in the personal care business, such as chlorofluorocarbons (CFCs), compressed gas, hydrochlorofluorocarbons (HCFCs), and hydrocarbons. Personal care products with aerosols give micro-size droplets that quickly settle on covering a vast area with a rapid hit of aroma.
Additionally, owing to its ability to release the active product from the container in the correct shape, such as foam or mist, the product is also utilized in hair care products such as hair spray and hair mousse.
Furthermore, the rising demand for colognes and fragrances, owing to rising consumer per capita income, is helping the personal care segment's growth. For individuals, industries are going toward low-VOC, zero-ODP, and safe propellants. These high-quality propellants are commonly employed in aerosol compositions.
Household is expected to hold the significant revenue share
The primary market share was held by the household application category due to increased uses as a stain remover, domestic surfaces, and anti-static sprays. The market demand for these products is being driven by rapid globalization and a developing, well-organized retail industry. The demand for aerosol propellants in household applications is predicted to rise in response to rising hygiene awareness and a flourishing home furnishing sector.
Hydrocarbons Segment is expected to hold the largest revenue share
For ease of application, hydrocarbon is extensively employed in topical medicinal aerosol products. Hydrocarbons are commonly employed in medicinal goods because of their low toxicity, environmental friendliness, and lack of response. Hydrocarbons are also employed in two-layer (three-phase) aerosol systems because of their immiscibility in water and density of less than one.
The hydrocarbons float on top of the aqueous, providing the necessary force to drive the contents out of the container. Hydrocarbons are also commonly utilized in paints and cosmetic packaging due to their ability to cover a large area while remaining leak-proof. The need for topical pharmaceutical treatments and inhalers from the pharmaceutical industry is expected to grow, boosting the market share of aerosol propellants.
The demand in North America is expected to witness significant growth
The expanding automotive industry in Mexico and the US is expected to increase product demand, resulting in faster market expansion. The substance is frequently utilized in the automotive sector in air fresheners and paint containers. Demand for aerosol propellants is expected to rise as the automotive industry expands, providing substantial development prospects.
Furthermore, the use of aerosol household and personal care products is likely to drive demand. The substance is used in household and personal care aerosol products to disperse container contents conveniently and desirably. Due to a growing need for a clean and hygienic environment, the country is seeing an increase in demand for household cleaning items such as air fresheners and pesticides.
The demand for the product is rising in the Europe region due to the rapid industrialization and expanding end-use industries. It is expected to be driven by growth in the e-commerce industry, retail stores, technological developments, and the building boom. Furthermore, increased use of personal care items, as well as household products such as cleansers, furniture cleaners, and mosquito repellants, increased in the region. This aspect is contributing to the regional economy's growth.
Competitive Insight
Some of the major players operating in the global aerosol propellants market are Aveflor AS, Arkema Group, AkzoNobel N.V., Aztec Aerosols, Diversified CPC, Emirates Gas, Grillo-Werke Aktiengesellschaft, Harp International, Honeywell International, Jiutai Energy, Nouryon Aeropress, Repsol S.A., Royal Dutch, Shanghai Cal Custom Manufacturing, and The Chemours Company.
Recent Developments
In February 2022, Glenmark Pharmaceuticals Ltd launched the debut of 'FabiSpray,' a nitric oxide nasal spray developed in conjunction with SaNOtize, a Canadian pharmaceutical business.
In July 2019, AkzoNobel announced that it would be adding three additional assembly plants to its powder coating factory in Changzhou, China. This facility is the world's largest facility of its sort. The suggested additional alterations will require an investment of roughly 3 million euros and will aid in the expansion of the facility's current manufacturing capacities.
Aerosol Propellants Market Report Scope
| | |
| --- | --- |
| Report Attributes | Details |
| Market size value in 2021 | USD 23.24 billion |
| Revenue forecast in 2030 | USD 39.93 billion |
| CAGR | 6.3% from 2022 - 2030 |
| Base year | 2021 |
| Historical data | 2018 - 2020 |
| Forecast period | 2022 - 2030 |
| Quantitative units | Revenue in USD million/billion and CAGR from 2022 to 2030 |
| Segments covered | By Product, By Application, By Distribution Channel, By Region |
| Regional scope | North America, Europe, Asia Pacific, Latin America; Middle East & Africa |
| Key companies | Aveflor AS, Arkema Group, AkzoNobel N.V., Aztec Aerosols Limited (Instarmac Group Plc), Diversified CPC International, Emirates Gas LLC, Grillo-Werke Aktiengesellschaft, Harp International Ltd., Honeywell International Inc., Jiutai Energy Group, Nouryon Aeropress Corporation, Repsol S.A. Royal Dutch Shell PLC, Shanghai Cal Custom Manufacturing & Aerosol Propellants Co. Ltd, and The Chemours Company |