The global aerospace lubricant market was valued at USD 2.22 billion in 2021 and is expected to grow at a CAGR of 6.0% during the forecast period. One of the most important factors leading to the expansion of the market growth is the increase in air travel and freight activities around the world.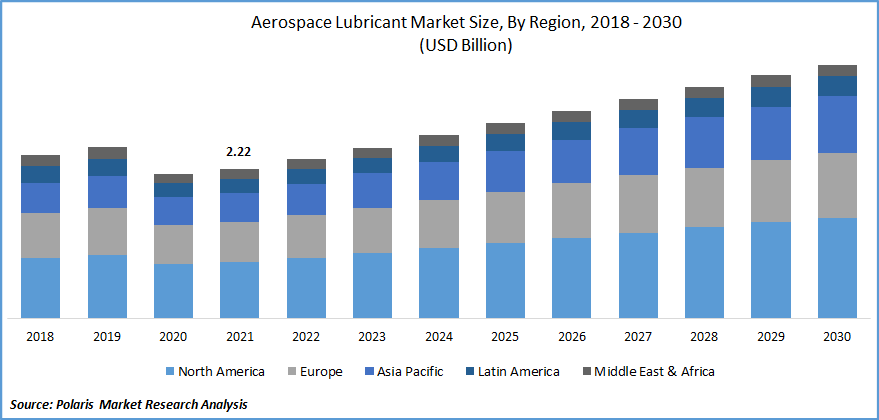 Know more about this report: Request for sample pages
As emerging countries around the world build their commercial fleets, players in the global aircraft environment are increasingly taking advantage of this trend. This is especially true in developing regions around the world, where rising air traffic is expected to boost the global aerospace lubricant market in the near future.
They are being used to minimize wear and tear by reducing friction among aerospace components that are in direct contact. These are designed to endure high temperatures and pressures. Further, they are also utilized in flight suits to protect the oxygen respiratory system's valve and interconnections.
The COVID-19 pandemic had a negative influence on the aerospace lubricant market, as government restrictions and lockdowns produced a labor scarcity, a decline in the supply of replacement parts due to import-export restrictions, and the closure of numerous industrial units. As a result, the aerospace industry's productivity has been impeded, and market demand for new aircraft has decreased.
According to the General Aviation Manufacturers Association's 2021 report, owing to the COVID-19 epidemic, global business jet deliveries fell 20.4% to 644 aircraft in 2020. Reduced supply for lubricants including engine oil and hydraulic oils, as well as a halt in routine maintenance due to manpower shortages and global economic slowdown for oils used in such aircraft.
As a result, demand cutbacks harmed the market growth. However, with government assistance, debt auctions, and cost-cutting measures, the business gradually recovered from the pandemic.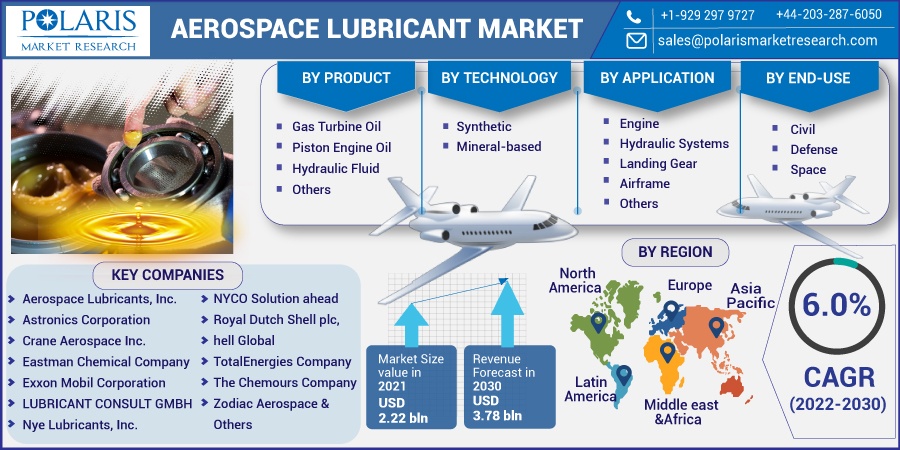 Know more about this report: Request for sample pages
Industry Dynamics
Growth Drivers
Technological advancements in the aerospace industry are the factor that is boosting the aerospace lubricant market growth during the forecast period. Perfluoropolyether-based oil and greases provide a remarkable list of aerospace properties, and technological development in the sector is on the rise.
Certain oils have distinguishing characteristics, such as being non-flammable, non-toxic, and non-evaporative, as well as being compatible with a wide range of metals, paints, and elastomers. Such goods are in more market demand, pointing to a brighter future for the market. The governments of many countries are concentrating their efforts on open skies, visas, and immigration rules.
Countries such as India and China have implemented government-led initiatives to increase air travel. The 'Ude Desh ka Aam Nagrik' scheme is an initiative by the Indian government to make flying increasingly accessible to the country's population. It aims to make air travel more accessible and affordable. Through this program, the Indian government also hopes to encourage economic growth.
Report Segmentation
The market is primarily segmented based on product, technology, application, end-use, and region.
By Product

By Technology

By Application

By End-Use

By Region

Gas Turbine Oil
Piston Engine Oil
Hydraulic Fluid
Others

Engine
Hydraulic Systems
Landing Gear
Airframe
Others

North America (U.S., Canada)
Europe (France, Germany, UK, Italy, Netherlands, Spain, Russia)
Asia Pacific (Japan, China, India, Malaysia, Indonesia. South Korea)
Latin America (Brazil, Mexico, Argentina)
Middle East & Africa (Saudi Arabia, UAE, Israel, South Africa)
Know more about this report: Request for sample pages
The Mineral Oil segment is expected to witness the fastest market growth
Mineral or synthetic market segments are the most common types of conventional lubricants used by consumers in the aviation business. Mineral oil-based are typically made by distilling crude oil to eliminate the hydrocarbons. As they flow slowly through into the engine and are significantly less expensive, they are a less common choice of aerospace greases when compared to commercial alternatives.
This is owing to factors such as synthetic oils such as perfluoropolyether and calcium sulfonate, which give strong thermal-oxidative stability, deposition management capability, and superior performance due to reduced volatility. As a result, they allow jet engines to run at high temperatures.
As airline firms increase their aircraft strength to accommodate the growing number of passengers flying by air, more lubrication will be required to maintain such aircraft in good working order. As a result, as the requirement for aircraft from large airline corporations grows, so will the market for high synthetic oils like perfluoropolyether.
Gas Turbine Oil segment accounted for the highest market share in 2021
The gas turbine oil market segment is a special oil designed to satisfy the specific needs of gas turbine engines. It contains a blend of mineral, synthetic, and semi-synthetic oils that are specifically formulated for hot temperatures to reduce engine component wear. Antiwear agents and other additives are commonly suspended in a base fluid in gas turbine oil. These reduce friction between moving elements inside the engine and, as a result, extend its life.
Further, piston engines have moving pistons that drive a connecting rod that turns the crankshaft, which further turns the flywheel or turbine shaft. Rings consisting of metal and covered with an iron-based combination such as molybdenum disulfide (MoS10) guide the piston.
These lubricants keep these parts in good working order, so they do not even wear out or break due to friction. Hydraulic fluid is a substance that transfers power from one machine component to the next. It has uses in both industrial and automotive settings, as well as a variety of other fields like aeronautical systems.
Civil segment is expected to hold a significant revenue share in the market
Aerospace lubricant is often used in civil aviation for a variety of functions. It is primarily used as a component of a lubricating fluid that protects the surfaces of moving parts from corrosion and wear by minimizing friction, heat, and humidity pick-up.
Aerospace oils are also used as hydraulic fluids to prevent rotating gears from rolling or freezing up while in use. At high pressure and temperature, they offer critical cooling to jet engines and gas turbines.
Aerospace Lubricant is a type of lubricant that is used in the military for a range of applications. The lubricant prevents metal-to-metal contact and boosts wear resistance, reducing the risk of equipment failure while in use. It also makes it easy to construct and disassemble firearms without the use of potentially damaging tools. Another key application of Aerospace Lubricant in defense is to protect airplanes from electrochemical corrosion when parked outside on humid days with saltwater spray along sea shores.
Aerospace lubricant is often used in space for a variety of functions, including reducing the wear and friction of mechanical parts during high-speed motion. This guarantees that all system performance criteria are met, including that control components are kept clean. To avoid contaminating delicate equipment, the oil must be evaporated before entering the vacuum of space.
The demand in North America is expected to witness significant market growth
Low oil prices and increased aircraft operating efficiency are fuelling the expansion of the aerospace business in the North American region. Furthermore, several airlines are focusing on improving their exploiting these economic better use of their fleets.
The development of the aircraft fleets of various countries' defense forces in the region, as well as the changes in working hours of commercial aircraft fleets of different airlines, are propelling the development of the North American market. This is due to an increase in the number of significant aircraft manufacturers and, as a result, an increase in product deployment throughout the region.
Further, as a result of the requirement to reduce component maintenance, demand for higher-quality aircraft lubricants is increasing. One of the primary reasons driving the aerospace lubricant market in the Asia Pacific market is increased air traffic combined with lower prices in countries like China and India.
Competitive Insight
Some of the major players operating in the global market include Aerospace Lubricants, Inc., Astronics Corporation, Crane Aerospace Inc., Eastman Chemical Company, Exxon Mobil Corporation, LUBRICANT CONSULT GMBH, Nye Lubricants, Inc., NYCO Solution ahead, Royal Dutch Shell plc, Shell Global, TotalEnergies Company, The Chemours Company, and Zodiac Aerospace.
Recent Developments
In April 2022, Movychem s.r.o. established a relationship with Xeriant, Inc., an aerospace business focused on Advanced Air Mobility. The new partnership established US-based cooperation among Xeriant and Movychem for environmentally friendly Retacell fire retardant technology, with engagement in developing apps and commercializing Retacell-based products.
In January 2021, Xeriant, Corporation announced the partnership with Xeriant Europe s.r.o., to develop a line of the next sustainable and environment metal conditioners and lubricants are known as XERI-MC and XERI-L, which are currently being sold globally under an exclusive licensing agreement. The consequences of this technology, like those of other advanced materials, extend far beyond aviation, with possible uses in a wide range of automotive, energy, commercial, military, and marine industries.
Aerospace Lubricant Market Report Scope
| | |
| --- | --- |
| Report Attributes | Details |
| Market size value in 2021 | USD 2.22 billion |
| Revenue forecast in 2030 | USD 3.78 billion |
| CAGR | 6.0% from 2022 - 2030 |
| Base year | 2021 |
| Historical data | 2018 - 2020 |
| Forecast period | 2022 - 2030 |
| Quantitative units | Revenue in USD million/billion and CAGR from 2022 to 2030 |
| Segments covered | By Product, By Technology, By Application, By End-Use, By Region |
| Regional scope | North America, Europe, Asia Pacific, Latin America; Middle East & Africa |
| Key companies | Aerospace Lubricants, Inc., Astronics Corporation, Crane Aerospace Inc., Eastman Chemical Company, Exxon Mobil Corporation, LUBRICANT CONSULT GMBH, Nye Lubricants, Inc., NYCO Solution ahead, Royal Dutch Shell plc, Shell Global, TotalEnergies Company, The Chemours Company, and Zodiac Aerospace |