The global agar-agar flakes market was valued at USD 255.88 million in 2022 and is expected to grow at a CAGR of 4.8% during the forecast period.
The widespread and surging use of product as a gelling agent in the food sector to provide texture and structure to several types of products such as ice cream, jellies, jams, and yogurt along with its growing utilization as a thickness in food products like sauces, puddings, and soups, are among the primary factors influencing the demand and growth of the global market. In addition, with the rising consumer disposable income and rising number of people's doing experiments with their eating habits and rapid growth in investments in research & development-based activities particularly in food business, the product demand has been growing drastically and pushing the market growth forward.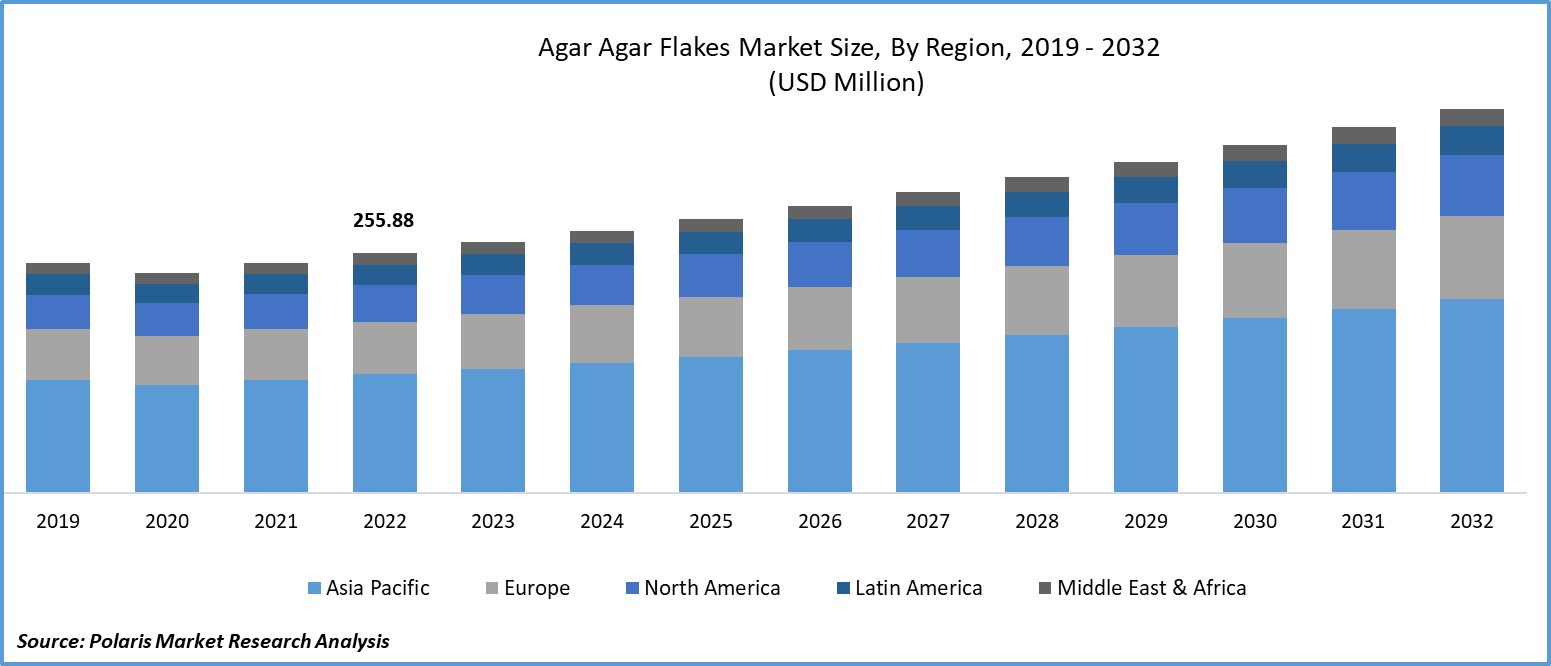 To Understand More About this Research: Request a Free Sample Report
For instance, according to Bureau of Economic Analysis, the US disposable personal income was around USD 15.13 trillion with a significant increased from approx. USD 12.11 trillion in the year 2011, and the per capital personal income was estimated around 45,343 dollars in the year 2022.
Moreover, there has been a significantly emerging trend in the market for the greater demand of plant-based and vegan alternatives to traditional gelatin all over the world. As, agar agar are derived from seaweed, it becoming an extensively popular choice in plant-based and vegan recipes, and encouraging manufacturers to develop several agar agar-based products such as vegan gummies, desserts, and dairy alternatives.
The outbreak of the COVID-19 pandemic has significantly impacted the growth of the agar agar flakes market. The rapid spread of deadly coronavirus across the globe affected several industries due to business shutdowns, supply chain disruptions, and lockdowns across various major countries, that negatively influenced several products including agar agar flakes. However, due to its widespread use in pharmaceutical or nutraceutical products, the product has gained huge traction during the pandemic.
Industry Dynamics
Growth Drivers
Rising demand for vegan foods and labeled transforming fueling the market growth
The significant increase in the demand for vegan food products with a greater number of people adopting veganism and a radical lifestyle change across the globe and higher preference for labelled products indicating the processed food products is made of plants or herbal extracts coupled with the surging adoption of agar flakes as nutritional and fulfilling ingredients for the confectionery usage, are primary factors driving the demand and growth of the agar-agar flakes market.
Agar agar flakes is now not limited to the food industry, as various researchers and research organizations are highly focusing on exploring their applications into pharmaceutical and biotechnology sectors especially in microbiology and cell culture and introducing new agar-based products to expand the market to a broader range of consumers and industries, which in turn, positively impacting the global market growth.
Report Segmentation
The market is primarily segmented based on grade, claim, end-use, and region.
By Grade

By Claim

By End-Use

By Region

Food

Technical

Preactivate

Bacteriological

Cosmetic and Pharma

Kosher

Organic

Non-GMO

Vegan

Standard

Food & Beverage

Healthcare

Pharmaceutical

Nutraceutical

North America (U.S., Canada)

Europe (France, Germany, UK, Italy, Netherlands, Spain, Russia)

Asia Pacific (Japan, China, India, Malaysia, Indonesia. South Korea)

Latin America (Brazil, Mexico, Argentina)

Middle East & Africa (Saudi Arabia, UAE, Israel, South Africa)
To Understand the Scope of this Report: Speak to Analyst
By Grade Analysis
Food segment accounted for the noteworthy market share in 2022
The food segment accounted for noteworthy market share, on account of widespread product use in functional food and dietary supplements because of it develop gels which could easily encapsulate active ingredients or improve the product stability along with the continuous advancements in food processing technology that has made it easier to incorporate agar-agar flakes into different kinds of food products.
The cosmetic & pharma segment is anticipated to emerge as fastest growing segment with healthy growth rate over the coming years, mainly due to rising need and demand for natural and sustainable ingredients in cosmetics and pharmaceutical products and growing popularity and penetration for the products due to its potential health benefits like aiding digestion and promoting fullness, among others.
By Claim Analysis
Organic segment led the industry market with substantial share in 2022
The organic segment led the industry market with substantial revenue share in 2022, which is majorly driven by rising number of consumers worldwide seeking for organic and natural ingredients like agar-agar flakes into their food products and daily meals and favorable government regulations providing a framework for the production and labelling of food products offering consumers a confidence in the authenticity of organic claims.
Moreover, there has been a drastic increase in the number of consumers globally getting motivated by several ethical considerations including supporting fair trade practices and respecting animal welfare. Since, organic products and ingredients like agar-agar flakes often align with these values, contributing to the growth of the organic claim segment at rapid pace.
By End-Use Analysis
Pharmaceutical segment is anticipated to witness highest growth
The pharmaceutical segment is anticipated to grow at fastest growth rate over the next coming years, that is mainly attributable to its superior gelling properties as compared to various other natural thickeners and stabilizers and growing use to enhance or improve the bioavailability of certain drugs through controlling their releases rates. Beside this, researchers from all over the world are continually exploring new applications of agar-agar in drug delivery and other pharmaceutical formulations, which fuels the product demand as a versatile ingredient in the pharmaceutical sector over the years.
The food & beverage segment led the industry market with considerable share in 2022, which is mainly attributed to increased demand for the product to be used in wide range of food & beverage applications in order to achieve desired texture and consistency along with the growing globalization of food & beverage products leading to export opportunities for products like agar agar flakes, particularly in regions with strong plant-based or clean label trends.
For instance, according to a report by Volza's, the total export shipments of agar-agar powder from the world stood at around 8.3K, with India dominated the export market with 3,415 shipments followed by China with1,217 and Indonesia with 1,142 shipments.
Regional Insights
Asia Pacific region dominated the global market in 2022
The Asia Pacific region dominated the global market. The regional market growth can be largely accelerated to region's expanding food processing industry mainly due to rapid rate of urbanization, changing consumer lifestyles, and increasing disposable income coupled with the emergence of product as a stable ingredient in several Asian cuisines such as Chinese, Japanese, Indian, and many other Southeast Asian dishes.
The North America region is anticipated to emerge as fastest growing region with a healthy CAGR during the projected period, owing to surge in the need and demand for product as a healthier alternative to synthetic additives and drastic growth in the number of vegan or vegetarian population in countries like US and Canada, who often prefer products like agar agar flakes.
For instance, according to a report by World Animal Foundation, approx. 6% of US population is vegan and around one-third of US residents wants to eat more vegan food that meat products.
Key Market Players & Competitive Insights
The agar agar flakes market is highly fragmented with increased number of regional or global market players being engaged in several types of business development strategies including developing innovative products and to broaden their product portfolio to meet the continuously emerging consumer trends and expanding their global market.
Some of the major players operating in the global market include:
Agar Sari Jaya

Agar Swallow Indonesia

DEKOBACK GmbH

Eden Foods

GELITA AG

Gino Biotech

Neogen Food Safety

Penn Herb Company

PT. Agarindo Bogatama

ROKO

Roland Foods LLC

Selt Marine Group

Surya Indoalgas

TIC Gums
Recent Developments
In September 2021, GOI, unveiled a new Agar Policy, mainly aimed at transforming the state economy. The 1st ever 2 days buyer-seller meet on the agar-wood products was mainly focused on the building an economical viable project in the Tripura region.
Agar-Agar Flakes Market Report Scope
| | |
| --- | --- |
| Report Attributes | Details |
| Market size value in 2023 | USD 267.40 million |
| Revenue forecast in 2032 | USD 409.51 million |
| CAGR | 4.8% from 2023 – 2032 |
| Base year | 2022 |
| Historical data | 2019 – 2021 |
| Forecast period | 2023 – 2032 |
| Quantitative units | Revenue in USD million and CAGR from 2023 to 2032 |
| Segments covered | By Grade, By Claim, By End-Use, By Region |
| Regional scope | North America, Europe, Asia Pacific, Latin America; Middle East & Africa |
| Customization | Report customization as per your requirements with respect to countries, region and segmentation. |