The global AI-based clinical trial solutions for patient matching market was valued at USD 230.92 million in 2021 and is expected to grow at a CAGR of 27.2% during the forecast period. Clinical and biological research using digitalization creates prospects for AI-based clinical trial solutions for the patient-matching market.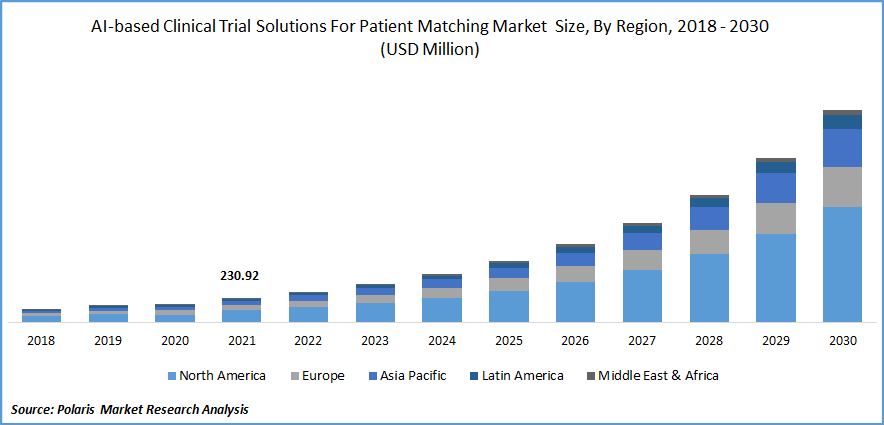 Know more about this report: Request for sample pages
Major pharmaceutical corporations are using cutting-edge technology solutions. Artificial intelligence (AI)-based clinical trial solutions boost patient enrollment by reducing population heterogeneity and integrating massive amounts of health information data from various platforms and sources, including medical imaging, electronic medical records (EMRs), and omics data.
The market is expanding as a result of expanding public and commercial initiatives to boost the use of AI-powered technology solutions in clinical trial investigations. AI-based platforms and solutions are being quickly adopted by pharma and biotech companies to support their clinical research investigations. These technologies are being adopted by businesses to improve patient recruitment, identification, engagement, and real-time monitoring.
However, risks associated with data privacy might constrain the business in the upcoming years. The enormous databases of trial-related data must be kept private and secret in order for AI-based solutions to be used. Most healthcare firms store and manage petabytes of sensitive data on the cloud. The cloud model allows users to access data anytime and from any location. As a result, more people can access the website, increasing the risk of cybersecurity threats. This aspect may impede market expansion in the near future.
The COVID-19 pandemic outbreak has brought about several unexpected changes in the world economy, and its repercussions have been felt across all industries. Clinical trial perspective has changed as a result of COVID-19. These AI-based systems are now being used more often and with greater penetration to cut costs and shorten turnaround times. As a result, these elements are increasing the rate at which artificial intelligence is being used by pharmaceutical corporations.
Large pharmaceutical companies like Sanofi, Novartis, Johnson & Johnson, Pfizer, and Bayer, for example, are concentrating on strategic collaborations to integrate AI-based solutions in medication discovery & development and clinical trial processes. At the moment, AI technologies are essential in the fight against the epidemic. Although the idea of using AI in healthcare is not new, its implementation in the COVID-19 epidemic has demonstrated the technology's potential in the industry. AI capabilities are quickly being utilized to identify the virus, diagnose it, and respond to the epidemic through individualized learning and knowledge.
Know more about this report: Request for sample pages
Industry Dynamics
Growth Drivers
The market is expanding favorably due to the rising number of startups offering services for AI-based patient recruitment targeted at life science enterprises for their clinical trials. One of the main drivers of the expansion of the market is the fact that a huge number of pharmaceutical companies must invest a sizable sum in the development of new drugs to increase the size of their product pipelines.
The market for artificial intelligence in healthcare is expanding due to rising healthcare data volumes and dataset complexity. These factors have made AI in healthcare increasingly necessary.
The need for improvised healthcare services is also fueled by advancements in computer power, a drop in hardware prices, an increase in cross-industry alliances and collaborations, and a rise in the patient-to-health worker ratio. For instance, Penn Medicine created a machine learning-based prediction solution in August 2017 that analyses a person's vital signs to assist in forecasting their risk of contracting sepsis and identifying the potential for heart failure.
The research goes into great detail on several aspects that have been investigated as contributing to the market's growth trajectory. The study also identifies the challenges that the market is facing. The market size, share, dynamics, and forecast for major segments and sub-segments are included in this study, which combines primary and secondary research while taking into account both macro and micro environmental aspects.
Additionally, it evaluates the negotiating power of suppliers and customers, the danger posed by new competitors and product substitutes, and the level of market rivalry.
Report Segmentation
The market is primarily segmented based on therapeutic application, end-use, and region.
By Therapeutic Application

By End-Use

By Region

Oncology
Cardiovascular Diseases
Metabolic Diseases
Neurological Diseases or Conditions
Infectious Diseases
Others

Pharmaceutical Companies
Academia
Others

North America (U.S., Canada)
Europe (France, Germany, UK, Italy, Netherlands, Spain, Russia)
Asia Pacific (Japan, China, India, Malaysia, Indonesia, South Korea)
Latin America (Brazil, Mexico, Argentina)
Middle East & Africa (Saudi Arabia, UAE, Israel, South Africa)
Know more about this report: Request for sample pages
Oncology accounted for the largest market share in 2021
According to therapeutic applications, Oncology had the biggest revenue share in 2021. The number of clinical trials is rising due to the rising incidence rate of cancer worldwide, positively affecting the industry.
Leading pharmaceutical companies are also collaborating with AI development firms to deploy AI-based cancer technologies created for the creation of pharmaceuticals. For instance, a relationship between Deep Lens and Hematology-Oncology Associates of Central New York in January 2022 will be centered on extending the medical trial program's clinical trial program. By pre-screening all patients, the VIPER by Deep Lens will be used to categorize the qualified individuals for clinical trials.
Growth in the segment is further fueled by the development of new technologies. For instance, Survivor Net introduced an AI-based clinical trial finder in June 2022 that links patients with cancer who are in need of cutting-edge cancer research.
Pharmaceutical Companies held the largest market share in 2021.
Pharmaceutical firms had the biggest revenue share by end-use in 2021 because of an increasing emphasis on developing biomarkers and diagnostics more effectively utilizing AI-based technologies to find novel drug targets and streamline the development process. For instance, the text mining program Linguamatics from IQVIA offers NLP-based solutions for pharmaceutical firms.
The pharmaceutical business is expanding due to the prevalence of chronic illnesses and the rise in demand for tailored therapy. The industry also benefits from a partnership between major pharmaceutical companies and AI providers to use AI technology designed for the complete drug development process.
North America is expected to witness significant growth in the forecast period
The market's expansion may be partly attributable to the existence of important companies in the area and an increase in the number of startups using AI. Additionally, the area has many registered clinical studies, which benefits the industry. According to data from the World Health Organization (WHO), the United States conducted the most clinical trials, totaling roughly 157,618 studies, between 1999 and 2021. The region's growth is further fueled by the expanding government initiatives for adopting AI-based technologies and the growing interest in these technologies.
However, the Asia Pacific region is anticipated to have the market's quickest CAGR during the forecast period due to rising use of clinical technologies based on AI and pro-AI government efforts.
Additionally, helping the business is the region's increasing number of clinical studies. According to NIH statistics from 2019, Asia Pacific is evolving as a center for conducting clinical trials at a reasonable cost. Clinical trial registration has increased seven times over the previous ten years. A sizable patient population, affordable access to highly qualified labor, and competitive hiring rates are the key causes of this.
Competitive Insight
Some major players operating in the global market include Unlearn.AI, Inc.; Antidote Technologies; Inc.; Deep6.ai; Mendel.ai; Aris Global; Deep Lens; AmerisourceBergen Corporation; Koneksa; Microsoft Corporation; GNS Healthcare.
Recent Developments
In September 2022, The NIH announced the Bridge2AI program, which will have participants from many groups and focus on producing various tools, resources, and data for developing an AI strategy.
In February 2022, Qureight secured a seed investment of USD 1.50 million for their AI-based platform, which shortens the duration of clinical trials and, as a result, lowers the price of medication.
In April 2021, To deploy a Deep Lens AI-powered clinical trial solution for identifying qualified patients for clinical trial studies, Deep Lens AI and Oregon Oncology Specialists engaged in a strategic partnership.
AI-based Clinical Trial Solutions For Patient Matching Market Report Scope
| | |
| --- | --- |
| Report Attributes | Details |
| Market size value in 2022 | USD 287.49 million |
| Revenue forecast in 2030 | USD 1,969 million |
| CAGR | 27.2% from 2022 - 2030 |
| Base year | 2021 |
| Historical data | 2019 - 2021 |
| Forecast period | 2022 - 2030 |
| Quantitative units | Revenue in USD million and CAGR from 2022 to 2030 |
| Segments Covered | By Therapeutic Application, By End-use, By region. |
| Regional scope | North America, Europe, Asia Pacific, Latin America; Middle East & Africa |
| Key Companies | Unlearn.AI, Inc.; Antidote Technologies; Inc.; Deep6.ai; Mendel.ai; Aris Global; Deep Lens; AmerisourceBergen Corporation; Koneksa; Microsoft Corporation; GNS Healthcare. |