The global air conditioner market was valued at USD 135.85 billion in 2022 and is expected to grow at a CAGR of 6.1% during the forecast period.
The increased air pollution, rising temperatures, and humidity levels have created a high demand for air conditioners, particularly in urban areas. These environmental factors have significantly influenced the air conditioner market, leading to its growth. As people seek relief from the discomfort caused by hot and humid conditions, air conditioners have become essential for many households and commercial spaces. The market for air conditioners has witnessed a surge in demand, driven by the need for improved indoor comfort and air quality.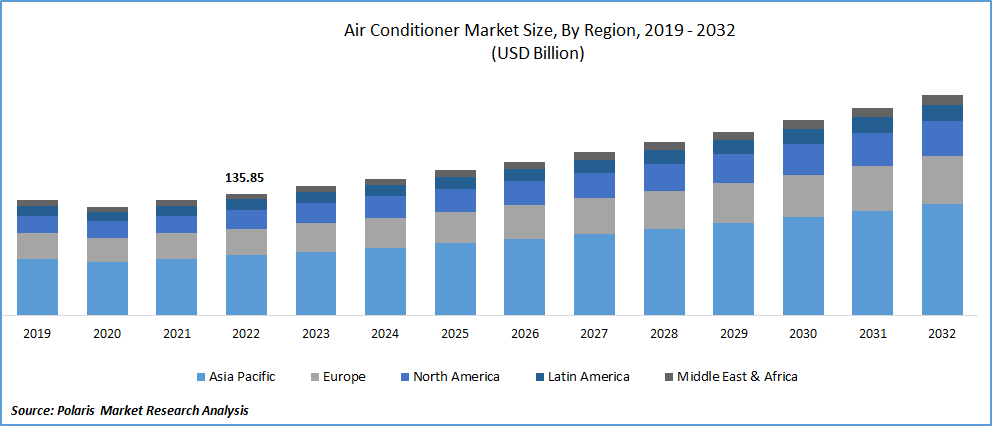 To Understand More About this Research: Request a Free Sample Report
For instance, in April 2022, Whirlpool of India introduced the 3D Cool AI Inverter Air Conditioners with Adaptive Intelligence technology, providing high-performance cooling even in extreme summer conditions.
The market has been experiencing significant growth in recent years. Factors such as rising temperatures, increased urbanization, and improving living standards have increased demand for air conditioners worldwide. Additionally, technological advancements, such as developing energy-efficient models and integrating smart features, have further fueled market growth. The market has also shifted towards inverter air conditioners, which offer higher energy efficiency and cost savings in the long run. With the increasing concerns about climate change and the need for sustainable solutions, the market is expected to continue its upward trajectory.
The COVID-19 pandemic had a mixed impact on the market. Initially, the market experienced a decline in sales due to the economic uncertainties and lockdown measures imposed in many countries. With restrictions on travel and construction activities, the demand for air conditioners in commercial spaces and new residential projects was affected. However, as people spent more time indoors and prioritized their comfort at home, the demand for residential air conditioners surged. Home renovation and improvement projects also contributed to the increased sales of air conditioners. Additionally, as countries gradually lifted restrictions and economic activities resumed, the market started to recover, driven by pent-up demand and the need for better ventilation and air quality in public spaces.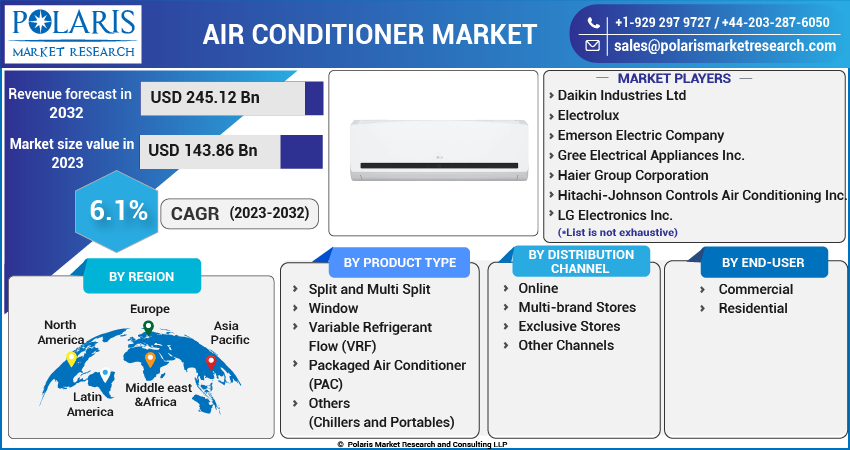 For Specific Research Requirements, Request for a Customized Report
Growth Drivers
Rising Global Temperatures
Rising global temperatures have led to an increased demand for air conditioners in the market. As heatwaves become more frequent and intense, people are seeking effective ways to cool their homes, offices, and public spaces. The market has responded to this demand with innovative technologies and energy-efficient solutions.
Manufacturers are focusing on developing eco-friendly and sustainable cooling systems to mitigate the environmental impact of air conditioning. Energy-efficient models are gaining popularity as they help reduce electricity consumption and combat climate change.
Additionally, emerging economies and urbanization trends are driving the growth of the air conditioner market, particularly in regions experiencing rapid industrialization and population growth. Government initiatives promoting energy efficiency and consumer awareness about the importance of cooling solutions further contribute to the expansion of the air conditioner market.
Report Segmentation
The market is primarily segmented based on product type, distribution channel, end-user, and region.
By Product Type

By Distribution Channel

By End-User

By Region

Split and Multi Split

Window

Variable Refrigerant Flow (VRF)

Packaged Air Conditioner (PAC)

Others (Chillers and Portables)

Online

Multi-brand Stores

Exclusive Stores

Other Channels

North America (U.S., Canada)

Europe (France, Germany, UK, Italy, Netherlands, Spain, Russia)

Asia Pacific (Japan, China, India, Malaysia, Indonesia. South Korea)

Latin America (Brazil, Mexico, Argentina)

Middle East & Africa (Saudi Arabia, UAE, Israel, South Africa)
To Understand the Scope of this Report: Speak to Analyst
By Product Type Analysis
Window segment held the significant market revenue share in 2022
The Window segment holds a significant market revenue share in the air conditioner market for several reasons. Window air conditioners are widely adopted in residential and small commercial spaces due to their easy installation and efficient cooling of individual rooms. They are compact, affordable, and cost-effective, making them attractive to budget-conscious consumers.
Additionally, window air conditioners have lower energy consumption than central systems, reducing electricity bills. Continuous technological advancements have further enhanced the segment's appeal. Manufacturers have introduced innovations like smart features, remote control operation, programmable timers, and energy-saving modes. These factors, including convenience, affordability, and technological improvements, have made window air conditioners popular, leading to their dominant market position.
By End-User Analysis
The residential segment held the largest market share in 2022
The residential segment emerged as the leading revenue contributor in the market. This growth can be attributed to several factors, including the rising temperatures worldwide and the expanding middle and lower classes, leading to an increased demand for air conditioners. As temperatures rise, the health and well-being of vulnerable groups such as newborns and the elderly are at risk, causing consumers to view air conditioners as essential rather than luxury items.
Moreover, the need for energy-efficient air conditioners in residential buildings has surged due to escalating energy costs and stricter cooling efficiency standards imposed by governments. The popularity of smart homes and products has also bolstered the demand for smart air conditioners.
The commercial segment is anticipated to experience the fastest revenue CAGR in the forecast period. Replacing and retrofitting air conditioning systems in various industries, including construction, hospitality, tourism, and healthcare, fuels this growth. According to The Japan Refrigeration and Air Conditioning Industry Association (JRAIA), while there was a 3% decline in demand for household air conditioners, a 2% increase in demand for commercial air conditioning is expected, further bolstering the revenue generated by the commercial segment.
Regional Insights
Asia Pacific region dominated the global market in 2022
Asia Pacific region dominated the global market in terms of revenue. This can be attributed to the increasing temperatures and the growing affluence of the middle class in emerging countries like India and China, leading to a rise in demand for air conditioners. The availability of affordable packaged and room air conditioners has further fueled sales in the region. The expansion of the e-commerce industry and the availability of discounts on online platforms have also contributed to the region's demand.
With its lower component and system costs, China, in particular, poses a significant competition to internationally renowned brands. In India, the presence of a middle-class population and the growth of various industries such as business, retail, and hospitality are driving the market revenue. The expanding infrastructure, especially in the commercial and residential sectors, is expected to boost growth in the region, along with the attractive programs offered by major competitors, such as EMI and seasonal discounts.
North America market is projected to experience the fastest revenue CAGR during the forecast period. This growth is driven by the adoption of energy efficiency policies and the changing perception of air conditioners as a necessity rather than a luxury, due to global warming. The region has witnessed record-breaking heat waves, which have significantly increased the demand for various types of air conditioners, like ceiling models. The growing trend of smart homes and appliances is expected to further drive the demand for smart air conditioners in the region.
Key Market Players & Competitive Insights
The air conditioner market is fragmented and is anticipated to witness competition due to several players' presence. Major service providers in the market are constantly upgrading their technologies to stay ahead of the competition and to ensure efficiency, integrity, and safety. These players focus on partnership, product upgrades, and collaboration to gain a competitive edge over their peers and capture a significant market share.
Some of the major players operating in the global market include:
Carrier?

Daikin Industries Ltd

Electrolux

Emerson Electric Company

Gree Electrical Appliances Inc.

Haier Group Corporation

Hitachi-Johnson Controls Air Conditioning Inc.

LG Electronics Inc.

Midea Group Co. Ltd

Panasonic Corporation

Robert Bosch

Toshiba Corporation

Whirlpool
Recent Developments
In January 2022, LG Electronics USA unveiled its 2022 residential, light commercial, and commercial HVAC solutions at the 2022 AHR Expo in Las Vegas, showcasing a robust lineup of innovative products.

In January 2021, Samsung introduced high-capacity Variable Refrigerant Flow (VRF) air conditioning systems in India, suitable for compact installations in premium residential and commercial spaces, requiring only 0.5 square meters of space.
Air Conditioner Market Report Scope
| | |
| --- | --- |
| Report Attributes | Details |
| Market size value in 2023 | USD 143.86 billion |
| Revenue forecast in 2032 | USD 245.12 billion |
| CAGR | 6.1% from 2023 – 2032 |
| Base year | 2022 |
| Historical data | 2019 – 2021 |
| Forecast period | 2023 – 2032 |
| Quantitative units | Revenue in USD billion and CAGR from 2023 to 2032 |
| Segments covered | By Product Type, By Distribution Channel, By End-User, By Region |
| Regional scope | North America, Europe, Asia Pacific, Latin America; Middle East & Africa |
| Customization | Report customization as per your requirements with respect to countries, region and segmentation. |