The global aircraft cabin lighting market was valued at USD 1.26 billion in 2020 and is expected to grow at a CAGR of 6.5% during forecast period. Airlines are increasingly focusing on improving cabin interior aesthetics, and where lights play an important role. The trend of replacing traditional incandescent bulbs with LED lights due to significant performance benefits and longevity of life is one of the key drivers of the cabin lighting market in the aircraft industry.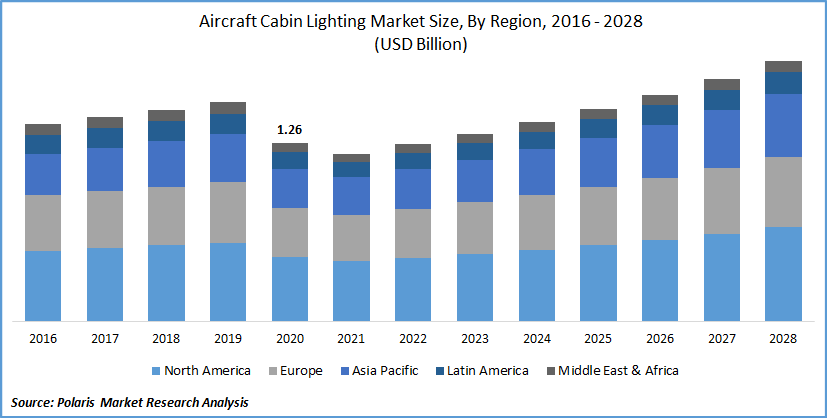 Know more about this report: request for sample pages
LED lights typically have 1,00,000 hours of lifespan, which is ten times of incandescent bulbs with about 1,00,000 hours of lifespan. Besides, industry stakeholders have an increasing focus on creating well-being on board for the passengers, with improvements in cabin illumination driving the global aircraft cabin lighting market.
The aircraft industry is one of the worst-hit industries amid the COVID-19 pandemic, causing dramatic damage to the industry's entire value chain. The severe decline in air traffic and loss of airline revenues has been evident, and it would take at least two to three years for the industry to recoup from the heavy losses and reach pre-COVID levels.
Despite the worrisome situation in the industry, there are positive signs of recovery in the near term; for instance, domestic air traffic continues to recover at a good pace and is estimated to reach about 5 billion passengers worldwide by the end of 2021, which corresponds to 65.6% of the 2019 (pre-COVID level).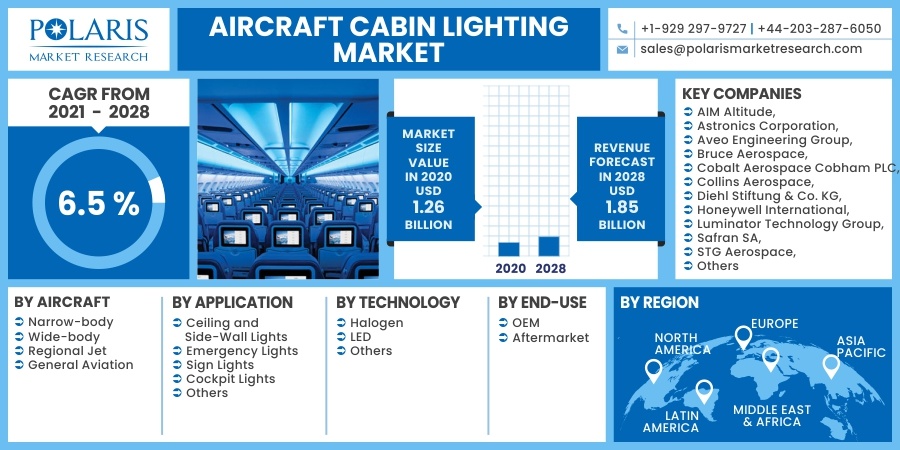 Know more about this report: request for sample pages
Industry Dynamics
Growth Drivers
Increasing focus of airlines on enhanced passenger comfort and delight onboard, increasing market demand for improvement in cabin illumination and reducing lighting maintenance costs, and continued replacement of traditionally bulky and space taking lighting to the modern advanced compact LED lights solutions are vital factors proliferating the growth global aircraft cabin lighting market.
The aging aircraft cabin fleet substantiates significant retrofit market demand for lights with the advanced holistic approach of illumination of cabin interiors. Additionally, there is also a growing interest in outstanding color characteristics with flexible contours, thereby creating quality rest and a relaxing environment for passengers onboard. Excellent color characteristics with changing effects also optimize subtle positive effects in the surroundings and delight passengers' satisfaction level.
Report Segmentation
The market is segmented in the most comprehensive way based on aircraft, application, technology, end-use, and region.
By Aircraft

By Application

By Technology

By End-Use

By Region

Narrow-body
Wide-body
Regional Jet
General Aviation

Ceiling and Side-Wall Lights
Emergency Lights
Sign Lights
Cockpit Lights
Others

North America (U.S., Canada)
Europe (Austria, France, Germany, Italy, Netherlands, Spain, UK)
Asia Pacific (China, India, Indonesia, Japan, Malaysia, South Korea)
Latin America (Argentina, Brazil, Mexico)
Middle East & Africa (Israel, Saudi Arabia, South Africa, UAE)
Know more about this report: request for sample pages
Insight by Aircraft
Narrow-body aircraft segment to remain dominant across the globe driven by a host of factors such as increasing market demand for aesthetic cabin interiors in short-haul aircraft and lights upgrades in modern narrow-body aircraft platforms to enhance passenger comfort and a pleasant environment on-board. Furthermore, domestic airlines are witnessing the fastest recovery amid pandemic due to the opening of domestic air travel restrictions, fueling the segment's market demand at an impressive rate.
Cabin illumination contributes significantly to the comfort and delightful experience for passengers on board of long-haul aircraft. Advancements in lighting products such as color-changing lights and mood lights systems for long-haul wide-body aircraft substantiate market demand in the segment. There is also high usage of additional lighting products in wide-body aircraft, such as floor path strip lights and ceiling lights with high-resolution images.
Insight by Technology
LED lights has gained huge dominance in the global market with constant replacement of traditional incandescent bulbs driven by several factors such as highly energy-efficient lights and longer hours of operations, reducing maintenance time and replacement cost. Besides, there is also a surge in usage of LED photo-luminescent strips installed in various cabin areas.
There is also a growing trend of having more active and granular control with LED lighting without disturbing the installed electrical circuit of the cabin. Micro LED technology has been at the forefront of this trend with its seamless installations. Collins Aerospace has been the pioneer in offering micro-LED lights for a cabin, which substantiates the longevity and offers considerable weight reduction driving its usage.
Insight by Application
Among applications, the ceiling and sidewall lights segment hold a considerable dominance in the global market driven by the large surface area of sidewall and ceiling lights coupled with advancements in mood lights driving the segment's market demand.
Leading airlines such as Finnair, Icelandair, and Virgin America have been at the forefront in retrofitting LED mood lights into older cabins. Iconic purple and red mood lighting of Virgin America and Rose Champagne, Purple Haze, and Amber Warmth mood light of Virgin Atlantic are some examples of such trends.
Emergency lighting is gaining more and more market recognition with line-fit specification by leading OEMs and a growing number of airlines having retrofit emergency floor path lighting. Advanced emergency floor path lights do not require power, thereby meeting the industry market demand of reducing maintenance and power consumption.
Geographic Overview
Geographically, North America holds the largest share of the market-driven strong line-fit lighting market demand from leading aircraft OEMs such as Boeing, Bombardier, Gulfstream Aerospace, Textron Aviation, and Hawker Beechcraft.
The region is also witnessing increasing market demand from cabin upgrades by leading airlines, thereby making advancements in lighting solutions with LED lights products. For instance, US-based Delta Airlines announced redesigning of its entire fleet of B777 in 2018, where it has upgraded full-spectrum of LEDs having different lighting scenarios and colors.
Asia-Pacific to grow at the highest rate in the market during the forecast period owing to increasing air passenger traffic, strong market demand for cabin retrofits in emerging economies, aging aircraft cabin fleet demanding maintenance and replacements of lightings, and advancements in-cabin lighting solutions. There is significant room for replacing traditional fluorescent elements with LED lighting, especially within low-cost Asian carriers, fueling the region's market demand at a healthy rate.
Developing Asian economies such as China and India are acting as the new growth engine of the market with increasing demand from low-cost airlines in the region to upgrade to LED lighting solutions, aging fleet of aircraft cabin with strong replacement need of lighting and better illumination, and upcoming Asian aircraft programs such as COMAC C919 and Mitsubishi MRJ jet.
Competitive Insight
Major players are offering advancements in-cabin lighting solutions with the enhancement of illumination, reduction in energy consumption, weight reduction, and creating modular propositions for more value-added cabin interior illumination. Addressing the industry's need for the constraint of space and offering more integrated modular lighting solutions without needing to replace facades are also some of the common steps of offering cabin lighting.
Some of the key players competing in the aircraft cabin lighting market are AIM Altitude, Astronics Corporation, Aveo Engineering Group, Bruce Aerospace, Cobalt Aerospace Cobham PLC, Collins Aerospace, Diehl Stiftung & Co. KG, Honeywell International, Luminator Technology Group, Safran SA, STG Aerospace, Rockwell Collins, Raytheon Technologies Corporation, Precise Flight, Soderberg Manufacturing, Oxley, Heads Up Technologies, Devore Aviation Corporation of America
Aircraft Cabin Lighting Market Report Scope
| | |
| --- | --- |
| Report Attributes | Details |
| Market size value in 2020 | USD 1.26 billion |
| Revenue forecast in 2028 | USD 1.85 billion |
| CAGR | 6.5% from 2021 - 2028 |
| Base year | 2020 |
| Historical data | 2016 - 2019 |
| Forecast period | 2021 - 2028 |
| Quantitative units | Revenue in USD million/billion and CAGR from 2021 to 2028 |
| Segments covered | By Aircraft, By Application, By Technology, By End-Use, By Region |
| Regional scope | North America Europe, Asia Pacific, Latin America, Middle East & Africa |
| Key Companies | AIM Altitude, Astronics Corporation, Aveo Engineering Group, Bruce Aerospace, Cobalt Aerospace Cobham PLC, Collins Aerospace, Diehl Stiftung & Co. KG, Honeywell International, Luminator Technology Group, Safran SA, STG Aerospace, Rockwell Collins, Raytheon Technologies Corporation, Precise Flight, Soderberg Manufacturing, Oxley, Heads Up Technologies, Devore Aviation Corporation of America |