The global aircraft leasing market was valued at USD 180.08 billion in 2022 and is expected to grow at a CAGR of 7.6% during the forecast period.
The aircraft leasing market has experienced significant growth and transformation due to aircraft leasing involves temporarily transferring aircraft from the lessor (the owner) to the lessee (the airline or operator) in exchange for lease payments. This industry is crucial in meeting the increasing demand for air travel worldwide.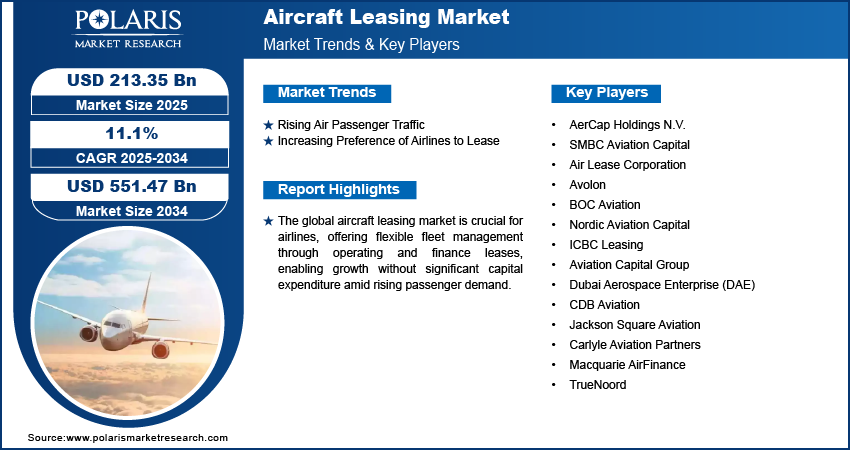 To Understand More About this Research: Request a Free Sample Report
The market is the expansion of the global aviation industry. With the rise in passenger traffic and the emergence of low-cost carriers, airlines seek more efficient ways to acquire aircraft. Leasing offers them flexibility, allowing airlines to quickly add or remove aircraft from their fleets based on market demand and operational needs. It enables them to access a broader range of aircraft types without committing to long-term ownership.
Furthermore, the Federal Aviation Administration (FAA) plays a crucial role in regulating aircraft leases through the Federal Aviation Regulations (FARs). Under FAA guidelines, airplane leases are categorized as either dry or wet. Wet leases typically require an FAA commercial operating license unless specific exemptions such as time-sharing agreements or other provisions under FAR 91.501 are applicable.
The aircraft leasing market is the cost advantage it provides. Leasing allows airlines to conserve their capital and reduce financial risk by avoiding large upfront investments associated with aircraft purchases. Also, leasing companies benefit from economies of scale, enabling them to negotiate better purchase prices and pass on some savings to their airline customers.
The COVID-19 pandemic profoundly impacted the market, characterized by reduced passenger demand, lease restructuring, fleet adjustments, lease rate adjustments, a focus on cargo and short-term leases, and government support. Airlines faced financial challenges, leading to lease renegotiations and returns of leased aircraft, while lessors had to adjust rates to accommodate the market conditions. As the industry recovers, the aircraft leasing market is gradually rebounding. Still, the pace and extent of recovery depend on factors such as vaccination efforts, travel restrictions, and overall economic revival.
Industry Dynamics
Growth Drivers
Increasing demand for air travel worldwide
The growth of the market is fueled by the increasing demand for air travel worldwide is a major factor. As more people choose air transportation for business and leisure, airlines require additional aircraft to accommodate the rising passenger numbers. Leasing allows airlines to expand their fleets quickly without the upfront costs associated with aircraft purchases.
The cost efficiency and financial flexibility offered by aircraft leasing are crucial in driving the market growth. Leasing enables airlines to conserve capital and avoid significant financial commitments, making it an attractive option compared to outright aircraft ownership. It also provides the flexibility to adjust fleet size and composition based on market demand and economic conditions, allowing airlines to adapt more effectively to changing circumstances.
Furthermore, global market expansion contributes to the growth of aircraft leasing. Emerging markets, such as Asia-Pacific, Latin America, and the Middle East, are experiencing rapid growth in air travel, creating a demand for leased aircraft. Additionally, established airlines in mature markets increasingly turn to leasing as a strategic tool to optimize their fleets and reduce operating costs.
Report Segmentation
The market is primarily segmented based on lease, application, and region.
By Lease

By Application

By Region

North America (U.S., Canada)

Europe (France, Germany, UK, Italy, Netherlands, Spain, Russia)

Asia Pacific (Japan, China, India, Malaysia, Indonesia, South Korea)

Latin America (Brazil, Mexico, Argentina)

Middle East & Africa (Saudi Arabia, UAE, Israel, South Africa)
To Understand the Scope of this Report: Speak to Analyst
By Lease Analysis
Wet lease segment is anticipated to hold the largest market share during forecast period
The wet-lease segment is anticipated to dominate the aircraft leasing market, holding the largest market share during the projected period. This is primarily due to the advantages associated with wet-leasing arrangements. In a wet lease, the aircraft owner provides the airplanes and supplies at least one crew member. This arrangement allows the lessee to offload operational tasks such as maintenance, insurance procurement, and legal obligations onto the owner.
The dry lease segment is anticipated to hold a significant CAGR over the forecast period. In a dry lease arrangement, the owner provides the aircraft to the lessee without a crew. In this type of lease, neither the lessor nor the lessee must possess an air carrier certificate. It is important to note that while an air carrier may act as a lessor or lessee under a dry lease, it is not mandatory.
By Application Analysis
Narrow body segment anticipated to hold highest shares of the market
The narrow body segment is projected to dominate the aircraft leasing market, holding the highest share during the forecast period. This is primarily attributed to narrow-body aircraft's low fuel consumption capacity, resulting in significant cost savings for airlines. The fuel efficiency of narrow-body airplanes allows airlines to reduce operating costs and improve their overall sustainability, which is particularly crucial during the pandemic. In addition, narrow-body aircraft offer airlines greater flexibility in fleet management, enabling them to adapt to changing market conditions more efficiently.
In recent years, advancements in technology, such as introducing new engine alternatives and using composite materials, have further enhanced the performance of narrow-body airplanes. These technological innovations have increased narrow-body aircraft's operational efficiency and fuel economy, allowing them to travel long distances while maintaining cost-effectiveness. The combination of improved fuel efficiency, functional capabilities, and cost-saving features has reinforced the position of narrow-body aircraft as the preferred choice for many airlines in the aircraft leasing market.
Regional Insights
Europe dominated the global market in 2022
Europe dominated the market due to the region's growing air traffic and increasing demand for fuel-efficient airplanes. European airlines are compelled to acquire more fuel-efficient aircraft to reduce fuel costs and comply with the E.U.'s Emissions Trading System, which aims to curb greenhouse gas emissions. Major leasing players like AerCap Holdings N.V., Goshawk Aviation Limited, and Nordic Aviation Capital A/S further contribute to the region's growth.
North America is expected to experience substantial growth during the forecast period, primarily driven by the rapid expansion of the U.S. aviation industry. The focus on enhancing private airport infrastructure, coupled with favorable regulatory reforms, is anticipated to bolster the growth of the general aviation sector in North America in the coming years.
Market Key Players & Competitive Insight
The aircraft leasing market is highly competitive on a global scale. This competitiveness drives greater efficiency and innovation, which ultimately benefits lessees who have access to a wider range of aircraft options and helps shape market dynamics, including leasing rates and terms. In the face of economic and industry challenges, market players must maintain their competitive edge and remain adaptable to changing market conditions in order to shape the future of aircraft leasing.
Some of the major players operating in the global market include:
AerCap

Air Lease Corporation

Aviation Capital Group

BOC Aviation

Boeing Capital Corporation

BBAM LLC

CIT Aerospace, Inc.

Dubai Aerospace Enterprise (DAE) Ltd.

Flying Leasing Limited

GE Capital Aviation Services

Goshawk Aviation Limited

International Lease Finance Corporation

Leasing Co. Ltd.

Nordic Aviation Capital

Saab Aircraft Leasing

Sumitomo Mitsui Finance
Recent Developments
In December 2022, SMBC Aviation Capital acquired Goshawk Management Ltd and its associated corporate assets. This Dublin-based global aircraft lessor transaction has propelled SMBC Aviation Capital to become the second-largest player in the industry in terms of the number of aircraft. Additionally, this acquisition has solidified SMBC Aviation Capital's position as the largest Japanese-owned aircraft lessor.

In June 2022, AviLease, an aircraft leasing company, was recently launched by Saudi Arabia's Public Investment Fund (PIF). The company will primarily focus on scaling its operations through various means. This includes portfolio acquisitions, purchase and leaseback transactions with airlines, and direct orders from aircraft manufacturing companies. AviLease aims to establish a strong presence in the aircraft leasing market by engaging in these strategic initiatives.
Aircraft Leasing Market Report Scope
| | |
| --- | --- |
| Report Attributes | Details |
| Market size value in 2023 | USD 193.42 billion |
| Revenue forecast in 2032 | USD 374.27 billion |
| CAGR | 7.6% from 2023 – 2032 |
| Base year | 2022 |
| Historical data | 2019 – 2021 |
| Forecast period | 2023 – 2032 |
| Quantitative units | Revenue in USD billion and CAGR from 2023 to 2032 |
| Segments Covered | By Lease, By Application, By Region |
| Regional scope | North America, Europe, Asia Pacific, Latin America; Middle East & Africa |
| Customization | Report customization as per your requirements with respect to countries, region and segmentation. |