The global alginate market was valued at USD 630.41 Million in 2021 and is expected to grow at a CAGR of 4.7% during the forecast period. The alginate market is anticipated to experience rapid expansion soon owing to manufacturers' continuous improvement in acquiring new technologies.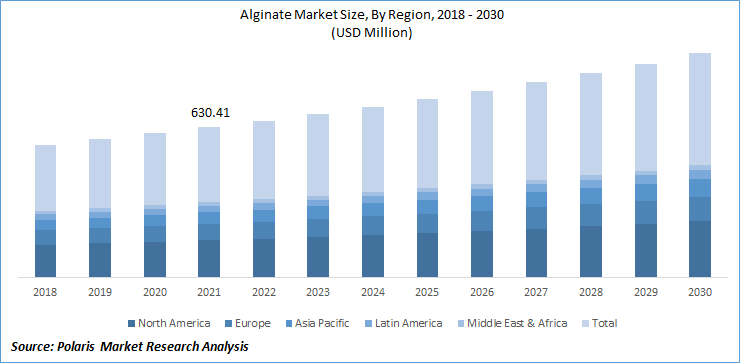 Know more about this report: Request for sample pages
The ionic polymer present in the cell walls of brown algal cells that binds to moisture gives rise to the sticky gum known as alginate. The primary raw materials utilized in the manufacturing operation are mixed alginic acid salts, which are found in brown seaweed. It might be white or yellowish-brown in color. Both granule and filament versions are frequently available.
Developing regulations for the use of synthetic materials in a variety of end-use segments, particularly in the food service and pharmaceutical applications. As a result, the market demand for sodium alginate is increasing due to the rising interest in bio-based goods. Furthermore, consumers are becoming more aware of how natural resources are used, and so many make product selections that reflect their environmental issues.
The need for consumer items such as clothing, food, and other similar products is rising. Textiles are increasingly used in sporting and medical applications, and the strong growth for specific fabric characteristics is projected to bring up more opportunities for the textile industry.
Textile manufacturers in developed areas, such as North America, are more likely to produce technical products, such as technical textiles, rather than commodity goods. As a result, the need for technical grade sodium alginate has been generated by textiles that are shifting their focus beyond generic to specialized specialty textiles.
Due to lockdowns, travel bans, and business shutdowns, COVID-19 has had a detrimental impact on economies and sectors in some countries. The closure of various plants and factories has had a negative influence on global distribution networks, negatively affecting production, delivery times, and product sales in the worldwide economy.
Additionally, The COVID-19 pandemic has compelled material scientists to create and look for substitute materials that can inactivate the SARS-CoV-2 virus. This is because sodium alginate (SA) has demonstrated antiviral activity against a variety of viruses and has outstanding chemical, physical, and biological features that make this biopolymer particularly effective and beneficial for a vast array of industrial applications. Thus, this has impacted the positive demand for the market.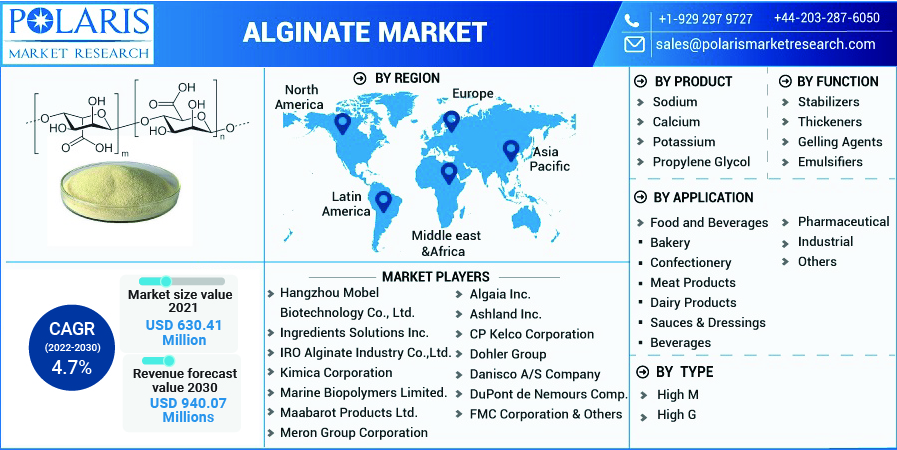 Know more about this report: Request for sample pages
Industry Dynamics
Growth Drivers
The strong growth of strong textile industry, which accounts for a large portion of the worldwide textile industry, is to blame for the expansion. Due to increased product demand from numerous end-use sectors, especially clothing, the country is likely to remain an attractive market for producers and distributors. The fabric, printing, and dyeing industries are emerging as major buyers of the product, whereas nutrition sodium alginates are being hindered by strict safety rules surrounding its use in food and pharmaceutical applications.
Because cafés and restaurants are unable to serve on their grounds due to the lockdowns, demand for packaged meals and processed foods has grown. Additionally, due to preventative actions being taken by end-users to stay fit and enhance their immune systems, the demand for medications has increased globally in recent years. As a result, the desire for such products is increasing.
Report Segmentation
The market is primarily segmented based on type, product, application, function, and region.
By Type

By Product

By Application

By Function

By Region

Sodium
Calcium
Potassium
Propylene Glycol
Others

Food and Beverages

Bakery
Confectionery
Meat Products
Dairy Products
Sauces & Dressings
Beverages
Others

Pharmaceutical
Industrial
Others

Stabilizers
Thickeners
Gelling Agents
Emulsifiers

North America (U.S., Canada)
Europe (France, Germany, UK, Italy, Netherlands, Spain, Russia)
Asia Pacific (Japan, China, India, Malaysia, Indonesia. South Korea)
Latin America (Brazil, Mexico, Argentina)
Middle East & Africa (Saudi Arabia, UAE, Israel, South Africa)
Know more about this report: Request for sample pages
The high G segment is expected to witness the fastest growth
The high G segment is expected to grow at a significant rate. This is due to the several advantages of high G alginates, such as their increased bioactivity and potential to stimulate cytokine secretion and inflammation, which have led to their increased use in medical engineering and science. Furthermore, rising government subsidies in the healthcare industry and rising illness prevalence are boosting demand for biological materials, resulting in a larger market overall.
In alginate-based healthcare dressings, the composition of high G and high M blocks differs based on the preparation. Because of the product's improved gelling capabilities, high G alginate has higher market demand among food and beverage customers. A higher G block concentration in the product leads to increased product flexibility, which is one of the desirable characteristics of its use in the pharmaceutical industry and is projected to drive market expansion.
Sodium accounted for the second-largest market share in 2021
Sodium alginate is a gum derived primarily from brown algae cell walls. Its chemical formula is NaC6H7O6, and it is a salt composed of sodium alginate. It has excellent chelating abilities. Many brown seaweeds belonging to the Phaeophyceae family are harvested all over the world to be processed and transformed into sodium alginate. Many sectors use a gelling agent, including food, animal feed, textile printing, pharmaceuticals, and others.
Although the product's usage volume is relatively low, it is widely used as a sizing agent in the paper sector. The substance is frequently used in the food sector as a thickening and gelling agent. In the food industry, sodium alginate is being used to make sauces, dressings, whipped cream, and jellies, among other things.
The application of sodium alginate in tissue engineering, medicinal compositions, and therapeutic wound therapy is likely to drive market expansion because of its outstanding physicochemical and biodegradable qualities. Furthermore, the pharmaceutical industry's manufacture of sophisticated salt alginate-based solutions, such as solid gel dispersion, to promote targeted absorption is expected to boost economic growth.
The Food & Beverages sector is expected to hold the significant revenue share
Food, pharmaceutical, industrial, and other segments make up the worldwide alginate market. Due to increasing disposable income and high food intake, as well as a rise in the global population, the food business is expected to grow rapidly during the next 8 years. Furthermore, due to increased health-related concerns, the growing use of organically sourced goods such as alginate as a food ingredient is projected to appear as the key driver for the alginate market's expansion. Ester gelling agent of propylene is predicted to find rising market demand worldwide as a thickening agent, stabilizer, and flavoring adjuvant due to the improved product stability and performance throughout a wide range of temperatures.
The demand in North America is expected to witness significant growth
One of the biggest factors affecting the US market is the rise in per capita health spending in the form of health. Over the projected period, the market is expected to be driven by an increase in demand for convenience meals in the region. The existence of many international food industries and production organizations in the global alginate market will enhance demand for the market in the nearish term.
Over the projected period, increased consumer demand for culinary products such as chicken and beef nuggets, ice cream, and yogurt in the region is expected to boost the need for a gelling agent. A high consumer preference for products having natural-origin components drives the region's market.
Furthermore, the market is projected to be influenced by the region's huge population and growing discretionary income over the forecast period. They are also produced and exported in large quantities in Asia-Pacific. They are frequently used in sauces, processed meals, dressings, and dairy products in Europe And North America. In comparison to developed countries, the pharmaceutical business in emerging countries is still undeveloped.
Competitive Insight
Some of the major players operating in the global market include Algaia Inc., Ashland Inc., Alginate Industry Co., Ltd., CP Kelco Corporation, Dohler Group, Danisco A/S Company, DuPont de Nemours Company, FMC Corporation, Hangzhou Mobel Biotechnology Co., Ltd., Ingredients Solutions Inc., IRO Kimica Corporation, Lianyungang Huanyu Seaweed Co. Ltd, Marine Biopolymers Limited., Maabarot Products Ltd., and Meron Group Corporation
Recent Developments
In October 2019, Algaia, a French distributor of seaweed extracts, formed a joint venture with Herbstreith & Fox, a prominent gelatin manufacturer, to offer a sustainable gelling agent and pectin formulation. This mixture forms increased stability and functionality, making it ideal for cookies, pies, tops, and fillings in several baking applications. This composition is sold as a mix as well as single components, providing clients with novel, healthy food baking options while also strengthening both businesses' competitive advantages.
Alginate Market Report Scope
| | |
| --- | --- |
| Report Attributes | Details |
| Market size value in 2022 | USD 657.51 million |
| Revenue forecast in 2030 | USD 940.07 million |
| CAGR | 4.7% from 2022 - 2030 |
| Base year | 2021 |
| Historical data | 2018 - 2020 |
| Forecast period | 2022 - 2030 |
| Quantitative units | Revenue in USD million and CAGR from 2022 to 2030 |
| Segments covered | By Type, By Product, By Application, By Function, By Region |
| Regional scope | North America, Europe, Asia Pacific, Latin America; Middle East & Africa |
| Key companies | Algaia Inc., Ashland Inc., CP Kelco Corporation, Dohler Group, Danisco A/S Company, DuPont de Nemours Company, FMC Corporation, Hangzhou Mobel Biotechnology Co., Ltd., Ingredients Solutions Inc., IRO Alginate Industry Co., Ltd., Kimica Corporation, Lianyungang Huanyu Seaweed Co. Ltd, and Marine Biopolymers Limited., Maabarot Products Ltd., Meron Group Corporation |