The global aluminum foil packaging market size was valued at USD 36.45 billion in 2020 and is anticipated to grow at a CAGR of 4.3% during the forecast period. Aluminum packaging provides a strong solution to withstand the stresses and strains the package is exposed to during transit and storage. It is a shiny metallic, non-toxic, tasteless, odorless, and lightweight solution. It has a reflective rate of around 95% offering impermeability to bacteria, fungi, light, and moisture, significantly increasing its demand for food packaging.
Aluminum wrapping is opaque and provides high barrier properties, restricting the transfer of light and microorganisms to package content. The increasing trend of E-commerce has driven product demand. The significant growth in demand for convenience and food products has resulted in growth in flexible and rigid segments.
Aluminum packaging solutions offer product integrity and safety while ensuring product authenticity and increased traceability. Aluminum foil is increasingly being utilized in the pharmaceutical sector for wrapping light-sensitive drugs. It offers high barrier performance, moisture resistance, anti-oxidation, greater blasting and puncture resistance, and high-temperature resistance required for effective transit of drugs.
Aluminum foil also enables effective printing on pharmaceutical packages owing to its opacity and greater light reflection. The companies operating in the market are addressing increasing safety concerns through additional security features such as tamper-proof and intelligent packaging solutions to reduce the risk of safety, theft, or counterfeiting.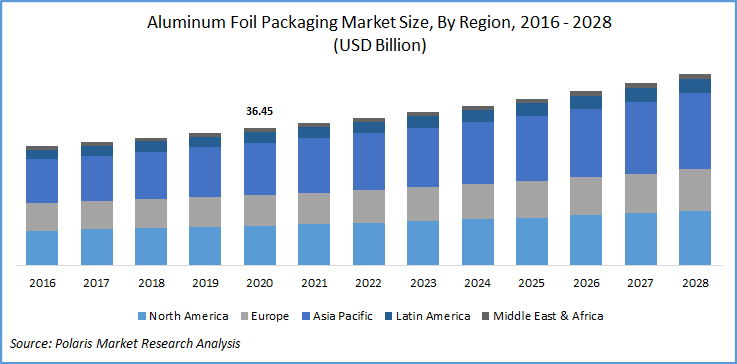 Know more about this report: request for sample pages
Industry Dynamics
Growth Factors
Consumers are increasingly opting for packaging that is easy to use and convenient to transport. Smaller, lighter, and more easily disposable solutions are being used to make consumption-on-the-go easier. The increasing time-constraints, evolving lifestyles, a rising middle class in emerging markets, more women in the workforce, smaller households, and an aging population in the developed world are factors influencing the growth of the industry.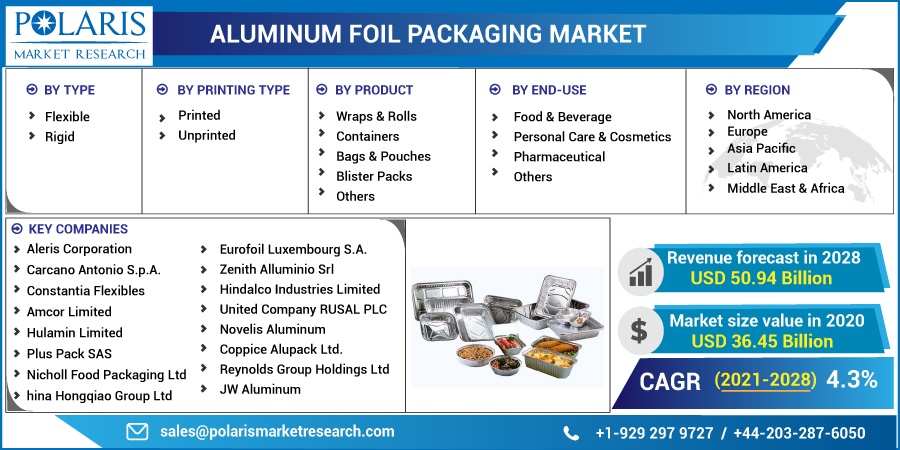 Know more about this report: request for sample pages
The high growth in e-commerce and increasing footfall in discount and convenience stores have supported the growth of the industry. Aluminum packaging is specially designed considering factors such as transit and product safety. The design of the same for e-commerce is suitable for all elements of the supply chain and presentation to consumers. The increased importance of product presentation in the retail environment, which requires higher quality packaging has increased the demand for concerned foil packaging across the globe.
Aluminum Foil Packaging Market Report Scope
The market is primarily segmented on the basis of type, printing type, product, end-use, and region.
By Type

By Printing Type

By Product

By End-Use

By Region

Wraps & Rolls
Containers
Bags & Pouches
Blister Packs
Others

Food & Beverage
Personal Care & Cosmetics
Pharmaceutical
Others

North America (U.S., Canada)
Europe (Germany, UK, France, Italy, Spain, Netherlands, Austria)
Asia Pacific (China, India, Japan, South Korea, Malaysia, Indonesia)
Latin America (Brazil, Mexico, Argentina)
Middle East & Africa (Saudi Arabia, South Africa, Israel, UAE)
Know more about this report: request for sample pages
Type Outlook
On the basis of type, the market is segmented into flexible and rigid. There has been an increasing demand for flexible packaging from the food and beverages industry. Flexible foil is greatly used for wrapping chocolates, butter, cheese, and tobacco products. Owing to its temperature resistance, thermal stability, and high conduction of heat, it is used for safe and strong packaging of food products.
The growing demand for lightweight, small, and convenient packaging is driving the growth of flexible aluminum foils. The rising demand for food products such as meat, fish and poultry, confectionery, dried food, and savory snacks has supported the growth of flexible foil packaging across the globe. Pharmaceutical, medical, and cosmetics sectors also use flexible foil for efficient and lightweight packing solutions.
Printing Type Outlook
On the basis of printing type, the market is segmented into printed aluminum foil and unprinted aluminum foil. The demand for printed aluminum foil packaging is expected to increase during the forecast period owing to its high-resolution printability and aesthetic potential. Packing solutions play a significant role in elevating consumer experience and creating brand loyalty in the long term.
Brands in the market are using advanced aluminum foil packaging solutions combined with printing techniques such as flexographic and offset lithographic printing to relay marketing messages or reinforce brand loyalty. Aluminum foil packaging serves as an effective tool and a new medium of marketing.
Product Outlook
On the basis of product, the market is segmented into wraps and rolls, containers, bags and pouches, blister packs, and others. The demand for foil bags and pouches has increased for the packaging of meat products, aquatic products, frozen food, and cooked meat among others. Aluminum foil bags and pouches are strong and high barrier packaging solutions offering greater adaptability to temperature, air and moisture resistance, and durability especially for food products.
End-Use Outlook
On the basis of end-user, the market is segmented into food and beverage, personal care and cosmetics, pharmaceutical, and others. In 2020, the food and beverage segment dominated the global market. Aluminum foil packaging in the food & beverage industry contains food products while protecting them from mechanical damage, and acting as a barrier to moisture, light, and microorganisms. It also prevents or delays biological and physical degradation and facilitates efficient movement and storage.
Geographic Overview
Asia-Pacific dominated the global aluminum foil packaging market in 2020 owing to increasing population, growth in the food and beverages sector, and changing consumer preferences. Increasing demand for packaged and ready to eat meals along with increasing urban population growth, rising disposable incomes, advances in consumer awareness, a fast-growing middle class, strong growth in sectors such as fast-moving consumer goods (FMCG), pharmaceuticals, and cosmetics are the main drivers for increased demand for aluminum foil packaging in the region.
Competitive Landscape
The leading players in the aluminum foil packaging market include Aleris Corporation, Carcano Antonio S.p.A., Constantia Flexibles, Amcor Limited, Hulamin Limited, Plus Pack SAS, Nicholl Food Packaging Ltd, China Hongqiao Group Limited, Eurofoil Luxembourg S.A., Zenith Alluminio Srl, Hindalco Industries Limited, United Company RUSAL PLC, Novelis Aluminum, Coppice Alupack Ltd., Reynolds Group Holdings Limited, JW Aluminum, and Aliberico S.L.U.