The global ammonium Sulfate market was valued at USD 2.84 billion in 2021 and is expected to grow at a CAGR of 6.8% during the forecast period. The growth of the market is attributed towards an increase in the usage of Sulfate in applications like water treatment and fertilizers is likely to be a major growth driver for the market.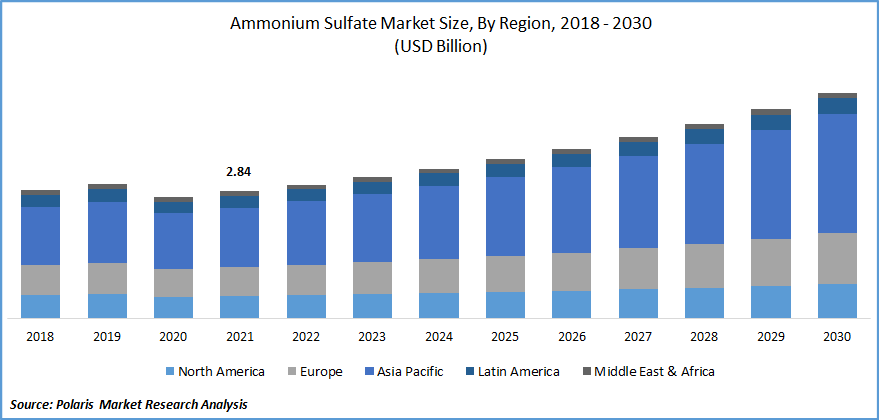 Know more about this report: Request for sample pages
Moreover, the market demand for insulin and other biopharmaceutical medications has surged due to unprecedented growth in diabetic patients. Protein purification, which uses ammonium Sulfate as a precipitating agent, is used to make insulin.
Sulfur and nitrogen are found in ammonium sulfate, which is a water-soluble inorganic salt. The mixture is designed to be used as a fertilizer in the agricultural industry. Because of its high nitrogen content, it is the most widely used supplement for nitrogen-deficient lawns and soils. Furthermore, the product can be blended readily with nitrogen fertilizers, enhancing the fertilizer's stability and functionality.
Caprolactam is a common ingredient in nylon fiber production. Textiles, carpets, yarn, and fishing nets are just a few of the uses of such nylon fibers. As a result of the increased market demand for nylon fibers, caprolactam manufacturing has grown, resulting in an increase in product supply around the world. However, over the projected period, consumption of the product is expected to expand at a modest pace, resulting in an overstock in the market. The product's price has been reduced as a result of this aspect.
Precipitation protein purification can be used for bulk protein production and is relatively affordable compared to other purification methods. The ammonium sulfate market expansion will be fueled by rising market demand for protein purification by precipitation.

Know more about this report: Request for sample pages
Industry Dynamics
Growth Drivers
Nitrogen is a vital component in supporting plant growth, food metabolism, chlorophyll development, and others. In addition, the demand for fertilizers is stimulated by the reduction of arable land. Also, as an ingredient of feed and animal feed, ammonium phosphate is expected to drive market expansion. It is used to stimulate enzyme production and remove high amounts of potassium in vinasse, which further improves food quality.
Furthermore, Ammonium sulfate is increasingly used in the industrial sector for various applications, such as wood preservation, water treatment, and flame retardants. When used as a flame retardant, it behaves in the same way that diammonium phosphate works as a flame retardant. It accelerates waste formation by increasing the temperature at which the material is burned and reducing the rate of weight loss. A saturated solution of ammonium sulfate in heavy water was used as a starting point.
Report Segmentation
The market is primarily segmented on the basis of form, application, and region.
By Form

By Application

By Region

Fertilizers
Pharmaceuticals
Food & Feed Additives
Water Treatment
Others

North America (U.S., Canada)
Europe (Germany, UK, Italy, France, Spain, Austria, Netherlands)
Asia Pacific (China, Japan, India, Indonesia, Malaysia, South Korea)
Latin America (Brazil, Argentina, Mexico)
Middle East & Africa (Israel, Saudi Arabia, South Africa, UAE)
Know more about this report: Request for sample pages
Insight by form
The solid form segment held the largest share in the global market in 2021. It is an odorless substance that is commonly identified as an organic Sulfate salt. It readily dissolves in H2O but not in alcohol. It improves soil micro-nutrients capability; solid ammonium Sulfate crystals are widely utilized as fertilizers in the alkaline types of soils. Because the solid or crystalline grade has a better purity, it is expected to gain popularity in the pharmaceutical industry.
The use of liquid ammonium Sulfate solution in water treatment is common. The ammonium Sulfate market is expected to develop significantly as alternatives to LAS since aqueous ammonia have been termed hazardous, requiring adherence to a complex set of standards for transport and handling. This form of Sulfate is widely recognized as a reliable and consistent source of ammonia for chlorination.
Insight by Application
On the basis of application, the ammonium Sulfate market is categorized into fertilizers, food and additives, pharmaceutical, water treatment, and others. The fertilizers segment is expected to witness the highest CAGR during the forecast period.
The market demand is due to the usage of ammonium sulfate, which includes both nitrogen and sulfur, as a fertilizer for alkaline soils. Over the projected period, rising fertilizer consumption in agriculture-based economies is predicted to drive the market demand for the product. The product decomposes in soil into ammonia, sulfur dioxide, nitrogen, and water. Plants employ nitrogen and ammonia to produce amino acids, while sulfur is needed for metabolism.
Geographic Overview
Asia Pacific is the largest revenue contributor in the global market. This high revenue share is primarily due to the rise in consumption of ammonium-based fertilizers, the rising necessity to increase the fertility rate of existing arable land, food security, and its application in varied industry verticals.
Growth would mainly be driven by emerging countries with substantial arable land, particularly China and India, coupled with strong government-based schemes such as agriculture loan waivers, expected to increase the disposable income of farmers, which will subsequently invigorate the consumption ammonium Sulfate in the respective nations. More than 50% of the Indian population lives in rural hinterlands and is solely dependent on agricultural produce to meet their daily dietary requirements.
India is trying to become self-sufficient in agriculture and food production by opening up new opportunities for the growth of the ammonium sulfate market. According to the Annual Report (2019-2020) of the Government of India, Ministry of Chemicals and Fertilizers, Department of Fertilizers, 414.85 LMT (thousand tons) of fertilizers were produced in India in the financial year 2018- 2019.
The government is focusing on maximizing nitrogen fertilizer production by incorporating indigenous raw materials to achieve fertilizer self-sufficiency. As ammonium Sulfate is an essential ingredient for the production of nitrogenous fertilizers, the demand for ammonium Sulfate is expected to increase over the next 5 years.
According to the report, the Government of India (GOI) is also planning to increase urea production to ensure an easy supply of fertilizer to farmers at a reasonable price, which will boost demand for ammonium Sulfate. In May 2015, GOI introduced the "New Urea Policy" for the gas-fired urea plants set up to increase the rate of urea production. These methods, together with the right fertilizer support, will increase the demand for ammonium Sulfate.
Moreover, Europe accounts for the second largest market share by volume in 2021. This growth is due to an increase in the demand for fertilizers used in multi-crop production. Several agencies have established regulations on the use of synthetic fertilizers in a few developed regions. The agricultural sector accounts for half of the country's GDP in Central and South America.
Competitive Insight
The market is fiercely competitive, with major worldwide brands focused on building long-term relationships with end customers. The competition is expected to increase in the future years as water treatment facilities expand and the pharmaceutical sector expands. Because they are also involved in the manufacture of caprolactam, companies like Domo Chemicals, SABIC, and Honeywell have a high degree of vertical integration. These businesses have established themselves as significant manufacturers, focusing on product research and development for new applications.
Some of the major players operating the ammonium sulfate market include BASF SE, Novus International, Evonik Industries AG, Royal DSM, Lanxess, Tereos, Sumitomo Chemical and Honeywell International.
Sumitomo Chemical has decided to close its petroleum coking power plant in Chiba Works, Japan in October 2020. It plans to build a high-efficiency gas turbine generator in its place as a part of the initiative to control greenhouse gas emissions.
In April, 2021, Evonik Industries introduced the new series "INFINAM TI 3100 L" and "INFINAM ST 6100 L". Such product is related to the photo-polymers for use in the 3D printing cases.
In January 2020, Domo Chemicals completed the acquisition of the Solvay's "Polyamide" business line and increase its expertise and offerings in the business.
Ammonium Sulfate Market Report Scope
| | |
| --- | --- |
| Report Attributes | Details |
| Market size value in 2021 | USD 2.84 billion |
| Revenue forecast in 2030 | USD 5.04 billion |
| CAGR | 6.8% from 2022 - 2030 |
| Base year | 2021 |
| Historical data | 2018 - 2020 |
| Forecast period | 2022 - 2030 |
| Quantitative units | Revenue in USD million/billion and CAGR from 2022 to 2030 |
| Segments covered | By Form, By Application, By Region |
| Regional scope | North America, Europe, Asia Pacific, Latin America; Middle East & Africa |
| Key companies | BASF SE, Novus International, Evonik Industries AG, Royal DSM, Lanxess, Tereos, Sumitomo Chemical and Honeywell International |