The global animal feed organic trace minerals market was valued at USD 508.30 million in 2022 and is expected to grow at a CAGR of 7.3% during the forecast period.
Organic trace minerals are necessary nutrients that are utilized in very small amounts to make animal feed. Animal health is vitally dependent on trace minerals. Organic trace minerals are preferred by farmers over inorganic ones due to their advantages for health and effects on the flavor of the feed. These organic trace elements are thought to be preferable to their inorganic counterparts because they are used more effectively and improve animal health. The market is expected to expand as a result of increasing demand from animal farmers who are becoming more conscious of the negative effects of consuming inorganic trace minerals that are contaminated with heavy metals.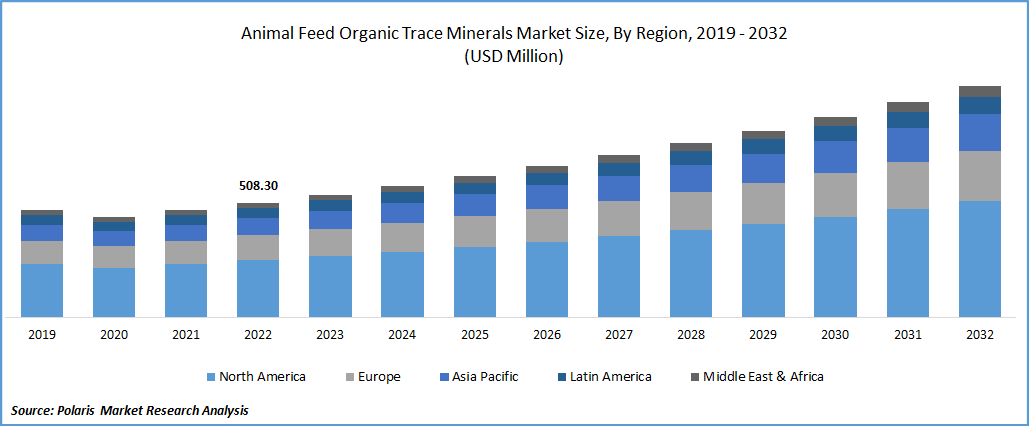 Know more about this report: Request for sample pages
Essential elements utilised in the manufacturing of animal feed, such as zinc, copper, selenium, iron, and manganese, are included in the organic trace minerals found in animal feed. To enhance the quality of the feed and increase animal health, they are included in modest amounts. Organic trace minerals are added to animal feed to improve reproduction while boosting immunity and metabolism.
The bioavailable source of organic trace minerals that aid in accomplishing the same production goals by feeding modest quantities of nutrients from organic sources, in contrast to inorganic trace minerals. These minerals are therefore frequently applied to dairy cattle, swine, pets, aquaculture animals and beef.
Growing consumer awareness of and preference for including high-protein foods like chicken, pig, and eggs in daily diets is assisting market expansion. A further factor promoting market expansion is the increased demand for trace organic minerals in animal feed as a result of growing environmental contamination worries brought on by the extensive use of pesticides in agriculture. Increased research and development efforts to improve specific organic trace mineral functions, such as the use of zinc to fortify poultry and copper eggshells to increase egg fertility, have created new potential for industrial development.
Meat and livestock products, including milk and eggs, have been directly impacted by the effect of COVID-19 on feed consumption. This is mostly because of feed supply shortages brought on by the closure of several facilities and the general state of complete lockdown in the majority of significant nations. Furthermore, suspicion among consumers regarding the intake of poultry goods has increased due to concern that the virus (COVID-19) could be transmitted to people by ingesting. As a result, there is less need for animal feed globally.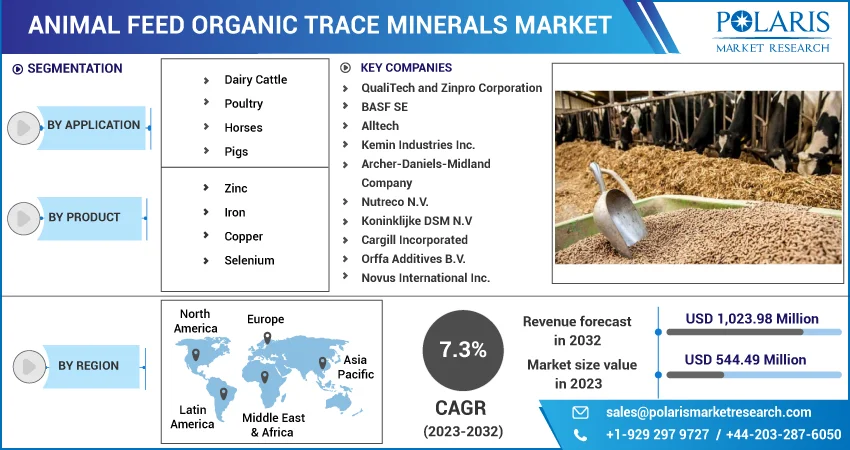 Know more about this report: Request for sample pages
Industry Dynamics
Growth Drivers
The most important variables anticipated to drive this market's growth are the prevalence of high feed quality in animal nutrition, expanding demand for meat and dairy products, and rising mineral consumption for better metabolic function.
Growing understanding among farmers and feed makers of the significance of providing animals with their optimum nutritional demands is the main factor fueling the market's expansion. Additionally, the use of high-quality feed additives to enhance gut health and yield has been encouraged by the growing veterinary nutrition awareness, leading to an increase in the utilization of organic trace minerals, which is anticipated to support the market's overall growth.
Additionally, factors like rising disposable income, a limited supply of land and water for producing animal feed, a high demand for meat and seafood consumption, as well as the expansion of the animal feed industry, further boost consumer demand for organic and premium goods, which drives the market's expansion.
The use of organic trace elements in animal feed, which is driving the market globally, is encouraged by rising life expectancy and the limited supply of land and water resources for the production of animal feed.
Report Segmentation
The market is primarily segmented based on Product, Application and region.
By Product

By Application

By Region

Zinc

Iron

Copper

Selenium

Dairy Cattle

Poultry

Horses

Pigs

North America

Europe

Asia-Pacific

Latin America

Middle East & Africa
Know more about this report: Request for sample pages
The Zinc and

Iron segment is expected to witness fastest growth
Zinc and Iron segment is expected to witness fastest growth during the forecast period. Animal metabolism and immunity are both strengthened by zinc and iron. Growing demand for animal feeder globally is anticipated to drive the market for organic trace minerals used in animal feed. Some of the critical minerals used in livestock feed include zinc, iron, selenium, copper, and others like manganese and cobalt.
Iron is regarded as one among the necessary minerals in animal feed, much like zinc. Its primary roles include oxidising nutrients and carrying oxygen through the blood and storing it in the muscles and tissues of animals. Anemia can also develop from iron deficiency, which causes an imbalance in tissue metabolism. Over the forecast period, demand for this vital element in animal feed is anticipated to increase due to growing knowledge of its advantages.
The poultry segment

accounted for the largest market share in 2022
The highest revenue share is expected to generate from the poultry segment. The majority of meat consumed worldwide is poultry. In this area, the most consumable meat sources are chicken, eggs, and turkeys. Over time, the market for poultry has been driven by rising demand for sources of animal protein. This has increased demand for organic trace minerals and for animal feed.
The Pork segment accounted for fastest growth in 2022
After chicken, pork is the second most popular meat consumed worldwide. It is regarded as a plentiful source of protein. The main drivers of pork feed over the years are growing pork consumption and the desire for high-quality pork.
Growing demand for livestock protein will drive the market over the forecast period. Organized source chain management and new skills technology drive the global dairy business and rising demand for milk products such as ice cream, butter, yogurt, and cheese has also supported the growth of the dairy industry.
The demand in North America is expected to witness significant growth
The US is a significant producer of livestock and other animal-based goods in North America, which is one of the world's greatest producers overall. Growing production and consumption of livestock and livestock-based goods in this area have made it possible for livestock farmers to use trace mineral-fortified feed, which is very effective at promoting healthier animal growth and increasing reproductive rates.
Due to the region's rapid economic expansion, there is a growing need for protein sources in the Asia-Pacific region, particularly in China, India, Malaysia, and Thailand. The region's increased use of feed containing organic trace elements, which is predicted to expand at a large rate, has sparked meat production in response to the region's rising need for meat protein.
Competitive Insight
Some major industry has the key players being QualiTech and Zinpro Corporation, BASF SE, Alltech, Biochem Zusatzstoffe Handels- and Produktionsgesellschaft mbH, Kemin Industries Inc., Archer-Daniels-Midland Company, Nutreco N.V., Koninklijke DSM N.V, Cargill Incorporated, Orffa Additives B.V., Novus International Inc. (Mitsui & Co. Ltd.)
Recent Developments
September 2020, The Framelco Group (feed additive manufacturer company), is acquired by Company Bluestar Adisseo. The company aim is to developed the best industry leaders in the field feed ingredients market for animal nutrition by contributing to the development of the specialty product section through this design.
Animal Feed Organic Trace Minerals Market Report Scope
| | |
| --- | --- |
| Report Attributes | Details |
| Market size value in 2023 | USD 544.49 million |
| Revenue forecast in 2032 | USD 1,023.98 million |
| CAGR | 7.3% from 2023 - 2032 |
| Base year | 2022 |
| Historical data | 2019 - 2022 |
| Forecast period | 2023 - 2032 |
| Quantitative units | Revenue in USD million and CAGR from 2023 to 2032 |
| Segments covered | By Product By Application, By Region |
| Regional scope | North America, Europe, Asia Pacific, Latin America; Middle East & Africa |
| Key companies | QualiTech and Zinpro Corporation, BASF SE, Alltech, Biochem Zusatzstoffe Handels- and Produktionsgesellschaft mbH, Kemin Industries Inc., Archer-Daniels-Midland Company, Nutreco N.V., Koninklijke DSM N.V, Cargill Incorporated, Orffa Additives B.V., Novus International Inc. (Mitsui & Co. Ltd.) |