The global Anime market was valued at USD 29.11 billion in 2022 and is expected to grow at a CAGR of 9.5% during the forecast period. Japanese hand-drawn and digital animation is known as anime. It is a slang term for Japanese animation that only relates to Japanese animation when used outside of Japan. Anime is made available in theatres, on home media, during television broadcasts, and online. Anime include adaptation of the Japanese comics, novels, or video games in addition to its original works. It is divided into several genres with a focus on both broad & specialized audiences.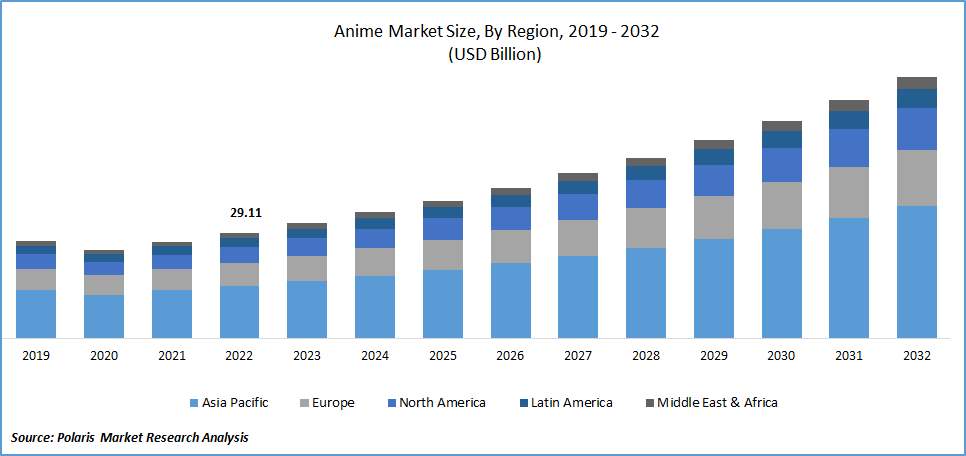 To Understand More About this Research: Request a Free Sample Report
Further, the adoption of anime due to its benefits with the various advanced technologies is driving the anime market growth over the forecast period. Anime are diversified with the unique production techniques which are evolved into reaction to the newer technologies. It incorporates creative and individualistic methods such as art, characterization, cinematography, and others. Big, expressive eyes are a common feature among characters, despite their varied proportions and other features.
Additionally, the market expansion is anticipated to be fueled by developments in contemporary technologies such as Artificial Intelligence (AI), Virtual Reality (VR), Augmented Reality (AR), and the Internet of Things (IoT), among others, along with growing disposable income. For instance, in May 2021, to add more anime content to Virtual Reality, HTC VIVE teamed with Bandai Namco Pictures, a Japanese animation studio. In addition to exploring endless possibilities, this cooperation is anticipated to provide new services that are intended to elevate social VR interactions. The youthful generation has also boosted its spending on the newest, most cutting-edge products, which is anticipated to fuel the anime industry's growth even more throughout the projection year.
Several animated television programs, including some already in development, were either canceled or delayed as a result of the COVID-19 pandemic's appearance. The complete lockdowns imposed in large cities also influenced theatrical releases and live events. On the other side, during and following the pandemic, streaming services like Netflix and YouTube have seen an increase in popularity.
For Specific Research Requirements, Request a Customized Report
Industry Dynamics
Growth Drivers
Anime is gaining popularity and momentum all across the world. Developers, animators, publishers, other creative professionals, and artists all contribute significantly to the market's value creation. It's interesting to note that the industry has maintained consistency across all distribution channels. Anime is often made available through a variety of media, including videos, TV, movies, music, and pachinko machines.
Further, the distribution of anime from Japan has increased dramatically over the globe. Japanese anime has attracted a stunning number of new fans as a result of the quick rise of streaming services like Daisuki, Zee, Netflix, Disney, and Amazon, among others. These platforms saw a dramatic increase in users in Japan alone, which increased the time they spent watching animated shows and films.
For instance, in June 2022, Pierrot Co., Ltd. started streaming vintage anime series on YouTube, although only for a short while. With the aid of this endeavor, The period expected to expand the audience that would be interested in their offerings. Japanese anime is now much more widely available abroad owing to live entertainment and online streaming of such programming. As a result, the most trustworthy and profitable method for its distribution globally is now through the internet.
Report Segmentation
The market is primarily segmented based on type, origin, distribution channel, and region.
By Type

By Origin

By Distribution Channel

By Region

T.V.

Movie

Video

Internet Distribution

Merchandising

Music

Pachinko

Live Entertainment

North America (U.S., Canada)

Europe (France, Germany, UK, Italy, Netherlands, Spain, Russia)

Asia Pacific (Japan, China, India, Malaysia, Indonesia, South Korea)

Latin America (Brazil, Mexico, Argentina)

Middle East & Africa (Saudi Arabia, UAE, Israel, South Africa)
To Understand the Scope of this Report: Speak to Analyst
The comics segment is expected to witness the fastest growth during forecast period
The comics segment is anticipated to grow at the fastest rate over the forecast period, as it impacts children's creativity. Anime is typically distributed through a variety of media, including videos, TV, movies, music, and pachinko machines. High-caliber and distinctive characters are a major focus of the animatronics and storytelling that is being developed by the animation industry. Cartoons and comic books can have a significant impact on children, helping to foster their creativity and overall growth. Renowned animation studios have begun creating cartoons and animated films that aid in the development of child's cognitive, problem-solving, and social competence.
Merchandising segment accounted for the largest share of the market in 2022
Merchandising segment accounted for the largest share of the market in 2022 and likely to continue its significant growth over the projected period. Posters, key chains, t-shirts, dolls, and other collectibles are among the anime-related goods that are typically offered for sale through both online and traditional retail channels. This can be attributed to the younger population's rising demand for anime merchandise items like figurines, t-shirts, posters, and key chains. These products can be purchased through several offline and online channels. It is anticipated that the segment will grow due to people's growing desire to collect goods tied to their favorite anime episodes.
Due to rising international sales of anime through online streaming services and application games, the Internet distribution category is predicted to increase rapidly over the forecast year. In May 2018, Crunchyroll started selling digital games in addition to its well-known service for streaming a large selection of Japanese animated TV series. "Memoria Freese," based on the light book turned popular anime, is going to be the initial game offered via Crunchyroll Games. To dominate the market for the dissemination of anime, the major players, are putting a lot of emphasis on the creation of original animation.
Asia-Pacific is expected to witness significant growth during forecast period
The majority of the nation's animation studios are contributing to the expansion. This is explained by the fact that young people in China and India are becoming more and more interested in anime content. The region's anime industry is expanding due to China's preference for creating its anime content. Japan is the center of the anime business, which is increasingly gaining popularity throughout the world. For instance, Japan is home to around 622 animation studios that work on creating animation-related content, 542 of which are in the capital city of Tokyo.
Further, the development of the economy of Japan has been significantly aided by the animation sector. As a result, the nation employs a range of financial strategies to support the creation of movies, television shows, and video games. Numerous animation organizations are restructuring and joining forces with other rapidly expanding businesses in response to the growing popularity and demand for animated games and animated films to serve more customer base. A key aspect fueling demand in the Asia Pacific area has been anime's explosive rise in popularity in China. In recent years, very influential material like Dragon Ball in the Asia Pacific excluding Japan (APEJ) area has been generated in Japan on a Chinese commission, helping to boost the regional market expansion.
Competitive Insight
Some of the major players operating in the global market include Atomic Flare, Bones Inc., Crunchyroll, Good Smile Company, Kyoto Animation, Madhouse, MADHOUSE, Progressive Animation Works, Pierrot, Production I.G, Sentai Holdings, Studio Ghibli, Sunrise, Toei Animation, Ufotable., and VIZ Media.
Recent Developments
In February 2022, the Restructuring of the IP Production Unit has been announced by Bandai Namco Holdings. A new IP Production unit will be created by the umbrella company by combining its formation, music, and video production businesses. To complete this project, Bandai Namco is forming a new commercial enterprise called Bandai Namco Filmworks Inc. from the merger of Sunrise, an animated film studio, Bandai Namco Arts, and Bandai Namco Rights Marketing.
In August 2022, Netflix has agreed to license 13 anime movies as part of a partnership that Nippon TV announced. To draw viewers from all over the world, Netflix is continually working to enlarge its enormous library to make room for currently airing, upcoming, and classic series.
Anime Market Report Scope
| | |
| --- | --- |
| Report Attributes | Details |
| Market size value in 2023 | USD 31.79 billion |
| Revenue forecast in 2032 | USD 72.13 billion |
| CAGR | 9.5% from 2023 - 2032 |
| Base year | 2022 |
| Historical data | 2019- 2021 |
| Forecast period | 2023- 2032 |
| Quantitative units | Revenue in USD billion and CAGR from 2023 to 2032 |
| Segments Covered | By Type, By Origin, By Distribution Channel, By Region |
| Regional scope | North America, Europe, Asia Pacific, Latin America; Middle East & Africa |
| Key Companies | Atomic Flare Corp., Bones Inc., Crunchyroll (Sony Pictures Entertainment Inc.), Good Smile Company, Inc., Kyoto Animation Co., Ltd., Madhouse Inc., MADHOUSE, Inc., Progressive Animation Works Co., Ltd. (PA Works), Pierrot Co., Ltd., Production I.G, Inc., Sentai Holdings, LLC (AMC Networks), Studio Ghibli, Inc., Sunrise, Inc. (Bandai Namco Filmworks), Toei Animation Co., Ltd., Ufotable Co., Ltd., and VIZ Media, LLC |