The global Virtual Reality (VR) in gaming market was valued at USD 12.65 billion in 2020 and is expected to grow at a CAGR of 30.5% during the forecast period. Rising demand for advanced technologies in games particularly, by youths coupled with increasing consumer disposable income in developing economies is expected to drive demand.
In addition, willingness to purchase VR games, as well as highly competitive scenario for the development of virtual reality (VR) technology in games are the factors responsible for the high growth of the market. Further, start-ups using crowdfunding for the development of wearables, software and accessories, is the current trend prevailing in the electronics games industry.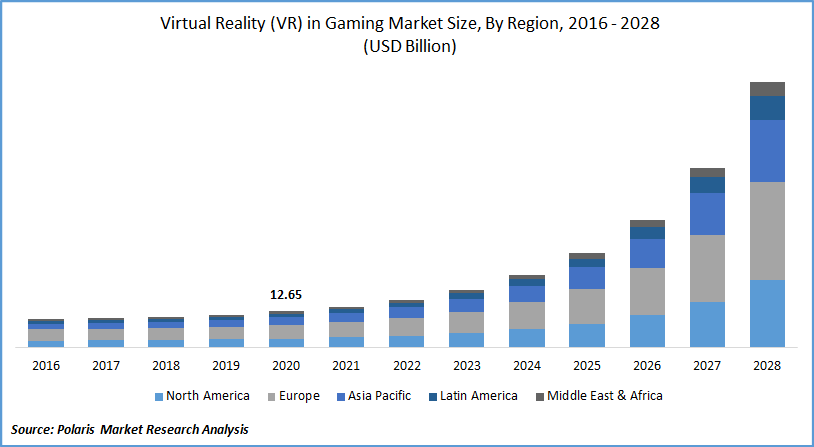 Know more about this report: request for sample pages
The companies operating in the market are significantly investing in Research & Development to develop consumer products that be connected to smartphones, consoles, and desktops, as most of the VR input devices are trial products. The demand is further expected to boost with the rising awareness among people for VR games and companies expanding their production activities.
However, huge investments are required to purchase hardware related to virtual reality (VR) technology, and most of the devices are prototypes, and are highly priced, which restricts the growth of the industry for virtual reality (VR) in games to a certain extent.
Although, with technological advancements, the price is anticipated to decrease during the forecast period. Device compatibility constraints as well as lack of awareness regarding technology usage are some of the industry barriers.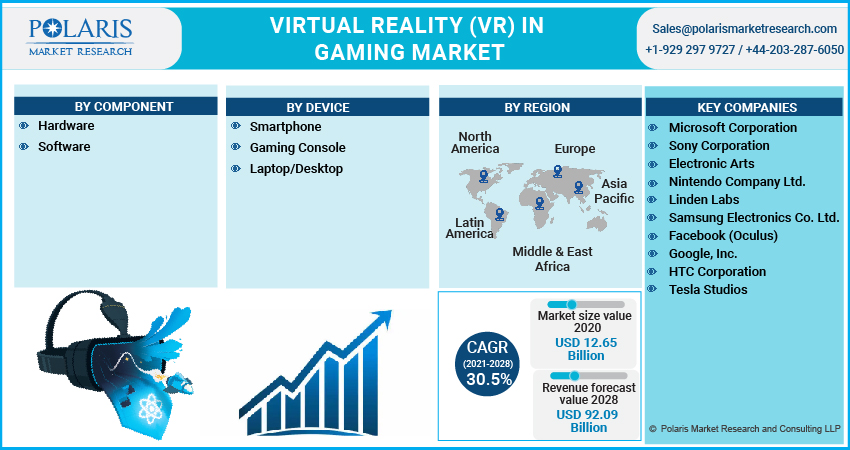 Know more about this report: request for sample pages
Segment Analysis
On the basis of device, the gaming console segment is dominating the market for Virtual Reality (VR) in gaming market and the segment is projected to continue its dominance till 2028. The gaming industry is always emerging and the new generation of consoles constantly replaces the previously used counterparts. Also, the smartphone is anticipated to be the fastest-growing segment.
The growth is attributed to the cost-effectiveness and portability offered by smartphones to their users. North America Virtual Reality (VR) in gaming market is expected to witness significant growth over the forecast period. The growth in North America is attributed to the high spending capacity of people residing in the region.
Furthermore, Latin America virtual reality (VR) in gaming industry is expected to grow at a high CAGR owing to factors such as rapidly increasing sales of consoles and a large gamer base. Countries such as China, Brazil, Japan, and Germany are contributing to the large market share.
Competitive Landscape
The major players operating in Virtual Reality (VR) in gaming include Microsoft Corporation, Sony Corporation, Electronic Arts, Nintendo Company Ltd., Linden Labs, Samsung Electronics Co. Ltd., Facebook (Oculus), Google, Inc., HTC Corporation, and Tesla Studios among others. The companies are engaged in developing various accessories such as devices for arms, treadmills, full bodysuits, and gloves.