The global ankylosing spondylitis (AS) market was valued at USD 4.48 billion in 2020 and is expected to grow at a CAGR of 8.5% during 2021-2028. Factors fueling the market growth include a strong drug pipeline, the presence of off-label drugs, rising cases of ankylosing spondylitis, and concerning investments in the sector.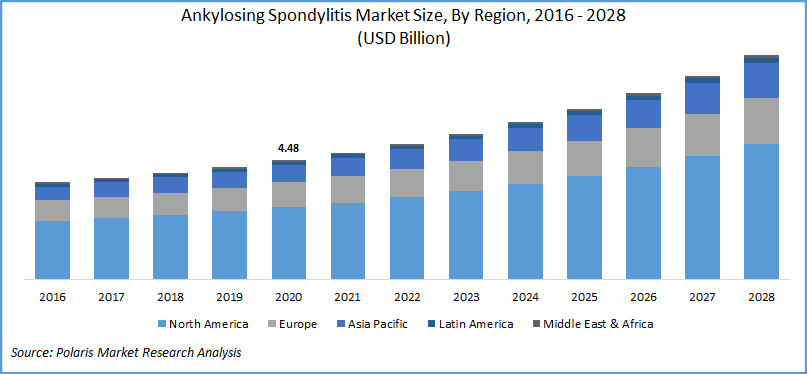 Know more about this report: request for sample pages
Ankylosing spondylitis is the type of inflammatory arthritis affecting the spine in different people in different ways, mostly with other related issues. Despite, its lack of awareness among individuals, the condition is not rare, and affects approximately 220,000 people in the UK. The economic burden of musculoskeletal diseases on NHS with around 6 to 9 percent of people representing medical practice somehow related with back pain, more than 10 percent also show features of ankylosing spondylitis.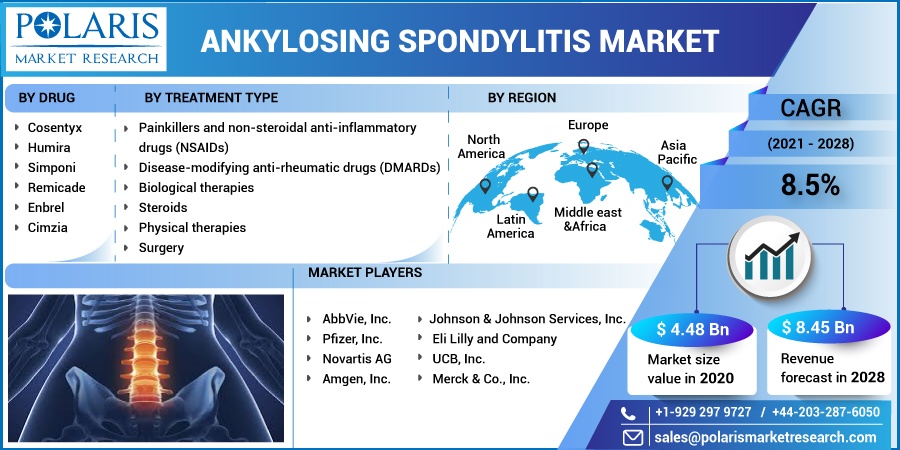 Know more about this report: request for sample pages
Industry Dynamics
Growth Drivers
Approval and commercialization of novel drugs and consequently increasing collaborations between the companies are expected to accelerate the market growth. For instance, in August 2020, AbbVie announced to apply to its drug candidate RINVOQ (upadacitinib; 15 mg), to the USFDA, for the treatment of people, actively suffering from ankylosing spondylitis.
The company also submitted the application to the European Medicines Agency (EMA) for the patients suffering from ankylosing spondylitis and in past must have received conventional therapies. The application to both FDA and EMA were supported with market data from SELECT-AXIS 1, a phase II/III study in which concerned drug candidate showed positive symptoms. The study revealed more than 52 percent of the people met with primary endpoints with a consistent safety profile.
In August 2019, Eli Lilly received approval for its drug, Taltz injection 80 mg/Ml for the treatment of active cases of ankylosing spondylitis. The product was already approved for psoriatic arthritis and moderate to severe plaque psoriasis, in 2016 and 2017.
Moreover, in September 2018, Gilead Lifesciences and Galapagos N.V. co-developed, Filgotinib, which already has completed phase II clinical trials for treating patients with moderate to severe ankylosing spondylitis. Moreover, the patent cliff has led to the flooding of a biosimilar in the market to improve patient access and outcome.
Ankylosing Spondylitis Market Report Scope
The market is primarily segmented on the basis of drug, treatment type and geographic region:
By Drug

By Treatment Type

By Region

Cosentyx
Humira
Simponi
Remicade
Enbrel
Cimzia
Others

Painkillers and non-steroidal anti-inflammatory drugs (NSAIDs)
Disease-modifying anti-rheumatic drugs (DMARDs)
Biological therapies
Steroids
Physical therapies
Surgery

North America (U.S., Canada)
Europe (France, Germany, UK, Italy, Spain, Netherlands, Austria)
Asia Pacific (Japan, China, India, Malaysia, Indonesia, South Korea)
Latin America (Brazil, Mexico, Argentina)
Middle East & Africa (Saudi Arabia, UAE, Israel, South Africa)
Know more about this report: request for sample pages
Insight by Drug
Based on the drug, the ankylosing spondylitis market is categorized into Cosentyx, Humira, Simponi, Remicade, Enbrel, Cimzia, and Others. In 2020, the Humira ankylosing spondylitis industry segment accounted for the largest share, owing to its high efficacy and low cost. On contrary, the product is forecasted to expect a decline in sales, owing to patent expiry and strong competition from biosimilar in the selected regions.
However, Cosentyx ankylosing spondylitis industry segment is projected to register the highest market growth over the forecast period. In October 2019, Novartis received approval from European Medicine for the Cosentyx for the non-radiographic axial spondyloarthritis. The company was planning to submit a label update application to the FDA, once approved by EM.
Geographic Overview
Geographically, the market is segregated as North America, Asia Pacific, Europe, South America, and Middle East & Africa. North America ankylosing spondylitis market is the largest regional revenue contributor followed by Europe and the Asia Pacific market. Most of the companies operating in the market for ankylosing spondylitis have their presence in the U.S., though there is no FDA approved drug for the indication, the companies are investing a lot to gain first-mover advantage and product exclusivity.
For instance, in August 2019, researchers at the Spondylitis Association of America in support of the National Institute of Arthritis and Musculoskeletal and Skin Diseases found two new genes ARTS1 and IL23R responsible for spondylitis. IL23R is largely plays role in an individual's immune system during infection, while ARTS1 is cutting down infectious foreign agents into pieces.
Along with HLA-B27, these two new genes can help doctors to identify people with a risk of developing ankylosing spondylitis and may lead to immunization treatment for the disease. These findings have led the scientific community to closely understand ankylosing spondylitis and helped to refute the longstanding idea that ankylosing spondylitis is an autoimmune disease.
Moreover, rising drug approvals in emerging countries such as India and China are contributing to the region's growth. For instance, in September 2020, China-based biopharma company Innovent Biologics Inc. announced the approval of Sulinno (adalimumab injection), an anti-TNF monoclonal antibody-drug by the Chinese regulator National Medical Products Administration (NMPA) for the treatment of the AS, including psoriasis and rheumatoid arthritis.
Competitive Insight
The prominent players operating in ankylosing spondylitis market are AbbVie, Inc., Pfizer, Inc., Novartis AG, Amgen, Inc., Johnson & Johnson Services, Inc., Eli Lilly and Company, UCB, Inc., and Merck & Co., Inc. The companies in the market for ankylosing spondylitis are strongly focusing on research and development efforts of various pharmaceutical companies to have better option of treatment. For instance, Pfizer announced to recruit clients for its clinical study and remission criterion of its drug candidate etanercept.