The global antibacterial haemostatic gels market was valued at USD 1,312.90 million in 2022 and is expected to grow at a CAGR of 6.5% during the forecast period.
Advancements in technology have led to the development of innovative antibacterial hemostatic gels with enhanced properties. These gels often have improved antimicrobial efficacy, prolonged action, and ease of application, making them more attractive to healthcare providers and patients. For example, in November 2021, The U.S. Food and Drug Administration ("FDA") received a 510(k) premarket notification for Cresilon, Inc. ("Cresilon"), a Brooklyn-based biotechnology business with a focus on hemostatic medical device innovations. This comes after Cresilon successfully introduced its ground-breaking hemostatic gel for the animal health industry, VETIGEL®. Technological advancements are driving market growth by introducing superior products.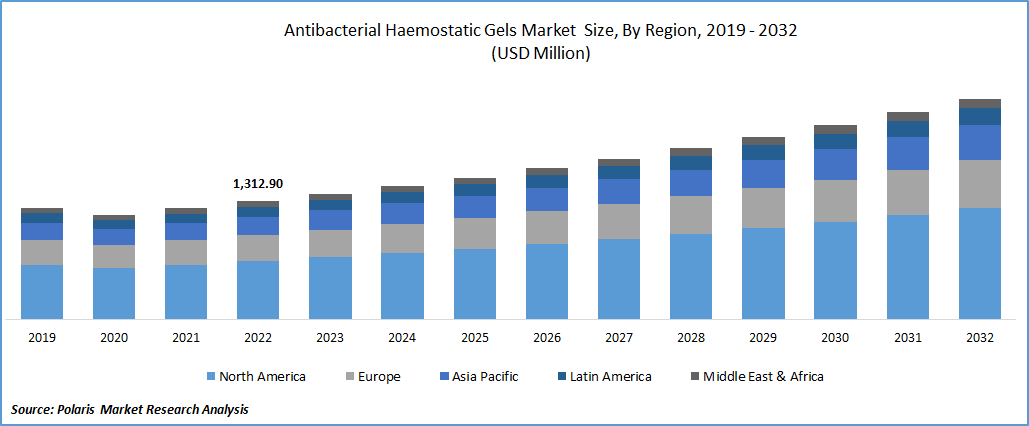 To Understand More About this Research: Request a Free Sample Report
Antibacterial hemostatic gels are primarily used for wound management and bleeding control in the medical field. During surgical procedures, these gels can be applied to the surgical site to control bleeding and prevent the growth of bacteria. They help promote clotting and reduce the risk of surgical site infections. In cases of traumatic injuries or emergencies requiring immediate bleeding control, hemostatic gels can achieve hemostasis while also providing antibacterial properties to prevent infections. Also, in sports medicine, these gels can manage bleeding and reduce disease risk in athletes with minor cuts, abrasions, or lacerations.
The COVID-19 pandemic has significantly increased the demand for infection control measures in healthcare settings. Antibacterial hemostasis gels, with their dual action of promoting hemostasis and preventing infection, have been recognized as valuable tools in managing wound care and surgical procedures during the pandemic. Furthermore, although the pandemic initially led to the postponement of elective surgeries, there has been a subsequent surge in surgical procedures as healthcare systems adapt to the new normal. This increased surgical activity has likely contributed to the demand for antibacterial hemostasis gels, as they are commonly used to control bleeding and reduce the risk of infection during surgeries.
However, the overall economic impact of the pandemic has influenced healthcare spending and budget allocations. Healthcare systems and institutions may have experienced financial constraints, potentially affecting the purchasing power and demand for antibacterial hemostatic gels. The pandemic has also disrupted global supply chains, affecting the production and distribution of various medical products.
For Specific Research Requirements, Speak With Research Analyst
Industry Dynamics
Growth Drivers
Rising chronic diseases drives the market
Chronic wounds, including diabetic foot, pressure, and venous leg ulcers, are becoming a growing healthcare concern worldwide. The incidence of chronic wounds is predicted to increase as the world's population ages, with estimates of 1.51 to 2.21 chronic injuries per 1000 people worldwide. To manage these wounds, antibacterial hemostatic gels are increasingly used to control bleeding, prevent infection, and promote healing. Public awareness of effective wound care management is rising, leading to increased demand for these gels among patients and healthcare professionals.
In addition, there is a rise in surgical procedures globally, both elective and emergency. Antibacterial hemostatic gels are extensively used in various surgical applications, including general surgery, orthopedics, cardiovascular surgery, and trauma care, to control bleeding and prevent infections. For instance, in the EU, there were at least 1.12 million cesarean sections in 2020, and around 310 million major procedures are carried out worldwide each year, with between 40 to 50 million taking place in the USA & 20 million in Europe. This increase in surgical procedures is driving the demand for antibacterial hemostatic gels.
Report Segmentation
The market is primarily segmented based on product type, end user, and region.
By Product Type

By End User

By Region

Urinanalysis Testing Kits

Hematology Testing Kits

Blood Pressure Monitoring Devices

Blood Glucose Monitoring Devices

Others

Homecare

Diagnostic Centres

Hospitals

Clinics

Others

North America (U.S., Canada)

Europe (France, Germany, UK, Italy, Netherlands, Spain, Russia)

Asia Pacific (Japan, China, India, Malaysia, Indonesia. South Korea)

Latin America (Brazil, Mexico, Argentina)

Middle East & Africa (Saudi Arabia, UAE, Israel, South Africa)
To Understand the Scope of this Report: Speak to Analyst
By Product Type
Urinanalysis testing kits segment is dominating the global market during forecast period
The urinalysis testing kits segment held the biggest global share in volume and value in 2022. These kits are typically used to analyze urine for multiple purposes, such as diagnosing diseases, monitoring health conditions, and conducting drug testing. They usually contain strips or cassettes with chemical reagents that react with various components of the urine, providing information on parameters such as pH, glucose, protein, ketones, and the presence of bacteria or other abnormalities.
By End-Use
Hospitals segment is the leading segment in the global market in forecasted period
Hospitals dominate the market during the projected period as these are the primary setting for surgical interventions; they tend to have a high demand for these products. Hospitals perform a wide range of surgical procedures, many requiring hemostatic agents like antibacterial hemostatic gels to control bleeding and prevent infection. It places a strong emphasis on infection control and prevention. These hemostatic gels provide an antimicrobial barrier, reducing the risk of wound infections. Therefore, hospitals may prioritize using these gels to minimize the likelihood of infections in their patient population.
Hospitals also deal with various types of wounds, including acute, surgical, and trauma-related. Antibacterial hemostatic gels can be an essential component of hospital wound care protocols, aiding in hemostasis, preventing infection, and supporting the healing process. Likewise, these have skilled healthcare professionals, including surgeons, wound care specialists, and nurses, who are trained in appropriately applying and using antibacterial hemostatic gels. Their expertise ensures proper and effective utilization of these gels in various clinical scenarios.
Regional Analysis
North America is accounting the largest share in the global market during forecast period
North America is expected to lead the global market share during the forecast period. The region is at the forefront of technological advancements, and medical innovations often have a competitive edge in the market. Likewise, significant investments in research and development (R&D) are escalating innovation in the healthcare sector. Advanced healthcare infrastructure is also a considerable factor bolstering the market's growth in the region.
For example, The US is one of the most technologically advanced nations in medicine, with significant expenditures on healthcare, many pharmaceutical firms, and a highly developed academic system. The region with well-developed healthcare infrastructure, including hospitals, clinics, and surgical centers, tends to demand more medical products like antibacterial hemostatic gels. As a result, North America, including the United States and Canada, has a well-established healthcare system, which may contribute to its prominence in the market.
Europe held a significant global market share in the fiscal year 2022. Increased surgeries substantially drive the demand for antibacterial hemostatic gels in the market across European countries. For example, In 2020, around 3,102,674 surgical procedures were performed in England and Wales. In addition, the UK National Health Service performs around 1.5 million major surgical procedures annually at about £5 billion.
Surgeries often involve incisions and tissue manipulation, which can lead to bleeding and carry a risk of infection at the incision site. Antibacterial hemostatic gels promote hemostasis by forming a clot and reducing bleeding in the surgical area by creating a protective barrier over the surgical site. As a result, the increasing number of surgeries and the need for effective bleeding control and infection prevention drives the demand for gels in the market. As surgical procedures continue to grow, the market for these gels is expected to expand to meet the rising demand.
Competitive Insight
The Antibacterial Haemostatic Gels market is fragmented and is anticipated to witness competition due to several players' presence. Major service providers in the market are constantly upgrading their technologies to stay ahead of the competition and to ensure efficiency, integrity, and safety. These players focus on partnership, product upgrades, and collaboration to gain a competitive edge over their peers and capture a significant market share.
Some of the major players operating in the global market include:
DEXX laboratories inc

Medura

Pfizer

StopBleed

Zoetis Inc
Recent Developments
In July 2021, Rapid-Seal, a high-performance, antibacterial haemostatic gel, has been introduced by Medcura, collaborated with the ASO, LLC, a significant US supplier of the first-aid items. This product is available at a large US pharmacy chain.
Antibacterial Haemostatic Gels Market Report Scope
| | |
| --- | --- |
| Report Attributes | Details |
| Market size value in 2023 | USD 1,395.22 million |
| Revenue forecast in 2032 | USD 2,452.94 million |
| CAGR | 6.5% from 2023 – 2032 |
| Base year | 2022 |
| Historical data | 2019– 2021 |
| Forecast period | 2023– 2032 |
| Quantitative units | Revenue in USD million and CAGR from 2023 to 2032 |
| Segments covered | By Product Type, By End User, By Region |
| Regional scope | North America, Europe, Asia Pacific, Latin America; Middle East & Africa |
| Customization | Report customization as per your requirements with respect to countries, region and segmentation. |