The global antimicrobial coatings market size was valued at USD 8.34 billion in 2020 and is expected to grow at a CAGR of 13.0% during the forecast period. The fundamental application of antimicrobial coatings is to prevent surfaces from being infected with germs and bacteria. These coatings have earned a prominent name for themselves quickly to become a billion-dollar industry currently.
Antimicrobial coated alloys with zinc oxide, copper, silver, titanium oxide, and zinc omadine prevent fungal and bacterial infection. This germ-killing technology is used spawning various industries such as medical, industrial, automotive, and food processing.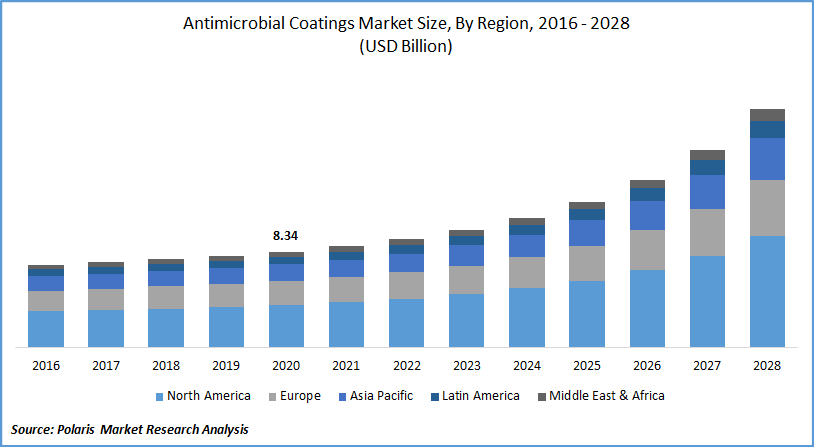 Know more about this report: request for sample pages
Antimicrobial Coatings (AMCs) consist of a chemical compound that wholly restricts the growth of microorganisms on the applied surface. They are used in healthcare settings and industries where sanitization of the working premise is of considerable importance.
AMCs are spawning significant growth owing to deep demand in the medical industry. Numerous diseases have sprung up that have been a substantial cause of mortality and morbidity across the globe, and which have posed a challenge to the health centers and hospitals. The medical industry is expected to witness massive growth. AMCs are highly effective against bacterial growth in this sector and have adopted many different technologies and chemical strategies.
The medical industry observes the coatings applied to equipment surfaces, textile products in hospital rooms, and other devices that need hygiene as mandatory in a clinical setting. As the hospitals and medical centers are growing phenomenally, the future growth for AMCs is high.
Know more about this report: request for sample pages
Industry Dynamics
Growth Drivers
Furthermore, reactions to antimicrobial resistance have emerged and have become a global phenomenon making it difficult to treat infectious diseases. Hence in this setting, AMC that eliminates pathogen transfer could vitally replace medical equipment and other products.
The global AMCs have come to speed in the technological changes taking place, leading to high growth. The developments include antimicrobial photocatalytic coatings, antimicrobial coated polymers, new generation antimicrobial coated ceramics, and water treatment on coated reactors.
One of the significant factors that restraints market growth includes applying these coatings with different cleaning methods in healthcare premises, resulting in the emission of toxic gases into the environment and have profound implications.
Antimicrobial Coatings Market Report Scope
The antimicrobial coating market is segmented on the basis of product, end-use, and region.
By Product

By End-Use

By Region

Silver
Copper
Titanium Dioxide
Others

Sanitary Facilities and Kitchen
HVAC
Food Processing and Packaging
Antimicrobial Textile
Mold Remediation
Construction
Medical Devices
Others

North America (U.S., Canada)
Europe (UK, France, Germany, Italy, Spain, Netherlands, Austria)
Asia-Pacific (India, China, Japan, South Korea, Malaysia, Thailand, Indonesia)
Latin America (Argentina, Brazil, Mexico)
Middle East & Africa (Israel, Saudi Arabia, South Africa, UAE)
Know more about this report: request for sample pages
Insight by Product
Silver is the most advanced and preferred material for the composition owing to its exceptional antimicrobial properties. Silver oxide is the most effective antimicrobial coated element used to fight bacterial remains known as escherichia coli. This bacterium is known to cause food poisoning, respiratory diseases, and at times skin infections. These factors have aided the antimicrobial coatings market growth and will continue doing so over the forecast period.
Insight by End-Use
AMCs are used in many end-use segments globally, such as medical, HVAC, food industry, mold remediation, and others. Amongst these, medical is the most critical application segment. The products are abundantly used in the food industry also for the prevention of pathogens.
This is observed because the growing population with the rapid scale of urbanization has led to convenience factors in production processes of the food industry such as take home, heat and serve and readymade packaged food and beverages. High voltage air conditioners use AMC too in mechanicals, vents, and related surfaces.
Geographic Overview
The demand for AMCs is increasing due to the rising importance given by the Government to antimicrobial costings in medical/healthcare settings. North America holds the highest market share for the product and has a massive demand for the product. The U.S. spends highly on the healthcare sector compared to other nations, and its average spending on in-hospital segment care is over USD 3 trillion annually.
Regulations by government bodies and healthcare agencies are driving the U.S. market more than anything else. Government is increasingly mindful of decreasing hospital-acquired infections. The food and beverages and textile industry in the U.S. and Canada also command growth in the antimicrobial coatings market.
Western Europe and the Asia Pacific are significant regional markets after North America. The fast growth in HVAC Sector and food industry has significantly attributed to the demand for coatings in Europe. The Asia Pacific also remains a prime contender to industry growth by holding a comprehensive market share owing to its large population and economic development, which is going strong for developing countries.
Competitive Landscape
The global market is highly competitive and consolidated with few industry players bound by the current market size. The key players in the industry include Akzo Nobel NV, BASF SE, Dow DuPont, AK Coatings, Inc., Biointeractions Ltd., PPG Industries Inc., Lonza Group Ltd., and Covalon Technologies Ltd.