The global automated guided vehicle (AGV) market was valued at USD 5.29 Billion in 2022 and is expected to grow at a CAGR of 10.2% in the forecast period. Autonomous guided vehicles, automated or self-guided, are driverless vehicles employed for material handling or as load carriers in warehouses, manufacturing facilities, or distribution centers. AGVs find applications in transporting raw materials or finished goods, work in progress, or lifting and handling products.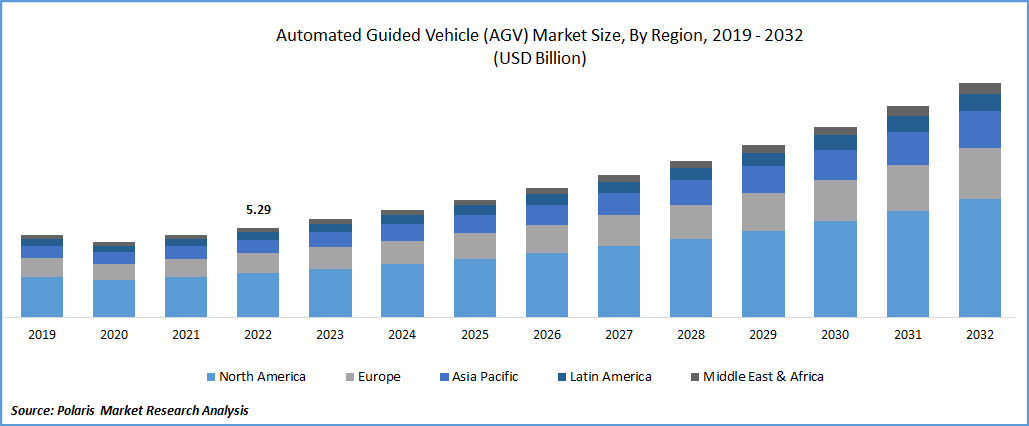 To Understand More About this Research: Request a Free Sample Report
The market for AGVs is bolstered by the burgeoning popularity of e-commerce and the increasing demand for automation in material handling across various industries. Other factors driving the market include technological advancements in AGVs, safety concerns in factories and warehouses, and the versatility of AGVs in handling material transportation and assembly tasks.
An automated guided vehicle (AGV) is a mobile robot that performs material handling and transportation tasks without human intervention. Equipped with sensors and navigation systems, AGVs can navigate through a facility or warehouse and transport materials from one location to another. AGVs find widespread use in manufacturing facilities, warehouses, and distribution centers to move materials and products. Additionally, AGVs can be used in healthcare facilities and airports to transport patients or luggage.
The increasing demand for automation in diverse industries and manufacturing facilities serves as a primary driver for the growth of the automated guided vehicle (AGV) market. AGVs in these settings reduce human effort and increase worker safety. However, the period required to achieve a return on investment (ROI) can be lengthy, making AGVs unsuitable for short-term applications. Furthermore, high maintenance costs and initial investments pose significant challenges to the automated guided vehicle market.
Automated guided vehicles find application in several end-use industries such as logistics, automotive, healthcare, manufacturing, food, and beverages. The need for industrial equipment is driven by increased productivity and reduced labor costs. The demand for AGVs is predicted to increase in response to the growing trend of automation in industries. The persistent need for custom material handling and transport solutions to boost efficiency is driven by rising industrialization. In November 2021, JBT, a technology solutions provider in the food and beverage sector, acquired Urtasun Technologia Alimentaria, which specializes in providing solutions for fruit and vegetable processing.
The COVID-19 pandemic has had a significant impact on the automated guided vehicle market due to government-imposed lockdowns and manufacturing shutdowns, resulting in a lack of available workforce. However, the market is expected to experience significant growth in the future due to increased demand for contactless and efficient logistics infrastructure. Additionally, the rising demand for automation in various industries and the need for increased safety, accuracy, and productivity are contributing to the growth of the automated guided vehicle market.
Industry Dynamics
Growth Drivers
Integrating an AGV system can replace human labor, providing significant cost benefits for operating organizations. Not hiring new employees or replacing existing ones helps reduce expenses, such as training and finding new personnel. According to the U.S. Bureau of Labor Statistics, labor wages, and salaries increased by 1.2%, and benefit costs increased by 1.8%. Furthermore, employees expect pay raises and benefits as they gain experience to increased labor costs for the company each year. In contrast, profits from AGV projects result in pure profit, except for maintenance and power consumption costs.
Additionally, AGVs can perform processes of fixed automation systems like conveyors, which stand costly and commonly interfere with workflow during implementation. Implementing fixed automation systems can halt the process of another facility, reducing productivity. AGVs are less expensive to enforce and do not interfere with other facilities' operations. While fixed automation systems are expensive and challenging to move, AGVs can be reprogrammed for new tasks and improved functionality.
Automated guided vehicles (AGVs) enhance worker safety through several means. They can perform hazardous tasks for human workers, such as handling dangerous substances, working in extreme temperatures, and transporting large objects. Moreover, they eliminate the human factor, often the root cause of many accidents. Unlike conventional forklift operators who may speed around a facility and pose a risk to the safety of workers, AGVs operate in a controlled manner with smooth acceleration/deceleration and monitored maximum speeds.
Report Segmentation
The market is primarily segmented based on type, battery type, navigation technology, application, industry, and region
By Type

By Battery Type

By Navigation Technology

By Application

By Industry

By Region

Tow Vehicles

Unit Load Carriers

Forklift Trucks

Pallet Trucks

Assembly Line Vehicles

Others

Lead

Lithium Ion

Nickel Based

Others

Magnetic Guidance

Optical Tape Guidance

Vision Guidance

Laser Guidance

Inductive Guidance

Others

Pallet Handling

Handling Raw Materials

Work in Process Movement

Container Handling

Roll Handling

Final Product Handling

Trailor Loading

Others

Food & Beverages

Healthcare

Paper & Printing

Manufacturing

Logistics

Retail

Chemical

Others

North America (U.S, Canada, Mexico)

Asia-pacific (China, Japan, India, Australia, Rest of Asia- pacific)

Europe (Germany, UK, France, Spain, Italy, Rest of Europe)

LAMEA (Latin America, Middle East & Africa)
To Understand the Scope of this Report: Speak to Analyst
The unit load carriers' segment is expected to witness the highest growth share in 2022
The unit load carrier segment is anticipated to experience the highest share in 2022. AGVs designed for unit loads transport large containers, pallets, and rolls and offer the advantage of efficient task scheduling by reducing aisle traffic and minimizing product damage. For example, in September 2021, Addverb Technologies Private Limited, a company specializing in robotics and automation, announced its expansion into the Australian, European, and Singaporean markets in response to the increasing demand for unit load AGVs and automation solutions in the global market.
The laser guidance segment is expected to witness the largest growth share in 2022
In 2022, the laser guidance segment was the dominant technology in the AGV market, with the largest revenue share growth forecasted for the future. This is due to the demand for intelligent and effective routing, driving the rising acceptance of automated vehicles.
Using computer vision and advanced software solutions has improved AGV's ability to analyze their environment in real time, making them more attractive for operations in challenging environments, such as navigating narrow aisles or transporting large components. For example, in April 2021, Toyota Industries Firm launched "T-Hive," an autonomous vehicle software corporation that provides solutions for all its vehicles. This unified solution promises to enhance the storage, transportation, and distribution of goods for customers using logistics facilities worldwide.
Asia Pacific region is expected to hold the fastest CAGR in the forecast period
The Asia Pacific region is anticipated to exhibit the fastest CAGR over the forecast period. This can be attributed to the significant growth of the e-commerce industry in emerging economies such as China and India. In October 2021, Shenzhen Casun Intelligent Robot Co., Ltd., a manufacturer of automation machinery, launched the CASUN Intelligent Robot "Little Giant," which is equipped with self-deployed intelligent control to perform loading and unloading tasks in various industries, enabling AGVs to operate inside and outside of warehouses. The growth of the e-commerce industry in the region is prompting several e-commerce companies to explore opportunities in these markets.
The North American region is expected to demonstrate robust growth as it holds the largest market share in the automated guided vehicle market during the forecast period. This growth is attributed to the increase in import and export operations. Warehouse operators are adopting automation technology to achieve maximum productivity and optimize warehouse operations. To meet the increasing demands of clients, companies operating in the region are introducing new products with advanced technology. With the help of automated guided vehicles, pallets can be loaded and unloaded automatically.
Competitive Insight
Some of the prominent key players operating in the automated guided vehicle (AGV) market space include Egemin Automation Inc., Swisslog Holding AG, Daifuku Co., Ltd., Bastian Solutions, Inc., JBT, Dematic, TOYOTA INDUSTRIES CORPORATION, Seegrid Corporation, BALYO, Hyster-Yale Materials Handling, Inc., Kollmorgen, E&K Automation GmbH, ELETTRIC80 S.P.A., KMH Fleet Solutions, inVia Robotics, Inc., Fetch Robotics, Inc., Schaefer Systems International, Inc., Locus Robotics, Transbotics, System Logistics Spa.
Recent Developments
In October 2020, Box Robotics, a startup specializing in mobile robotics, including three-dimensional LiDAR, high-definition maps, and deep learning, was acquired by Seegrid Corporation. This strategic move aims to improve situational awareness for Seegrid's AGVs in distribution, manufacturing, and e-commerce facilities.

In March 2022, Covariant, a significant worldwide AI robotics business, and KNAPP, a technology partner for intelligent value chains, expanded their partnership to develop AI-powered robot solutions further and increase their market presence. KNAPP's picking robot, the Pick-it-Easy Robot, has been at the core of their efforts throughout their collaboration with Covariant on several projects thus far. The robot has proven useful in increasing warehouse productivity in various businesses to its versatility and capacity for handling multiple objects.

In February 2021, SafeLog introduced warehouse robots (AGV L1), which can carry loads weighing 1500 kg to 3000 kg and operate singly or in swarms. The robot has agent-based control, which enables users to forego investing in a more sophisticated central control station. Also, the autonomous guided vehicle is being used in intralogistics and production.
Automated Guided Vehicle (AGV) Market Report Scope
| | |
| --- | --- |
| Report Attributes | Details |
| Market size value in 2023 | USD 5.78 Billion |
| Revenue forecast in 2032 | USD 13.83 Billion |
| CAGR | 10.2% from 2023 - 2032 |
| Base year | 2022 |
| Historical data | 2018 - 2021 |
| Forecast period | 2023 - 2032 |
| Quantitative units | Revenue in USD Billion and CAGR from 2023 to 2032 |
| Segments covered | By Type, By Battery Type, By Navigation Technology, By Application, By Industry, By Region |
| Regional scope | North America, Europe, Asia Pacific, Latin America, Middle East & Africa |
| Key companies | Egemin Automation Inc., Swisslog Holding AG, Daifuku Co., Ltd., Bastian Solutions, Inc., JBT, Dematic, TOYOTA INDUSTRIES CORPORATION, Seegrid Corporation, BALYO, Hyster-Yale Materials Handling, Inc., Kollmorgen, E&K Automation GmbH, ELETTRIC80 S.P.A., KMH Fleet Solutions, inVia Robotics, Inc., Fetch Robotics, Inc., Schaefer Systems International, Inc., Locus Robotics, Transbotics, System Logistics Spa. |