The global material handling equipment market was valued at USD 200.72 billion in 2022 and is expected to grow at a CAGR of 5.4% during the forecast period.The material handling equipment market is experiencing significant growth, driven by the increasing demand for automation in manufacturing industries and warehouses. This growth is supported by rising demand from automotive, chemical, and food & beverage industries worldwide. The need for flexibility and efficiency in warehouse operations has led to increased adoption of material handling equipment, further accelerated by the growing adoption of advanced technologies to maximize efficiency.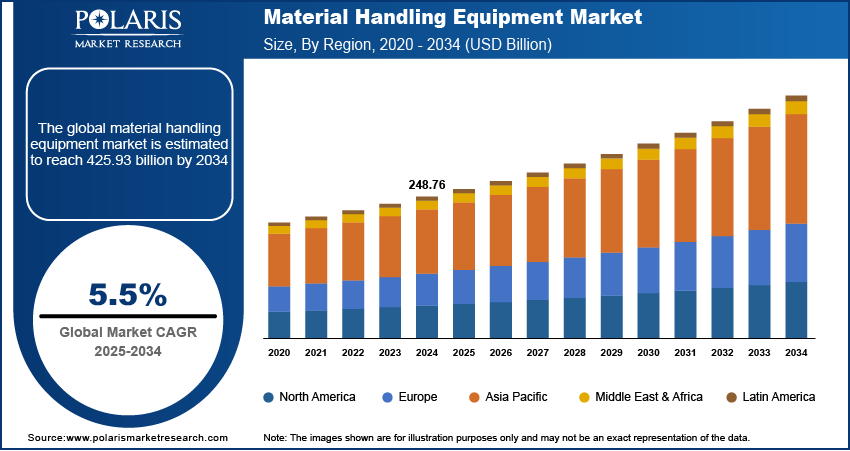 To Understand More About this Research: Request a Free Sample Report
The market also benefits from the rising labor costs and labor shortage, which have increased the demand for material handling equipment market. Additionally, the growth of the global manufacturing industry, diverse sector applications, and growing use in automobile production are driving market growth. However, the market's development is restricted by the high initial investment. Nevertheless, emerging economies and technological advancements are expected to create numerous growth opportunities in the market during the forecast period.
Furthermore, the market is witnessing a surge in the adoption of automation, leading to the development of fully automated industrial facilities in developed nations. Moreover, the ongoing modernization of industrial facilities and infrastructure to enhance production capacity is expected to boost the growth of this market. The e-commerce sector is also projected to witness significant growth during the forecast period, primarily due to increased usage of online shopping platforms, rising logistics infrastructure, and the presence of large online merchants. Consequently, warehouse owners increasingly incorporate efficient material handling equipment to effectively manage the supply chain ecosystem.
The market has been significantly affected by the COVID-19 pandemic, as the global supply chain disruptions caused by it have decreased demand for this equipment in various industries, such as manufacturing and distribution centers. Labor shortages due to lockdown measures and social distancing protocols have also affected the production and operation of material-handling equipment. However, the pandemic has highlighted the importance of automation and efficient material handling equipment in ensuring business continuity and minimizing disruptions during crises. Therefore, there has been an increased focus on adopting advanced technology and automation in various industries to improve the supply chain's resilience and reduce dependence on human labor.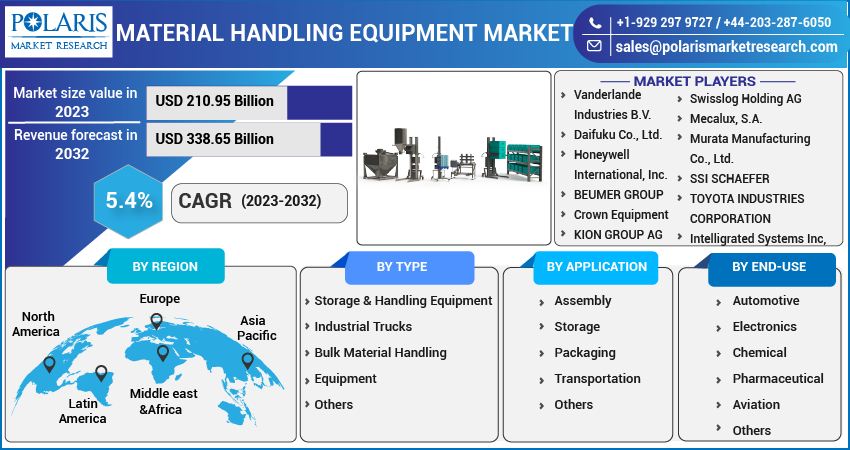 For Specific Research Requirements, Request for a Customized Report
Industry Dynamics
Growth Drivers
Various factors, including the increasing demand for automation in manufacturing, e-commerce, and logistics, drive the market. Automation improves efficiency, reduces labor costs, and enhances safety in material handling operations, leading to automated material handling equipment adoption.
The ongoing modernization of industrial facilities and infrastructure to improve production capacity and streamline supply chain operations. As a result, advanced material handling equipment is being incorporated to enhance the efficiency and productivity of material handling operations.
The rising e-commerce industry is also driving the growth of the material-handling equipment market. With the growing volume of online orders, there is a need for efficient and effective material-handling equipment to manage the supply chain ecosystem.
Furthermore, there is an increasing emphasis on workplace safety, which has led to the incorporation of ergonomic and safety features in material handling equipment. This has further propelled the demand for these products. In addition, the growing trend towards adopting green technology and sustainable practices has led to the development of energy-efficient and eco-friendly material handling equipment. This trend will drive the market's growth in the coming years.
Report Segmentation
The market is primarily segmented based on type, application, end-use, and region.
By Type

By Application

By End-Use

By Region

Storage & Handling Equipment

Industrial Trucks

Bulk Material Handling Equipment

Others

Assembly

Storage

Packaging

Transportation

Others

Automotive

Electronics

Chemical

Pharmaceutical

Aviation

Others

North America (U.S., Canada)

Europe (France, Germany, UK, Italy, Netherlands, Spain, Russia)

Asia Pacific (Japan, China, India, Malaysia, Indonesia, South Korea)

Latin America (Brazil, Mexico, Argentina)

Middle East & Africa (Saudi Arabia, UAE, Israel, South Africa)
To Understand the Scope of this Report: Speak to Analyst
Storage & handling equipment segment hold the largest share of the market in 2022
The Storage & Handling Equipment segment holds the largest share of the market. Owing to comprises various equipment for storing and handling goods within a facility. This includes pallet racks, shelving units, mezzanines, automated storage and retrieval systems (AS/RS), conveyor systems, and lift trucks.
Pallet racks store palletized goods, while shelving units are ideal for organizing small to medium-sized items. Mezzanines are intermediate floors that increase storage space within existing facilities. AS/RS systems use computer-controlled equipment to move and store goods, while conveyor systems are used for shifting goods within a facility. Lift trucks are used for lifting and moving heavy loads. The demand for storage and handling equipment is driven by the growth in e-commerce, retail, and manufacturing industries, which require efficient storage and handling solutions to handle large volumes of goods.
Pharmaceutical segment is anticipated to hold significant CAGR during forecast period
The pharmaceutical sector is expected to experience a significant CAGR during forecast period. The reason is that the demand for drugs is rising due to the increasing prevalence of various diseases. Storage and material handling equipment for pharmaceuticals offers a solution to address this challenge. These systems are deployed to enhance productivity, save time, reduce labor, minimize waste, lower costs, optimize product quality, and ensure safety.
On the other hand, airports use baggage handling systems, a conveyor system, to move checked-in luggage from ticket counters to the flight loading area and from the aircraft to the baggage claim area. The aviation industry's increased adoption of baggage handling systems is contributing to the growth of this product.
Asia Pacific held the highest CAGR in 2022
The Asia Pacific region held the highest CAGR and will likely continue its significant growth over the forecast period. This is attributed to the strong economic progress of India, China, and certain ASEAN countries. The region's overall development is also contributing to the market's growth. The market also benefits from customers' efforts and substantial investments to improve their delivery centers and warehousing infrastructure worldwide.
China is experiencing remarkable growth in the industry and is a major manufacturing hub for the equipment industry. The country's automotive manufacturing sector and the establishment of numerous manufacturing clusters are delivering significant opportunities for handling equipment manufacturers, driving the growth of the construction industry. Consequently, China is estimated to hold the highest market share in the industry.
In North America, the market is expected to witness significant growth during the forecast period, despite its initial setback due to the outbreak of the COVID-19 pandemic. The market is steadily recovering its growth pace. The region's strong presence of prominent companies is also aiding the market growth. Additionally, these companies' indirect efforts, such as technological advancements, strategic alliances, acquisitions, collaborations, and joint ventures, contribute to the market growth of material handling equipment.
Competitive Insight
Some of the major players operating in the global market include Vanderlande Industries B.V.; Daifuku Co., Ltd.; Honeywell International, Inc.; BEUMER GROUP; Crown Equipment, KION GROUP AG; Swisslog Holding AG; Mecalux, S.A.; Murata Manufacturing Co., Ltd.; SSI SCHAEFER; TOYOTA INDUSTRIES CORPORATION and Intelligrated Systems Inc,
Recent Developments
In March 2022, Toyota Industries has acquired, via store, a logistics system integrator based in Germany to bolster its materials handling equipment and software business.

In April 2021, Jungheinrich has broadened its range of products by introducing a new tugger train system, the LiftLiner. This system allows carts to be loaded and unloaded from both sides. To achieve this objective, the company has partnered with K. Hartwall, a logistics solutions provider with a lengthy history of supplying load carriers.
Material Handling Equipment Market Report Scope
| | |
| --- | --- |
| Report Attributes | Details |
| Market size value in 2023 | USD 210.95 billion |
| Revenue forecast in 2032 | USD 338.65 billion |
| CAGR | 5.4% from 2023 – 2032 |
| Base year | 2022 |
| Historical data | 2019 – 2021 |
| Forecast period | 2023 – 2032 |
| Quantitative units | Revenue in USD billion and CAGR from 2023 to 2032 |
| Segments Covered | By Type, By Application, By End-Use, By Region |
| Regional scope | North America, Europe, Asia Pacific, Latin America; Middle East & Africa |
| Key Companies | Vanderlande Industries B.V.; Daifuku Co., Ltd.; Honeywell International, Inc.; BEUMER GROUP; Crown Equipment, KION GROUP AG; Swisslog Holding AG; Mecalux, S.A.; Murata Manufacturing Co., Ltd.; SSI SCHAEFER; TOYOTA INDUSTRIES CORPORATION and Intelligrated Systems Inc, |