The global automotive coatings market size was valued at USD 15.82 billion in 2020 and is expected to grow at a CAGR of 7.0% during the forecast period. The market is driven by growing application as blockades to car paints from thrilling acid rains, heat, UV radiations, and dust accompanied by feature of improving automobile appearance.
Customer's expectations for efficiency maximization, appealing appearance and compliance with environmental regulations are demonstration of the modernistic machineries that are used in production of products and upgraded processes, thereby creating long lasting surfaces for automotive vehicles.
Several technological developments in coating include their characteristics of deposition, the advancement of monitoring droplets throughout its application, and ground-breaking understandings of these products. These factors are expected to boost the market demand of automotive coatings over the coming years.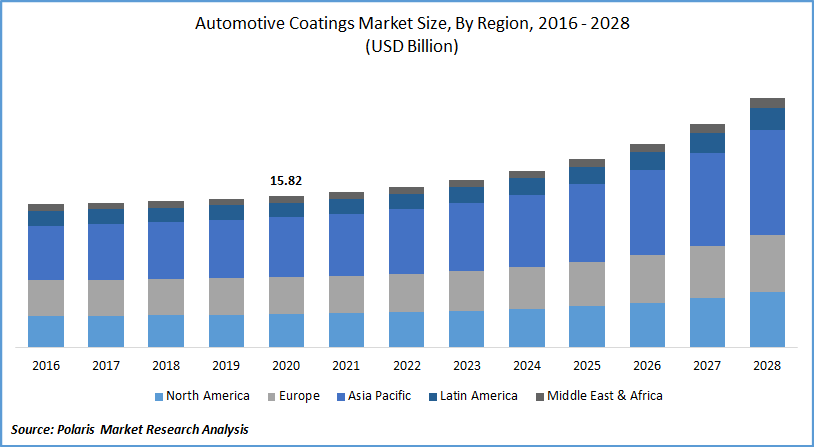 Know more about this report: request for sample pages
Other factors such as protection from corrosion, enhanced aesthetics, cost cutting in production to ease of bulk manufacturing and meeting the ecological & governing standards as well as maintaining its characteristics improved robustness and performance are anticipated to critically influence the development and application of several innovative coatings in the automotive market.
Additionally, the relative positioning of these market factors is high and superiority of a single factor at the outlay of the other factor is unconceivable. Advancements in manufacturing technologies and paint formulations have added to the expansions of these coating substances and influenced the application of automotive coatings.
These products have enabled in reduction of maintenance cost and ownership as the use of smart coating with self-healing properties aid in automatically rectifying of paint surface without any additional support.
Moreover, the enhanced surface robustness is the prime development in the application of these products. Addition of properties to product like self-healing, super-hydrophobicity, self-sensing, sound proofing, self-stratifying, and vibration damping makes the surface more durable and potentially long-lasting.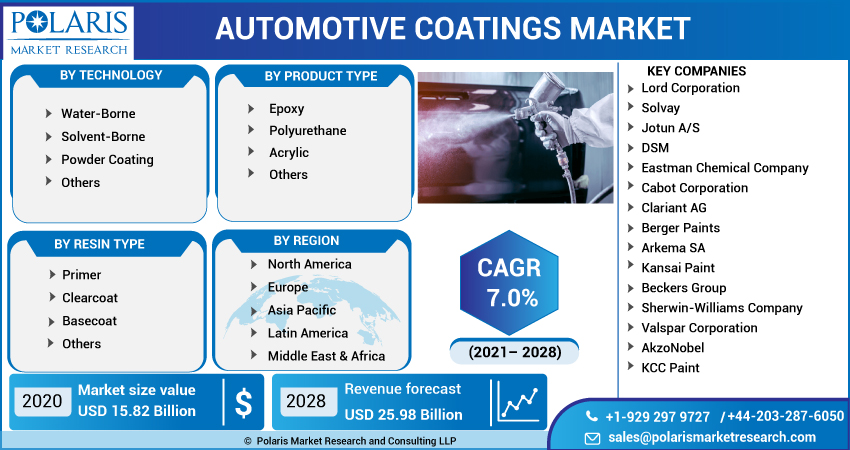 Know more about this report: request for sample pages
Segment Analysis
Enhancement of coating life and environmental changes can be achieved using smart coatings in the automotive market. They are very receptive to mechanical trigger, corrosion, abrasives, or sound proofing. These coatings adapt and self-heal rendering to varied environmental retorts.
Popularity of self-healing coatings among all product types has risen owing to emphasis on retaining a specific form of memory polymer which is activated with manipulation of moisture and temperature along with the influence of UV radiation.
The other smart coatings forms have internal sensing capability that involves lively or inert activation of numerous fluorescent quantum molecules. The technological advancement in both product and process are predicted to further fuel the adoption of automotive coatings in the locomotive trade.
Automotive Coating Market Report Scope
By Technology

By Product

By Resin Type

By Region

Water-Borne
Solvent-Borne
Powder Coating
Others

Primer
Clearcoat
Basecoat
Others

Epoxy
Polyurethane
Acrylic
Others

North America (U.S., Canada)
Europe (Germany, UK, France, Italy, Spain, Belgium, Russia, Netherlands)
Asia-Pacific (China, Japan, India, Australia, Korea, Singapore, Malaysia, Indonesia, Thailand, Philippines)
Latin America (Brazil, Mexico, Argentina)
Middle East & Africa (UAE, Saudi Arabia, South Africa)
Know more about this report: request for sample pages
Regional Analysis
Over the coming years, the market is expected to be dominated by the demand in the Asia Pacific region owing to rising automotive manufacturing demand especially in Japan, China, Korea, India, as well as Australia. North America is considered to be a potential market in terms of the production of these products.
Competitive Landscape
The market is dominated by few leading participants such as Lord Corporation, Solvay, Jotun A/S, DSM, Eastman Chemical Company, Cabot Corporation, Clariant AG, Berger Paints, Arkema SA, Kansai Paint, Beckers Group, Sherwin-Williams Company, Valspar Corporation, AkzoNobel, KCC Paint, Nippon Paint, Bayer AG, BASF, PPG Industries, and Axalta Coating Systems.