The global automotive oil recycling market was valued at USD 45.76 billion in 2022 and is expected to grow at a CAGR of 6.2% during the forecast period.
The automotive oil recycling industry focuses on collecting, processing, and rejuvenating used automotive lubricants, including engine oils, transmission fluids, and hydraulic fluids. Rather than being thrown away, these oils undergo treatment to eliminate impurities and contaminants, making them suitable for reuse in various sectors, such as automotive, industrial, and maritime.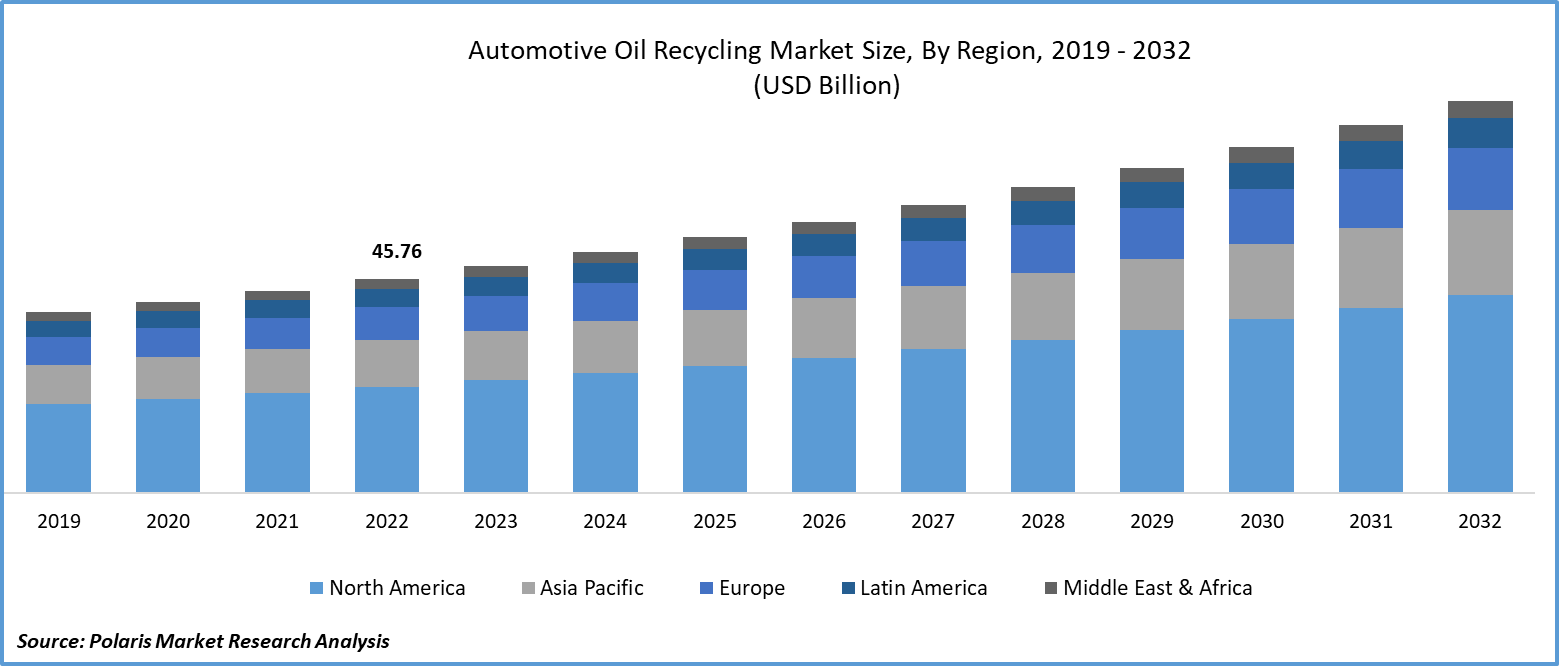 To Understand More About this Research: Request a Free Sample Report
In today's global sustainability agenda, the automotive oil recycling industry has become increasingly important. Given the significant environmental impact of the automotive sector, proper disposal and recycling of used oil have become essential priorities. This industry not only addresses environmental challenges but also provides an economically viable path for sustainable practices.
For instance, in March 2022, Indian Oil Corporation Limited Introduced Servo lubricants crafted from recycled base oils, championing sustainability without compromising on performance excellence.
The market for recycling used automotive oils has been driven by growing environmental consciousness and stringent regulations governing their disposal. Governments around the world are imposing strict guidelines to ensure proper handling and recycling of used oils, forcing car manufacturers and service centers to adopt sustainable practices.
However, the automotive oil recycling market faces challenges such as contamination, quality assurance, market fragmentation, and competition. It is a persistent challenge to ensure that the recycled oil meets the required quality standards.
Growth Drivers
Rise in resource conservation and energy efficiency
Recycling used oil not only helps conserve valuable resources but also reduces the energy and emissions associated with producing new lubricants from raw materials. As a result, the recycling process presents an attractive option for businesses looking to enhance their sustainability profile.
Moreover, continuous innovation in oil re-refining technologies has significantly improved the quality of recycled oil. Advanced processes like hydro-treating and vacuum distillation have elevated the quality of regenerated oil, making it comparable to virgin oil in terms of performance.
The automotive oil recycling market is at the forefront of sustainable solutions for the automotive industry. By transforming used oils into valuable resources, this market not only addresses environmental concerns but also provides a compelling economic opportunity. With advancements in technology and growing commitment to sustainability, the future of this market is poised for continued growth and innovation.
Report Segmentation
The market is primarily segmented based on oil type, application, sales channel, and region.
By Oil Type

By Application

By Sales Channel

By Region

Engine Oil

Gear Oil

Hydraulic Oil

Others

Space Heater Fuel

Boiler Fuel

Industrial Heating

Others

Direct Sales

Indirect Sales

North America (U.S., Canada)

Europe (France, Germany, UK, Italy, Netherlands, Spain, Russia)

Asia Pacific (Japan, China, India, Malaysia, Indonesia, South Korea)

Latin America (Brazil, Mexico, Argentina)

Middle East & Africa (Saudi Arabia, UAE, Israel, South Africa)
To Understand the Scope of this Report: Speak to Analyst
By Oil Type Analysis
Engine oil segment is expected to witness highest growth during forecast period
The engine oil segment is expected to grow at the fastest CAGR during the forecasted period. Engine oil plays a vital role in the automotive oil recycling market, representing a significant portion of the used lubricants collected for recycling. It helps in the smooth functioning of an automobile's engine by lubricating moving parts, reducing friction, and dissipating heat. Over time, engine oil undergoes wear and contamination, requiring replacement.
The process of recycling engine oil is meticulous. First, the used oil is collected and transported to recycling facilities. Then, it undergoes a series of treatments to remove impurities, contaminants, and degraded additives. This process typically includes sedimentation, filtration, and chemical treatments to rejuvenate the oil's performance characteristics.
After undergoing purification and refinement, the recycled engine oil emerges as a sustainable substitute for virgin oil, reentering the market. It finds utility in various industrial and commercial contexts beyond automotive engines. This contributes significantly to conserving resources and promoting environmental sustainability.
The recycling of engine oil stands as a cornerstone of the automotive oil recycling market, aligning with global efforts to reduce waste and mitigate the environmental impact of automotive operations. This not only safeguards valuable resources but also diminishes the energy consumption and emissions linked to the production of new engine oil. Furthermore, it exemplifies the industry's steadfast dedication to conscientious and sustainable practices in the pursuit of a more eco-conscious future.
By Application Analysis
Industrial heating segment accounted for the largest market share in 2022
The industrial heating segment holds the largest market share in 2022 and is expected to maintain its market position throughout the forecast period. Industrial heating is a crucial component of the automotive oil recycling market. It is used in the re-refining process, where high temperatures are applied to used automotive oils to remove impurities, contaminants, and degraded additives. This heating process separates different components of the used oil, allowing for purification and regeneration of the oil to meet industry standards.
The industrial heating process usually involves methods such as vacuum distillation and hydro-treating. Vacuum distillation applies high temperatures under vacuum conditions to facilitate the separation of various components. Hydro-treating, on the other hand, uses hydrogen gas and a catalyst to eliminate impurities like sulfur, nitrogen, and heavy metals.
Efficient industrial heating technology ensures that the recycled oil meets the required quality standards for reuse. This process not only enhances the quality of the regenerated oil but also aligns with sustainability goals by conserving resources and reducing environmental impact. Industrial heating plays a critical role in the automotive oil recycling market, enabling the transformation of used oils into valuable resources. By utilizing advanced heating techniques, the industry ensures that recycled oil meets high-quality standards, making it a viable alternative to virgin oil. This process underscores the market's commitment to responsible and sustainable practices in the automotive sector.
By Sales Channel Analysis
Direct sales segment held the significant market revenue share in 2022
The direct sales segment held a significant market share in revenue share in 2022. Direct sales in the automotive oil recycling market involve manufacturers or recycling facilities selling their recycled oil products directly to end-users or businesses. This approach eliminates intermediaries and fosters a more direct relationship between the supplier and the customer. Direct sales offer advantages such as personalized service, customized solutions, and often more competitive pricing. By connecting directly with consumers or industrial clients, recycling facilities can cater to specific needs and build long-term relationships. This method not only ensures a more efficient distribution of recycled oil but also allows for a more transparent and responsive approach to meet the diverse requirements of the automotive industry and other sectors.
Regional Insights
North America region dominated the global market in 2022
The North America region dominated the global market with the largest market share in 2022 and is expected to maintain its dominance over the anticipated period. The automotive oil recycling market in North America is a thriving sector addressing environmental sustainability. With a strong emphasis on responsible waste management, the region leads in recycling used automotive oils. Stricter regulations and growing environmental awareness have propelled the market's growth. Advanced technologies and efficient recycling facilities ensure high-quality regenerated oil. Additionally, collaborations between manufacturers, recyclers, and government bodies promote sustainable practices. The North American market not only mitigates environmental impact but also fosters economic benefits, making it a pivotal player in the global automotive oil recycling landscape.
The automotive oil recycling market in Europe is a prominent driver of environmental sustainability. The region boasts stringent regulations and a well-established recycling infrastructure, ensuring responsible disposal of used automotive oils. Advanced re-refining technologies play a crucial role in producing high-quality regenerated oil. Europe's focus on circular economy principles and eco-conscious consumer behavior further propels the market's growth. Collaborative efforts between governments, industry players, and environmental organizations have been instrumental in shaping the market's success. Europe's automotive oil recycling market not only addresses environmental concerns but also sets a global standard for responsible and sustainable practices in the automotive industry.
Key Market Players & Competitive Insights
The automotive oil recycling market is fragmented and is anticipated to witness competition due to several players' presence. Major service providers in the market are constantly upgrading their technologies to stay ahead of the competition and to ensure efficiency, integrity, and safety. These players focus on partnership, product upgrades, and collaboration to gain a competitive edge over their peers and capture a significant market share.
Some of the major players operating in the global market include:
Avista Oil AG

Balaji Agro Bio Fuels

Dominion Oil Recycling, Inc.

Eco Services Operations, LLC

ENVA Group

Evergreen Oil, Inc.

GFL Environmental Inc.

Heritage-Crystal Clean, Inc.

Mahoney Environmental

Neste Corporation

Oil Re-Refining Company

Safety-Kleen Systems, Inc.

Slicker Recycling Ltd.

Southern Oil (SA)

Vertex Energy, Inc.
Recent Developments
In September 2022, Heritage-Crystal Clean completed the acquisition of Enevo's used oil collection business in Finland, significantly broadening its collection network across Europe.
Automotive Oil Recycling Market Report Scope
| | |
| --- | --- |
| Report Attributes | Details |
| Market size value in 2023 | USD 48.49 billion |
| Revenue forecast in 2032 | USD 83.54 billion |
| CAGR | 6.2% from 2023 – 2032 |
| Base year | 2022 |
| Historical data | 2019 – 2021 |
| Forecast period | 2023 – 2032 |
| Quantitative units | Revenue in USD billion and CAGR from 2023 to 2032 |
| Segments covered | By Oil Type, By Application, By Sales Channel, By Region |
| Regional scope | North America, Europe, Asia Pacific, Latin America; Middle East & Africa |
| Customization | Report customization as per your requirements with respect to countries, region and segmentation. |