The global automotive plastics market size was estimated to be USD 25.10 billion in 2017 and is anticipated to grow at a CAGR of 8.9% from 2018 to 2026. Rising sales of passenger cars and shifting trend towards lightweight passenger vehicles is expected to boost market growth. Plastics are used in a wide variety of automobile applications. The advantages of using these high performance materials include less corrosion resulting in high vehicle life, design freedom resulting in enhanced creativity, component designing flexibility, as well as recyclability. All these factors have benefitted the automotive plastics industry in the past and this trend is expected to continue over the forecast period.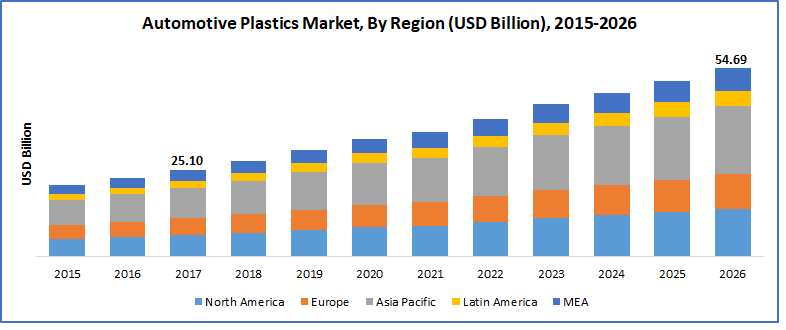 Know more about this report: request for sample pages
Segment Analysis
On the basis of product, the industry has been classified into polypropylene, polyvinyl chloride, polyethylene, polymethyl methacrylate, polycarbonate, polyamides, polyphenylene sulfide. polpropylene, PVC and polyurethane occupy a major share in the global market. Polypropylene is resistant to a variety of bases, acids as well as chemical solvents. It is prepared from monomer polypropylene and is a saturated addition polymer. Typical applications of polypropylene include chemical tanks, bumpers, carpet fibers as well as chemical tanks.
PVC can be extruded, compression molded, injection molded, as well as blow molded thus can be used to make a wide variety of automotive products. In addition, the manufacturing process can be customized to produce rigid or flexible products. In addition it has good thermal stability, low content of lead, as well as high gloss. Such trends are expected to benefit the segment demand.
On the basis of application, the market has been segmented into Automobile Interior, Automobile Exterior, Under-the-hood, Electrical components. These materials are used to manufacture fuel systems, windows, displays, screens, and gears, interior as well as exterior trims, dashboards as well as wheel covers among others. Metals, alloys and other materials are increasingly substituted by plastics for usage in automotive applications.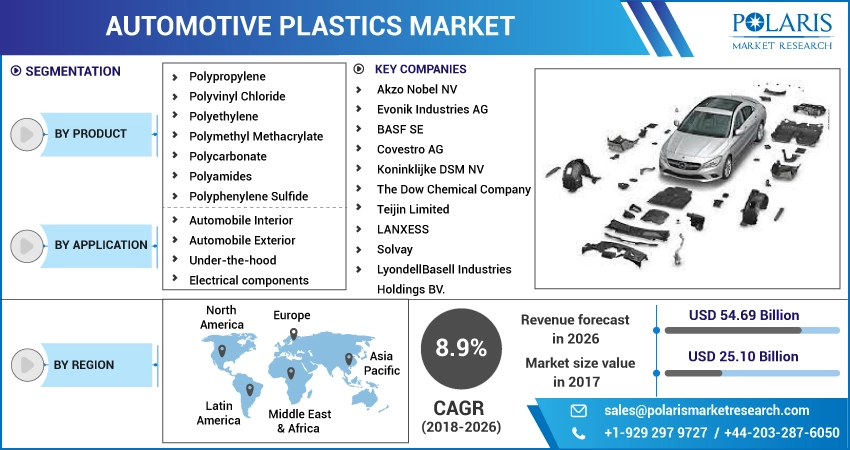 Know more about this report: request for sample pages
Automotive Plastics Market Scope
By Product

By Application

By Region

Polypropylene
Polyvinyl Chloride
Polyethylene
Polymethyl Methacrylate
Polycarbonate
Polyamides
Polyphenylene Sulfide

Automobile Interior
Automobile Exterior
Under-the-hood
Electrical components

North America (U.S., Canada)
Europe (Germany, UK, France, Italy, Spain, Belgium, Russia, Netherlands)
Asia-Pacific (China, Japan, India, Australia, Korea, Singapore, Malaysia, Indonesia, Thailand, Philippines)
Latin America (Brazil, Mexico, Argentina)
Middle East and Africa (UAE, Saudi Arabia, South Africa)
Regional Analysis
Asia Pacific occupies a major percentage in terms of regional market share. Growing automotive industry in countries such as China and India and established manufacturing hubs in Japan are contributing to the overall regional market growth. Strong demand from growing middle class for affordable automotive has also spurred a rise in demand. China dominates the regional market owing to the rising automotive manufacturing output in the country.
Prevalent demand from automotive hubs such as Germany, is contributing to the overall European regional demand. Automotive plastics are in great demand in the region for safety and fuel efficiency purposes. Italy, and France are also expected to contribute significantly to the regional demand.
Competitive Analysis
Manufacturers are introducing advanced designs, features and processes to manufacturer quality plastics to be used in automotive applications. Manufacturers are adopting strategies such as contract manufacturing, single point of contact programs, in house prototype modelling, and automated work cells to gain market share. Some of the major market players for automotive plastics include Akzo Nobel NV, Evonik Industries AG, BASF SE, Covestro AG, Koninklijke DSM NV, The Dow Chemical Company, Teijin Limited, LANXESS, Solvay, and LyondellBasell Industries Holdings BV.