The bacterial and viral specimen collection market was estimated at USD 13.30 billion in 2019 and is expected grow at a CAGR of 14.4% during the forecast period. With rapid surge in COVID-19 cases, several manufacturers of viral and bacterial specimen collection kits have increased their production to meet the high demand due to the pandemic situation, which in turn is expected to drive bacterial and viral specimen collection market growth.
Few notable examples include the U.S.-based Health and Wellness company, EveryWell, in May 2020, received emergency use authorization for COVID-19 test kits from the U.S. FDA to allow people to self-collect nasal samples at home and send it to the designated labs. In April 2020, the U.S.-based 3D printing company, Carbon, announced to manufacture over 1 million nasal and throat swabs per week in its effort to combat COVID-19.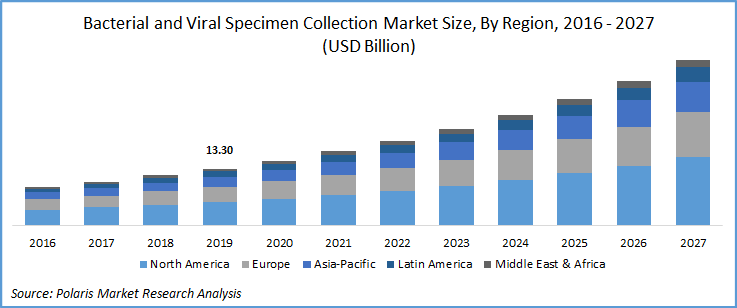 Know more about this report: request for sample pages
With the increasing competition, the production cost of nasal swabs could be contained. In line with this, in April 2020, researchers at the Harvard Medical School and Wyss Institute developed low-cost nasal swabs to address international shortage. These new naso-pharyngeal swabs feature honey like dipper design and are cheaper to manufacture than 3D printed swabs.
An India-based, personal hygiene company, Suparshva Swabs, currently has the largest capacity for the cotton buds and announced to ramp up its production to over 30 million nasal swabs in a week to address severe shortage in the country. With increase in consumption of swabs, the country is bound to provide nasal swabs at exceptionally low cost of INR 3.5 per unit.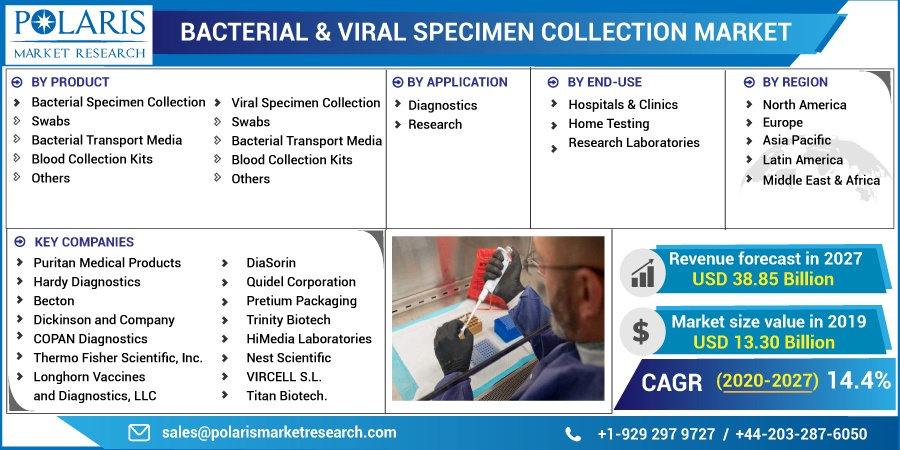 Know more about this report: request for sample pages
Industry Dynamics
Growth Drivers
Significant corporate collaborations and investments in the specimen collection sector is driving the bacterial and viral specimen collection market forward. For instance, in February 2020, BD announced collaboration with Babson Diagnostics to manufacture small blood collection kits for the retail pharmacies. Under the collaboration, both complemented each other, with BD providing its blood collection kit and Babson's automated sample handler to make blood testing more affordable and accessible to general population.
The funding from public and private companies encourages many companies to develop specimen kits, which positively impact the market potential. In this direction, Hologic, in July 2020, received funding from the U.S. Department of Defense and the U.S. Department of Health and Human Services (HHS) for the expansion of its manufacturing capacity for SARS and COVID-19 testing.
Global Fund, an international organization, which supports worldwide immunization programs for TB, Malaria, and AIDS also fostering the market growth. Till January 2020, the Global Fund had given USD 9.5 billion and 69 per cent of international financing for the TB programs. The concerned funding increases the TB screening, which in turn, drives the specimen collection solution and services for the TB diagnosis.
Bacterial and Viral Specimen Market Report Scope
The market is primarily segmented on the basis of product, application, end-use, and region.
By Product

By Application

By End-Use

By Region

Bacterial Specimen Collection

Swabs
Bacterial Transport Media
Blood Collection Kits
Others

Viral Specimen Collection

Swabs
Bacterial Transport Media
Blood Collection Kits
Others

Hospitals & Clinics
Home Testing
Research Laboratories

North America (U.S., Canada)
Europe (France, Germany, UK, Italy, Spain, Netherlands, Austria)
Asia Pacific (Japan, China, India, Malaysia, Indonesia. South Korea)
Latin America (Brazil, Mexico, Argentina)
Middle East & Africa (Saudi Arabia, UAE, Israel, South Africa)
Know more about this report: request for sample pages
Insight by Product
Based upon product, the global market is categorized into bacterial and viral specimen collection. The bacterial segment accounted for the largest share in 2019. This high share is due to the high prevalence of tuberculosis; however, its prevalence is on decline, yet, latent TB is still a huge burden, impacting the lives of quarter of population across the globe. The companies are co-operating with dedicated non-profit organizations to curb TB. In June 2019, the United States Agency for International Development (USAID) partnered with Becton, Dickinson, and Company (BD) to eradicate TB from Indonesia, through government sponsored program, "National Tuberculosis Program". The program allowed BD to supply its advanced phenotypic testing capabilities of TB.
Viral specimen is projected to move forward at the significant pace over the study period. This high growth is due to several initiatives to collect viral specimens. For instance, in April 2020, the University of Rochester Medical Center, developed finger prick test for the detection of more than 50 strains of flu from simple blood test. Moreover, in May 2020, Rocky Mountain Biologicals introduced viral transport for COVID-19.
Insight by Application
Based on application segment, the global bacterial and viral specimen collection market is bifurcated into diagnostics and research. Diagnostics application accounted for the largest revenue share in 2019. This can be attributed to recent approval received from FDA regarding swab collection kits and transport media. Hardy Diagnostics, in December 2019, unveiled universal transport media to collect viruses and Chlamydia and Ureaplasma micro-organisms.
Moreover, the Centers for Disease Control and Prevention (CDC), recommended stool as a preferred specimen and Cary Blair transport media to diagnosis symptoms of Norovirus. Research segment witnessed low revenue share, owing to low adoption of these kits in the academic institutes for research purposes.
Insight by End-Use
Based on end-use, the global bacterial and viral specimen collection market is segmented into hospitals & clinics, home testing, and research laboratories. In 2019, the hospitals & clinics segment held a majority share in the global market. This is due to surge in patients inflicted with viral and bacterial infections. Moreover, surge in healthcare associated infections in the tertiary care hospitals is likely to complement the penetration and uptake of specimen collection kits, equipped with improved medical facilities.
As per the statistics published by CDC, around 3.5 in 100 patients in the U.S. are affected with at least one form of healthcare associated infection each day and annually, more than 35 thousand U.S. people died due to antibiotic resistant infections.
Geographic Overview
North America is the largest revenue contributor to the bacterial and viral specimen collection market. The presence of key players in the region with well-developed technical know-how and robust healthcare infrastructure in terms of microbial specimen collection, high patient awareness about infectious diseases and their transmission, and efficient management of infections are the key factors responsible for the region's growth.
Moreover, the collaboration with government agencies and private entities have also supported the market growth. For instance, in November 2019, U.S.-based HHS signed a contractual agreement of worth USD 6 million with the Inflammatix Inc., the U.S.-based manufacturer of rapid diagnostic tests, to determine whether infection is viral or bacterial. With this, the clinicians were able to make informed decisions for diagnosis.
Asia Pacific is expected to witness significant growth. This can be attributed to rapidly rising cases of coronavirus in the South Asian countries. As of July 2020, as per statistics published by the Worldometer, India has over 16 million coronavirus tests. Other countries in the region, also seeing continuous surge in COVID cases, which is ultimately boosting the sale of specimen collection.
Competitive Insight
Some of the key players operating in the global bacterial and viral specimen collection market include Puritan Medical Products, Hardy Diagnostics, Becton, Dickinson and Company, DiaSorin, COPAN Diagnostics, Thermo Fisher Scientific, Inc., Longhorn Vaccines and Diagnostics, LLC, Quidel Corporation, Pretium Packaging, Trinity Biotech, HiMedia Laboratories, Nest Scientific, VIRCELL S.L., and Titan Biotech.
These companies are focussing on collaboration and innovativeness to stay competitive in the market. In this direction, in June 2020, Henkel AG signed a collaboration agreement with the U.S. based Origin, to use latter's mechanical testing facility. Henkel also shared expertise to manufacture or design 3D printed nasal swabs for the COVID testing.