The global badminton shoes market was valued at USD 2.82 billion in 2019 and is expected to grow at a CAGR of 8.85% during the forecast period. The factors responsible for the concerned market include corporatization of the game, growing badminton playing population, and consumer shift from low cost models to branded. Emergence of players with huge fan following coupled with media spend also favored adoption of badminton shoes.
Badminton shoes are mainly available in two variants based on the type of their sole: rubber soles and non-marking soles. Rubber soles are used for better traction and leaves a mark on the floor, while the non-marking shoes does not leave a mark and thus limits the damage of the playing court. Along with innovation in technology, shoes have been developed with non-marking soles. These shoes are available for people from all demographics and are also developed keeping in mind its end user i.e., a professional athlete or a person who plays it as a leisure sport.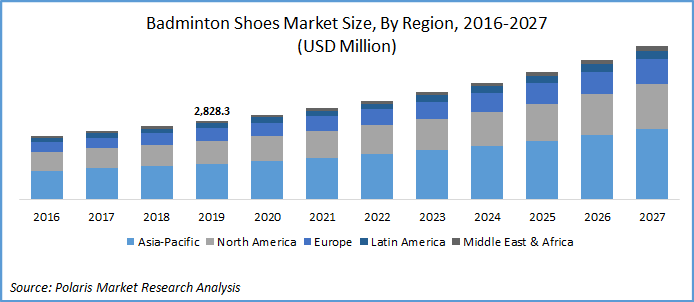 Know more about this report: request for sample pages
Industry Dynamics
Growth Drivers
The sport which has started to gain popularity throughout the world, is the second most played sport in the world. In India, even though, cricket has always been a major sport of interest, people are opening to new sporting activities like never before. Especially, in Asia continent this sport have shown promising growth in terms of participation and viewership. Badminton is excelling throughout the world as the number of competitions held around the globe has significantly increased per year. The Badminton World Federation hosts many competitive events across the world and is heavily acclaimed by the public. It could also be seen that these events have been organized on a larger scale for youths as well.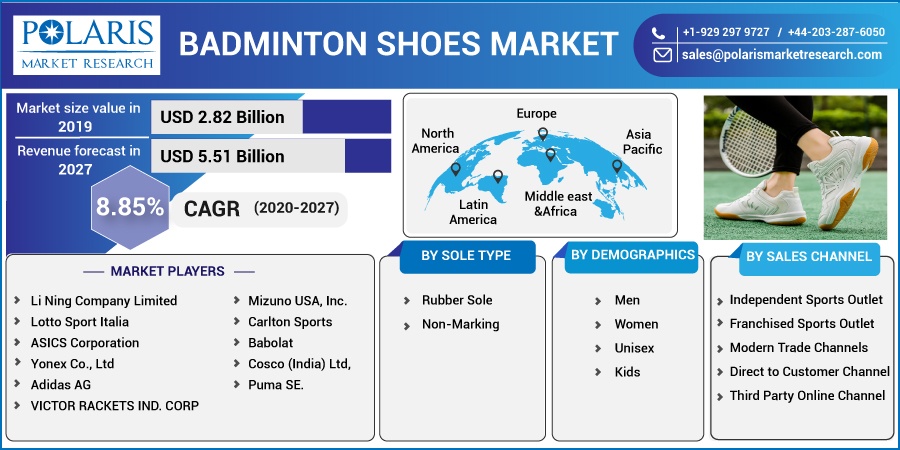 Know more about this report: request for sample pages
Earlier players were not giving importance to specific footwear for this sport and enthusiasts would play wearing normal training shoes. Nowadays, these enthusiasts have started giving importance to footwear. This has invariably increased the demand for badminton footwear in the market.
Advertising campaigns have become an indelible part of a company's marketing strategy. If an ad appeals to the masses, there is a better chance of it becoming a success. Off late brands have started associating with the sport by focusing on the perception of the customers to help them connect with the products. Advertising the product by collaborating with famous personalities has proven to be a successful strategy as it helps the consumer to associate with their favorite sports personalities. Consumer-centric advertisements that make a hero out of common people have also been accepted widely.
Challenges
However, the global market is contained with unorganized sector and counterfeit low priced products. This problem is immense in low and middle income countries, where huge population is dependent on low quality shoes, owing to the conservative mindset towards spending money and low disposable income.
Badminton Shoes Market Report Scope
The market is primarily segmented on the basis of sole type, by demographics, by buyer type, by sales channel and geographic region.
By Sole Type

By Demographics

By Sales Channel

By Region

Independent Sports Outlet
Franchised Sports Outlet
Modern Trade Channels
Direct to Customer Channel
Third Party Online Channel

North America (U.S., Canada)
Europe (France, Germany, UK, Italy, Spain, Netherlands, Austria)
Asia Pacific (Japan, China, India, Malaysia, Indonesia. South Korea)
Latin America (Brazil, Mexico, Argentina)
MEA (Saudi Arabia, UAE, Israel, South Africa)
Know more about this report: request for sample pages
Insight by Sole Type
Based upon the sole type, the global market is categorized into Rubber Sole and Non Marking. In 2019, the rubber sole segment expected to dominate the market and expected to maintain its dominance over the study period. This domination is due to its positive features it offers such its longer shelf life, easy to maintain, and user friendliness. Moreover, rubber or leather shoes allow consumer feet to breathe, particularly in the indoor games and can be wore in all seasons.
Insight by Sales Channel
On the basis of sales channel, global market is categorized into Independent Sports Outlet, Modern Trade Channels, Direct to Customer Channel, Franchised Sports Outlet, and Third Party Online Channel. In 2019, independent sports segment garnered high share among all. This high share is attributed to the growing partnerships of badminton stars with the key market players in the industry. The same segment also exhibited highest growth rate over the study time period.
Geographic Overview
Geographically, Asia Pacific is the largest revenue contributor in the badminton shoes market. Li Ning, China based athletic shoes company, has expanded its market by providing the most unique feature of ergo form coupled with lightweight shoes, a feature that provides shock absorption and balance required for the sport. The company has become popular among professional athletes, as well as leisure players, for providing badminton footwear as per their requirements. It has also received a positive word of mouth in the U.S. which has created awareness about their brand among the customers in the U.S. Li Ning has managed to manufacture their badminton shoes in a robust fashion with double Russell mesh that helps to keep the feet in a relaxed position on the badminton court.
In Los Angeles Abilities Expo 2019, a Para-Badminton Clinic was organized for the first time, where the specially-abled people were provided with information about the sport and also people with prosthesis engaged in some badminton drills, which were coached by Alistair Casey and Iris Wang (USA Badminton Team Member). As para-badminton competition have been organized worldwide on a big scale, hosting a para-badminton clinic at La Abilities expo would help the U.S. Badminton Association to spread awareness about para-badminton competition in the American region.
Sports England, the grassroots sport investment agency decided to award 7.25 million pounds to Badminton England strategy is to encourage the sport in the country and spread awareness. The funding made by Sporting England would enable Badminton England to make badminton more accessible around the country. BBC has agreed a deal with Badminton England to broadcast all matches live for Yonex All England Championship.
The agreement also states that BBC would be telecasting 100 hours of live Badminton in a year. After Adcocks and Rajiv Ouseph have won gold medals for Badminton England in European Championship, it has been noteworthy marking that the digital audience for the sport has been well over 1.3 million annually. Badminton England has launched a discover badminton strategy to grow the sports in the country, which would be its primary objective for the coming 8 years.
Competitive Insight
Key players operating in the global badminton shoes market include Li Ning Company Limited, Lotto Sport Italia, ASICS Corporation, Yonex Co., Ltd, Adidas AG, VICTOR RACKETS IND. CORP, Mizuno USA, Inc., Carlton Sports, Babolat, Cosco (India) Ltd, and Puma SE. These market actors have high product depth, distribution channel, financial leverage, and operational strength. Competitive factors such as price, advertisement, product quality, durability, brand value and promotions events decides purchasing of the product.