The global baking enzymes market size was valued at USD 729.2 million in 2020 and is expected to grow at a CAGR of 5.5% during the forecast period. The significant growth in the consumption of fast food across the globe is expected to fuel the growth of this market.
The per-capita consumption of fast food has increased considerably in recent years, primarily in developing markets such as China and India. Increased consumption of fast food such as burgers, pizza, and pastries, growth in disposable income, and increasing middle-class aspirational spending have increased the demand for baked goods, especially in emerging economies.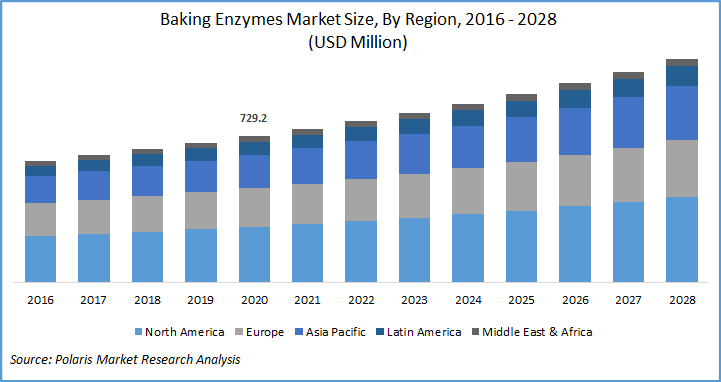 Know more about this report: request for sample pages
The baking process is influenced by temperature, humidity, changes in equipment, and new harvests among other factors. The use of baking enzymes such as protease, carbohydrase, and lipase results in consistent products by enhancing dough machinability, volume, and crumb structure. The demand for lipases is expected to increase during the forecast period. The use of lipases in baked goods assists in high-speed mixing and no-time dough processes. These enzymes offer improved dough machinability through better dough rheology, superior stability, and increased dough strength.
Lipases also offer other benefits such as increased loaf volume, reduced staling rate, and improved crumb structure. Several restrictions and regulations regarding the use of chemical additives in baked goods have increased the adoption of baking enzymes for greater control of the baking process. The use of baking enzymes enables the adoption of diverse baking processes, increases the shelf-life of products, and reduces process time.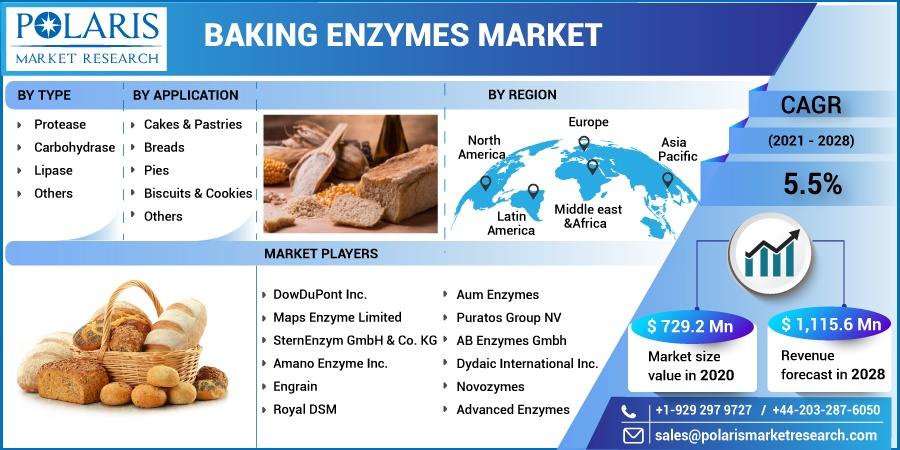 Know more about this report: request for sample pages
Industry Dynamics
Growth Drivers
In February 2020, DuPont Nutrition & Biosciences introduced DuPont POWERBake 6000 and 7000 enzyme series with a special focus on European recipes. The use of these enzymes provides preservation of taste and quality of white bread and buns.
The product is developed to address consumer concerns regarding clean-label products. These enzymes increase volume, improve initial softness, and enhance crumb structure. The POWERBake 6000 series is based on DuPont's new lipase and focuses on crumb structure and dough strengthening. The POWERBake 7000 series is an oxidative module to be used in white bread and buns to enhance quality and shelf-life.
Increasing consumer concerns regarding the use of preservatives and growing demand for enriched food products with beneficial effects, such as dietary fiber-enriched bread and gluten-free baked products has increased the demand for baking enzymes. Increasing health concerns coupled with growing health and fitness consciousness and changing lifestyle & food habits have fueled the growth of the global market for baking enzymes.
The market for baking enzymes in Asia Pacific is expected to offer lucrative growth opportunities for the market players during the forecast period. Increasing adoption of western lifestyle & eating habits and rising disposable income of consumers are major factors that would drive the market growth. The region offers potential opportunities to market players for launching premium, low-calorie, organic, and gluten-free products. Leading market players are focusing on expanding their business in this region to increase their customer base and improve geographical outreach.
Baking Enzymes Market Report Scope
The market is primarily segmented on the basis of type, application, and region.
By Type

By Application

By Region

Protease
Carbohydrase
Lipase
Others

Cakes & Pastries
Breads
Pies
Biscuits & Cookies
Others

North America (U.S., Canada)
Europe (Germany, UK, France, Italy, Spain, Netherlands, Austria)
Asia Pacific (China, India, Japan, South Korea, Indonesia, Malaysia)
Latin America (Brazil, Mexico, Argentina)
MEA (Saudi Arabia, South Africa, Israel, UAE)
Know more about this report: request for sample pages
Type Outlook
On the basis of type, the market is segmented into protease, carbohydrase, lipase, and others. The carbohydrase segment accounted for a significant market share in the global baking enzymes industry in 2020. The major factors driving the growth of this market include growing awareness regarding nutrition among consumers, increasing demand for convenience and on-the-go meal options, and increasing disposable income.
Consumers are consciously making efforts to switch to healthier food products such as organic and gluten-free bread, biscuits, and cookies, driving the growth of this segment. The growth in digitalization offers easy access to information about food products to the consumers, thereby increasing awareness about healthier baked goods. Increasing demand for baked goods and expansion of global players in developing nations would provide numerous growth opportunities to the market players.
Application Outlook
On the basis of application, the market is segmented into cakes & pastries, breads, pies, biscuits & cookies, and others. In 2020, the bread segment accounted for the highest market share. The use of baking enzymes in the production of bread enables easy dough handling, gas formation, and retention. Baking enzymes result in enhanced bread characteristics such as texture, color, crumb structure, volume, and slice-ability.
The segment is also influenced by the rising population, growing consumption of fast food such as pizzas & burgers and increasing food safety concerns. There has been an increasing shift towards organic and whole wheat-based bread with oats, bran, and seeds, which contributes to the increasing demand for baking enzymes for this segment.
Regional Outlook
North America dominated the global baking enzymes market in 2020. The high disposable income of consumers and growth in consumption of convenience food drives the growth of the baking enzyme market in this region. Increasing awareness regarding nutrition and hectic lifestyles of consumers further boost the market growth for baking enzymes.
There has been an increased demand for premium low cholesterol baked goods, desserts, and pastries in the region owing to increasing awareness regarding healthy eating habits. Market players in the region are introducing low-calorie, high-fiber, whole-wheat bread, and other baked products to cater to the growing health concerns and increasing cases of obesity-related diseases.
Competitive Landscape
The leading players in the baking enzymes market include DowDuPont Inc., Maps Enzyme Limited, SternEnzym GmbH & Co. KG, Amano Enzyme Inc., Engrain, Royal DSM, Aum Enzymes, Puratos Group NV, AB Enzymes Gmbh, Dydaic International Inc., Novozymes, and Advanced Enzymes. These players are expanding their presence across various geographies and entering new markets in developing regions to expand their customer base and strengthen presence in the market.