The global battery-free sensors market was valued at USD 32.30 million in 2021 and is expected to grow at a CAGR of 28.0% during the forecast period. Key factors influencing the market growth positively include the growing miniaturization of medical and electrical devices and the increased adoption of automated condition monitoring systems in smart factories.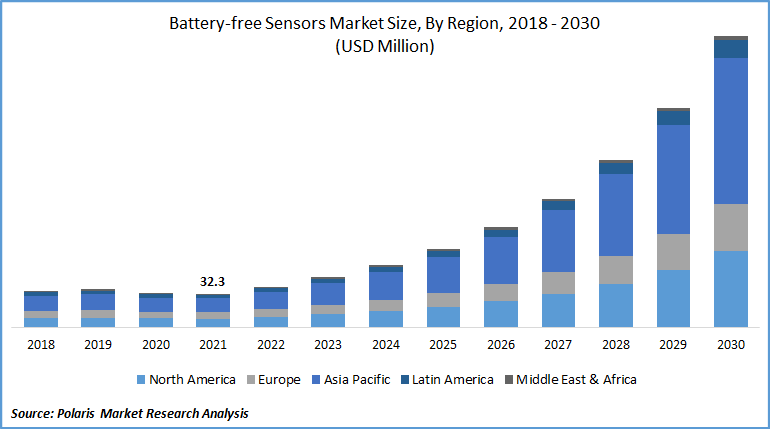 Know more about this report: request for sample pages
In the context of COVID-19, battery-free sensors are increasingly being used in IoT applications to improve production efficiency and decrease operationally, and maintenance expenses are expected to propel the global battery-free sensors market during the forecast period. Battery-free sensors can be used to perform low-intensity IoT (Internet of Things) operations, eliminating the requirement for batteries or power cables and offering IoT (internet of things) operations a new level of flexibility. Temperature, humidity, light levels, vibration, movement, sound, and pressure are some of the characteristics that battery-free sensors can measure.
The COVID-19 pandemic outbreak had a slight impact on the battery-free sensors market. The current COVID-19 situation, since the pandemic, has reduced the supply of required components due to heavy disruptions in the company's supplies chain networks. Sensor components are primarily produced in the Asia Pacific. The shutdown of operations in China and other Asian countries led to significant disruptions in the manufacturing of batteries. Furthermore, the global market is recovering in the current scenario, and the global market will grow in forecasting years.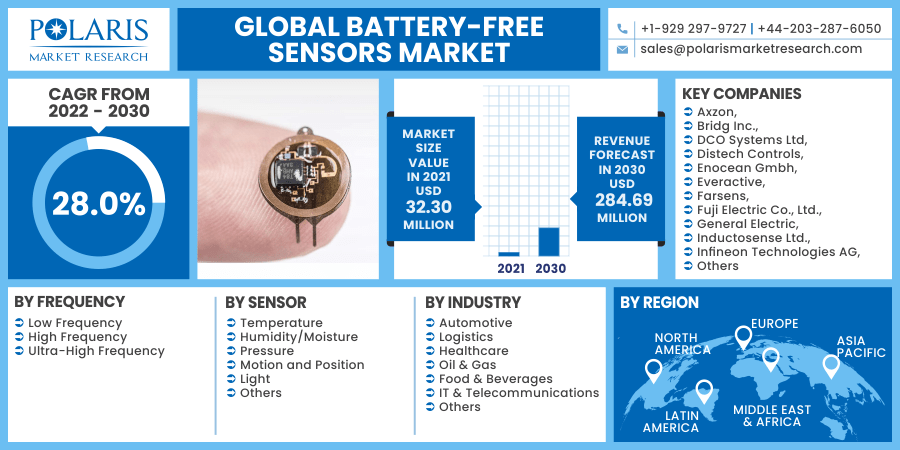 Know more about this report: request for sample pages
Industry Dynamics
Growth Drivers
The battery-free wireless sensor industry is being driven by the strong demand of several industry verticals, operational ease, and low device maintenance. For instance, one of the many advantages of battery-free wireless sensors is that they provide a simple, battery-free platform for continuous physiological health monitoring in the healthcare industry. They are also utilized for fitness/wellness tracking, consciousness and cognitive state measurement, and human-machine interfaces.
Battery-free wireless sensors that do not require batteries are also employed in manufacturing, automotive, security, consumer electronics, and other industries. These are used in assembly lines to detect errors, boost efficiency and production, and automate shop floor processes. The Internet of Things (IoT) uses a smart network to connect the complete digital system, allowing for remote monitoring, information exchange, diagnostics, and rapid access to data for analysis and correction in the industrial process to reach competence.
In addition, as economies around the world grow, technical breakthroughs in the aviation and defense sectors accelerate. For instance, the Asia Pacific is heavily investing in research and development and concerning innovations in compact technologies. As a result, in the aviation and defense industries, battery-free wireless sensors with small sizes, ease of installation, and other qualities have a wide range of applications.
Report Segmentation
The market is primarily segmented on the basis of frequency, sensor, industry, and region.
By Frequency

By Sensor

By Industry

By Region

Low Frequency
High Frequency
Ultra-High Frequency

Temperature
Humidity/Moisture
Pressure
Motion and Position
Light
Others

Automotive
Logistics
Healthcare
Oil & Gas
Food & Beverages
IT & Telecommunications
Others

North America (U.S., Canada)
Europe (France, Germany, UK, Italy, Spain, Netherlands, Austria)
Asia Pacific (Japan, China, India, Malaysia, Indonesia, South Korea)
Latin America (Brazil, Mexico, Argentina)
Middle East & Africa (Saudi Arabia, UAE, Israel, South Africa)
Know more about this report: request for sample pages
Insight by Frequency
In these three segments, the ultra-high frequency segment held the largest share in the global battery-free market in 2021. Ultra-high frequency sensors are presently accessible from most battery-free sensor manufacturers for a variety of applications. These provide significantly longer read ranges (up to 20 feet) than high-frequency and low-frequency sensors and can be placed on metal making them good for industrial applications. They also enable many sensors to be read by a single reader.
As a result, ultra-high frequency sensors perform very well in a wireless sensor network as compared to other segments. The rising demand for the market segment is due to these factors. Furthermore, the high-frequency battery-free sensors market has a significant share due to their widespread use in medical devices, smartphones, and supply chain applications.
Insight by Industry
During the forecast period, the automotive business segment is expected to hold the largest share of the global market. Automobile manufacturers across the globe are focusing on automating and improving their production lines. Automobile manufacturers are rapidly adopting battery-free sensors for their benefits, such as predicting and preventing equipment failure by improving the performance and efficiency of assets and equipment at lower maintenance costs.
Automobile manufacturers are increasingly relying on just-in-time manufacturing, which is impacting their production capacities and overall exports as a result of supply chain interruptions. Thus, throughout the projected period, the automotive industry is expected to hold the largest market share.
Geographic Overview
Geographically, in 2021, The market in APAC is predicted to grow at the fastest rate during 2021 and 2026. The market in this region is growing owing to rising industrialization, increased usage of predictive maintenance solutions, and increasing competitive pressure to improve operational efficiency. The need for battery-free sensors in Asia is being driven by the increase of manufacturing operations as a result of the transfer of production plants to Asian countries with cheap labor costs, such as China, India, and South Korea.
For instance, according to the ADB organization 2020 report, the majority of developing Asian economies will grow well this year and in 2022. Central Asian economies are expected to increase by 3.4 percent in 2020 and 4.0% in 2021 on average. Southeast Asia's trade-dependent economies are expected to improve as well, with the sub-region growing 4.4 percent in the 2020 year and 5.1 percent in 2022 after declining 4.0% in 2020.
Pacific economies will grow at a moderate 1.4%in 2020, before rising by 3.8 percent in 2021, despite global travel restrictions and a slowdown in tourism. This year, the People's Republic of China (PRC) will benefit from strong exports and a steady recovery in domestic consumption. The country's GDP is expected to grow at an annual rate of 8.1 percent in 2021 and 5.5 percent in 2022. The GDP of East Asia is predicted to rise 7.4% in 2021 and 5.1 percent in 2022.
Competitive Insight
Some of the major players operating the market include Axzon, Bridg Inc., DCO Systems Ltd, Distech Controls, Enocean Gmbh, Everactive, Farsens, Fuji Electric Co., Ltd., General Electric, Inductosense Ltd., Infineon Technologies AG, ON Semiconductor, Phase Iv Engineering, Powercast Corp., and Texas Instruments Inc.
Battery-free Sensors Market Report Scope
| | |
| --- | --- |
| Report Attributes | Details |
| Market size value in 2021 | USD 32.30 million |
| Revenue forecast in 2030 | USD 284.69 million |
| CAGR | 28.0% from 2022 - 2030 |
| Base year | 2021 |
| Historical data | 2018 - 2020 |
| Forecast period | 2022 - 2030 |
| Quantitative units | Revenue in USD million/billion and CAGR from 2022 to 2030 |
| Segments covered | By Frequency, By Sensor, By Industry, By Region |
| Regional scope | North America, Europe, Asia Pacific, Latin America, Middle East & Africa |
| Key companies | Axzon, Bridg Inc., DCO Systems Ltd, Distech Controls, Enocean Gmbh, Everactive, Farsens, Fuji Electric Co., Ltd., General Electric, Inductosense Ltd., Infineon Technologies AG, ON Semiconductor, Phase Iv Engineering, Powercast Corp., and Texas Instruments Inc. |