The global behavioral and mental health software market was valued at USD 4.56 billion in 2021 and is expected to grow at a CAGR of 17.4% during the forecast period. This market is expanding as a result of factors like rising behavioral and mental health software adoption, government funding availability, government initiatives to promote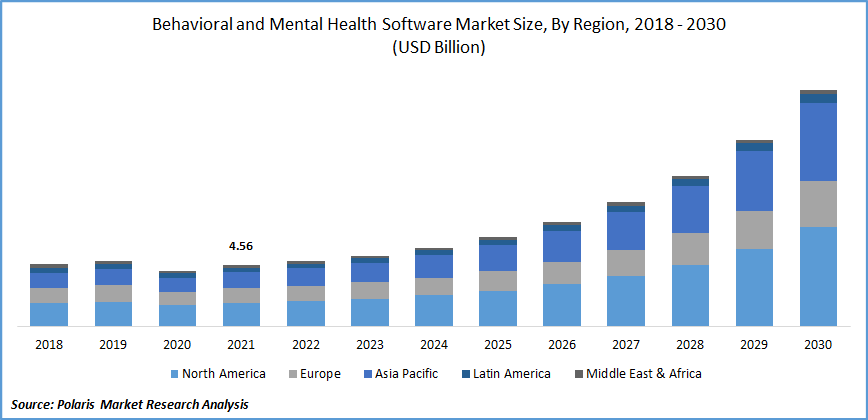 Know more about this report: Request for sample pages
EHR adoption in behavioral health organizations, favorable behavioral health reforms in the US, and high market demand for behavioral and mental well-being services despite a shortage of providers. The growing emphasis of medical experts on providing patients with mental disorders with quality care. Additionally, behavioral and mental health software market participants are concentrating on new product and service launches as well as alliances to fuel the expansion of the overall behavioral and mental health software market.
Governments are especially concerned about the high costs of medication for the treatment of mental illnesses or behavioral issues. In the world, depression affects more than 264 million individuals of all ages, making it a common mental illness. The cost of treating mental diseases worldwide was USD 250 billion in 2021, and by 2030, it is expected to rise to USD 600 billion.
In addition, it is estimated that severe mental diseases cost USD 193.2 billion in lost wages each year. In Canada, the annual cost of behavioral and mental well-being issues exceeds USD 42.4 billion. The primary causes of the high cost of therapies are the necessity for and production of unnecessary documentation as well as poor revenue cycle management by behavioral well-being organizations.
The need to address data privacy as a major problem in the interest and use has increased in behavioral and mental well-being applications as a way to lower medication errors and paperwork, increase productivity by assuring quick patient data access, improve workflow effectiveness, and lower medical costs. These advantages of behavioral and well-being software have influenced its uptake, particularly in big hospitals and neighborhood clinics.
Players in the behavioral and health software market, particularly those that are unable to meet the criteria set by the Federal Government in the US, are anticipated to benefit greatly from the emerging markets in the Asia Pacific, Latin America, the Middle East, and Africa. Medical providers in Australia will be encouraged to embrace EMR and EHR technologies by government attempts to set standards, legislation, and infrastructure.
The outbreak of the COVID-19 pandemic has significantly impacted the growth of the behavioral and mental health software market. Market demand for behavioral and mental well-being apps skyrocketed due to the pandemic. Between summer 2019 and summer 2020, the use of these apps increased by 200% in the UK, according to ORCHA. Telehealth adoption has been helped by constructive changes to telemedicine reimbursement policies.
Know more about this report: Request for sample pages
Industry Dynamics
Growth Drivers
The use of management applications is expected to enhance the treatment of behavioral and mental well-being problems. Additionally, the implementation of integrated EHRs can aid behavioral well-being practices in cost-saving and efficient practice administration. Tele mental well-being is using video conferencing to communicate with patients who are located far away.
By reducing barriers like information sharing and confidentiality, which are particularly common in the circumstances involving substance abuse, the real-time monitoring system makes it easier for patients and caregivers to communicate. Modern technology integration with tried-and-true therapy techniques helps to increase the effectiveness and efficiency of care.
With the help of video conferencing, telepsychiatry enables medical professionals to consult with patients remotely. Over 35 million people worldwide experienced substance addiction issues in 2021, according to the UN. Only one out of every seven patients received the necessary care. Governments are especially worried about the high costs of medically connected treatment of diseases related to behavioral well-being. Around 264 million people of all ages suffer from depression, which is a common condition.
Report Segmentation
The market is primarily segmented based on component, delivery model, functionality, end-use, and region.
By Component

By Delivery model

By Functionality

By End-Use

By Region

Support services
Software (Integrated software, Standalone software)

Subscription model
Ownership model

Clinical functionality (Electronic health records, Clinical decision support, Care plans/health management, E-prescribing, Telehealth)
Administrative functionality (Patient/client scheduling, Document/image management, Case management, Business intelligence, Workforce management)
Financial functionality (Revenue cycle management, Managed care, Accounts payable/general ledger, Payroll)

Community Clinics
Hospitals
Private Practices

North America (U.S., Canada)
Europe (Germany, UK, France, Rest of Europe)
Asia Pacific (Japan, China, India, Rest of Asia)
Rest of World
Know more about this report: Request for sample pages
Software segment accounted for the largest market share in 2021
The software segment accounted for the largest market revenue-generating segment. The segment is expanding as a result of an increase in the use of technological solutions to handle the financial, administrative, and clinical aspects of psychiatry practices. The mobile version of EHR systems lets patients access services while they are on the go. These systems feature integrated claims and billing capability that can manage complex billing procedures.
The segment is further divided into integrated and standalone segments. All the features of integrated software are included in a single package. The range of services includes telemedicine, e-prescriptions, payroll administration, and billing and claims management. Small businesses choose standalone solutions since they cater to specific functionality. The maintenance and help needed for the software solutions make up support services.
Subscription model is expected to witness a significant growth
The subscription segment accounted for the largest market share in 2021 and is predicted to increase at the fastest CAGR throughout the projected period. The behavioral and mental health software market is divided into two categories: ownership and subscription, depending on the delivery methodology. The majority of small-scale mental medical providers have little money to invest in technological solutions, unlike big medical offices or institutions.
Additionally, many practitioners are not eligible for incentives for meaningful use of EHRs because of the modest size of their practices. Therefore, limited reimbursement prevents small-scale practitioners from using EHRs. Professionals in the medical field are hesitant to invest thousands of dollars in software. Smaller practices favor subscription-based services because they have tighter financial constraints.
Clinical functionality is expected to hold the significant revenue share
In terms of revenue share, the clinical functions category led the market in 2021 and is anticipated to hold onto that position with a CAGR of 3.9% throughout the course of the forecast period. Clinical services such as claim filing, documentation, appointment scheduling, billing, and coding are offered by behavioral health applications. Market participants provide both solo and all-inclusive solutions.
On the other hand, it is projected that administrative functions will experience the quickest growth in the upcoming years. In order to view multiple providers in one location, facilities, especially large-scale centers, typically need centralized scheduling systems. The benefits of administrative tasks like scheduling include timely care delivery at a lower cost.
Document management can also help healthcare facilities with their data overload. The financial function segment is expanding as a result of factors such as the rapidly shifting reimbursement environment, growing RCM platform usage, and rising medical costs. RCM, managed care, payroll, and general ledger are further categories for the segment.
The hospital segment accounted for the largest market share in 2021
The market demand for software providers grows as a result of the dearth of EHR companies that specialize in mental health. The segment is expanding as a result of increased levels of worry and stress, the availability of more mobile apps, and better internet connectivity. Furthermore, the shift towards digital health is projected to bode well with the expansion of the behavioral and mental health software market.
The demand in North America is expected to witness significant market growth
The reimbursement scenario is favorable because Medicare in the US pays for telepsychiatry services. Medicare policies continue to be improved as mental well-being software becomes more widely known. For instance, in November 2019, the tele mental health expansion act was filed in the U.S. Congress, which aims at exempting the regional constraints in the standards for mental health treatments supplied via telehealth.
Regional growth is anticipated to be fueled by rising geriatric populations in China and Japan, increasing smartphone and internet penetration, and these factors combined. Numerous smartphone users in Asian nations like China and India present enormous market growth prospects.
Competitive Insight
Some of the major players operating in the global market include Accumedic, Advanced Data Systems, AdvancedMD, Cerner, Compulink, Core Solutions, Credible Behavioral Health, Kareo, Meditab Software, and The Echo Group.
Recent Developments
In February 2021, Netsmart purchased GPM, a provider of technologies and services for software as a service with headquarters in North Carolina. This will provide interoperable data sharing between long-term care facilities and providers using the CareFabric platform from Netsmart.
In July 2020, Cerner and Nuance Communications, Inc. cooperated. The goal of this ongoing partnership was to incorporate Cerner Millennium with Nuance's virtual assistant technology.
Netsmart and the California Department of Veterans Affairs partnered in April 2020. This collaboration aided CalVet in putting Netsmart's person-centered EHR platform, myUnity, into use so that it could give day-to-day care to its residents with increased clinical and operational effectiveness.
Behavioral and Mental Health Software Market Report Scope
| | |
| --- | --- |
| Report Attributes | Details |
| Market size value in 2021 | USD 4.56 billion |
| Revenue forecast in 2030 | USD 17.49 billion |
| CAGR | 17.4% from 2022 - 2030 |
| Base year | 2021 |
| Historical data | 2019 - 2021 |
| Forecast period | 2022 - 2030 |
| Quantitative units | Revenue in USD billion and CAGR from 2022 to 2030 |
| Segments covered | By Component, By Delivery Model, By Functionality, By End user, By Region |
| Regional scope | North America, Europe, Asia Pacific, Rest of the World |
| Key companies | Accumedic, Advanced Data Systems, AdvancedMD, Cerner, Compulink, Core Solutions, Credible Behavioral Health, Kareo, Meditab Software, and The Echo Group |