The global bio-based epoxy resins market was valued at USD 47.4 million in 2019 and is expected to grow at a CAGR of 12.1% during the forecast period. The key factors responsible for the market growth include the presence of varied natural resources to manufacture these resins, low cost, environment friendliness, and increasing focus of key players on the bio-based resin systems.
Moreover, the pressure on government regimes to stay carbon neutral in the market owing to consumer's awareness of plastic waste and subsequent investments in the sector also played a pivotal role. For instance, Hexion Inc., an Ohio-based chemical company, became the only company in the global market to have Plante Research and Development Centre, as a facility to manufacture bio-modified resin at the commercial level.
Bio-based epoxy resins are sourced naturally in the market, from plant and vegetable oils. These renewable resins are produced via epoxidation of the procured oil, generally from tannins, glycerol, unsaturated vegetable oils, terpenes, hemp, lignin, saccharides, rosins, canola, and cardanols. A wide range of curing agents are required, also known as a hardener, are required in the production of epoxy resins in the market, its selection depends on its application and usage type, and could be bio-based as well.
A curing agent is a chemical substance that participates in the cross-reaction of monomers, oligomers to carry out polymerization reaction to produce the final product in the form of resins. The selection of curing agents depends on the two important parameters viscosity and the glass transition temperature (Tg). With the help of binders and catalyst agents, curing agents form 3D structures.
Some of the bio-based epoxies which are being approved for commercial use or currently under approval process in the market include epoxidized cardanols, linseed oil, liquid natural rubber, Terpene-maleic ester epoxy, Furan diepoxy of 2,5-bis(hydroxymethyl)-furan [BHMF], and Diglycidyl ethers of isosorbide [DGEI]. Bio-based epoxies are mostly mixed with natural, fillers, and fibers to improve their useful properties. For instance, these are blended with glass fibers to enhance their mechanical properties driving the market growth.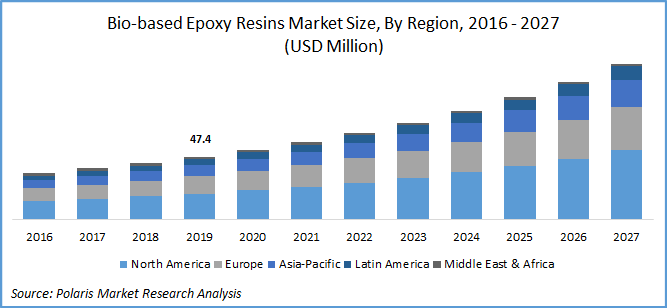 Know more about this report: request for sample pages
Industry Dynamics
Growth Drivers
Strong government response across the globe, to contain carbon emissions and positive sentiments towards the environmental problems, driving the market demand for the bio-based epoxy resins across end-use industries. Ecofriendly nature, biodegradability, and low production cost enables manufacturers to focus on renewable sources as raw material, which includes starch and other plant oils.
In line with this, in January 2020, the UK-based manufacturer of specialty polymers and other chemicals, Bitrez Ltd. introduced a new class of bio-based resins "Poly-furfuryl alcohol" for the composite market. It is derived from the biomass of crop waste, having similar characteristics as of phenolic resins, but counts low in carbon emissions. These resins were REACH (registration, evaluation, authorization, and restriction of chemicals) compliant.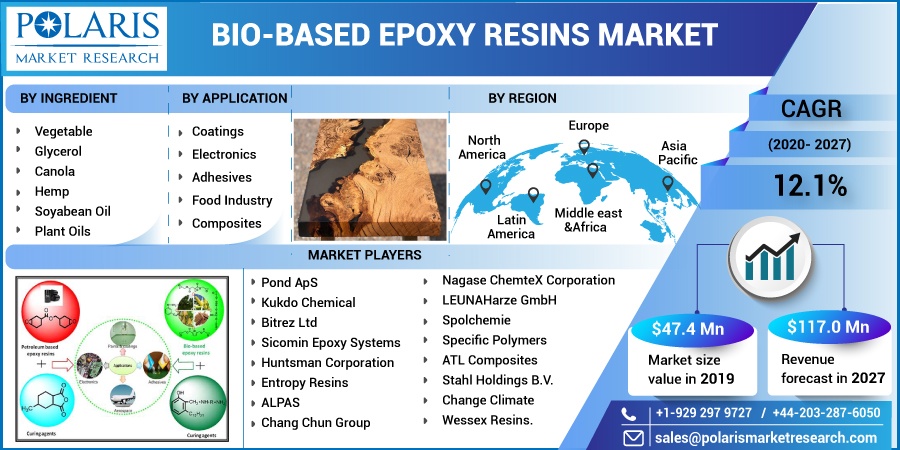 Know more about this report: request for sample pages
Moreover, several end-use industries in the market such as coatings, construction, adhesives, and electronics strongly focus on green composites, as their corporate social responsibility, as a pledge to become a carbon-neutral company. Concerned industries carry out efforts to reduce the use of toxic and environment polluting materials.
Innovations in material science enable new formulations to enhance the mechanical properties of these bio-degradable resins. Manufacturers develop naturally derived epoxies from natural feedstocks such as plant, canola, and soyabean oil. There is increasing use of new raw materials in the market such as rosin-based, epoxidized rubber, and isosorbide based to have new formulations to improve its properties. Manufacturers in the market are focusing on innovative functionalities such as reparability, re-processing power, and recycle-ness driving the demand for bio-based epoxy resin.
Bio-based Epoxy Resins Market Report Scope
The market is primarily segmented on the basis of ingredient, application, and region.
By Ingredient

By Application

By Region

Vegetable
Glycerol
Canola
Hemp
Soyabean Oil
Plant Oils
Others

Coatings
Electronics
Adhesives
Food Industry
Composites
Others

North America (U.S., Canada)
Europe (France, Germany, UK, Italy, Spain, Netherlands, Austria)
Asia Pacific (Japan, China, India, Malaysia, Indonesia, South Korea)
Latin America (Brazil, Mexico, Argentina)
Middle East & Africa (Saudi Arabia, UAE, Israel, South Africa)
Know more about this report: request for sample pages
Insight by Ingredient
Based on the ingredient, the global market is categorized into vegetable, glycerol, canola, hemp, soya bean oil, plant oils, and others. In 2019, the plant oils segment accounted for the largest share in the market. The negative impacts of fossil fuel as feedstock and innovations in green chemistry are the prominent segment factors, responsible for its growth. Moreover, an increase in bio-refineries across the globe is favoring its growth. Soyabean oil as a feedstock is projected to exhibit the highest growth over the forecast period. Growth is attributed to its maximum production in the emerging economies. The players in the region have developed such resin systems, which will boost its growth in the coming years.
Geographic Overview
The bio-based epoxy resins market has been segmented based on regions, North America, Europe, Asia Pacific, Middle East & Africa, and Latin America. North America and Europe are focusing on green epoxy resin systems, decreasing feedstock pressure from petrochemicals to the renewable source, though, the latter being costlier. Key players in the organization are substituting their feedstock for natural plant-based oilseeds, owing to the environmental concerns of the petroleum-based products. The important factors driving the adoption of bio-based epoxy resins is the presence of harmful chemicals in petroleum-based resins, diminishing fossil fuels, and concerted efforts of several countries to reduce its dependence on non-renewable energy sources, and its applicability to several end-use industries.
North American bio-based epoxy resins industry has several specialty chemicals company, within its territory, which robust supply chain network, are doing forward integration, by shifting feedstock from fossil fuels to naturally derived plant and vegetable oils. Adoption in North America is highest, followed by Europe, and the Asia Pacific. APAC region is exhibiting substantial rise, owing to its positive business scenario, huge consumer base, and the strong focus of multi-national companies towards increasing their bio-based epoxy resins market share.
Competitive Insight
The prominent market players operating in the bio-based epoxy resin industry are Pond ApS, Kukdo Chemical, Bitrez Ltd, Sicomin Epoxy Systems, Huntsman Corporation, Entropy Resins (acquired by Gougeon Brothers Inc.), ALPAS, Chang Chun Group, Nagase ChemteX Corporation, LEUNAHarze GmbH, Spolchemie, Specific Polymers, ATL Composites, Stahl Holdings B.V., Change Climate, and Wessex Resins.