The global biodegradable plastics market was valued at USD 4.16 billion in 2021 and is expected to grow at a CAGR of 9.8% during the forecast period. Biodegradable bioplastics can be broken down by enzymes, bacteria, and UV radiation into biomass. The popularity of bioplastics has increased owing to their ability to degrade naturally at a faster pace than traditional bioplastics.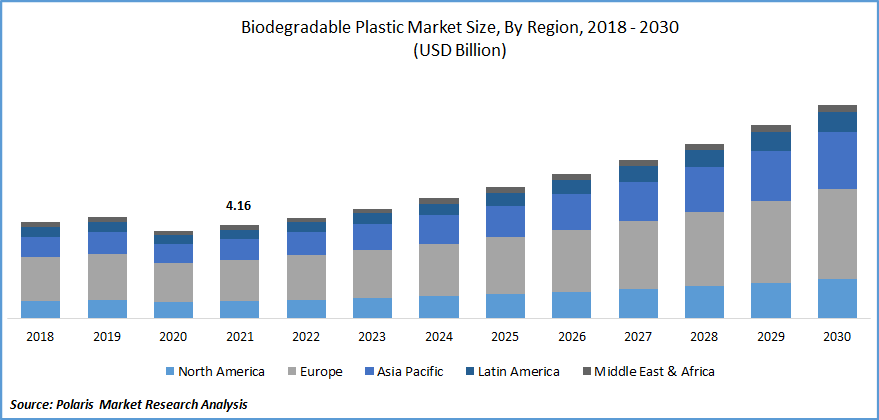 Know more about this report: Request for sample pages
Biodegradable bioplastic can be produced from biomaterial as well as synthetic sources. Some include Polyhydroxyalkanoates (PHAs), Polylactic acid (PLAs), plant starch blends, and cellulose-based products. They offer several benefits such as easy recyclability, reduced energy consumption during production, and decreased amount of waste produced.
They are used in various applications such as flexible packaging, rigid packaging, building and construction, textiles, consumer goods, medical equipment, agriculture, and automotive and transport, among others. Biodegradable products find application in circuit boards, electronical product casings, touch screen computer casings, headphones, keyboards, and gaming consoles, among others. Brands have started investing in biodegradable plastic solutions owing to pilot regulations and changing consumer trends to meet regulation standards of the future.
The adoption of the industry is expected to increase in the healthcare sector during the forecast period. These are used in tissue engineering, wound management, drug delivery system, orthopedic devices, and dentistry, among others. PLA is widely used in medical applications owing to its biocompatibility and bio-dissolvability in the human body.
PLA also finds application in surgical sutures, healing dental wounds, and preventing postoperative adhesions. The use of such plastics in orthopedic applications for the development of biodegradable suture anchors, screws, and fixation pins eliminates the need to remove unnecessary hardware after surgery.
The COVID-19 pandemic has affected the growth of the biodegradable plastics market. The global market experienced a disrupted supply chain and operational restrictions. The outbreak resulted in workforce impairment and the shutting of manufacturing activities on account of stringent lockdown restrictions across the globe.
The decline in industries such as textile and agriculture has been observed during the pandemic, resulting in reduced demand for the product. However, the growth of e-commerce during the pandemic resulted in increased demand for products for packaging. The biodegradable plastics market is expected to gain traction during the forecast period, driven by factors such as supportive government regulations, favorable environmental policies, and increasing environmental concerns.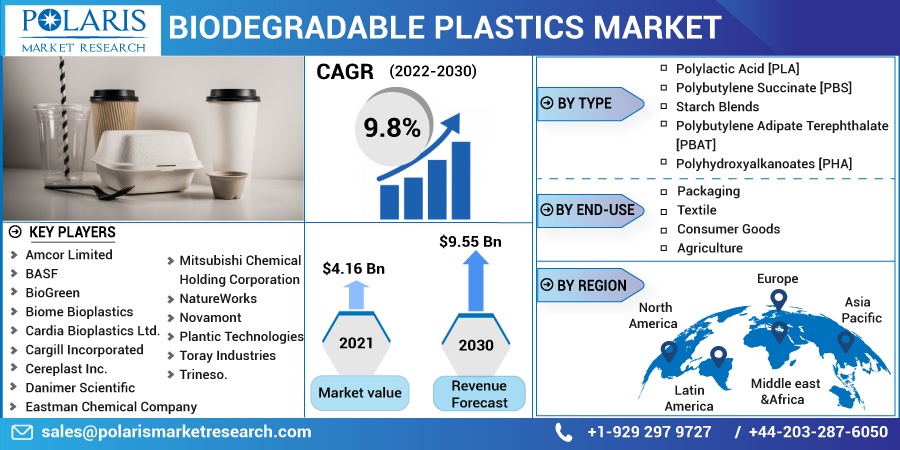 Know more about this report: Request for sample pages
Industry Dynamics
Growth Drivers
The increasing demand for biodegradable plastics in the packaging of consumer goods and food and beverages boosts industry growth. Growth in population across the globe and rising inclination toward sustainable packaging solutions further support the market growth.
The rise in environmental concerns, greater awareness regarding the use of sustainable materials, and the launch of innovative products by leading industry players further augment market growth. Improvement in consumer lifestyles, rising disposable income, and growing demand from emerging economies are factors expected to offer growth opportunities during the forecast period.
The significant investments by governments in environmental protection and energy optimization programs, coupled with initiatives aimed at reducing packaging waste, have increased the adoption of the industry. The growth in e-commerce, driven by the rise in broadband internet penetration, use of smartphones, and increasing proportion of tech-savvy consumers, would further support the growth.
Report Segmentation
The market is primarily segmented based on type, end-use industry, and region.
By Type

By End-Use Industry

By Region

Polylactic Acid [PLA]
Polybutylene Succinate [PBS]
Starch Blends
Polybutylene Adipate Terephthalate [PBAT]
Polyhydroxyalkanoates [PHA]
Others

Packaging
Textile
Consumer Goods
Agriculture
Others

North America (U.S., Canada)
Europe (France, Germany, UK, Italy, Netherlands, Spain, Russia)
Asia Pacific (Japan, China, India, Malaysia, Indonesia. South Korea)
Latin America (Brazil, Mexico, Argentina)
Middle East & Africa (Saudi Arabia, UAE, Israel, South Africa)
Know more about this report: Request for sample pages
Polylactic acid segment accounted for a significant share
Polylactic Acid (PLA) is a biodegradable and compostable thermoplastic sourced from fermentable sugar available in various renewable sources, such as corn starch, sugarcane, wheat and tapioca roots. Being the cheapest and most abundant source of sugar available in the world, corn is largely used in the production of PLA.
PLA is commonly used in bags, capsules, and packaging. Greater awareness associated with environmental safety and growth in the price of petrochemicals has also increased its application in home products, textiles, electronic appliances, hygiene products, and agriculture. The adoption of PLA has also increased in 3D printing owing to its biodegradability and efficient thermal and mechanical properties.
Packaging segment accounted for the largest market share
The increasing demand for consumer goods, rising population, improving lifestyles, and increasing disposable income drive the growth of the packaging segment. Greater demand from developing nations, rise in consumer consciousness, and growth of e-commerce platforms offer growth opportunities for this segment.
The increasing environmental concerns and rising awareness regarding recycling and packaging waste disposal have increased the demand for the industry. The need to minimize the environmental impact of packaging and adopt sustainable packaging options has encouraged market players to use biodegradable products.
They are used for rigid packaging and flexible packaging. Rigid packaging includes bottles, cups, cans, corrugated cases, and boxes. These offer glossiness and printability along with efficient barrier and antistatic properties.
Europe is expected to exhibit significant growth during the forecast period
Europe is expected to grow at a significant rate during the forecast period owing to increasing demand for the industry across various end-use industries such as packaging, agriculture, consumer goods, and textiles. Factors such as the presence of stringent environmental regulations and increasing environmental concerns support market growth.
Market players have added several new manufacturing facilities to cater to the growing demand for biodegradable plastic in the region. Consumers are increasingly turning toward the consumption of sustainable products.
A significant increase in environmental awareness among consumers, supportive environmental policies by governments, and the presence of educated consumers with strong purchasing powers boost the adoption of biodegradable products in the region. Technological innovation and significant investments in research and development of biodegradable plastics are factors expected to offer growth opportunities during the forecast period.
Competitive Insight
Major players operating in the biodegradable plastics market are Amcor Limited, BASF, BioGreen, Biome Bioplastics, Cardia Ltd., Cargill Incorporated, Cereplast Inc., Danimer Scientific, Eastman Chemical Company, Mitsubishi Chemical Holding Corporation, NatureWorks, Novamont, Plantic Technologies, Toray Industries, and Trineso.
The leading companies in the market are launching new products to cater to the growing consumer demand. Market players are undertaking developments through partnerships and collaborations to strengthen their position in the developed market and enter new developing markets.
Recent Developments
In February 2022, Bioplastics International introduced water-soluble PVA. The material is developed to be used as a replacement to plastics. It can be used for manufacturing water-soluble PVA bags and packaging films. The material is being used in the healthcare sector for drug delivery systems, artificial organs, wound management, and contact lenses owing to its biodegradability, biocompatibility, and non-toxicity.
In January 2022, TerraVerdae Bioworks Inc. announced the acquisition of PolyFerm Canada. The acquisition is aimed at enhancing the company's PHA technology portfolio. The acquisition enabled the company to develop advanced biodegradable bioplastic products to cater to the growing biodegradable plastics market demand for sustainable alternatives to products.
In January 2022, Vikas Ecotech Limited announced an investment in environment-friendly BioPlastics (PHA) technology. The company is also in the process of collaborating with Aurapha Private Ltd. for the manufacturing of biodegradable plastics. PHAs would be manufactured using renewable resources and will be bio-degradable in nature.
Biodegradable Plastics Market Report Scope
| | |
| --- | --- |
| Report Attributes | Details |
| Market size value in 2021 | USD 4.16 billion |
| Revenue forecast in 2030 | USD 9.55 billion |
| CAGR | 9.8% from 2022 - 2030 |
| Base year | 2021 |
| Historical data | 2018 - 2020 |
| Forecast period | 2022 - 2030 |
| Quantitative units | Revenue in USD billion and CAGR from 2022 to 2030 |
| Segments covered | By Type, By End-Use Industry, By Region |
| Regional scope | North America, Europe, Asia Pacific, Latin America; Middle East & Africa |
| Key companies | Amcor Limited, BASF, BioGreen, Biome Bioplastics, Cardia Bioplastics Ltd., Cargill Incorporated, Cereplast Inc., Danimer Scientific, Eastman Chemical Company, Mitsubishi Chemical Holding Corporation, NatureWorks, Novamont, Plantic Technologies, Toray Industries, and Trineso. |