The global biologics contract development market was valued at USD 5.48 billion in 2021 and is expected to grow at a CAGR of 10.4% during the forecast period. The market is driven by rising outsourcing of R&D by pharma and biopharma businesses, expanding adoption of new technologies for biological manufacturing, and a supportive regulatory environment for clinical trials in developing nations.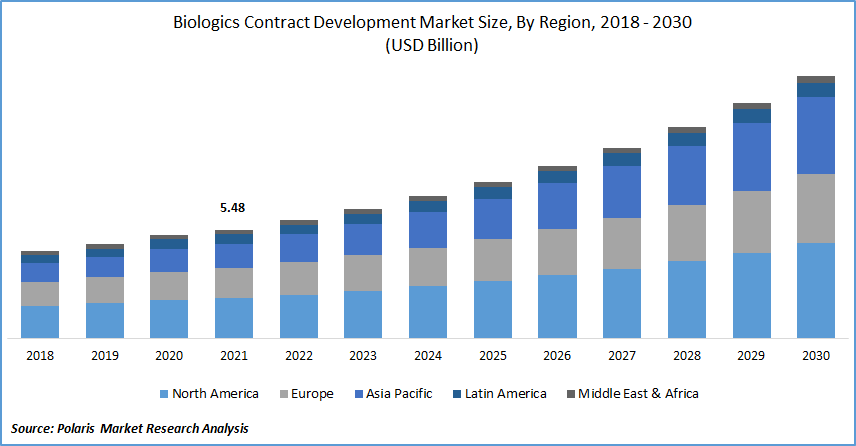 Know more about this report: Request for sample pages
Developing countries, such as India and China, are the main choices for outsourcing clinical trials due to large populations with diverse disease burdens. Governments in these countries support outsourcing to attract foreign investment. Moreover, regulatory bodies in developing countries coordinate their policies with EMA and FDA standards to speed up the approval process and create credibility. Thus, promoting market growth in these countries.
Biologics contract development companies provide a full range of services, from developing cell lines to the long-term commercial supply of biological products. Among the services they offer are developing cell lines, analytical and bioanalytical methods, upstream and downstream processes, formulations, and quality assurance. A manufacturer engages in this type of outsourcing when they formally contract with another manufacturer to buy their products, parts, and components.
Contract research organizations help businesses and institutions fulfill the demands of the growing pharmaceutical and medical device industries by lowering the cost of research and development. These businesses focus on creating stable cell lines widely employed in numerous applications, such as drug screening, functional gene research, and biological production.
Additionally, regulatory agencies in developing nations are aligning their policies with EMA and FDA requirements, speeding up the approval process for expanding the market in those nations. According to Pharmaceutical Outsourcing, China, India, and Korea are the most popular locations for clinical research outsourcing because they are the developing countries with the most active clinical trial sites due to improved market access. These nations' governments encourage outsourcing because it attracts foreign investment.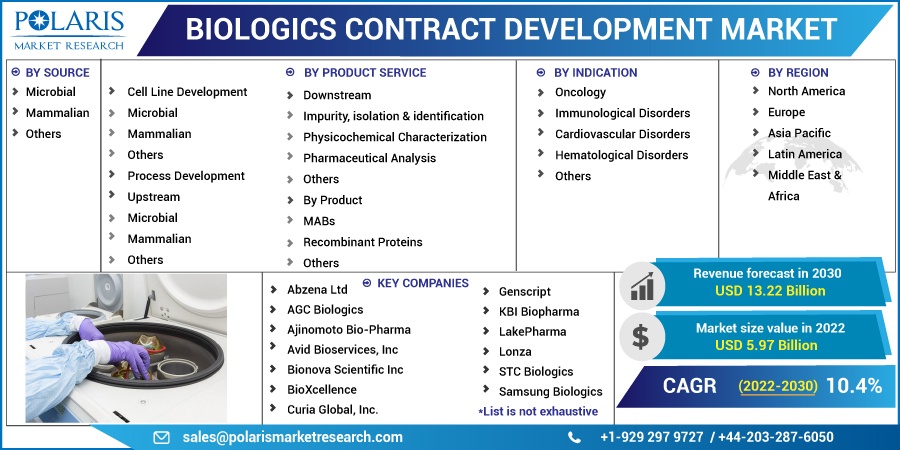 Know more about this report: Request for sample pages
Industry Dynamics
Growth Drivers
One of the anticipated factors to grow the market is the rising adoption of advanced technology for biological production. Additionally, pharma and biopharma businesses will increasingly outsource their research and development efforts, and the favorable regulatory climate for clinical trials in developing countries will help the market to grow further.
Furthermore, the rising number of mergers and partnerships will propel market growth. In addition, the rising prevalence of various diseases like cancer, neurological disorders, and also cardiovascular diseases will fuel the market growth.
Many CROs collaborated with biotechnology firms for research and development on COVID-19 vaccines during the COVID-19 pandemic. The majority of clinical trials concentrated on developing innovative therapies for COVID-19. However, due to increasing cancer incidence, research is anticipated to concentrate on cancer in the post-pandemic period.
Report Segmentation
The market is primarily segmented based on source, product service, indication, and region.
By Source

By Product Service

By Indication

By Region

Microbial
Mammalian
Others

Cell Line Development

Microbial
Mammalian
Others

Process Development

Upstream

Microbial
Mammalian
Others

Downstream

Impurity, isolation & identification
Physicochemical Characterization
Pharmaceutical Analysis
Others

By Product

MABs
Recombinant Proteins
Others

Others

Oncology
Immunological Disorders
Cardiovascular Disorders
Hematological Disorders
Others

North America (U.S., Canada)
Europe (France, Germany, UK, Italy, Netherlands, Spain, Russia)
Asia Pacific (Japan, China, India, Malaysia, Indonesia, South Korea)
Latin America (Brazil, Mexico, Argentina)
Middle East & Africa (Saudi Arabia, UAE, Israel, South Africa)
Know more about this report: Request for sample pages
The mammalian source accounted for the highest revenue share
As most research was carried out using mammalian cell lines, mammalian sources emerged as the leading segment in 2021. This is a result of the major advantage of developing mammalian proteins with appropriate post-translational modifications that provide a native structure while using mammalian cells for protein expression.
Murine myeloma cells, baby hamster kidney (BHK21) cells, and Chinese hamster ovary (CHO) cells are the most frequently used mammalian cell cultures to produce biopharmaceuticals.
In 2021, the microbial source segment market had significantly increased. Simple recombinant proteins like insulin or antibody fragments are made using microbial systems. They are attractive because of their low price and high productivity.
The process development services segment accounted for the largest market share.
Many businesses are choosing to outsource the manufacturing of recombinant proteins and monoclonal antibodies (MABs); the process development segment is anticipated to experience the highest growth over the forthcoming period.
Upstream and downstream process development are the two techniques that define biologics process development. The upstream process development is majorly adopted by the manufacturer to fulfill the client's needs.
In 2021, the cell line development service was anticipated to hold a significant share of the market 2021. The segment is being driven by rising demand for monoclonal antibodies, recombinant proteins, and vaccines, rising rates of oncology, autoimmune disorders, infectious diseases, and genetic disorders, as well as rising levels of disease-related research. Recombinant cell lines are also being used to produce recombinant biopharmaceutical proteins.
Researchers have also focused on developing various protein-based therapies that support the development of high-expression cell lines and the global growth of the cell line development during the anticipated time frame.
The oncology segment dominates the largest revenue share.
The oncology segment accounted for the largest share because cancer can spread to any organ in the body; due to this, there is a demand for therapy, encouraging more business investments in R&D and outsourcing.
Biologic therapy is thought to repair, activate, or enhance the immune response, which is many pharmaceutical and biopharmaceutical companies are eager to invest in novel cancer-related treatments. Cancers are thought to develop as a result of immune system dysfunction.
North America is expected to dominate and witness the fastest growth over the forecast period.
In 2021, North America led the market. The market is driven by strategic collaborations and acquisitions and increased demand for specialized testing services. The expansion of contract development organizations (CDOs) can be primarily attributable to the region's rising clinical trial activity and outsourcing activity.
Additionally, a significant demand for clinical trials in this region due to the high prevalence of chronic diseases and the aging of the population. These factors fuel the market growth.
In the Asia Pacific, the market for biologics contract development is expected to grow forthcoming period. The biotechnology companies investing in the Asia Pacific region owing to various regulatory organization amendments to change clinical trial evaluation standards by worldwide needs.
Competitive Insight
Some of the major players operating in the global market include Abzena Ltd, AGC Biologics, Ajinomoto Bio-Pharma, Almac, Avid Bioservices, Inc; Bionova Scientific Inc, BioXcellence (Boehringer Ingelheim Biopharmaceuticals GmbH), Curia Global, Inc., Fujifilm Diosynth Biotechnologies, Genscript, KBI Biopharma, LakePharma, Lonza, STC Biologics, Samsung Biologics, Thermo Fisher Scientific Inc., WuXi Biologics.
Recent Developments
In Jan 2022, Samsung Biologics acquired Biogen's 50% stake as a joint venture to strengthen biosimilar development capabilities and future performance in novel drug development.
In Oct 2021, Avid Bioservices announced the expansion into the development and manufacturing of viral vectors for cell and gene therapy.
In Sept 2021, LakePharma Inc. was acquired by Curia Global, Inc. (formerly AMRI), top contract research, development, and manufacturing organization.
Biologics Contract Development Market Report Scope
| | |
| --- | --- |
| Report Attributes | Details |
| Market size value in 2022 | USD 5.97 billion |
| Revenue forecast in 2030 | USD 13.22 billion |
| CAGR | 10.4% from 2022 - 2030 |
| Base year | 2021 |
| Historical data | 2018 - 2020 |
| Forecast period | 2022 - 2030 |
| Quantitative units | Revenue in USD billion and CAGR from 2022 to 2030 |
| Segments Covered | By Source, By Product Service, By Indication, and By Region |
| Regional scope | North America, Europe, Asia Pacific, Latin America; Middle East & Africa |
| Key Companies | Abzena Ltd, AGC Biologics, Ajinomoto Bio-Pharma, Avid Bioservices, Inc; Bionova Scientific Inc, BioXcellence (Boehringer Ingelheim Biopharmaceuticals GmbH), Curia Global, Inc., Fujiifilm Diosynth Biotechnologies, Genscript, KBI Biopharma, LakePharma, Lonza, STC Biologics, Samsung Biologics, Thermo Fisher Scientific Inc., and WuXi Biologics. |